Ranking Every Season of Each Jets One-Time Pro Bowler Since 1970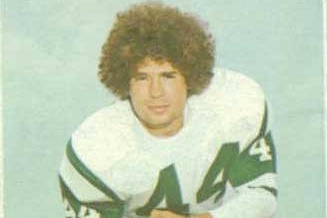 Courtesy of gq.com
Since 1961, a total of 60 different New York Jets have been able to call themselves Pro Bowl players while wearing the green and white.
Bill Mathis, Dick Felt, Al Dorow and Bob Mischak became the first "Jets" Pro Bowlers (they were actually members of the New York Titans) when they were named to the 1961 AFL Pro Bowl squad.
Many Jets players made a habit of going to multiple Pro Bowls during their Jets careers.
Winston Hill still holds the record for most Pro Bowls as a Jet with eight, and Kevin Mawae made it six years in a row from 1999-2004.
Larry Grantham, Mark Gastineau, Marvin Powell and Joe Namath made it five times each while current Jets Nick Mangold and Darrelle Revis are already four-time Pro Bowlers.
But what about the one-timers club?
Since 1970 there have been 15 players who have made just a single Pro Bowl during their time as a Jet.
Some had just that one flash-in-the-pan season that earned them a trip, while others may have been overlooked in other years. Some have had just brief pit stops with the Jets during much longer careers, while others had their Jets careers cut short by injury.
This slideshow ranks the seasons of each one-time Jets Pro Bowler since 1970.
(Note: This list takes into account only the player's Jets career. Many players on the list have appeared in multiple Pro Bowls over the course of their careers for other teams.)
Begin Slideshow

»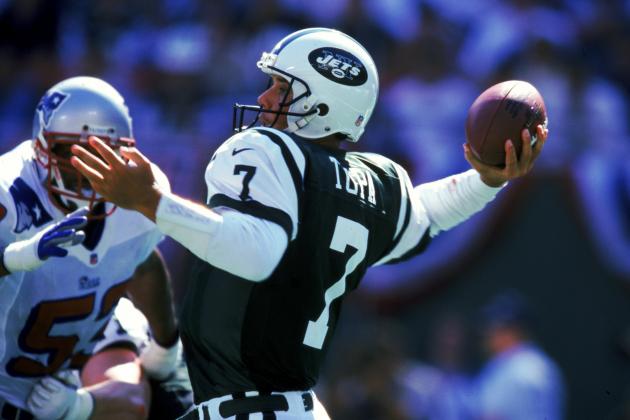 Ezra Shaw/Getty Images

1999 Key Stats: 45.2 yards per punt
Tom Tupa had one of the strangest careers of any player in the 1990s.
He was drafted by the Phoenix Cardinals in the third round of the 1988 NFL draft and was thought of as a possible successor to Cardinals legend Neil Lomax.
He started 11 games at quarterback in 1991 for the Cardinals; then after playing in three games at for the Colts in 1992, his four-year career as an NFL quarterback was effectively over.
But his punting career was just beginning.
The Cleveland Browns gave Tupa a chance as a punter, and he stuck immediately. Tupa spent the next 11 seasons as a reliable punter for five different teams.
His only Pro Bowl season came in 1999 when he was a member of the Jets.
While he made the squad as a punter, his 1999 season is better remembered by Jets fans for a return to the quarterback position.
In the season opener, Vinny Testaverde tore his Achilles tendon, causing head coach Bill Parcells to insert Tupa at quarterback.
With the Patriots expecting the Jets to run heavily, Tupa was able to connect on a 25-yard touchdown to Keyshawn Johnson. He ended the game 6-10 for 165 yards and two touchdowns.
In the end, Tupa's punting earned him his first and only Pro Bowl bid. His 45.2 average was tied for second in the AFC and third overall in the NFL.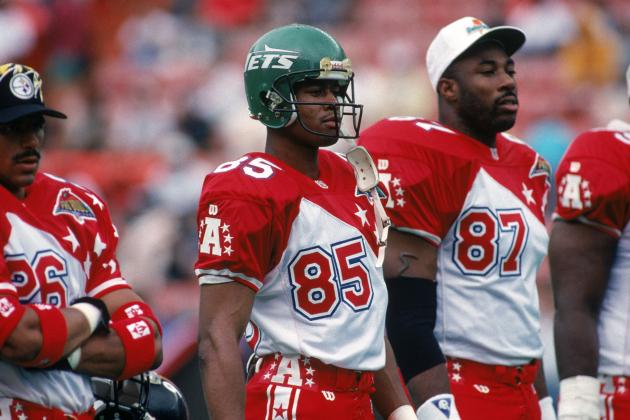 George Rose/Getty Images

1994 Key Stats: 78 receptions, 1,010 yards, six TDs
When the Jets drafted Rob Moore No. 1 overall in the 1990 NFL supplemental draft, it seemed that he was destined for greatness.
Moore had the ideal body type and physical skills to become a dominant receiver in the NFL.
He never reached the superstar realm during his five-year career as a Jet, but during his final year with the Jets, he was named to the AFC's Pro Bowl team.
Moore topped the 1,000-yard mark for the first time in 1994 and made the squad despite only being ranked 19th in the NFL in receiving yards and 15th in receptions.
Moore joined Andre Reed, Tim Brown and Irving Fryar on the AFC team in 1994.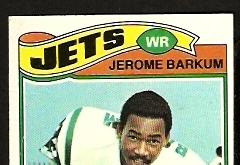 1973 Key Stats: 44 receptions, 810 yards, six TDs
1973 wasn't a banner year for wide receivers in the AFC.
Players like Haven Moses, Isaac Curtis and Ron Shanklin represented the conference on the Pro Bowl squad.
Also representing the AFC was the Jets' Jerome Barkum, who was in his first year as a receiver after being converted from tight end, where he played his rookie year.
The 23-year-old had a promising campaign in 1973, but would never return to the Pro Bowl again.
Barkum's statistics look pedestrian at best compared to today's standards, and his stats pale in comparison to Rob Moore, who was ranked just below him in this slideshow.
But Barkum's 810 receiving yards was second in the AFC in 1973, and his 18.4 average was good for third while Moore ranked significantly lower in most receiving categories in the AFC while playing during a different era.
Barkum topped the 100-yard mark twice in 1973, and in each game he had just four catches.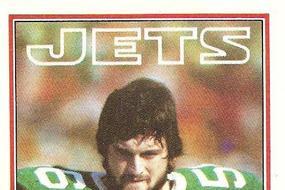 1985 Key Stats: 5.5 sacks, three INTs
Lance Mehl was one of the most popular Jets in the 1980s thanks to his workman-like attitude and relentless play in stopping the run.
Mehl was as much known for his propensity for injuries as he was for being a fan-favorite, though.
In three of Mehl's seven seasons, he started less than 10 games and he started 16 games just twice.
One of those seasons was 1985, when Mehl made his only appearance in the Pro Bowl.
Mehl was part of an outstanding AFC linebacker corps that included Andre Tippett, Karl Mecklenburg and Chip Banks.
Because tackles weren't kept as an official statistic at the time, Mehl's impact is tough to see when looking at his statistics. He registered a career-high 5.5 sacks and was a leader on the Jets defense that ranked third overall and first in the AFC in 1985.
Mehl was also named second-team All-NFL by the Associated Press.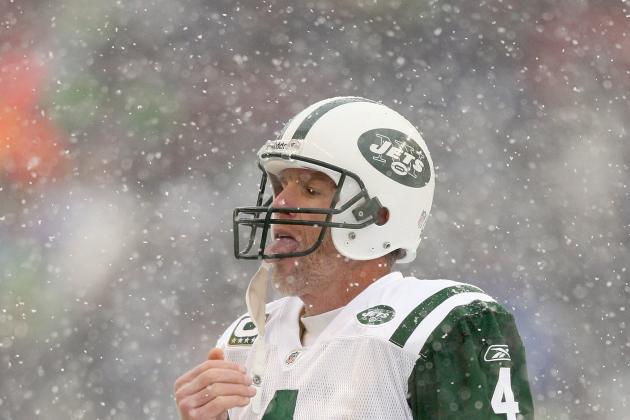 Otto Greule Jr/Getty Images

2008 Key Stats: 3,472 passing yards, 22 TDs, 22 INTs, 81.0 QB rating
If they picked the Pro Bowl roster after Week 11 of the 2008 season, Brett Favre would have been a lock to make it.
At that point, the Jets were 8-3 and had just come off consecutive road wins against the Patriots and Titans. He had thrown for 20 touchdowns through 11 weeks against 13 interceptions, and the Jets looked like geniuses for bringing him in.
Then came the great collapse of 2008.
The Jets lost four of their final five games thanks largely to incredibly poor play out of Favre. After the season, it was revealed that he played through a torn biceps tendon that robbed him of his arm strength and accuracy.
Favre was tremendous through 11 weeks, but his play over the final five weeks of the year made him a controversial Pro Bowl selection.
He finished with the ninth-best quarterback rating in the AFC, led the NFL with 22 interceptions and threw for less yards than David Garrard, Chad Pennington and Matt Cassel.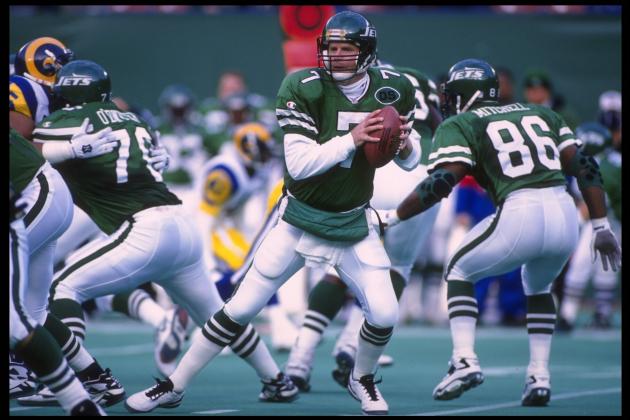 Rick Stewart/Getty Images

1993 Key Stats: 3,421 yards passing, 16 TDs, 11 INTs, 84.5 QB rating
1993 marked Boomer Esiason's first season as a Jet and the last of his four Pro Bowl appearances.
Esiason led the Jets to an 8-8 record in 1993, which was a four-game improvement from 1992.
He was joined on the Pro Bowl squad by NFL Hall of Famers Joe Montana (who was in his first year with the Chiefs), Warren Moon and John Elway.
Esiason's numbers don't pop off the page at anyone, but he was third in the AFC in passing yards, trailing just Elway and Moon; and only Elway, Moon and Jim Kelly had more touchdown passes.
Esiason topped the 300-yard mark in the first two games of the seasons, but didn't even top 200 yards in six of his final seven games.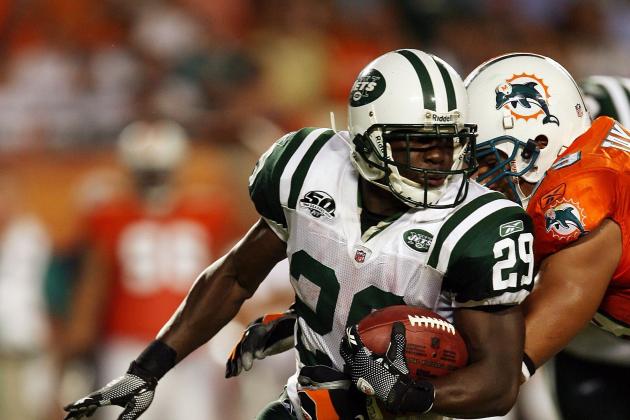 Doug Benc/Getty Images

2008 Key Stats: 25.6 kick-return average, 10.4 punt-return average
The Jets seemed to catch a bad break when Pro Bowl return man Justin Miller suffered a season-ending knee injury in 2007, but Miller's injury thrust Leon Washington into the role of return man.
And wouldn't you know, Washington went on to make the Pro Bowl in 2008.
Washington's biggest game in 2008 came in a Jets win at New England. He caught a first-quarter touchdown pass from Brett Favre to give the Jets an early lead and returned a second-quarter kickoff for a 92-yard touchdown to lead the Jets to a 34-31 win.
Washington was one of the most dangerous weapons in the NFL in 2007 and 2008 before a gruesome broken leg in 2009 cut his Jets career short.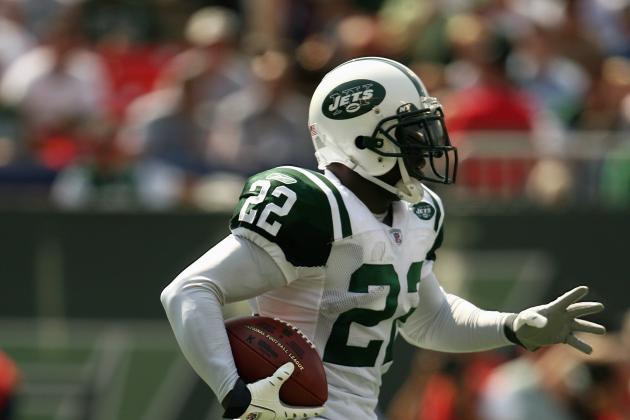 Nick Laham/Getty Images

2006 Key Stats: 28.3 kick-return average, 103-yard kick return
The Jets drafted Justin Miller in the second round of the 2005 NFL draft, and his tremendous speed helped him make an immediate impact as a kick returner.
In 2006, his second year in the league, Miller was selected to the Pro Bowl after leading the NFL with a 28.3 kick-return average.
He set a Jets record with a 103-yard kick return for a touchdown against the Colts.
Miller also had a 99-yard kick return touchdown against the Browns in 2006.
Unfortunately, Miller suffered a knee injury in 2007 and was never quite the same after that.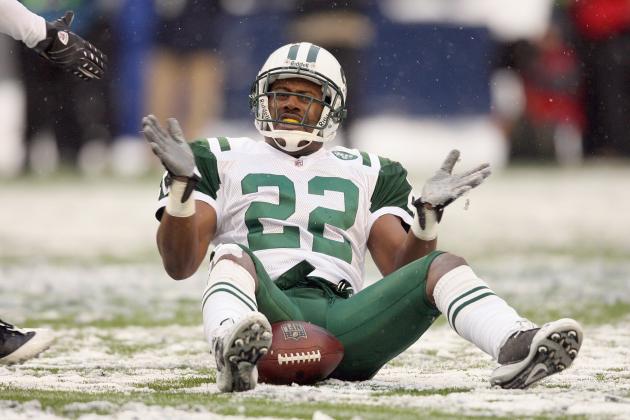 Otto Greule Jr/Getty Images

2005 Key Stats: 10 INTs, 62 tackles
Ty Law was not only one of the better cornerbacks in the AFC for a decade by the time he came to the Jets, but he was also one of the cornerstones of their hated rivals, the New England Patriots.
Law was still at the top of his game in 2004, but at the end of the season the Pats released Law mostly because he was going to cost them $12.5 million against the salary cap.
The Patriots' loss ended up being the Jets' gain.
Law recorded 10 interceptions to lead the NFL and piled up 62 tackles as well.
The Jets only went 4-12 in 2005, and Law was released after the season, the victim of salary cap cutback once again.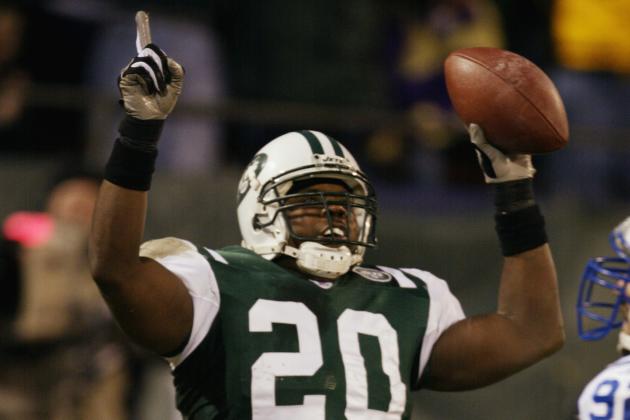 Al Bello/Getty Images

2000 Key Stats: 88 receptions/853 yards, 27 rushes/63 yards
Richie Anderson was a mainstay of the New York Jets in the 1990s. He played a workman-like role on special teams and as a blocking back during his first seven seasons as a Jet and was considered a solid, yet unspectacular player.
However, something clicked in 2000, and Anderson suddenly became the top statistical pass-catching running back in the NFL.
Amazingly, this came at a time when legendary pass-catching backs like Marshall Faulk, Tiki Barber, Larry Centers and Ahman Green were in their prime.
Anderson had more receptions and receiving yards than any of those players and for good measure had more receptions than Jerry Rice, Tim Brown, Issac Bruce and Randy Moss as well.
Anderson had at least one reception in every game and had three 100-yard receiving games during the season.
After the season, Anderson was a no-brainer as a Pro Bowl starter for the AFC. Mike Alstott was selected as fullback for the NFC.
Just as quickly as the heroics came, they left. Anderson developed a knack for fumbling during clutch situations, and after his phenomenal 2000 season, he totaled 85 catches and 509 yards over the next two seasons before his Jets career was over.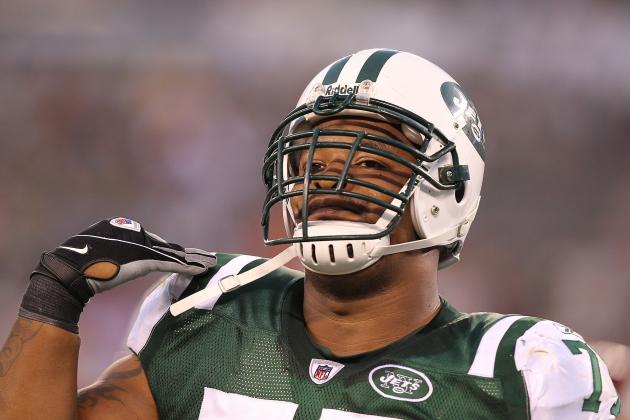 Al Bello/Getty Images

2008 Key Stats: 3.5 sacks, 50 tackles
When Kris Jenkins came over from the Panthers in the 2008 offseason, he brought over a reputation of being incredibly quick and excessively ferocious, two qualities you'd look for in someone who was to anchor a defensive line.
The pundits proved to be dead-on accurate in their assessment of Jenkins as he caused pure havoc during his first season as a Jet.
Jenkins's quickness off the snap popped off the screen, and his disruption of opponents' running games was something that went went way beyond the stats.
It's no coincidence that the Jets were fourth in the AFC in rush defense in Jenkins's first year on the squad.
After the season, he was named the starting nose tackle in the Pro Bowl and was a first-team All-Pro selection by the Sporting News.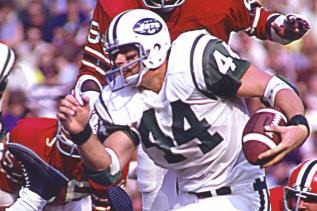 1975 Key Stats: 1,005 rushing yards, eight TDs, 30 receptions, 363 receiving yards
In one of the more incredible facts you can ever come across, Hall of Fame running back John Riggins made just one Pro Bowl in his 14-year NFL career.
His sole berth came in 1975 when he was a member of the New York Jets.
Riggins topped 1000 yards for the first time in 1975 when that actually meant something and was named as the AFC's Pro Bowl fullback along with Franco Harris. They were part of a backfield that also included O.J. Simpson.
The Jets only went 3-11 in 1975 as the Joe Namath era was sputtering to an end. In two of those wins, Riggins had 145 and 152 yards against the Chiefs and Patriots respectively.
Riggins cashed in after his only Pro Bowl season and signed a $1.5 million free-agent contract with the Washington Redskins.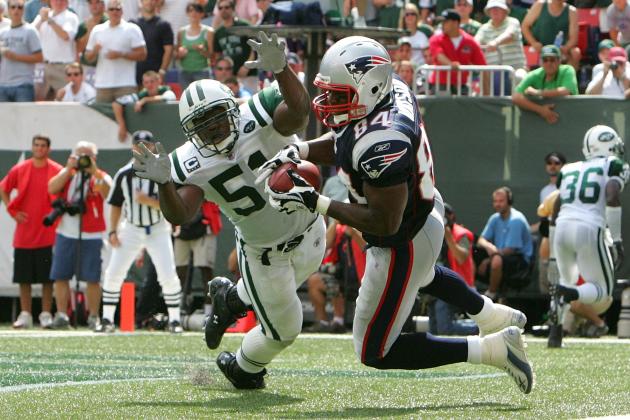 Nick Laham/Getty Images

2005 Key Stats: 128 solo tackles, 45 assisted tackles
Jonathan Vilma's NFL legacy may be tarnished by the Saints' Bountygate scandal, but when he started his NFL career, he was an outright tackling beast of a middle linebacker.
Vilma was drafted No. 12 overall by the Jets in 2004 and went on to win the NFL Defensive Rookie of the Year.
In his second year, he made the Pro Bowl, and it looked like the Jets had a centerpiece for their defense for the next decade.
At times during the 2005 season, it seemed that there were multiple players on the field at the same time wearing Vilma jerseys. The man seemed to tackle everyone including the beer vendor in section 318.
In 2006 Eric Mangini took over as head coach and instead of building his defense around his young superstar, Mangini changed the system and essentially turned Vilma into a square peg and tried to fit him into a round hole.
Vilma's Jets career went downhill from there, but he was revived with a trade to the Saints, where he went on to make two more Pro Bowls and earn a Super Bowl ring.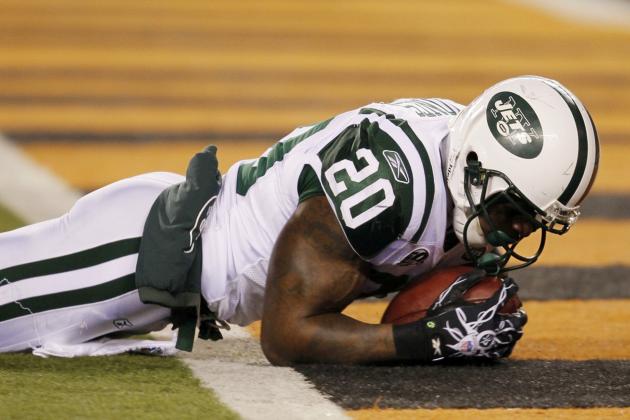 Jonathan Daniel/Getty Images

2008 Key Stats: 1,312 yards rushing, 13 TDs
Thomas Jones was only a Jet for three short seasons, but he topped the 1,000-yard mark in all three years.
Jones could have been an All Pro in each of his three seasons as a Jet, but the only time he was selected was in 2008, his second year with the club.
Amazingly, it was the only Pro Bowl appearance in Jones's career, which spanned 12 seasons and over 10,000 yards.
It was in 2008 that Jones led the AFC in rushing with 1,312 yards, 30 more than Steve Slaton of the Texans.
Jones also finished second in the AFC behind LenDale White with 13 touchdowns.
His tough running style and penchant for hanging on to the football quickly made Jones a fan-favorite for the green and white.
It's unfortunate that Jones didn't get to the Jets until he was 29 years old, as it seems he gave the Jets the final three good years he had left.
Jones has played for Kansas City the past two seasons, but after a 2009 season in which he carried the ball 331 times for 1,402 yards, his production dropped off a cliff.
Despite his short tenure in New York, he will always be appreciated for what he gave to the Jets.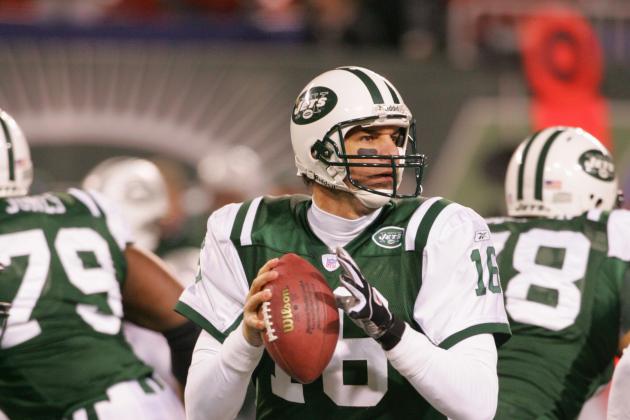 Jim McIsaac/Getty Images

1998 Key Stats: 12-1 record as a starter, 3,256 passing yards, 29 TDs, seven INTs
It may be hard to believe, but in his incredible 21-year NFL career, Vinny Testaverde only made the Pro Bowl twice.
In 1998, Testaverde's inclusion on the squad was a no-brainer.
Testaverde had the highest quarterback rating in the AFC at 101.6, a career best, and led the Jets to within one half of a Super Bowl appearance.
Testaverde also led the AFC with 29 touchdown passes and was second by .3 of a percentage point in completion percentage.
Testaverde's performance during the 1998 season saw some of the best quarterback play the franchise had seen since Joe Namath was in his prime.