NBA Free Agents 2012: 10 Underrated FAs Still Available to Be Signed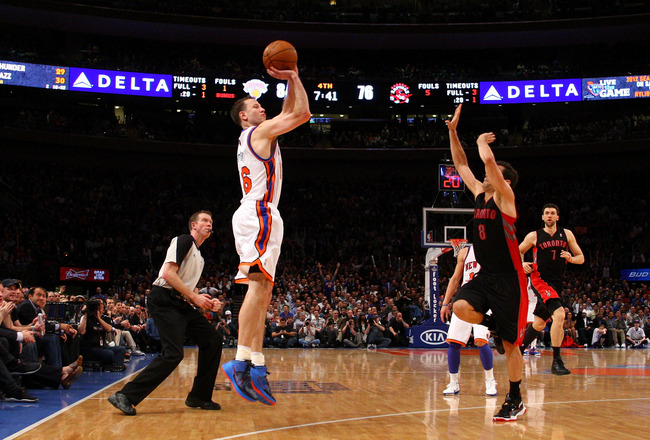 Steve Novak has drawn a lot of interest around the league.
Chris Chambers/Getty Images
Much like in the weeks before our high school proms, there are rumors surrounding all the big NBA free agents and where they have tentatively agreed to sign. Those lesser-known talents are left floating around until someone finally asks them to dance at the 11th hour.
This is dedicated to those juniors and seniors who had to sweat it out waiting for a suitor. These players are the cream of the underrated crop. They may have been contacted by teams by now, but they are still being forced to wait out the bigger names. Once those decisions are made, the doors will open for these free agents.
It is always the little players that get you to a championship. The Mike Millers, James Poseys and Shannon Browns get you over the top when your top guns are cancelled out.
As we inch closer to July 11th, these players will start to come into the limelight a little more.
Steve Novak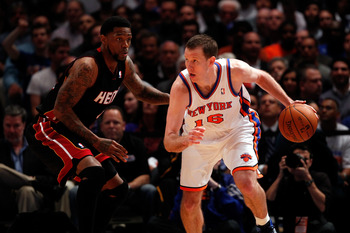 Steve Novak's camp has been pretty silent of late.
Jeff Zelevansky/Getty Images
The New York Knicks have not had a great free-agency period thus far. They were pushed around by the Raptors during the Steve Nash race, which both teams have ultimately lost. One starter, Landry Fields, will most likely be leaving for Toronto, and teams are pining over their prized young point guard, Jeremy Lin.
The invisible man in all of this is Steve Novak. Novak is among a select group of pure shooters, and he showcased his talents all of last season in New York. Along with Lin, he won the Bird rights case earlier this summer and should they sign with the Knicks, it would not count against the salary cap.
However, things have been fairly quiet on the Novak front, leaving one of the league's premier deep-ball threats (47 percent in 2011) dangling for the highest bidder or most appealing offer.
Will he still be around when the Knicks finally come calling?
Patrick Mills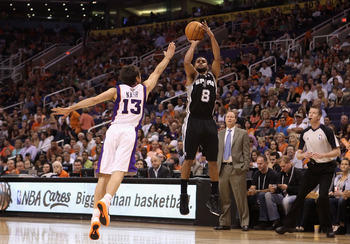 Patrick Mills wants to figure out his future before the Olympics.
Christian Petersen/Getty Images
Patrick Mills will once again be playing for Team Australia in the Olympics. He wants to figure out his free-agency plans as soon as possible so he can turn his focus to the international competition.
The diminutive point guard is just 23 years old and presents an intriguing option for a team with a definitive starter at the position. He performed admirably for the Spurs last season, even earning a few starts in which he lit up the scoreboard.
Mills is available for minimal money and could be a valuable investment for the future. After opting out of a second-year option with San Antonio, Mills became a restricted free agent. The Spurs may be willing to match any offer, but for a player with this potential, anything is worth a try.
Greg Stiemsma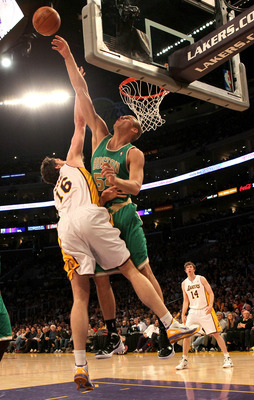 Greg Stiemsma turned a lot of heads last season.
Stephen Dunn/Getty Images
With the Boston Celtics extending a small qualifying offer to Greg Stiemsma, the rookie became a restricted free agent. Still, Boston has found itself occupied with the likes of Jason Terry, Ray Allen, Kevin Garnett and Brandon Bass.
The big names need to be sorted out before teams take a long look at just what they think the young center is worth. Stiemsma displayed some very impressive shot-blocking skills last season and could improve with more playing time.
There has been some interest from Minnesota, but the rights to Stiemsma remain at large, and he is one of the most underrated free agents on the market.
Jerryd Bayless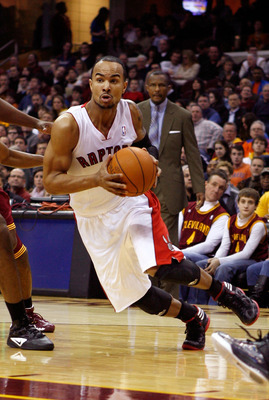 Jerryd Bayless has been declared an unrestricted free agent.
Mike Lawrie/Getty Images
Very recently, the Toronto Raptors rescinded a qualifying offer to Jerryd Bayless that would have netted the point guard more than $4 million next season. This effectively made him an unrestricted free agent.
While Bayless is not an elite point guard, he has proved that while playing starters' minutes, he can score with the best of them. As a reserve point guard, he offers high energy and effective running of the offense in a starter's absence.
Last season for the Raptors, Bayless posted his highest scoring average (11.4 points per) while also shooting a remarkable 42 percent from deep. He is flying under the radar right now, as some of the bigger-name guards are hogging the headlines.
There are numerous teams out there in need of a solid backup combo guard. In due time, Bayless' name will be kicked around more and more.
C.J. Miles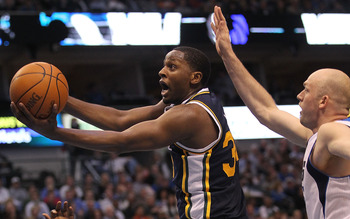 C.J. Miles was a solid role player for the Jazz.
Ronald Martinez/Getty Images
This could be the perfect time for a team to snatch up C.J. Miles. At worst, he is a suitable role player, but the potential is there for much more.
Miles appears to be in need of a change of scenery, as his minutes and production were both slashed last season. He has fantastic length and a great ability to get to the basket. After averaging 13 points per game two years ago, his production fell four points last season.
Teams may be able to get this unrestricted free agent at a good price. He has drawn interest from numerous teams, most heavily from the Dallas Mavericks. The pickup could turn into quite a steal if Miles gets back on track in a new city.
Boris Diaw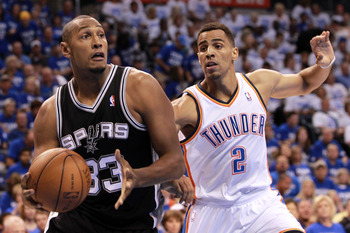 If Boris Diaw wants to be, he could be a valuable free agent.
Ronald Martinez/Getty Images
Boris Diaw went from being a disliked player on the worst team in the league to an intriguing role player on a Western Conference finalist last season. The Diaw who showed up in the playoffs for San Antonio is a player who will draw a lot of interest this summer.
However, the stench of his Charlotte games has not worn off, and teams are not yet knocking on the door to the Diaw household. This should change once teams stop looking at the top names and begin pushing the negatives out of their minds about this secondary group of players.
While no player on this list has as much potential for failure as Diaw does, few could also become as valuable as he did for the Spurs. He is a remarkably well-rounded player when he chooses to be.
For this reason, it is imperative that the team that makes the hardest play for him be a contender, or else all that potential will once again be hidden.
Shannon Brown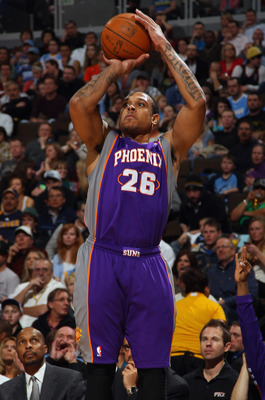 Shannon Brown has proved he can be a role player on a championship team.
Doug Pensinger/Getty Images
Shannon Brown is the perfect example of a player who must wait to see what happens with a bigger name. The Phoenix Suns reportedly offered a max contract to Eric Gordon. However, since Gordon is restricted with New Orleans, they can match that offer and retain him.
This leaves Brown waiting to see if the team he played for last year will want him back. In the meantime, buzz around Brown has been fairly quiet. The option of rejoining Kobe Bryant and Steve Nash in Los Angeles remains a possibility, but either way, Brown will have to wait out free agency.
Brown has the ability to start, which he did 19 times last season. In Phoenix he posted his highest points per game total with 11 in just 24 minutes per game.
Brown has played fairly significant reserve roles for two championship teams, and he boasts experience that few others in this level of free agents have. While Phoenix is waiting around to hear from Gordon, it wouldn't be a surprise to see a team turn its attention to picking up Brown.
Josh Howard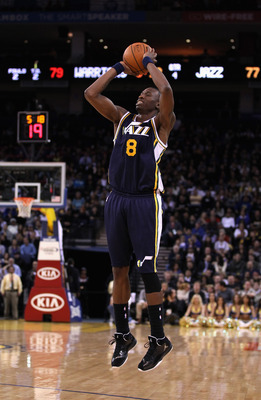 Josh Howard started 18 games for Utah last season.
Ezra Shaw/Getty Images
Not long ago, Josh Howard was a very good player in the NBA. For three years in Dallas, he hovered around 20 points per game.
Instead of continuing to build off those great seasons, injuries have hampered Howard's potential. He has missed significant time in each of the past four seasons, which has landed him in this group of secondary free agents.
After posting nine points and four rebounds in 43 games with 18 starts for the Utah Jazz last season, his one-year deal expired. Teams are now waiting on other big names to fall before making a sincere play for Howard.
Has the potential lasted throughout numerous injuries, or is the nine-year veteran done?
Going solely by his stats in Utah, he is still a serviceable rotation player. Shooting just a hair under 40 percent from the field is a big red flag, though, and that will definitely harm his value.
Michael Redd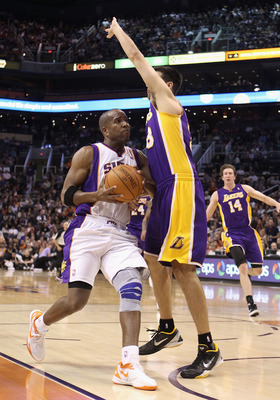 Can Michael Redd still score at the NBA level?
Christian Petersen/Getty Images
Michael Redd is an intriguing player at this stage of his career. Long gone are the days of scoring 25 points on a regular basis, but he is still very capable of putting the ball in the basket.
An injury-plagued 2008 season totally derailed Redd's career. At the time, he was one of the game's elite shooting guards. However, four years later, Redd was playing 15 minutes per game as a reserve in Phoenix.
Redd made just over $1 million last year and will be courted by elite teams looking for the last edge to put them over the top. His name doesn't carry the kind of punch it used to, despite the fact that he was once on the same level as Ray Allen and Jason Terry.
Redd still scored more that eight points per game in his limited time and proved that he still has some of the talent he did as a 26-year-old. As things settle down, many good teams will realize there is no better option than a well-aged Redd.
Lou Williams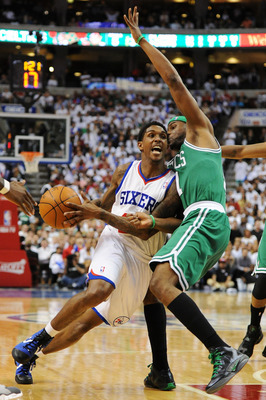 Lou Williams won't be pursued by Philadelphia.
Drew Hallowell/Getty Images
Lou Williams had to assume his early free-agency period would be a lot more active than it has been. The leading scorer for a team that went to Game 7 in the second round of the playoffs has had very little in terms of public suitors thus far.
Williams was a volume scorer for the Philadelphia 76ers the last few seasons. It may be that his low shooting percentage (40 percent) has teams thinking twice about calling.
Williams offers one specific item to a team: bench scoring. Unfortunately for him, teams will not know if that is something they will need until later in the offseason.
Still, once the premier shooting guards and scorers come off the board, Williams will be looking pretty darn attractive to teams still in need.
Keep Reading