Ohio State Football: 5 Buckeyes Who Will Benefit Most from Meyer's System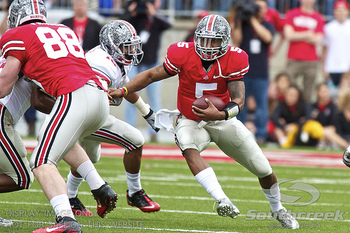 Braxton Miller
Urban Meyer's spread-option system brings some firepower to what was a consistently stagnant Ohio State offense last year.

The days of "Tresselball" are long gone and the high-powered, fast-tempo era is set to begin within the next two months.

This will begin with the Buckeyes' top playmakers on the roster, from Corey (Philly) Brown at wide receiver to Jake Stoneburner at tight end.

We can expect Ohio State to have an exciting offensive unit in 2012, thanks to these five players that will thrive in Meyer's system.
Corey (Philly) Brown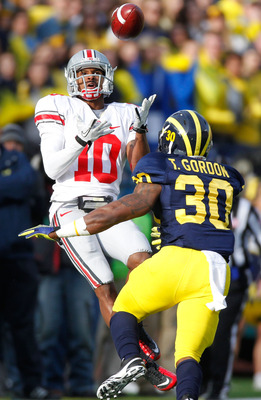 Corey (Philly) Brown
Gregory Shamus/Getty Images
Corey (Philly) Brown will play a huge role in the Buckeyes' new offense, and will have to come up big if he wants to hold on to the starting position.

And to do that, he'll need to continue improving on his concentration when catching the ball in traffic—something he's struggled with the last two seasons, especially in 2011.

Ohio State desperately needs Brown to play to his highest potential as the starting flanker (H) this upcoming season, where he is expected to make catches all over the field for Braxton Miller.

In 2008, former Gators and current Minnesota Vikings receiver Percy Harvin finished the season with 40 receptions for 644 yards and seven touchdowns at the same position Brown will be playing.

We can expect Brown to also take motion handoffs, run drag routes and lure the safeties away from the flats (area on the field between the line of scrimmage and 10 yards into the defensive backfield).

Brown, also a threat on special teams, could thrive in this new system. It fits his skill set and, if he keeps working to get better, could easily end up being Miller's No. 1 pass target.
Evan Spencer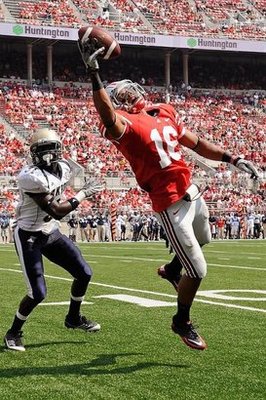 Evan Spencer
Evan Spencer is projected to be the day-one starter at "Z" receiver (right side of the field). He did not see much playing time last year as a freshman, but is expected to be a major part of the Buckeyes' offensive success in 2012.

He will be taking the role that Riley Cooper once assumed in 2009 for Florida; Cooper is now a receiver for the Philadelphia Eagles.

Cooper finished with 51 receptions for 961 yards and nine touchdowns that year, and Spencer undoubtedly possesses the type of athleticism that will allow him to match and surpass those numbers.

We may endure growing pains with the sophomore in his first season as a starter, but we can also expect to see some breathtaking one-handed grabs—oh wait, we already have.

Devin Smith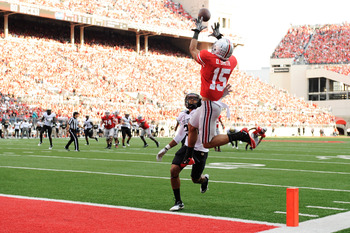 Devin Smith
Jamie Sabau/Getty Images
Yet another highly talented, but young Buckeyes receiver, Devin Smith shared a few moments as a freshman that most of us will never forget.

There were also times where he struggled to get open and made freshman-like errors, but that's nothing that some offseason practice won't take care of.

Now in his second year with Ohio State, Smith is projected to start as the "X" receiver (left side of the field), where he will grow into one of the top playmakers for the offense.

Oakland Raiders wide receiver David Nelson held this position for the Gators' 2008 title team, catching 38 balls for 655 yards and seven touchdowns.

Smith's progress from the beginning of last season to now shows that he could likely put up similar numbers as a sophomore and continue adding to them in the future.
Jake Stoneburner
Jake Stoneburner
Jonathan Daniel/Getty Images
Jake Stoneburner is arguably the most important asset to the Buckeyes' offense in its inaugural season under Meyer and the spread-option.

Not utilized correctly in years past, he can do it all and will be involved in every play from scrimmage beginning on September 1, when Ohio State takes the field for the first time.

The senior tight end led the team with seven touchdown receptions off 14 total catches last season. It may not seem like much, but it's a sign of incredible things to come.

Stoneburner is not like the average tight end; his receiver-like speed helps him get open along the seams, while his outstanding size (6'5", 250 pounds) and strength allow him to separate from defenders and create mismatches.

Like the Aaron Hernandez days back at Florida, Urban Meyer will use Stoneburner as another option on the line. He will be targeted multiple times throughout each game and will carry a huge target on his back, causing other receivers to get open.

Meyer and offensive coordinator Tom Herman have a great track record for developing tight ends, so it's hard to believe they'll forget about the potential first-round NFL draft selection.
Braxton Miller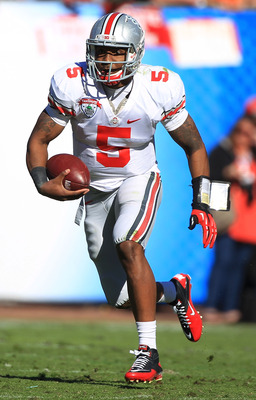 Braxton Miller
Scott Halleran/Getty Images
Everyone saw what Braxton Miller could do as a true freshman with a predictable, bland offensive scheme. Now the world will watch as he flourishes in a fast-paced offense, one where he will be asked to use his legs to make plays in the running game.
Miller is an electrifying athlete with big-play ability, as he showed time and time again in 2011. He's had time to work on his mechanics with new offensive coordinator Tom Herman—who has an outstanding resume of developing quarterbacks—and can continue to grow and learn the playbook through the summer.
Now a sophomore, Miller seemed poised throughout the spring game, completing 24-of-31 attempts (77.4 percent) for 258 yards and an interception while showing improvement with his passing technique.
For a team and fanbase that has been running a primitive offensive scheme for far too long, seeing a coaching staff that's willing to build around a quarterback's talents such as Miller's is very exciting.
Ohio State's fate will lean heavily on Miller's performance; with the new spread, more experienced weapons and a coach that's all about winning, I'm sure we'll see him become one of the better dual-threat quarterbacks not only in the Big Ten, but the nation.
Follow @Tyler_Waddell
Keep Reading

Ohio State Football: Like this team?