Brooklyn Nets: 5 Plan B Options If Giving Up on Acquiring Dwight Howard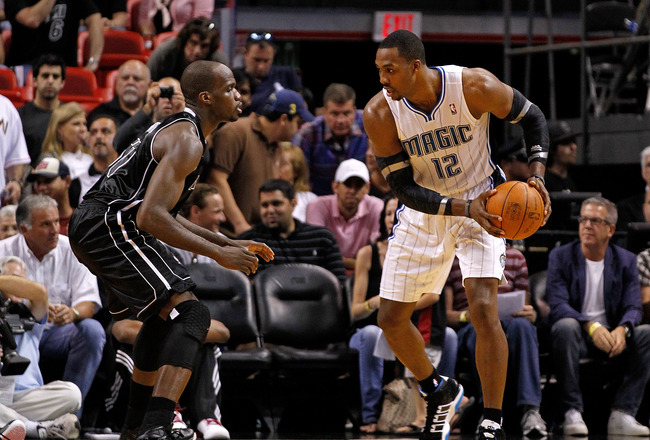 Mike Ehrmann/Getty Images
The Brooklyn Nets have agreed to move after move during the free-agency moratorium, vastly improving the team's chances of competing for a title.
However, the Dwight Howard piece of the puzzle remains unfilled, despite the addition of Joe Johnson and the re-signing of both Deron Williams and Gerald Wallace.
According to Yahoo! Sports' Marc. J. Spears, Billy King and the Nets don't have a great chance at landing their prized center at this stage of the game and might have to be content with a backup plan:
Nets have "30 percent chance" of landing Dwight in trade but likely would turn attention to FAs if it cant be done in a week,source tells Y!

— Marc J. Spears (@SpearsNBAYahoo) July 7, 2012
I have absolutely no idea how a team can have a 30 percent chance of making a trade; that's an oddly specific number for something that either happens or doesn't happen.
That's neither here nor there, though.
So, who would be those free agents Spears mentioned?
Read on to find out.
Let Brook Lopez Hold Down the Fort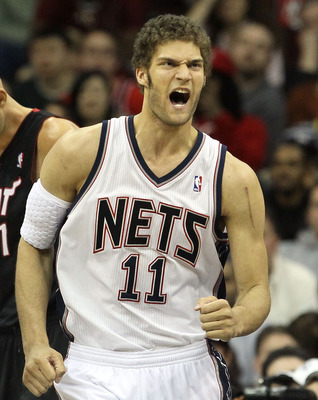 Jim McIsaac/Getty Images
The most obvious option would be letting a certain Stanford product continue to score points for the Nets, moving with them from New Jersey to Brooklyn.
Brook Lopez missed much of this past season due to his broken right foot and the ankle he sprained upon his return, but he remains one of the league's elite offensive players at his position.
The big man has his shortcomings—most notably that he doesn't even appear to understand the concept of rebounding despite his elite educational background—and isn't the perfect player by any stretch of the imagination.
However, he's still a great offensive option on a team that is suddenly chock full of them.
With a healthy Lopez manning the paint and Deron Williams, Joe Johnson and Gerald Wallace operating throughout the rest of the half-court set, the Nets would be an incredibly difficult team to slow on the more glamorous end of the court.
Lopez will most likely be signed regardless of whether or not he ends up with the team. If Brooklyn can't package him in a sign-and-trade to the Orlando Magic for Dwight Howard, signing and keeping him would be the premier back-up plan.
Go After Marcus Camby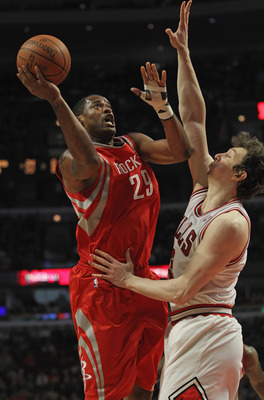 Jonathan Daniel/Getty Images
The Brooklyn Nets have already extended a qualifying offer to Brook Lopez, but if they somehow allow him to slip through their grasp and he joins Dwight Howard as a non-Net, it's time to move on to the other Plan Bs.
Marcus Camby isn't a terrific player at this stage in his career, but he does fit in perfectly with the current makeup of this Nets squad.
The 38-year-old center can't do much on offense (although Deron Williams could probably still make him look more than competent in pick-and-roll sets), but he's still an above-average rebounder and defender.
In 2011-12, Camby finished first in the league in the all-important total rebounding percentage metric, a measurement of the percentage of available rebounds that a player pulls down when he's on the court. He's one of those rare players who manages to excel on both the offensive and defensive glass.
The big man finished second to Dwight Howard in defensive rebounding percentage and fifth in offensive rebounding percentage, trailing Nikola Pekovic, Tristan Thompson, DeMarcus Cousins and Joakim Noah. However, when you consider both ends of the court, no one could match Camby's efficiency on the glass.
With their recent moves, the Nets aren't desperate for more offense, even if they lack an established scorer on the block. D-Will, Joe Johnson and Gerald Wallace can score enough points on their own, especially with guys like MarShon Brooks coming off the bench.
Although he's not as great a player as the next option, Camby's price tag is likely to be minute compared to the others, which would allow the rest of the roster to be built up more.
Pursue Chris Kaman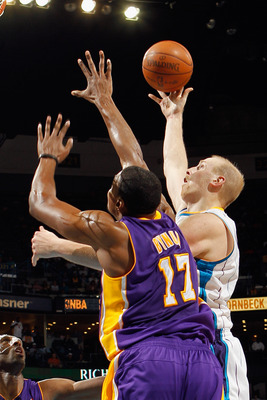 Chris Graythen/Getty Images
This big man is no longer the All-Star that he once was back in 2010, but he's still a productive center who stands a true seven feet tall.
When Chris Kaman is your center, you have to accept the good along with the bad. Every positive has an accompanying negative, even if the positives tend to trump the negatives.
Kaman has a nice scoring instinct and good post moves, but he has poor hands and turns the ball over via sloppiness or bad passing way too often.
On defense, he plays quite well and compensates for his lack of athleticism and short arms.
The biggest positive associated with this former New Orleans Hornets, though, is his developing mid-range game. Kaman is taking and hitting more shots from outside the paint than he did as a younger player, and he should do well on a team with nice spacing.
Kaman is a more expensive option than Marcus Camby and doesn't provide the same defensive and rebounding presence, but his increased offensive abilities are enough to make up for his aforementioned shortcomings.
This big man hasn't been on the Nets' radar thus far, but if they do truly give up on Dwight Howard, he must be strongly considered.
Get Carl Landry into the Spotlight (In Addition to Re-Signing Brook Lopez)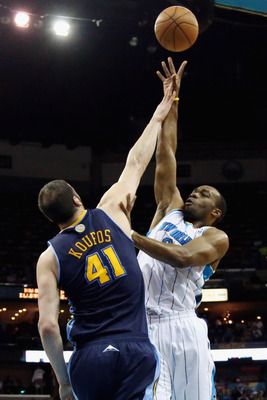 Chris Graythen/Getty Images
Carl Landry is always one of the most underrated players in the league, playing well out of the spotlight and rarely letting his hard-working, gritty style of play lend itself to highlight reels. He's always spent his time laboring away in the shadows, just trying to get the job done.
A move to the Brooklyn Nets would certainly thrust him firmly into that spotlight, as the team is sure to be analyzed again and again following their move to a new location.
Landry played 41 games and started eight of those contests for the New Orleans Hornets last season, averaging 12.5 points and 5.2 rebounds per game. However, his 18.31 PER should be much more telling, as he was incredibly productive in his limited 24.4 minutes per game.
Given a larger role, this soon-to-be 29-year-old power forward should be able to maintain his efficiency and become one of the more productive players at his position.
The Nets have the glamorous players already, and now they have to add the hard-nosed ones, like this former Purdue Boilermaker.
Add Veterans for Depth (In Addition to Re-Signing Brook Lopez)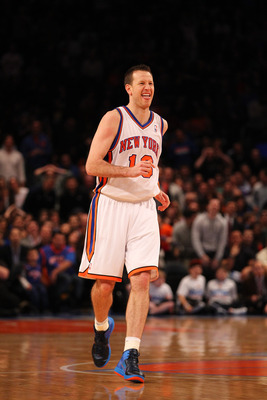 Al Bello/Getty Images
One last version of Plan B for the Brooklyn Nets is to add a number of veterans to provide depth for the stars.
The Nets are obviously composed quite differently than the defending champions, but the Miami Heat proved that it is possible to win a title without a standout center. If Brooklyn adopts this philosophy and makes a number of savvy moves, they could very well become true contenders.
Gerald Wallace, Deron Williams and Joe Johnson aren't on the same level as the Big Three down in South Beach, but they're not light years behind by any stretch of the imagination.
Adding fairly safe bets like Kenyon Martin, Jodie Meeks, Steve Novak and/or Mickael Pietrus could only do good things for this roster.
This is obviously the least-appealing option of the five, but it's not a bad one by any means.
Keep Reading

Brooklyn Nets: Like this team?