Boston Celtics: Ranking Every Player on the Celtics Roster for 2012-13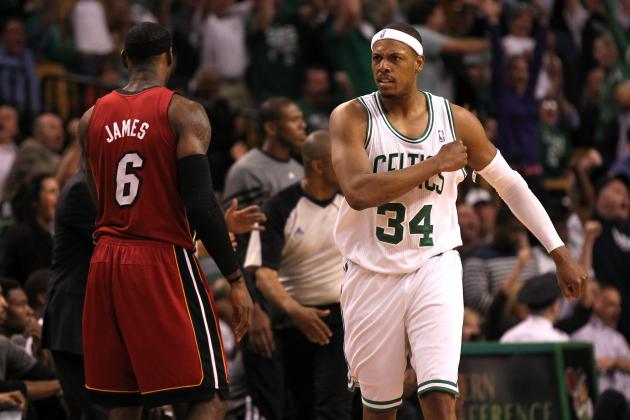 Jim Rogash/Getty Images

After a glorious run with the Big Three in Boston, the feeling crept up on the Celtic faithful that it may be time to rebuild.
Danny Ainge and the front office gave a resounding answer with the re-signing of Kevin Garnett and pickup of Jason Terry:
They're not done yet.
Paul Pierce and Co. are not going to get any younger but with Rajon Rondo keeping the ship headed in the right direction, the Celtics will remain contenders in the Eastern Conference come next season.
Contract information courtesy of Spotrac.com
Begin Slideshow

»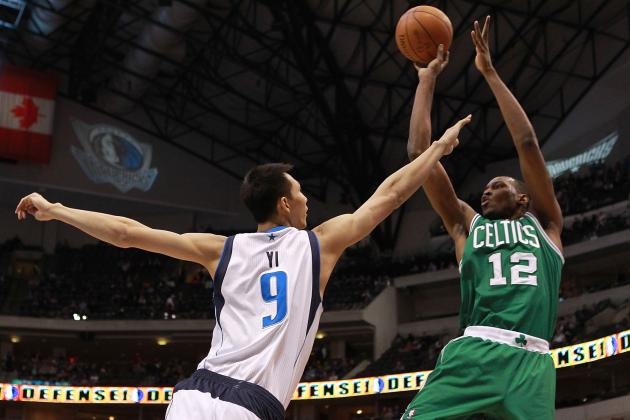 Ronald Martinez/Getty Images

Role: Bench player
Status: Signed through 2012, with team option through 2014-15
JaJuan Johnson, a second-year player out of Purdue, had limited minutes in his rookie season. He is an excellent big man to have in the middle at 6'10" and 220 pounds.
The former first-round pick probably won't get much time on the court in 2012-13. With five more capable big men on the roster, the only thing Johnson may lead is the Celtics bench cheerleading squad.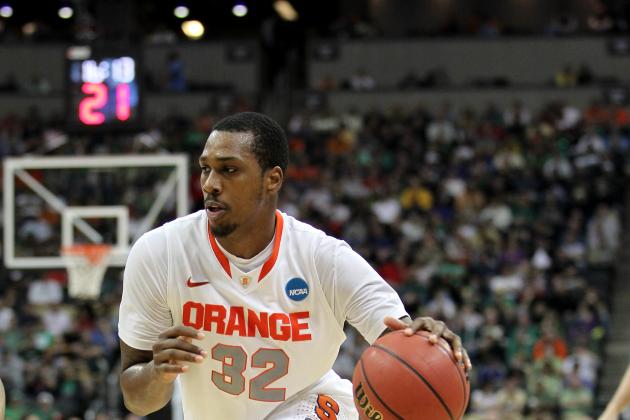 Gregory Shamus/Getty Images

Role: Bench player
Status: Unsigned draft pick
The Celtics drafted Kris Joseph with the 51st overall pick in the 2012 NBA Draft.
It remains to be seen if his success in college will translate well to the NBA but if anyone can get the best out of his young players, Doc Rivers in Boston can do it. With Rajon Rondo running the point and spreading the ball around, Joseph will get his opportunities when he is on the floor.
In a pretty deep roster it may be difficult to get playing time, but Joseph does have potential. He was the leading scorer and rebounder for the Syracuse Orange last season.
Joseph Treutlein of DraftExpress remarks that Joseph's "spot-up three-point shooting remains his most potent offensive weapon" and with the absence of Ray Allen, he may see his minutes spike if Jason Terry doesn't live up to expectations.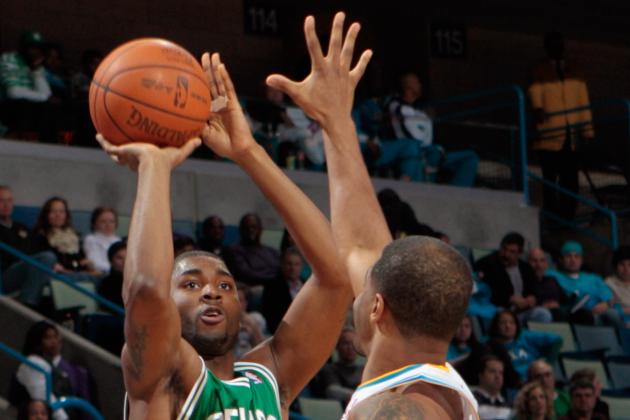 Chris Graythen/Getty Images

Role: Bench player
Status: Signed, final year of contract
Like Jajuan Johnson, E'Twaun Moore is also a second year player out of Purdue. In fact, the two have known each other since they were 12 years old.
And also like Johnson, Moore had a very limited impact on the floor for the Celtics in 2011-12. Nothing should be expected to change next season simply because of the incredible depth that Boston has.
Jason Terry, Rajon Rondo and Avery Bradley have all made their statement in one way or another.
Moore scored over 10 points only once last season and beating that should be a goal for the young guard.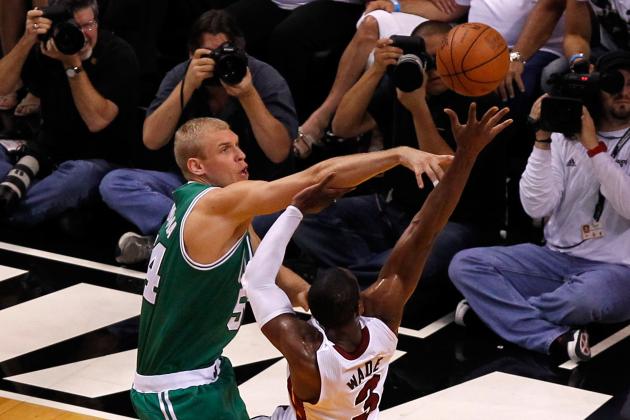 J. Meric/Getty Images

Role: Back-up center/PF
Status: Unsigned, restricted free agent
Greg Stiemsma quickly became a fan favorite in Boston. He plays the game the right way and proved that he is a capable role player.
At 6'11" and 260 pounds, Stiemsma has the size to continue off the bench for the Celtics. If he refines his game over the offseason and shows some improvement in the preseason, he could compete to be one of the primary options when one of the starters needs a breather.
The Celtics would be wise to re-sign the 26-year-old free agent, but if they don't, they would only be losing their 10th best player.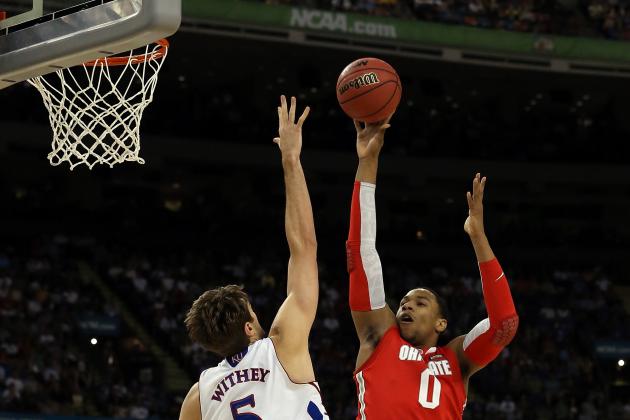 Jeff Gross/Getty Images

Role: Back-up PF
Status: Unsigned draft pick
Getting Jared Sullinger with the 21st overall pick in the 2012 NBA Draft was a steal for the Celtics.
Generally regarded as a top 10 prospect, Sullinger dropped into the Celtics hands in the first round and added much needed depth to the power forward position.
Sullinger posted excellent numbers at Ohio State last year (18 points per game on over 50 percent shooting, nine rebounds per game and over a steal and block per game).
There are three big men who will probably be ahead of Sullinger in the depth chart but he should certainly get the minutes he needs to either show he can or cannot make a name for himself at the NBA level.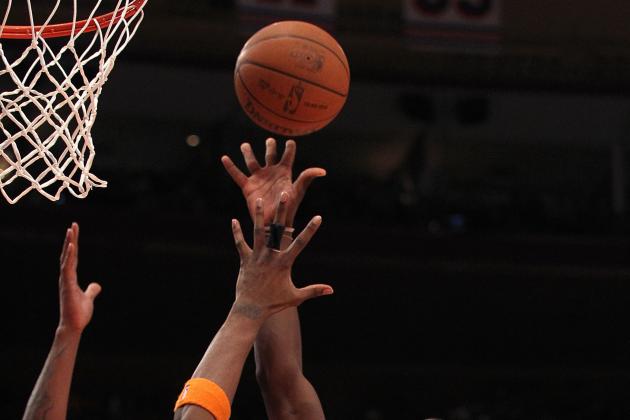 Nick Laham/Getty Images

Role: Back-up SF
Status: Signed through 2015-16
After undergoing heart surgery for an aortic aneurysm and missing the entire 2011-12 season, Jeff Green is back.
Danny Ainge apparently thinks this guy has a lot of promise. From drafting him with the fifth overall pick in the 2007 NBA Draft (and proceeding to trade him away) and giving up Kendrick Perkins to the Thunder to re-acquire Green, Ainge must know something about this guy that we don't.
Green has proven that he can put up solid numbers, averaging nearly 14 points and six rebounds per game in his four years playing for Boston and Oklahoma City.
NBA senior writer and fellow B/R writer Josh Martin said it best when he wrote that Green is "a jack-of-all-trades-type player who can shoot, pass, rebounds and defend at either the small forward or the power forward position."
Who knows what his ceiling is, but for now Green is a valuable role player for Boston.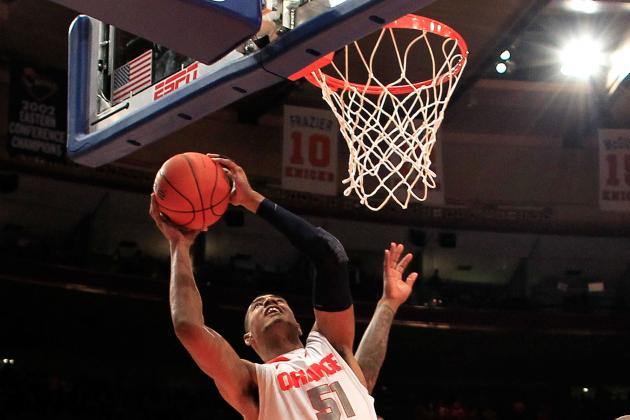 Chris Trotman/Getty Images

Role: Bench player/back-up center
Status: Unsigned draft pick
Starting to see a pattern with the Celtics draft picks? They seem to like players that were teammates in college (Moore and Johnson, Joseph and Fab Melo).
Whether it's an idea that the players will help each other acclimate to the NBA environment or not, the Celtics now have two pairs of former college teammates.
Fab Melo will have the largest impact out of the four. At seven feet tall, Melo is a monster in the middle who already has a decent defensive game. And with Bass, Garnett and Sullinger/Green carrying the majority of the load in the post game offensively, Melo won't be pressed to develop stellar post moves in a hurry.
With the attitude that he's "going to shock some people" (via ESPN), Melo has the mentality that all rookies should: he's excited and ready to go.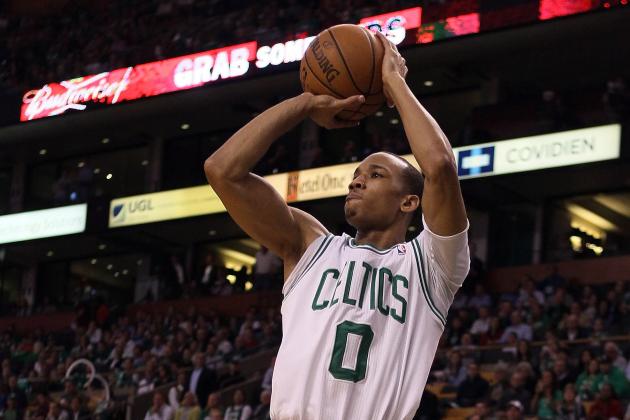 Elsa/Getty Images

Role: Back-up guard
Status: Signed, final year of contract with team option for next year
Avery Bradley just may be the most exciting player to watch next year on the Celtics.
However, two big things aren't in his favor. His injury rehab may prevent him from playing at the beginning of the season and Jason Terry and the inexhaustible machine that is Rajon Rondo are both also on the team.
Bradley is capable of playing both guard positions, something that definitely plays in his favor. As good as Jason Terry is, his 34-year-old legs will not carry him 48 minutes. And if Terry goes cold, Bradley will likely be the number one option off the bench to take his place.
Before succumbing to injury, Bradley posted some impressive numbers at the conclusion of last season.
In the final 19 games of the regular season, Bradley was in double figures for scoring 14 times including four 20-point performances.
If he gets ample time on the court, Bradley will perform at a very high level. It's as simple as that.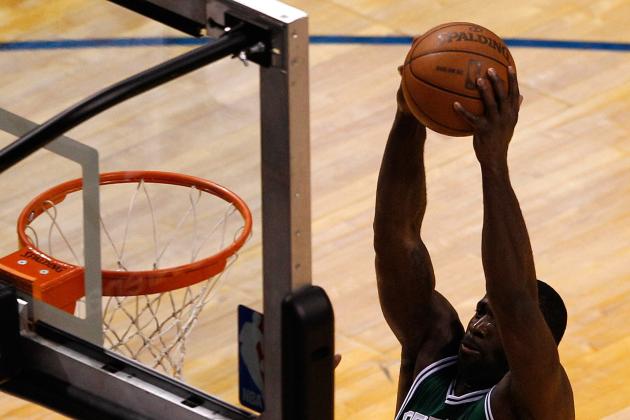 J. Meric/Getty Images

Role: Starting PF/Sixth Man
Status: Signed through 2014-15
Brandon Bass gained some national respect in his impressive performances in the 2012 playoffs, with the highlight as his 27 point explosion in Game 5 of the conference semifinals against the Philadelphia 76ers.
He averaged a respectable 12.5 points per game and over six rebounds per game in 59 games (39 of which he was a starter).
Bass brings much needed energy to the Celtics game and at 27 years old he is at the peak of his physical ability. If he continues to perform at the level he did in the playoffs last year, the Celtics will have an excellent well-rounded forward to go to on a nightly basis.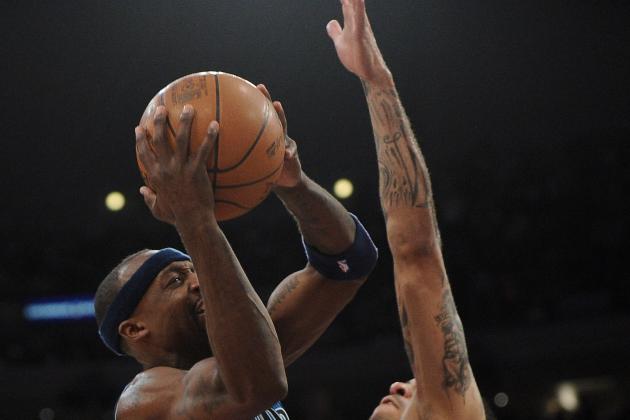 Harry How/Getty Images

Role: Starting SG
Status: Signed through 2014-15
Recently acquired to fill the void of three-point king and future Hall of Fame guard Ray Allen, Jason Terry is a formidable behind-the-arc shooter himself.
Terry was an instrumental part in the Mavericks 2011 NBA championship and averaged over 15 points per game during the subsequent regular season.
Although he may be 34 years old, Terry brings an energy and championship experience to an already playoff savvy team. He won't make Celtics fans forget about Ray Allen, but he is a respectable replacement nonetheless.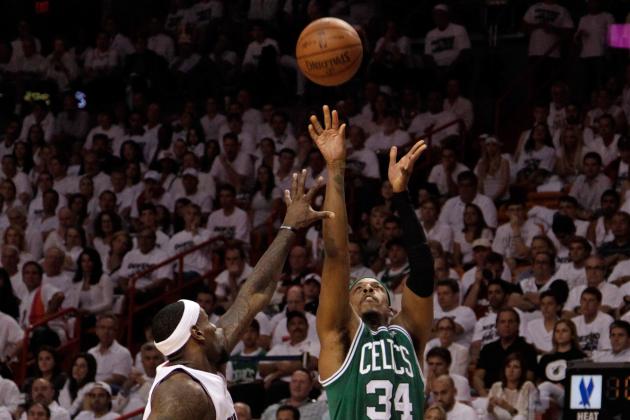 Mike Ehrmann/Getty Images

Role: Starting SF
Status: Signed through 2013-14
Paul Pierce is a future Hall of Famer.
Not only that but the 14-year pro has shown he can still perform at an elite level. He scored nearly 20 points per game in both the regular season and playoffs last year.
He also hauled in five rebounds and 4.5 assists which were significant contributions to the Celtics.
Pierce may be 34 years old, but he's still a great player. And as long as he's making shots like the one he made over LeBron James in the Eastern Conference finals, he will continue to be loved in Boston.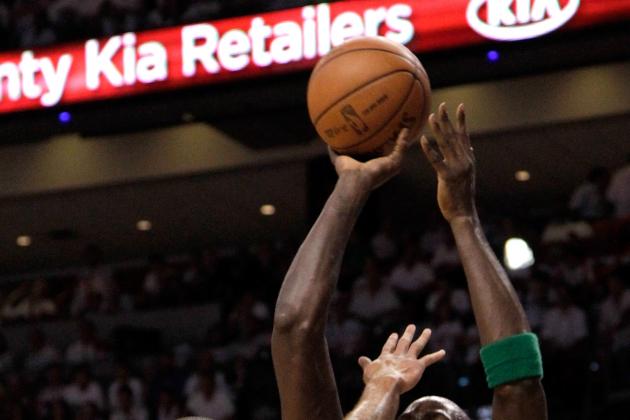 Mike Ehrmann/Getty Images

Role: Starting center
Status: Signed through 2014-15
Kevin Garnett is 36 years old but you would never guess that if you watched him play.
KG averaged 19 points and 10 rebounds in the 2012 playoffs to supplement his 16 points and eight rebounds in the regular season.
His 67 points in the first three games in the Eastern Conference finals were even more impressive considering the stage it was on, the fact that he had already played a full season and two playoff series and it was against a premiere defense in the Miami Heat.
The Celtics were extremely lucky to be able to re-sign a Hall of Fame talent like Garnett and if he performs like he did last season there is no reason that the Celtics can't make another deep playoff push.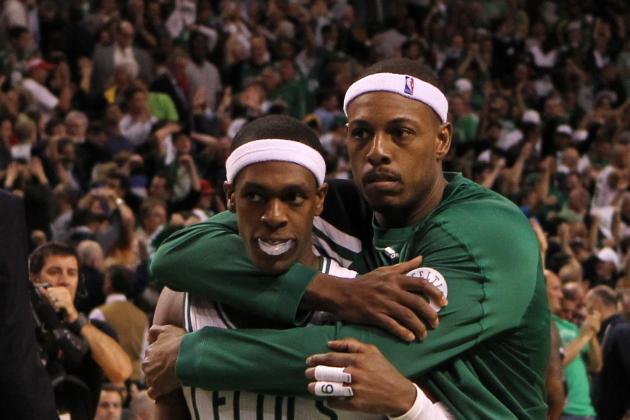 Jim Rogash/Getty Images

Role: Starting PG
Status: Signed through 2014-15
There isn't much to say about Rajon Rondo that hasn't already been said.
He is a top 10 player in the NBA.
Rondo may have only scored 12 points per game in the 2011-12 regular season but he is an elite facilitator. Add the points from his nearly 12 assists per game and Rajon Rondo contributes to 35 points per game.
To put that in perspective, scoring champion Kevin Durant also contributed to 35 points per game (28 points per game plus 3.5 assists per game).
Not bad for a guy who was hidden behind the glamour of the Big Three. And as Rondo continues to improve his jump shot and finishing at the rim, he will only get better.
If he stays healthy, Rajon Rondo will lead the Boston Celtics well into the 2013 playoffs.