Tito Ortiz vs. Forrest Griffin: What Went Right for Griffin?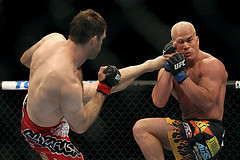 With everything that happened from the beginning of the fight, all the way to when Dana White chased Forrest Griffin down the walkway to get him back in the cage, it was a bit surprising that to top it all off, Griffin ended up getting his hand raised.
Griffin was visibly upset with his performance, but the fact is, he put on a spectacular display of striking ability amidst all the takedowns that Tito Ortiz got.
This looked to be another split decision between these two, but it was unanimous, as Ortiz goes into retirement on a loss.
What went right for Griffin?
Begin Slideshow

»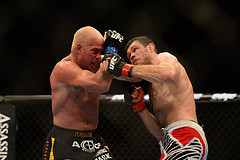 In that entire 15-minute span, Griffin never stopped working. Even when he looked to be slowing down in the third, he was still putting up respectable numbers and quality shots to his opponent.
Ortiz has been known for years for his cardio, training at Big Bear for all that time. Griffin looked to have a bit more in the tank, though that is not to take away from Ortiz's performance, which was one of his best in a long time.
In the end, it was about Octagon control, and when standing, Griffin got the better of the exchanges and sealed the win with a great display of heart in the third, using the fence to get up from the ground.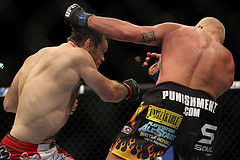 Although Griffin was getting the better of the exchanges, Ortiz landed some bombs and left Griffin rocked a couple times.
What helped Griffin survive was that iron chin of his. He doesn't get knocked out easily, but as of late, he's been having a tough time.
Including this win over Ortiz, he has a 3-3 record since claiming the UFC light heavyweight title in 2008.
Those three losses came to Rashad Evans (lost the title), Anderson Silva and Mauricio Rua. All were knockouts.
So to see him take bombs to the chin and come back the way he did, Griffin definitely deserves some kudos for that chin.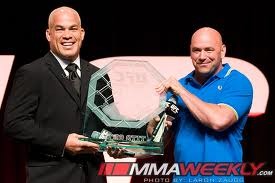 The title of this slide may be a bit misleading, but for Griffin, getting to face a UFC Hall of Fame fighter must have given him some added fuel.
Knowing how motivated Ortiz was going to be for this bout, Griffin had to dig deep, and that extra preparation got the job done as he fought off a very game "People's Champ" in 15 minutes of action.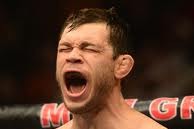 Photo Credit: MMAJunkie.com
Ortiz got in on the exchanges, and up until I saw the stats, it seemed like a close one and that another split decision was coming.
When the stats came up, it was hard to argue against Griffin, who landed 85 total strikes to Ortiz's 49.
Griffin didn't even think he had the win. He left the cage before the official decision and had to return on orders from Dana White.
With all that in mind, the man who enters the arena to Dropkick Murphys may have gotten a bit of Irish luck, but it was more skill than anything that pulled out this win for The Ultimate Fighter Season 1 winner.
What do you think?
Mark Pare is a Featured Columnist. You can follow him on Twitter, and don't forget to check out his sportswriter page.