Wimbledon 2012 Scores: Complete Set-by-Set Recap for Federer vs. Murray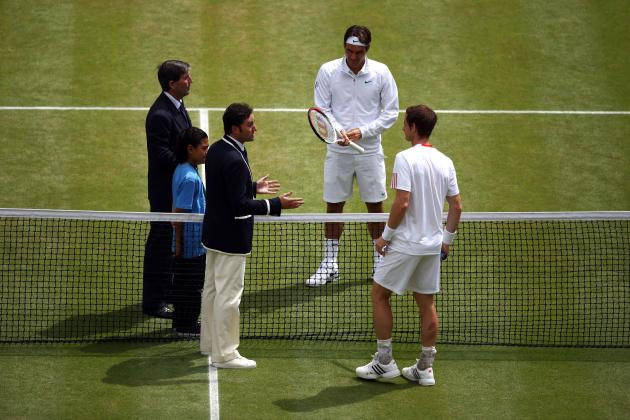 Paul Gilham/Getty Images

Roger Federer is your winner of the 2012 Wimbledon Championships.
The Swiss player defeated Andy Murray 4-6, 7-5, 6-3, 6-4 in a match that required play to be suspended momentarily while the roof could be closed to combat the heavy rain.
It has been an arduous road for Fed to return to his winning ways in the Majors with his last victory coming in January of 2010.
After his loss in the 2010 French Open quarterfinals to Robin Soderling, many critics and doubters began to believe that he would never win a Major again. This match broke the Maestro's semifinal streak in Majors (with the record being set at a hefty 23) and he continued to appear in a slump, only reaching one other Major final prior to today.
As we all thought he could, he extended his title as a legend by defeating Great Britain's great hope.
He obtained his record-tying (to Pete Sampras') seventh Wimbledon title and record 17 total Majors as he additionally regained the No. 1 ranking to soon surpass Sampras' all-time weeks spent at the top spot.
Let's break down the match's dynamics.
Begin Slideshow

»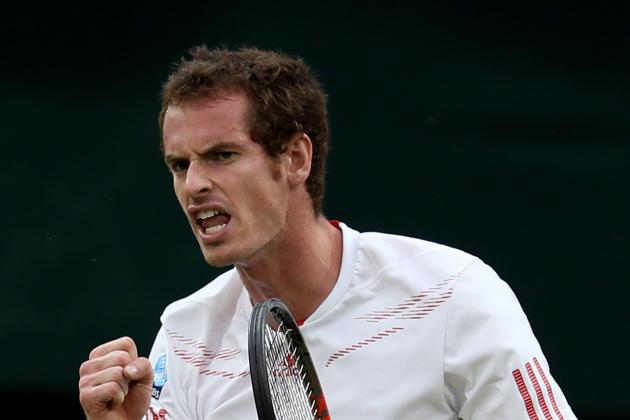 Julian Finney/Getty Images

With Federer being visibly nervous, he played a few loose points and gifted the opening service break to Murray.
It was truly a dream start until Roger clawed his way back, gaining a 3-2 lead.
Andy was ferocious off the forehand wing and refused to acknowledge Roger's aggressive shots as winners.
His doggedness got him another chance to break Roger in the later stages of the set, which helped immensely considering neither player was having a simple stroll in the park on their serves.
He put his defense meter to the highest level and waited for the Swiss athlete to miss a shot, and there his opponent's forehand went into the net.
Murray held serve and captured his first (and only) set in a Major final ever. Things looked to be scary for Fedfan but the Maestro had a few tricks up his sleeve to be revealed at the end of the following set.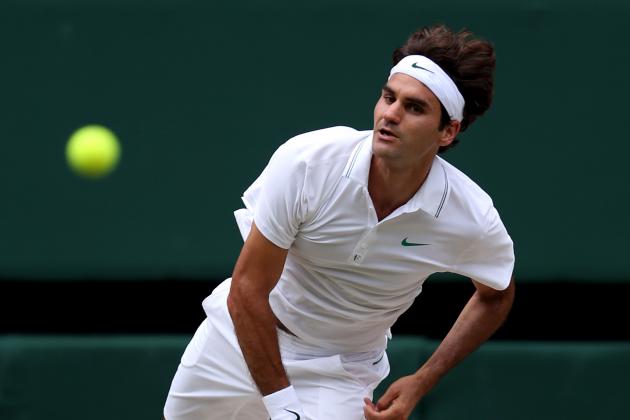 Julian Finney/Getty Images

The two finalists continued to hold serve like a traditional grass-court match.
At 4-4 in the set, Roger was faced with two break points against his own serve. Had Andy capitalized here, he could have been up two-sets-to-love and with a potential winner's trophy in his hands.
Nevertheless, his tears of joy were soon to be reversed as Federer held and looked at a chance to sneak out of a tiebreak.
Keep in mind that Roger's backhand was struck better than ever in his final two matches at Wimbledon, and opponents will need to stop solely picking on that shot because it does not seem to be working as effectively as it once did.
Roger has an innate ability to zone in on his opponent's serves during the games where they serve for a set, match or look to present him with a huge challenge.
Murray went up 30-0 on his serve and Roger played three spectacular points to get a set point out of nowhere. And in the greatest point of the match, Fed stayed rock-solid on his backhand wing and moved in to the net to hit a side-spin backhand drop volley to level the match.
And you can be certain he fist-pumped after that shot.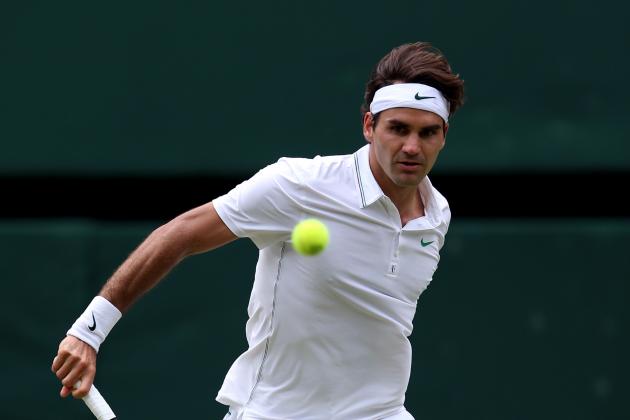 Julian Finney/Getty Images

Once Roger broke serve to level the match at one set apiece, I told the people I was watching the match with that he would never get broken again and that that was the turning point. I was correct.
I also called the final two sets as being 6-3 and 6-2, respectively, though you cannot blame me because he nearly secured the early break in the fourth to make my prediction dead-on.
With Roger being up 40-0 in his service game at 1-1, the downpour commenced and play was immediately suspended as the roof was closed.
When the players came back, the No. 3 seed looked to pounce on the return of Murray's serve.
With the Scot serving at 2-3, the two players engaged in a 26-point game featuring six break points, wherein Roger was finally able to get the break.
This game could have also been labeled a turning point, but it could have gone either way here.
Roger ripped second serve returns and came rushing in to the net to keep Murray on his back foot.
His conversion rate was exceptional and he made a few more good decisions than did his opponent.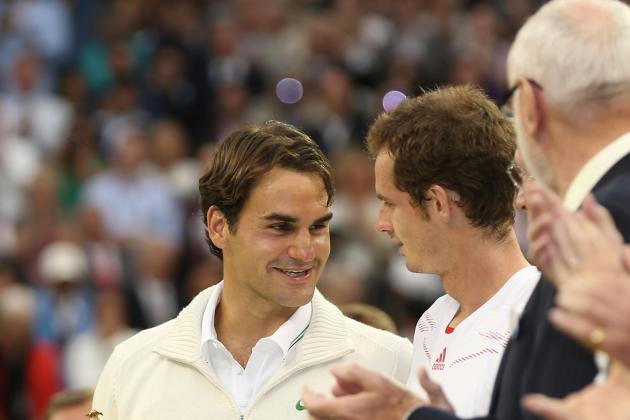 Clive Brunskill/Getty Images

Roger had more comfortable service games and holds at love in the final set.
He made it very hard for Andy to break and, in turn, hold to stay in the match.
The Maestro broke at 2-2 in the set and never looked back.
After Andy ran out of challenges, it seemed he ran out of his last shot at winning this Major. His forehand pass sailed wide as Federer collapsed by the tram-lines, letting the moment sink in.
As LeBron James said after he won his first championship ring (although this was Federer's 17th total and first in a few years), "It's about damn time".
And perhaps Roger's old friend, Tiger Woods, can be inspired to get back to his winning ways in the Majors as well.
Tweet to Bleacher Report Tennis Community Leader and Featured Columnist, Jeff Cohn, about the match.