Silva vs. Sonnen: Power Ranking the UFC 148 Preliminary Card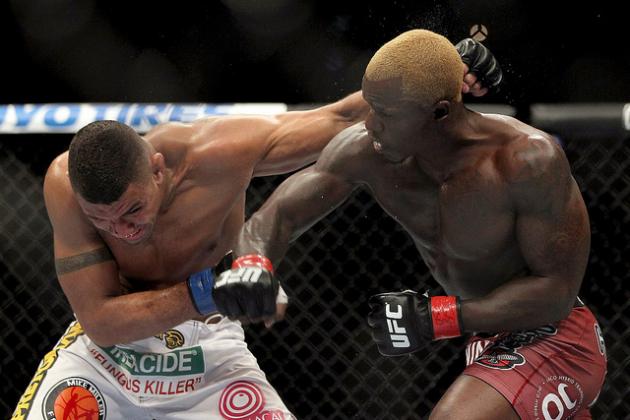 (Photo by Josh Hedges/Zuffa LLC/Zuffa LLC via Getty Images)
It's a good thing the top of the UFC 148 card was exciting to help fans forget the horrendous showing that the preliminary bouts put on. All the fights went to a decision and—outside of a few fights—were generally pretty lackluster.
A number of fighters were primed to set themselves up for a nice jump in competition with a win. Fighters like Melvin Guillard and Gleison Tibau were big names in the lightweight division who stood to gain a lot from an impressive showing, but neither left the cage feeling great about their performances.
Still, there were some bright moments that provided fans with entertainment despite the one-sided decision victories. The bouts have gotten a bad rap from MMA analysts, and rightfully so, but it could've definitely been a lot worse.
Luckily for MMA fans that missed them, this list will let you know what bouts to go back and watch and which ones to skip.
Begin Slideshow

»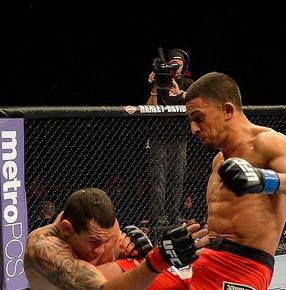 (Photo by Donald Miralle/Zuffa LLC/Zuffa LLC via Getty Images)
UFC 148 kicked off with a strong showing from Rafello Oliveira as the Brazilian used his grappling prowess to control much of his fight with Yoislandy Izqueirdo.
Izqueirdo used some nice striking to take the first round after nearly losing it due to Oliveira's top control. Izqueirdo would be unable to mount much offense in the following rounds, as Oliveira's grappling proved too much.
Although Oliveira was able to maintain top position for most of the remaining 10 minutes of the fight, he wasn't able to secure the finish. The Brazilian threatened with a series of armlocks, but ultimately rode out the rounds on top en route to a unanimous decision victory.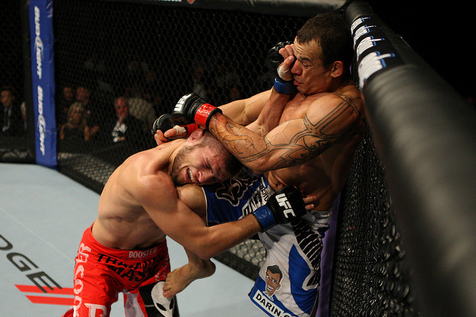 (Photo by Josh Hedges/Zuffa LLC/Zuffa LLC via Getty Images)
After winning three straight fights, Gleison Tibau was set to be bumped up the lightweight ladder with a victory over Khabib Nurmagomedov. Having an impressive winning streak of his own, the undefeated Nurmagomedov was facing his biggest test to date.
The story of this fight was Nurmagomedov's right hand. The Russian fighter threw it many times, but failed to find a home for it for the duration of the bout. In a surprising turn of events, Tibau failed to capitalize on some obvious openings.
It would be his undoing, as Nurmagomedov simply outworked the Brazilian en route a decision victory. The fight was marred by a number of minutes of timidity and inactivity, but Nurmagomedov threw enough power shots to at least provide a few moments of excitement.
(Photo by Josh Hedges/Zuffa LLC/Zuffa LLC via Getty Images)
Despite controlling much of the action throughout the fight, Constantinos Philippou nearly saw his hard work go to waste as an eye poke almost caused the fight to come to an end in the third round. Ultimately, Philippou was allowed to continue, and ended the fight with an impressive showing.
His opponent, Riki Fukuda, was unable to use his grappling strengths as Philippou fended off most of the takedowns coming his way. Fukuda managed to land a handful of strikes, but for the most part it was Philippou controlling the action with his boxing and takedown defense.
The most exciting part of this fight was when Philippou charged Fukuda with anger, following numerous groin strikes and a nasty eye poke.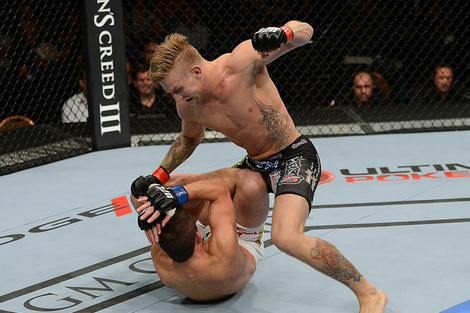 (Photo by Donald Miralle/Zuffa LLC/Zuffa LLC via Getty Images)
Both Shane Roller and John Alessio came into UFC 148 looking to erase their losing ways, but in the end it would be Roller who put a stop to the losses in the Octagon.
Roller survived an early scare in the first round, as Alessio dropped him with a powerful punch. Alessio didn't have enough time to get the finish but did end the round on top, which earned him the first round.
This would be the last moment of Alessio winning the fight, as Roller used his wrestling to take rounds two and three. Roller was able to secure the back mount in both of the final rounds, and threatened to end the fight with a choke of a few occasions.
An interesting moment occurred in the third round as Alessio could be heard asking Roller, "you want to fight me?" while Roller was on Alessio's back.
A few punches would be the answer Alessio would receive.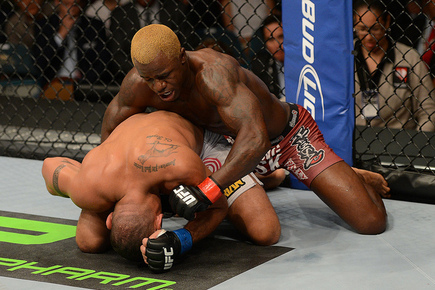 (Photo by Donald Miralle/Zuffa LLC/Zuffa LLC via Getty Images)
On the surface, it would seem Melvin Guillard did little to get some momentum back in his corner after a string of defeats. But when looking at his overall performance, there should be one glaring positive to take away from Guillard's showing.
Aside from a handful of times where Guillard visibly looked for a one-punch KO, the lightweight managed to stick to a gameplan that gave him a decision victory over his opponent, Fabricio Camoes.
Camoes managed to secure the full mount in the first round, and it appeared as if Guillard's lack of grappling skills would fail him again. Instead of faltering, however, Guillard survived and escaped the dangerous position.
Guillard may have not showed his explosiveness, but he did enough to stop the losing streak and pick up a victory.