7 Things Cincinnati Bengals Must Do to Build on Recent Success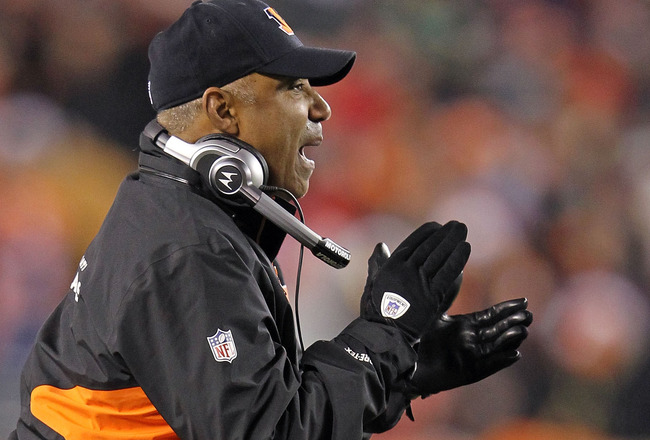 Andy Lyons/Getty Images
After a surprising playoff appearance in 2012, the Cincinnati Bengals need to continue to build on that success if they hope to contend with the NFL's elite.

While coach Marvin Lewis and the Bengals shocked everyone a season ago, teams will be prepared for them this year.
ESPN.com had three teams in the AFC North in the top six of easiest 2011 schedules, and all three of those teams made the playoffs last season. In 2012, the AFC North teams will face teams from the AFC West and NFC East.
With a tougher schedule this season, the Bengals need to make adjustments to be even better.
Now that they have a season of experience under their belt, the offense could be one of the biggest surprises in the NFL.
Defensive coordinator Mike Zimmer remains in charge of the defense, so it is not crazy to believe this unit can be even better than it was last year.
In a division with Baltimore and Pittsburgh, it is always difficult for a third team to compete for the division title. However, Cincinnati has made the playoffs three times since 2005. Improvements need to be made, but this team has the talent to compete with its division rivals.
A young team gives the Bengals a legitimate shot to improve and be competitive for years to come.
Run the Football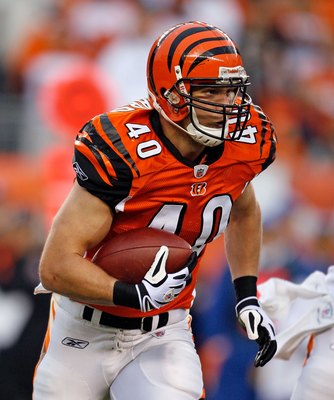 Andy Lyons/Getty Images
After former Bengal Cedric Benson rushed for over 1,000 yards in three straight seasons, the team will turn to multiple running backs to pick up where he left off.
Two seasons after running for 1,000 yards with the New England Patriots, running back BenJarvus Green-Ellis comes to Cincinnati looking for an opportunity to shine.
While his numbers in New England are not overwhelming, it is important to realize he played in Tom Brady's offense. Most running backs would struggle to put up big numbers there, so 1,000 yards in 2010 is impressive.
According to the Dayton Daily News, Benson became upset when the Bengals decided to rotate running backs during games, but Green-Ellis brings a team-first attitude. He is used to doing whatever it takes to win, even if it means he does not get every carry.
In three seasons of limited action, Bernard Scott has rushed for 1,000 yards in his career. Normally used on third downs, he provides the Bengals with a quick running back.
He allows them to run to the outside, which is not Green-Ellis' strength. Averaging four yards per carry in his career, he gives the team a spark out of the backfield.
Also new to the backfield this season, rookie Dan "Boom" Herron should see some time in different situations. He can spell Green-Ellis and give the team a chance to convert short-yardage situations.
Herron lacks elite speed, but he is able to break tackles. Since he was suspended for six games during his senior season, he managed to recover from previous injuries and should be fresh.
Although not normally used in running situations, Brian Leonard rounds out this deep backfield. He may not be the most talented player, but his effort level is second to none.
His blocking and receiving abilities make him dangerous, and he has a knack for getting first downs. In clutch situations, he knows what needs to be done.
Get A.J. Green More Involved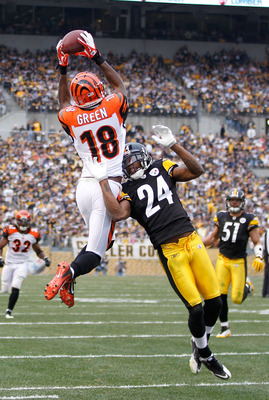 Gregory Shamus/Getty Images
Despite being the best rookie receiver in the NFL last season, the Bengals need to get A.J. Green more involved.
The Pro Bowl receiver has a ridiculous amount of talent, so he needs to see more balls thrown his way. Any pass in his direction has a great chance of being caught because of his excellent hands.
With 65 receptions in 15 games, he needs to get more looks in 2012. The best deep threat on the team has the ability to change a game when the ball is in his hands.
After gaining 1,057 yards and catching seven touchdowns as a rookie in 2011, Green's potential is extraordinary. In the red zone, he can be an easy target for Andy Dalton.
His touchdowns need to increase if the Bengals hope to make the postseason in consecutive seasons for the first time in 30 years.
With a full offseason together, Dalton and Green should have better chemistry this season. When Dalton gets the ball to Green, Cincinnati's offense will begin to put up points.
Help Andy Dalton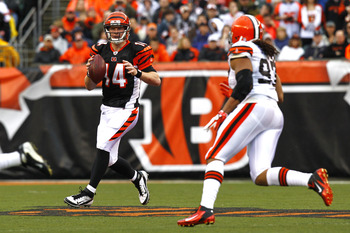 Tyler Barrick/Getty Images
As a rookie, Andy Dalton performed well enough to win games. If the Bengals hope to return to the postseason, he will need to improve as a passer.
After throwing 12 interceptions in the first 10 games of his career, Dalton only threw one interception in the final six games of the regular season. His decision-making improved as the season went on, so fans should start to feel better about him.
He completed only 58 percent of his passes, but he was also the victim of dropped passes.
Dalton's biggest weakness is his arm strength, but the staff can adjust the playbook for him. As reported by ProFootballTalk.com's Josh Alper, offensive coordinator Jay Gruden is not worried about his arm strength and will design plays accordingly.
Gruden needs to add more plays to get Green the ball, and Dalton would see his numbers improve as a result. When the ball is not going to Green, the Bengals can have the other receivers run shorter routes and rely on their great hands to move the football.
Cincinnati does not have many big-play receivers, but they have plenty of depth and can move the chains.
Even though he made the Pro Bowl as a rookie, he has plenty of room to improve. With Green and Pro Bowl tight end Jermaine Gresham, Dalton needs to get the ball to his best players.
Develop Young Weapons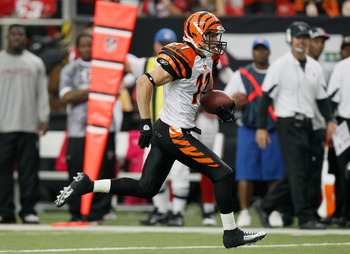 Kevin C. Cox/Getty Images
Outside of their Pro Bowl receiver and tight end, the Bengals do not have any proven weapons for Dalton to work with.
Jordan Shipley, who is coming off a torn ACL, has the most experience with the team. He can fill the slot position, but he may have to take it easy coming off the injury. In his career, 30 of his 56 catches have been for first downs.
While he was not used as a receiver in 2012, Brandon Tate will get the chance to win the No. 2 spot. He would give the Bengals a receiver with speed, but he does not have a lot of experience playing receiver in the NFL.
Rookie Mohamed Sanu is the team's most interesting player. He has great hands but does not have elite speed. He will be given the chance to compete with Tate for the No. 2 spot, and he has a good chance of earning it.
His hands helped him haul in 115 catches during his final season at Rutgers, so the Bengals drafted him to help Dalton improve his completion percentage.
Marvin Jones, a rookie, will also need to play a major role for the team. His strong hands, crisp routes and good speed will be important for this offense. He can focus on short routes and use his speed out of breaks to pick up extra yards.
Cincinnati drafted Orson Charles to complement Jermaine Gresham at tight end. With these two athletic tight ends, the Bengals could see their offense turn into one similar to New England's.
The Patriots use two athletic tight ends and do not rely on a deep threat. The Bengals now have two athletic tight ends and only one legitimate deep threat. On the current roster, they have plenty of players who can play underneath the coverage and get first downs.
They can develop their young players into reliable targets for their quarterback.
Unleash the Defensive Line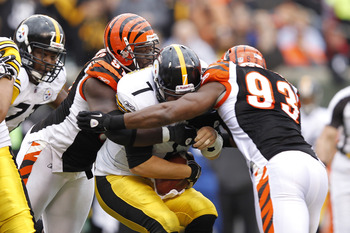 Joe Robbins/Getty Images
Arguably the most athletic defensive line in the NFL, the Bengals have to allow their players to blitz all game.
The defensive line was effective last year because they were able to rotate players throughout games. With the loss of Jonathan Fanene and Frostee Rucker, the line will need to be ready to attack for all four quarters.
According to ESPN.com, Pro Bowl lineman Geno Atkins "tied Oakland's Tommy Kelly for sacks by an interior lineman in the NFL with 7.5" last season. With Domata Peko also on the inside, the Bengals can clog the middle of any offensive line.
When it comes to the defensive ends, Cincinnati has two of the most athletic players in the league.
Carlos Dunlap had an impressive rookie season in 2010, but he took a step back last year. In his last 18 games in the regular season, he has 13 sacks in limited playing time.
Injuries have hurt Dunlap's career so far, so health is a concern for him. If he stays healthy, expect him to put up huge numbers in 2012.
Michael Johnson has enormous potential, and he will be a key for the Bengals. After having his best season in 2011 with six sacks, he will see the field more this season.
Thanks to the defensive line, the Bengals were good against the run last year. They also ranked fifth in the NFL in sacks.
With Dunlap and Johnson on the field more often, the sack total will rise if defensive coordinator Mike Zimmer unleashes them.
Rotation in the Secondary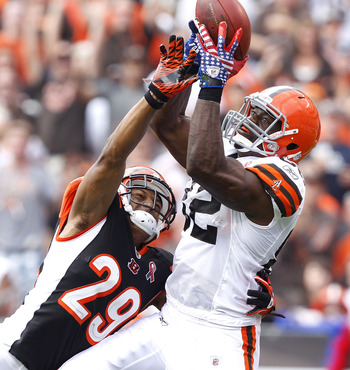 Matt Sullivan/Getty Images
Cornerback Leon Hall suffered an Achilles injury last season, and the Bengals needed to find a way to replace him.
Hall has turned into one of the best young corners in the league, but they do not have a proven player to play opposite of him.
Veteran Nate Clements was good last season. When Hall went down in Week 10, Clements responded and recorded two interceptions in the second half of the season. But he is not a long-term answer.
Adam Jones also returns on defense, but he is returning from multiple injuries. After returning from a neck injury that caused him to miss the beginning of 2011, a Week 8 hamstring injury caused him to miss more time.
Hoping to upgrade their secondary, the Bengals drafted Dre Kirkpatrick with pick No. 17 in the 2012 NFL draft. He will eventually start alongside Hall, but he may be eased into the system. His youth gives the Bengals a young corner with great talent.
The team signed Jason Allen and Terence Newman in the offseason, which gives them more depth.
With Hall being the only elite corner on the team, the Bengals need to rotate the rest of the cornerbacks during games. Clements and Kirkpatrick should receive most of the playing time, but the other corners can relieve them from time to time.
Last season, it was rotation on the defensive line that helped the defense become one of the best in the league. After losing a few players on the line through free agency, the secondary will need to stay fresh by substituting players.
Injuries hurt this unit last season, so rotating players in and out will help keep players fresh and healthy.
Improve Special Teams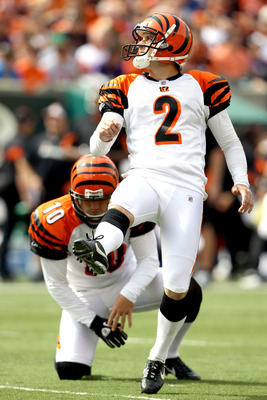 Matthew Stockman/Getty Images
While the Bengals have an improving offense and great defense, they need their special teams to get better.
Kicker Mike Nugent did not miss a field-goal attempt until Week 6, and he finished with the second-most field goals made in the NFL. At 87 percent (33 of 38), Nugent proved to be a reliable kicker.
Punter Kevin Huber has been consistent in his three-year career, but he could be even better if he avoids touchbacks. In 2011, his nine touchbacks were one away from his career high. He did punt a career-high 91 times, so the touchbacks are not a huge concern.
While the kicking has been pretty good the past few seasons, the return game has been an issue.
Adam Jones and Brandon Tate finally gave the Bengals decent punt returns last season. After Jones returned a punt 63 yards earlier in the game, Tate returned a punt for a touchdown in Week 8 against Seattle.
Other than that game, though, the Bengals did not have many game-changing punt returns.
Tate also served as the kick returner but was not very effective. With his longest return being only 45 yards, he did not change the field very often. His average of 23 yards per return was decent, but it does not provide much help.
With the league virtually eliminating kickoffs, Tate will become less of a factor on kickoffs. When he returns punts, the team could use big plays to change the field and help the offense.
Keep Reading

Cincinnati Bengals: Like this team?