Duke Basketball: 2012 Commits and Must-Get 2013 and 2014 Recruits for Coach K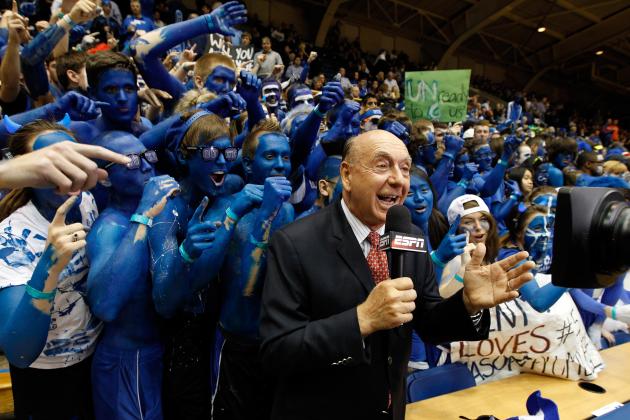 Streeter Lecka/Getty Images

Duke basketball has been a storied program over the years. Led by coach Mike Krzyzewski, the Blue Devils have developed into an elite powerhouse in college basketball.
After being stunned by Lehigh in last year's NCAA Tournament, the Blue Devils will be hoping to come back to form and make a deep run with the help of the Cameron Crazies.
With some top recruits, Duke hopes to increase its chances at a NCAA title. In 2010, Duke defeated Butler to add another national title to its already impressive resume.
Here is a look at some of the offered recruits and signed players for Duke basketball.
Begin Slideshow

»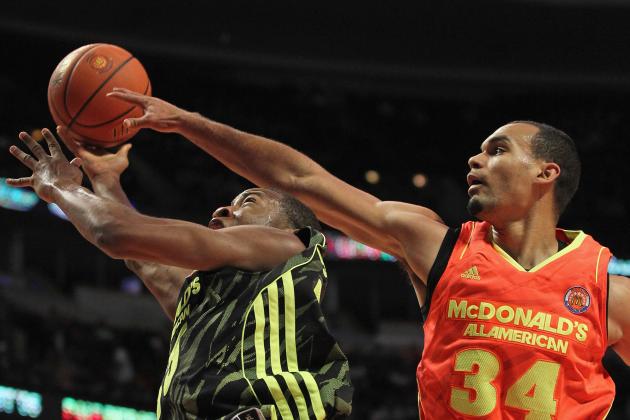 Jonathan Daniel/Getty Images

The 5-star shooting guard out of Houston, Texas, will be joining the Duke community this fall.
Rasheed Sulaimon is a 6'4" guard who signed early as the No. 3 guard in the 2012 recruiting class, according to ESPN's 100. Sulaimon is known for his scoring ability as well as defensive prowess.
Coach K will be getting a winner here. Sulaimon is considered very similar to Nolan Smith.
As a senior, Sulaimon attended Strake Jesuit High School, where he averaged 27.8 points per game. He's been able to light up the scoreboard with 40 point performances in high school.
Duke is bringing a top talent to Cameron Indoor Stadium this fall.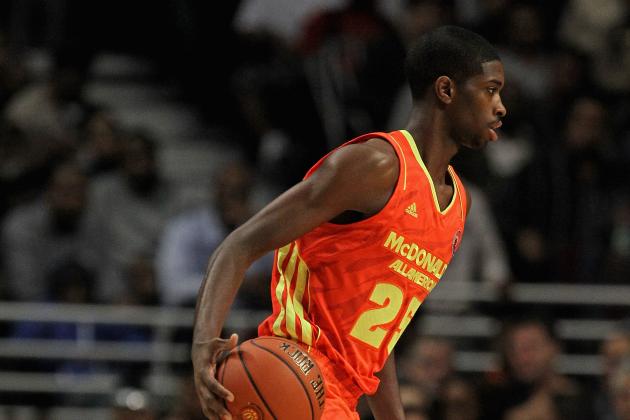 Jonathan Daniel/Getty Images

The 6'8" power forward out of Philadelphia committed to Duke in May of 2012. Amile Jefferson has a developed post-up game and is a scoring machine in the paint.
The 4-star recruit put a lot of thought into his decision with the academics factor. Jefferson had offers from NC State, Villanova, Connecticut, Ohio State and Duke. The ACC was where Jefferson wanted to go, as NC State and Duke were his top choices.
As a senior, Jefferson averaged 21.3 points and 10.4 rebounds per game at Friends Central High School.
Duke will be getting a long, athletic forward with Jefferson. Not to mention a guy with a high basketball IQ.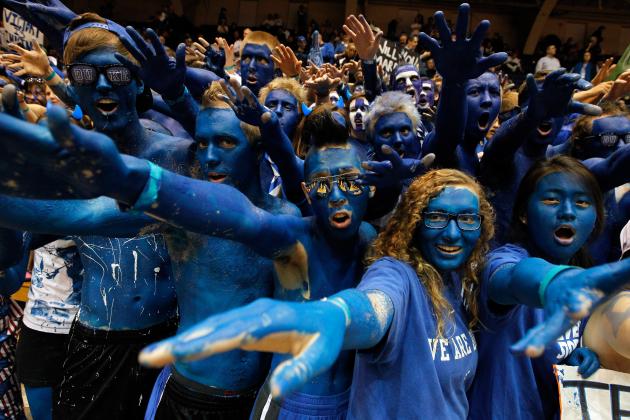 Streeter Lecka/Getty Images

The 6'4" shooting guard out of Desoto, Texas, will be making his debut at Duke in 2013. Matt Jones is the No. 6 shooting guard in the 2013 class, according to ESPN's 100.
The 4-star commitment is the complete package. Jones is extremely athletic, lengthy, tall and a pure shooter.
Jones will fit in perfectly at Duke with his shooting game. The high school sensation has a quick release and is a prolific three-point shooter.
Jones also has the ability to get to the rim. At DeSoto High School, he averaged 18.6 points per game.
The shooting guard also has some experience on the AAU circuit, playing with the Texas Titans.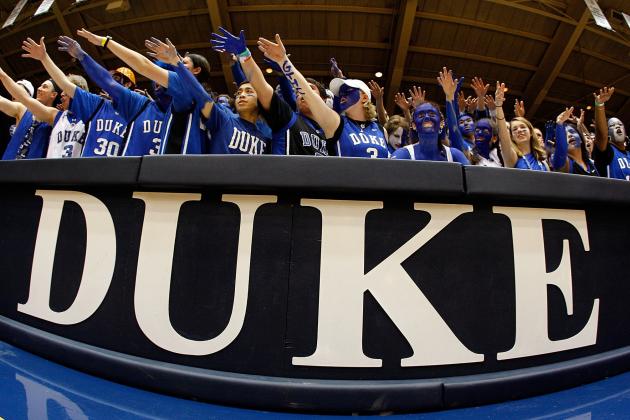 Kevin Cox/Getty Images

Duke has already offered a scholarship to the 6'9" power forward out of Dallas, Texas. Randle played AAU ball with Matt Jones. He's ranked as the No. 2 player in the 2013 class, according to ESPN's 100.
Randle, who is also 225 lbs, has a great deal of power and athleticism. He's a good player for his size, especially when he's close to the basket. Offensively, Randle could provide Duke with a presence in the paint. He is also very capable of hitting the jump shot.
Randle has offers from Duke, North Carolina, Baylor, Kansas, Texas, TCU, Oklahoma, Ohio State and Missouri.
There's a strong possibility that Randle will join his best friend Jones at Duke. On the other hand, he could also be a nemesis at UNC.
At Prestonwood Christian Academy, Randle averaged 20.2 points per game this past season.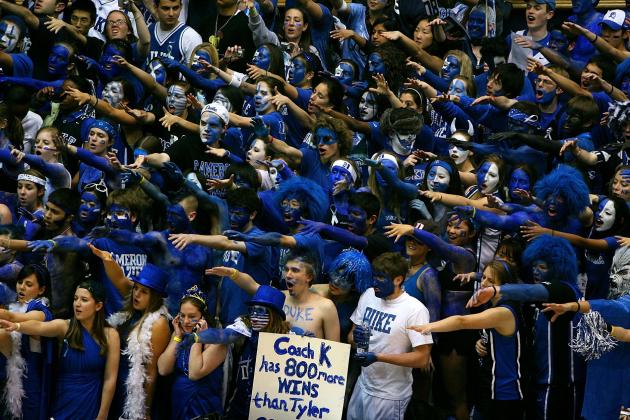 Kevin C. Cox/Getty Images

Austin Nichols is a 6'8" power forward out of Eads, Tennessee. While Coach K hasn't seen him in person, if given the offer, Nichols will be a top prospect for Duke.
Nichols could provide Duke with a very good shot blocking ability, the skill set to run the floor, knock down jumpers and bring height and length to the table.
Nichols has grown up a Duke fan, so the chances of him making the Cameron Crazies go a bit more nuts is quite likely.
He has offers from Tennessee, Auburn, Butler, Cincinnati, Florida, Clemson, Florida State, Memphis, Mississippi and Vanderbilit.
At Briarcrest Christian Saints High School, Nichols averaged 18 points, 12 rebounds and 6 blocks per game as a junior.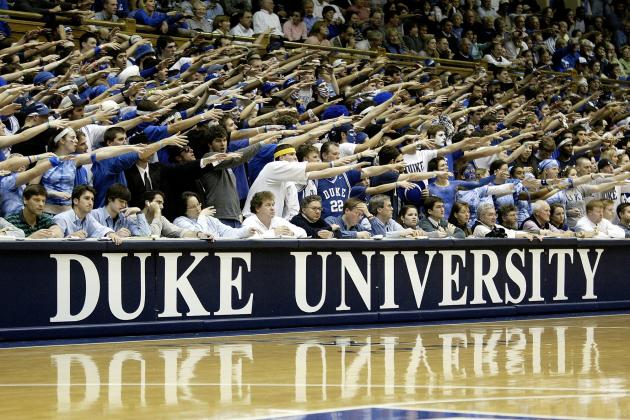 Craig Jones/Getty Images

Okafor is the top center and No. 2 player overall in the 2014 class, according to ESPN Recruiting. The big man has good size, solid foot work and a good post-up game. And yes, he's related to Emeka Okafor.
Okafor has received an offer from Duke. Coach K has been following him since seeing him play in December of 2011.
He also has offers from Ohio State, Connecticut, Georgetown, Arizona, Michigan State, DePaul, Wisconsin, Illinois, Arkansas, Missouri, North Carolina, Iowa and Kansas State. Quite a list, huh?
While there is no certainty Okafor will choose Duke with all these top programs, it will be fitting to see him in a Blue Devils jersey.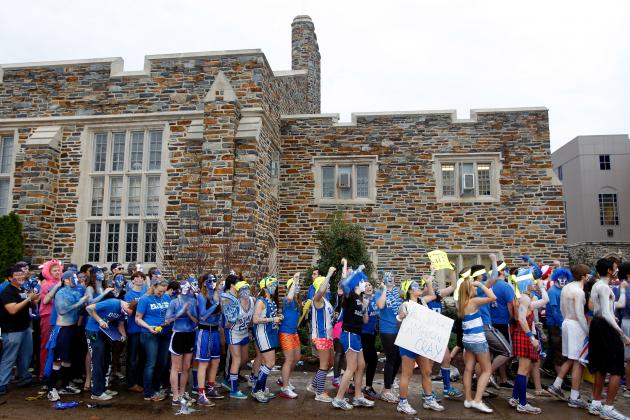 Streeter Lecka/Getty Images

Another offer is out to Tyus Jones. The 6'2" point guard is a good fit for Duke.
At this position, Jones can shoot as well as dish it out. Through excellent passing and court vision, Jones would be a good leader for the Blue Devils.
Another positive is that Jones is good friends with Okafor. There's a chance both guys could be coming to Durham in the future.
Jones is the No. 3 overall recruit in the class of 2014, according to ESPN Recruiting, and his other offers include Arizona, Ohio State, Michigan State, Baylor, Iowa, Iowa State, Marquette, Minnesota, Pittsburgh and Providence. As a freshman, Jones averaged 18.8 points per game.