WWE: 5 Stars of the Week (week Ending 7th July)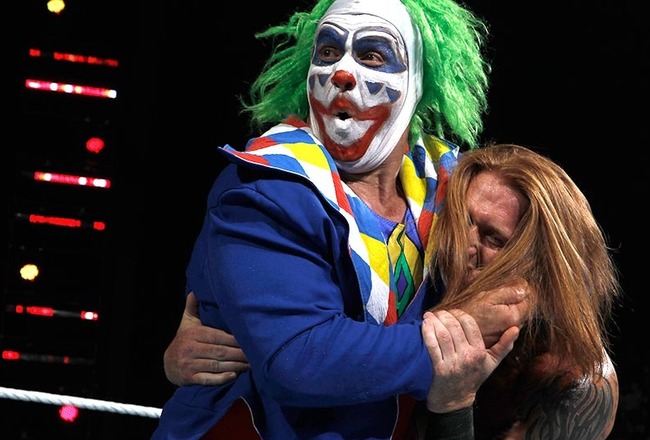 Image courtesy of wwe.com

It's time for the fourth edition of WWE "Stars of the Week," for the week ending 7th July.
As with every list or article that I write, I've made these choices because they were the five things (or people) that impressed me most this week.
Before I get into this week's stars, I want to make it clear that the choices I've made are deliberate and I haven't left anyone or anything out.
There's a reason why I've made these five choices. It's because they're what were, in my opinion, the best things about WWE TV in the last week.
Feel free to leave your own lists in the comments section below.
After flirting with the top spot for a couple of weeks, AJ Lee was last week's No. 1 choice.
Will she still be there this week?
Let's get to it.
5. Heath Slater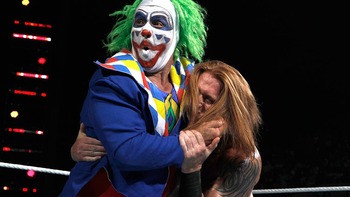 Image courtesy of wwe.com
Over the last few weeks, I've been really entertained by "The One Man Rock Band," Heath Slater.
He wasn't really doing anything of note on TV until he was given the job of working with returning legends ahead of the 1,000th Raw show.
Slater's been embarrassed in the last few weeks by Vader, Cyndi Lauper, "Rowdy" Roddy Piper and Sid, but this week, he picked up a victory against the returning Doink the Clown.
He thought he'd had his moment, but former world champion Diamond Dallas Page came out and give him a Diamond Cutter before leaving!
4. Cody Rhodes and Dolph Ziggler Qualifying for the Money in the Bank Match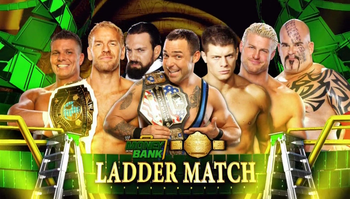 Image courtesy of wwe.com
This week's live SmackDown saw the additions of Cody Rhodes and Dolph Ziggler to the World Title Money in the Bank match.
Cody Rhodes beat Christian in a decent TV match and Dolph Ziggler got a victory over Alex Riley.
I can't stress enough how happy I am that these guys are also in the match, because they'll work well with the others like Christian and Tyson Kidd.
Before Rhodes and Ziggler were added to the match, I thought it lacked a little star power.
Christian and Santino are over with the crowd, but the others like Sandow and Kidd haven't been able to draw a reaction because they've had less TV time than the others.
It's a smart move to put two talented guys like Rhodes and Ziggler in this match and I can't wait to see it next Sunday.
3. Michael Cole
Image courtesy of wwe.com
I've made it pretty clear in the past that I'm not a fan of Michael Cole when he's being an overbearing jackass on commentary.
When it comes to his actual heel persona "in the ring," he's actually quite entertaining.
There's no better example of that than his in-ring interview with AJ this past week on SmackDown.
Cole putting the moves on AJ is one of the most unintentionally funny things I've seen in a long time.
2. Yes! Eeeeevvveerrr Again!
It's no surprise that, since Chris Jericho's return to Raw, the overall show has been a lot better than it was, because Jericho brings out the best in everyone he works with.
In Jericho's absence, Daniel Bryan (among others) stepped up to the plate and their interactions this week on Raw were outstanding.
Whether it was the first segment of the night where Jericho and Bryan talked catchphrases, or this video, these two men were on top form and they're unlucky to have missed out on the top spot this week.
Talking of which...
1. AJ Lee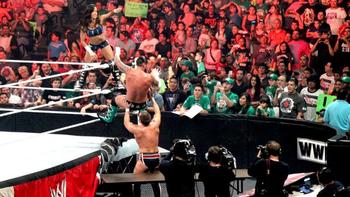 Image courtesy of wwe.com
For the second straight week, AJ Lee is my WWE "Star of the Week."
Over the last couple of months, AJ has been all over Raw and SmackDown and gets more TV time than the divas champion. She's making the most of it.
The brilliant thing about this whole AJ/Punk/Bryan storyline is that nobody has a clue where it's leading to.
This week, AJ turned a little more crazy and unhinged.
She bit the head off a rose that Daniel Bryan gave to her and she told a returning Eve Torres that she'd show her how to get attention.
AJ came out during the main event on Raw, but nobody paid any attention to her, so she took a table out and climbed to the top rope.
When CM Punk and Daniel Bryan tried to stop her, she shoved Punk into Bryan and they crashed through a table.
Effectively, she gave both men wood.
Then the next night on SmackDown, she planted a lip-lock on both men before leaving the ring.
Simply put, if AJ continues to be as captivating as she is right now, WWE could have the next breakout diva on its hands.
Keep Reading