UFC 148: What's Next for the Winners?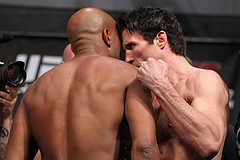 (Photo by Josh Hedges/Zuffa LLC/Zuffa LLC via Getty Images)
After the years of trash talk, injuries, suspensions, plea deals, and down and dirty bad blood, Anderson Silva and Chael Sonnen finally settled their scorching feud.
The fight lived up to expectations, with both guys showing off what makes them so exceptional: Chael with his explosive takedown and unrelenting ground assault in the opening round, and Silva with his brilliant striking to end the fight in the second.
Silva would even bring Sonnen over during his post-fight interview to not only squash their beef, but he even invited Sonnen to a barbecue at his house.
It was a great moment of gamesmanship that provided a reminder that the guiding principles of the martial arts—honor and respect—are alive and well in MMA.
For an event that got off to a rocky start, it finished in dramatic fashion.
Here's what's next for the winners.
Begin Slideshow

»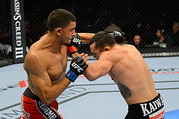 (Photo by Donald Miralle/Zuffa LLC/Zuffa LLC via Getty Images)
Rafaello Oliveira probably saved his job last night with his win. Prior to that, he was a substandard 1-4 in the UFC. Being 2-4 isn't much better, but it will keep him employed long enough to try and improve on that and gain some momentum.
Oliveira is a tough fighter who shows flashes of great potential; he just needs to figure out how to bring it all together.
He was able to easily take Izquierdo down and control him throughout, but he kept working for the Americana. Low yield submission attempts are not going to set Oliveira apart in the crowded lightweight field.
Next stop is another fight with a struggling lightweight. Shane Roller fits the bill.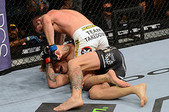 (Photo by Donald Miralle/Zuffa LLC/Zuffa LLC via Getty Images)
Shane Roller is another guy who saved his job at UFC 148. He had been on a three-fight losing skid and was in desperate need of a W.
He got it by using his superb wrestling to completely shut down John Alessio.
Roller has the grappling chops to make some noise, he just needs to compliment it with better striking. He likes to throw bombs, and does possess good power, but his technique is sloppy and needs substantial work if he's ever to make a serious run in the lightweight division.
A fight with Rafaello Oliveira would make a lot of sense.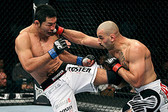 (Photo by Josh Hedges/Zuffa LLC/Zuffa LLC via Getty Images)
Philippou is steadily making a name for himself in the middleweight division. He's won four straight since dropping his UFC debut, and has looked better every time. He's a powerful guy with excellent striking and some very solid takedown defense.
Four straight wins should earn him a step up in competition. We already know the guy can strike; let's see how good he is at grappling. The UFC should put him up against Rousimar Palhares.
Philippou may be a pup in that he's only been fighting professionally since 2008, but at 32 years old there isn't a lot of time to mess around. It's sink or swim time.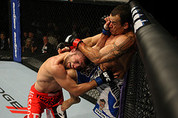 (Photo by Josh Hedges/Zuffa LLC/Zuffa LLC via Getty Images)
Approaching the judge's decision, it appeared that Nurmagomedov was going to lose. He had been out-struck for the duration, and failed on all of his takedown attempts. But he was very aggressive and pushed the action for its entirety.
Fortunately for him, the judges recognized that and ruled in his favor.
This was a huge win for the 23-year-old AMA product. Tibau is a highly respected gatekeeper, and a win over him should give Nurmagomedov some serious confidence moving forward.
A fight against Thiago Tavares would be good for him: it would give him a chance to shine against another tough, hyper-aggressive opponent with good name value.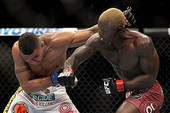 (Photo by Josh Hedges/Zuffa LLC/Zuffa LLC via Getty Images)
Conventional wisdom held that Melvin Guillard would either knock out Camoes early or get submitted.
As it often is, conventional wisdom was wrong.
Guillard showed again that he can be a patient fighter. But with Guillard, it's like he's manic-depressive. He's either way too bouncy and overconfident, or he's coasting to lackluster decisions against guys he's clearly better than, like he did at UFC 148.
He needs to find that happy medium that has for so long eluded him. He needs to figure out how to control his aggression to the point where he can harness it as a potent force, but not lose control of it where he decides that throwing flying knees is a wise way to avoid takedowns.
Guillard is one of the best strikers in the division. So is Edson Barboza. That would be an entertaining scrap, and would answer some questions about both fighters.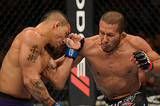 (Photo by Donald Miralle/Zuffa LLC/Zuffa LLC via Getty Images)
Mike Easton showed good poise and well-rounded skills in defeating crafty veteran Ivan Menjivar.
With black belts in Brazilian Jiu Jitsu and Tae Kwon Do in addition to his powerful build, Easton is going to be a handful for most opponents.
He's now 3-0 in the UFC, and with bantamweight open to new challengers, another good win could establish Easton as a credible top-tier competitor.
The win over Menjivar validated him, but a win over Eddie Wineland would move him up.
Sounds like a good matchup.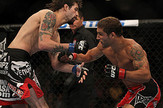 (Photo by Josh Hedges/Zuffa LLC/Zuffa LLC via Getty Images)
Chad Mendes showed us why his last fight was for the title. He only needed a half a minute to demolish Cody McKenzie.
With great wrestling and explosive power, Mendes will be a perennial contender at featherweight. But considering he lost to Jose Aldo by first round knockout not long ago, he'll need another win or two to earn a rematch.
Erik Koch was recently forced to pull out of his title fight with Aldo, but Koch stepped into that fight by default. If he could get by Mendes, that would really earn him the title shot.
As for Mendes, he needs to remain active, and a fight against Koch would provide that while keeping him near the top.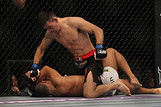 (Photo by Josh Hedges/Zuffa LLC/Zuffa LLC via Getty Images)
Many times, dropping weight divisions is the last act of a desperate man. In Demian Maia's case, it seems like it was a good move.
Maia won via TKO after Kim injured his rib off a takedown, but Kim is one of the stronger grapplers in the division and Maia was able to handle him rather easily. That could bode well for his future at 170.
Maia saw good success at middleweight, but dropped because he had plateaued. There aren't going to be any easy fights for him at welterweight, nor should there be.
He should be tossed in there immediately with a tenacious fighter who can really push him and let us know where he stands. Diego Sanchez could be the perfect test.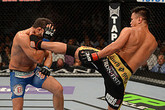 (Photo by Donald Miralle/Zuffa LLC/Zuffa LLC via Getty Images)
For most fighters, standing center cage and trading strikes with Cung Le is the sum of a poorly conceived cost/benefit analysis.
Say what you want about Le; he's too old, too inactive, etc., but the guy can thump. His technique is crisp, and his kicks are some of the best in the sport.
At 40 years old with a movie career that keeps him away from serious training, Le will never be the UFC middleweight champion.
And there's nothing wrong with that.
He's awfully fun to watch, and with the right matchups he could continue to provide video game highlights to the delight of the fans.
A fight against Chris Leben would be perfect.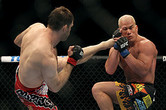 (Photo by Josh Hedges/Zuffa LLC/Zuffa LLC via Getty Images)
The fight was closer than the unanimous decision suggests, but Griffin thoroughly out-struck Ortiz and deserved the win.
Forrest is a strange case though. His desire has been questioned as of late. He's still got skills, and is Top 10, but he seems to have lost the fire that brought him a title.
It's easy to forget that Forrest is an 11-year veteran of the sport, and was fighting guys like Chael Sonnen, Dan Severn, and Jeff Monson long before he was cast on the inaugural season of The Ultimate Fighter.
That longevity in this grueling sport takes a toll on the body and mind.
If Forrest's head and heart are in it, he can still be a competitive fighter. I wouldn't mind watching him fight Krzysztof Soszynski.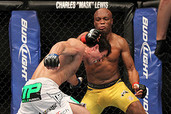 (Photo by Josh Hedges/Zuffa LLC/Zuffa LLC via Getty Images)
It's almost becoming mundane to list Anderson Silva's accomplishments. Ten consecutive title defenses. Fifteen consecutive wins in the UFC. Both are records that must be viewed in context to truly appreciate.
The second most title defenses is six, held by GSP. The second most consecutive UFC wins is held by Royce Gracie with 11, but that was back in the tournament format when guys would get three wins in a single night. Among current fighters, second place is shared by fellow champions GSP and Junior Dos Santos, each with nine.
Silva not only wins records. He smashes them.
By defeating Chael Sonnen the way he did, so decisively, he put to bed any notion that there is a man at 185 pounds who can touch him. Silva is just so much better than everyone else it's ridiculous.
So what's next for the most dominant champion in MMA history?
It doesn't matter. Until Father Time catches up to Silva, no one will beat him.