Anderson Silva vs. Chael Sonnen: 5 Fights for Silva to Take Next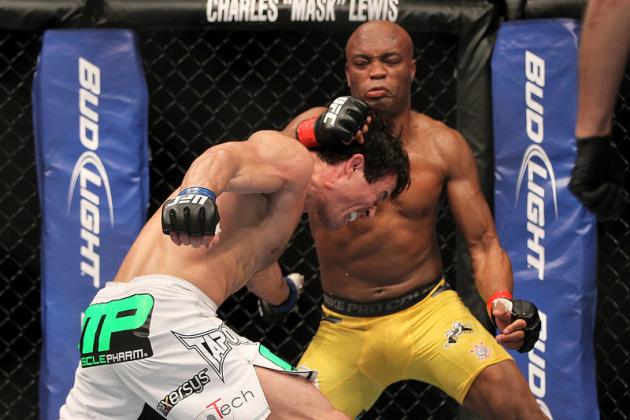 flickr.com (Photo by Josh Hedges/Zuffa LLC/Zuffa LLC via Getty Images)
Last night, Anderson Silva showcased why he's hands-down the best fighter in MMA history.
His only blemish to date, a four and a half round victory over Chael Sonnen at UFC 117, was finally satisfied in a fashion only suitable for "The Spider."
But even though Silva's past has been hashed out and his historic mark on the sport forever etched, there are still questions about his future.
Who is left in the middleweight division for Silva to face?
Will he move up to light heavyweight?
It has yet to be seen what the 37-year-old champion plans to do, but here are five suitable fights for Silva to take nonetheless.
Begin Slideshow

»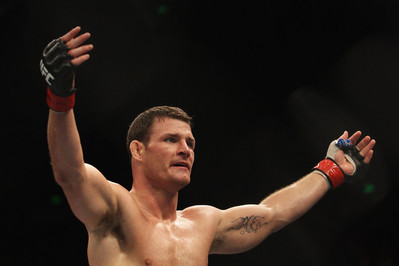 zimbio.com
Michael Bisping is one of the first names that come to mind when discussing Anderson Silva's next middleweight opponents.
Bisping nearly stopped Chael Sonnen from earning his rematch with Silva at UFC on FOX 2 after three rounds of hell, but Sonnen's wrestling once again proved too useful.
And even though Bisping has never been granted a title shot throughout his six-year UFC career, now seems like the right time to do so.
When healthy, Bisping should be able to hold his own as a formidable PPV cash cow opposite Silva, but nobody knows for sure how long his boxing can actually hold up against the greatest fighter of all time.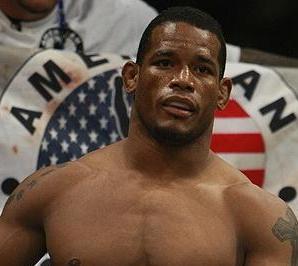 bloodyelbow.com
Considering Anderson Silva is the greatest middleweight fighter of all time, it's only natural that he fights former Bellator champion Hector Lombard.
Casual UFC fans may not know who Lombard is or what he does inside the cage, but don't let his mainstream obscurity fool you.
The guy can straight-out brawl.
If Dana White and company want to try to keep Anderson Silva's fights at 185 lbs. entertaining, even though every Silva fight is, they really need to think about using Lombard as their selling point.
A title bout to decide the true middleweight champion of the world?
Hey, it could work.
knuxx.com
For some reason, Brian Stann seems like a good bet to take on Anderson Silva.
He's got one of the best chins in the middleweight division and arguably the hardest hands.
His submission loss to Chael Sonnen at UFC 136 does raise some red flags, but Stann has never been the type of fighter to carry his defeats with him.
And believe it or not, despite his lesser-known name within the sport of MMA, Silva vs. Stann actually holds some ground.
It's the "All American" vs. Brazil's best. How could you not like that tagline?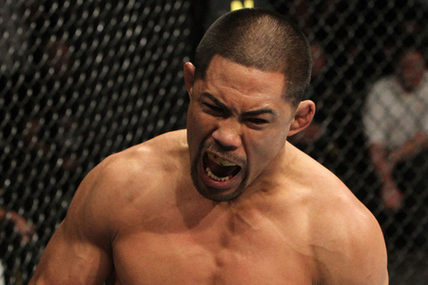 mmamania.com
Mark Munoz was already one fight away from challenging Anderson Silva for the UFC middleweight title back in January, so why not give him the opportunity now?
His No. 1 contender bout with Chael Sonnen at UFC on FOX 2 in fact never happened, due to a training camp injury, but Munoz's overall performances inside the Octagon still hold up under the strongest of microscopes.
With wins over Chris Leben and Demian Maia, "The Filipino Wrecking Machine" is still able to regain his momentum in the middleweight division.
A win over Chris Weidman may be what it takes, but Munoz could be seeing Silva inside the cage sometime in 2013.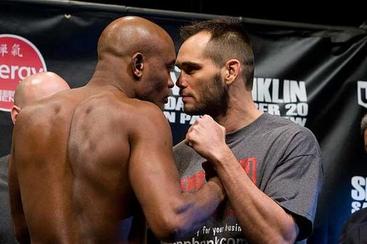 mmafightgirls.com
Beyond their one-sided bout at UFC 77, Anderson Silva vs. Rich Franklin truly seems like the most intriguing middleweight championship fight left.
And even though Franklin's recent five-round victory over Wanderlei Silva at UFC 147 makes this a little easier to predict, his overall legacy in the UFC should solidify the veteran with another title shot in the near future.
Remember, Dan Henderson, Vitor Belfort and Forrest Griffin have been the only fighters Franklin has lost to since his defeat at the hands of Silva back in 2007.
So a rematch between the two seems natural. Not just for PPV ratings, but for Octagon action.
For more UFC/UFC 148 news and coverage, Follow @DHiergesell