Yankees vs. Red Sox Live Blog: 1st-Half Season Finale on "Sunday Night Baseball"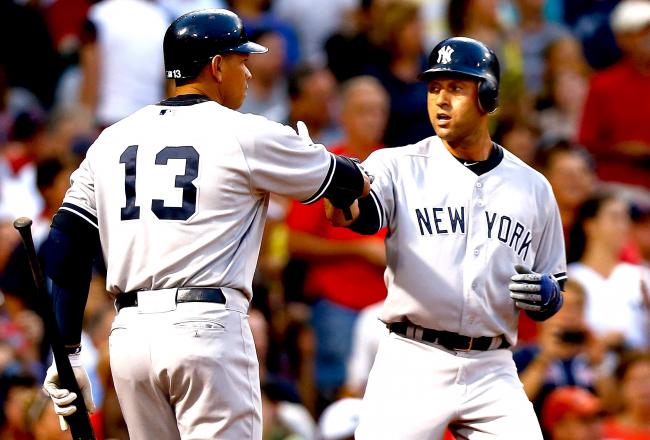 The MLB-leading New York Yankees were again too much for the struggling Boston Red Sox as they took the first-half and series finale 7-3.
Ivan Nova was brilliant for the Bronx Bombers, tossing six innings while only allowing one earned run (two total) and striking out 10 Boston batters. None of the New York relievers were very sharp, but they managed to close the door and secure the victory. Nova picks up his 10th of the year which leads all New York pitchers.
On the other side, Jon Lester struggled early and was forced to leave the game in the fifth inning after throwing 101 pitches. Lester allowed four earned runs (five total) on nine hits while walking two, hitting one and striking out six. He's now 5-6 on the season with a poor 4.49 ERA.
The Yankees would take an early lead—as they've done all series long—and never let up. Andruw Jones continued his hot weekend, going 2-for-5 with a two-run home run in eighth inning—his fourth of the weekend. Triple-A All-Star Pedro Ciriaco was awesome again for Boston, claiming three of Boston's seven hits on the night and scoring twice.
New York will go into the All-Star break with the best record in baseball while Boston now has a .500 win percentage and is tied with the Toronto Blue Jays for last in the AL East.
It's been an exciting weekend at Fenway Park and thankfully there's still plenty of Yankees-Red Sox baseball upcoming.
New York Yankees 7, Boston Red Sox 3, Final
Thank you to all who checked out the live blog tonight!
I hope everyone has fun watching the Home Run Derby tomorrow night and the All-Star Game on Wednesday.
The story of this game was Ivan Nova, who pitched beautifully for the best team in baseball. Andruw Jones continued his power surge weekend at Fenway while Pedro Ciriaco stayed hot.
The offense of the Yankees was just too much for the Boston pitchers as they rolled to a 7-3 victory, taking three of four on the weekend.
The Red Sox will go into the All-Star break at .500 and tied for last in the AL East.
Salty strikes out and that's your ballgame.
New York Yankees 7, Boston Red Sox 3, Final
Both runners advance on wild pitch to Salty. 1-2 count.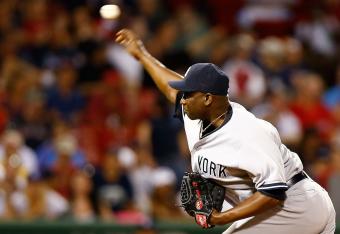 Soriano strikes out Ross. The Red Sox are down to their final out.
Soriano falls behind Punto 3-0, battles back for a full count, but ends up walking Punto. Cody "Bat Flip" Ross now up with two men on and one out. Huge spot.
Ortiz strikes out on a 3-2 fastball. Punto up with Ciriaco at second. He should be pinch-hit for, but won't be.
Ciriaco takes second on a defensive indifference.
Ciriaco draws a walk off of Soriano. Big Papi up, trying to make this a game.
Dewayne Wise enters the game for Nick Swisher. As I mentioned, Soriano on the mound.
Stewart flies to center. Soriano coming in to try and end this game and send the Yankees to the All-Star break on a high note.
New York Yankees 7, Boston Red Sox 3, Bottom 9
Nix hits a low fly ball to Aviles who makes the catch. Men on the corners with two down for Chris Stewart. Boston needs to escape this inning without allowing anymore runs.
Jones hits a ball deep the center that's caught by Sweeney. Cano moves to third while Swisher stays put at first.
Jones just missed another home run. He should've tried to wave it fair like Carlton Fisk.
Aceves loses Swisher and now New York has two men on with Andruw "Babe" Jones at the plate.
Robbie Cano hits a wall-ball double to start the inning. Aceves needs to make sure he doesn't cross home.
Cano now has a 15-game hit streak, by the way.
Boston closer Alfredo Aceves on for the ninth.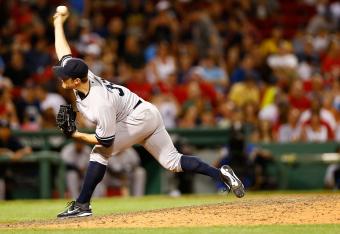 Nava drives a ball to the warning track in center, but Granderson makes the catch. That could've been big for Boston. They now are down four with three outs left and will likely face Soriano in the ninth.
New York Yankees 7, Boston Red Sox 3, Top 9
Well I called that one. Aviles hits an RBI-double high off the Monster and the lead is cut to four.
Rothschild out to talk to Robertson with Soriano warming in the 'pen.
New York Yankees 7, Boston Red Sox 3, Bottom 8
Gomez draws a walk on a high, 3-2 curveball. Aviles up with two men on. Boston could benefit from a wall-ball right now.
Pitch gets away from Stewart and Salty takes second.
Sweeney looks at a fastball right down the middle for strike three. Two outs and Salty on first for Gomez.
The Perm draws a four-pitch walk from Robertson. He only has one hit in this series and has struck out nine times. That's not good.
Camera angle was deceiving on the fly ball by Ross. It looked like it could find the Monster but Granderson made the catch a few steps in front of the warning track.
Sweet Caroline playing at Fenway Park. Maybe that will wake up the Red Sox offense as their down five runs with only six outs remaining.
This article is
What is the duplicate article?
Why is this article offensive?
Where is this article plagiarized from?
Why is this article poorly edited?