6 Veteran Free Agents the Washington Redskins Should Bring in for Training Camp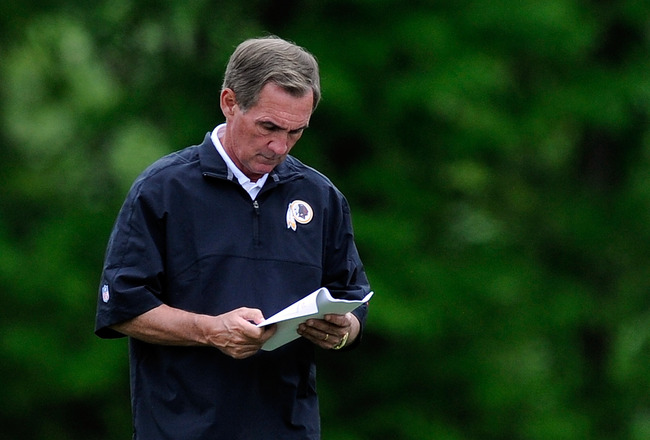 Patrick McDermott/Getty Images
Training camp marks the long-awaited return of America's favorite sport after months of absence. For the Washington Redskins, this year's training camp is a time to put the past two seasons behind them and work towards realizing the plans Mike Shanahan put in place when he was hired in 2010.
Though the Redskins are confident in what their roster can do, there is no harm in throwing a few veteran free agents into the mix to see what happens.
Washington's roster doesn't have a lot of room for late additions to make a strong push for a roster spot, but there is no harm in creating some competition and adding some experience into their training camp.
Here are some of the free agents that the Redskins should bring in for training camp.
Braylon Edwards, Wide Receiver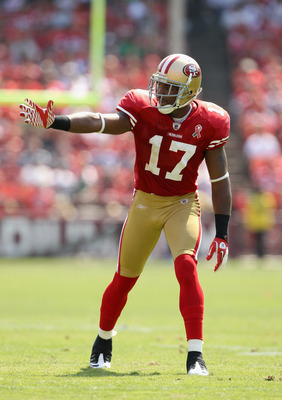 Ezra Shaw/Getty Images
Braylon Edwards is pushing 30 and hasn't been an elite receiver since his third season in the NFL. The Redskins are fairly comfortable with the talent they currently have at the position, which doesn't leave much room for a player like Edwards to catch on.
He tallied just 15 catches with San Francisco last season, but Edwards has a career average of 15.8 yards per catch.
Bringing in Edwards wouldn't be a move to supplant any of the receivers currently projected to make the roster. The Redskins are at a place where they can afford to take a flier on a player who was once among the NFL's elite without the risk of signing him to a long-term deal.
With Anthony Armstrong far from being a lock to make the roster, Edwards' ability to stretch the field could be an asset in vying for a spot in training camp.
Bernard Berrian, Wide Receiver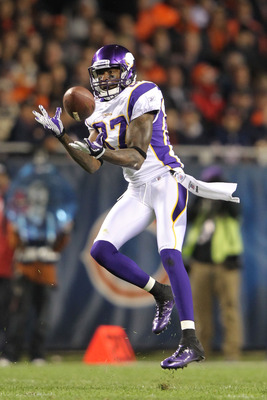 Jamie Squire/Getty Images
What Bernard Berrian lacks in consistent production, he makes up for in league experience. He has played with all manner of quarterbacks and receivers in his career, which gives him a unique perspective on how to play the position.
He may not be the most sought after free agent at this point in the offseason, but he could provide a veteran work ethic for the Redskins through camp.
Berrian averaged 20.1 yards per catch in 2008 and caught passes from Gus Frerotte and Tarvaris Jackson in Minnesota. The Redskins have tried to collect receivers with a knack for yards after the catch and for stretching the field, and Berrian could give them some insight as to how its done.
Marcus McNeill, Tackle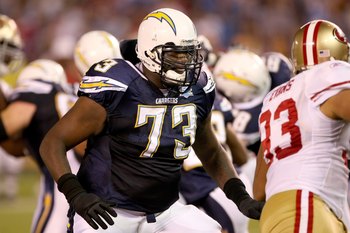 Stephen Dunn/Getty Images
The Redskins have a lot of linemen on their roster, but their depth and left tackle are troubling. Behind Trent Williams, there are not many experienced left tackles to be found. Marcus McNeill was once considered among the best left tackles in the NFL early in his career, but injuries have hampered him in recent years.
McNeill entered the NFL with concerns of spinal stenosis, a condition that led to the retirement of longtime Redskins left tackle Chris Samuels.
The fact that McNeill remains unsigned despite assurances of his health is alarming, but that should be incentive for the Redskins to bring him in for training camp. He could compete with Williams and push for a look at right tackle.
If nothing else, the Redskins would get a huge boost in their depth and McNeill could show the NFL he can still get it done despite past injuries. The price point may be a bit high, but the payoff could be immense if handled properly.
Aubrayo Franklin, Nose Tackle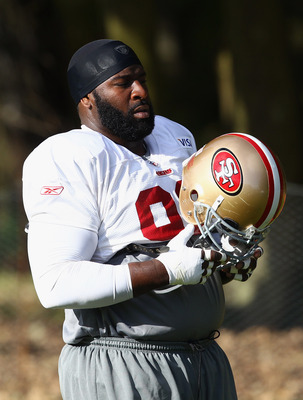 Julian Finney/Getty Images
After being a work in progress for the first two seasons, Washington's 3-4 defense is shaping up to be an elite unit for the 2012 season. Aubrayo Franklin is an experienced nose tackle who, at his best, can be a space eater and a disruptive force.
Franklin has not been at his best in a few years, but his experience in the 3-4 defense could be a solid addition for training camp.
With Barry Cofield and Chris Neild occupying the nose tackle position, a player like Franklin would be little more than camp competition for the Redskins. Even so, Franklin needs to prove that he can be a productive player in the NFL, and a good showing would be mutually beneficial for him and the Redskins.
Kareem McKenzie, Tackle
Al Bello/Getty Images
Jammal Brown has to prove that his injuries and inconsistency are truly a thing of the past. Kareem McKenzie may be 33, but he has only missed seven games in 10 seasons as a starter for the New York Jets and New York Giants.
Even though the Giants released McKenzie, he still has enough left to compete in training camp and be a positive influence on the younger linemen.
McKenzie can be a rock at right tackle, but the Redskins wouldn't need him to replace Brown or anyone else on the roster. He is a monster run blocker and could provide the right level of competition to help Brown recapture his former luster.
You can never have enough bodies along the offensive line, and McKenzie would be an asset for training camp.
Gary Brackett, Linebacker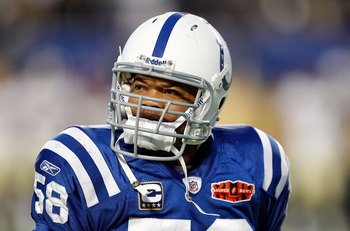 Jonathan Daniel/Getty Images
The Redskins are far from desperate for talent or bodies at linebacker, but a veteran like Gary Brackett would give the Redskins a sort of London Fletcher Lite for the battles going on behind the projected starters.
At 32, Brackett doesn't have enough left in the tank to be a starter in the NFL, but from an experiential standpoint, his presence on any camp roster would be tremendous.
Brackett missed most of 2011 with a shoulder injury before being released by Indianapolis. The appeal of bringing him in for camp would be his experience coupled with Fletcher's leadership, which could prove invaluable for up-and-comers like Perry Riley and rookie Keenan Robinson.
Keep Reading

Washington Redskins: Like this team?