WWE Money in the Bank 2012: 6 Twists the Championship Ladder Match Could Take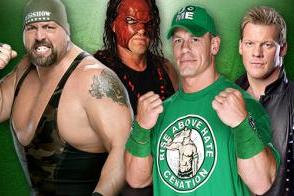 Photo courtesy of WWE.com
Four men. One briefcase.
That's what's going down this Sunday at Money in the Bank, when, for the first time ever, four former WWE champions compete for a future WWE title shot.
The Big Show, Chris Jericho, John Cena and Kane will battle in the WWE Championship Contract Money in the Bank Ladder match with a lot on the line.
Win, and you're basically guaranteed a WWE title win. Lose, and your future suddenly becomes a bit cloudier.
This match will likely prove to be one of the most important matches of the year, and as such, that old saying applies: "Anything can happen."
Here are six twists and turns that the WWE Championship Ladder match could take.
Begin Slideshow

»
Wade Barrett suffered a very unfortunate elbow injury back in February, one that derailed what looked to be a massive upcoming push.
He missed out on some huge opportunities during WrestleMania season as a result, but according to F4WOnline.com (via WrestlingInc.com), he should be back very soon:
Wade Barrett is ready to return to action and WWE officials are working on how they want to bring him back. Barrett was in line for a major push before he went down with injury several months ago and sources report that he will get that push when he returns.

No word yet if Barrett will be at Money in the Bank but the talk a few months back was that he may win the match and then challenge for the World Heavyweight Title.
Technically, Barrett should come back on the SmackDown brand (and thus in the other MITB match), but as we've seen, the brand split doesn't mean much anymore.
I fully expect Barrett to get a huge push no matter what brand he's primarily on, so why not have him come back to Raw?
Having Barrett return at Money in the Bank and screw one of the four competitors out of the briefcase could open up some very interesting possibilities.
Obviously, Barrett has a lot of history with just about everyone involved in this match (Kane's the exception), so it could be a shocking twist to see him come back, interfere and kick off his return feud with someone like John Cena or perhaps even Chris Jericho, who was Barrett's mentor on NXT.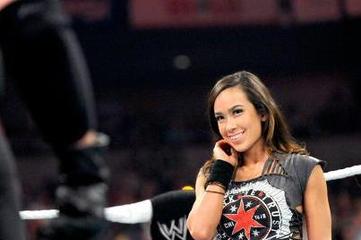 Photo courtesy of WWE.com
It seems as if AJ has moved on from Kane and will now only be involved in the feud between CM Punk and Daniel Bryan.
But as AJ has hinted, at the center of her "crazy chick" gimmick is basically a desire to get noticed, no matter what the cost.
Therefore, I'm never going to dismiss the possibility of AJ interfering in this MITB match and preventing someone, likely Kane, from winning the bout.
After all, AJ's real motives are going to be made public at some point, and if she ends up with either Punk or Bryan (and especially if she ends up with whoever's WWE champion), she is going to have a vested interest in the outcome of the WWE Championship Contract MITB Ladder match.
AJ has sort of been the puppet master of the WWE title picture over the last couple of months, so it would only be fitting if she continued to do that by either helping someone win the WWE title MITB match or making him lose it.
On Raw a couple of weeks ago, Dolph Ziggler and Alberto Del Rio faced off in a "Contract on a Pole No. 1 Contender's Match."
The match ended when Ziggler and Del Rio essentially retrieved the contract at the same time and wrestled over it for a while, but they were never able to establish who had control of it.
I've got to say that I'm shocked that we've never seen this happen in a Money in the Bank match before.
Let's say, for example, that both John Cena and Big Show grab the MITB briefcase at the same time, pull it off the hook and wrestle over it without either one ever establishing control of it.
So, who gets to keep it? Do Kane and Chris Jericho get to involve themselves in the struggle as well?
Would we have two MITB winners? No MITB winners?
I think you get the point.
The idea behind a finish like this is to have a disputed Money in the Bank winner that would extend this storyline further and add even more twists and turns that would play out over time.
This situation seems like a long shot, but it's definitely possible if the WWE isn't sure who it wants to win or is looking to go the Triple Threat route again.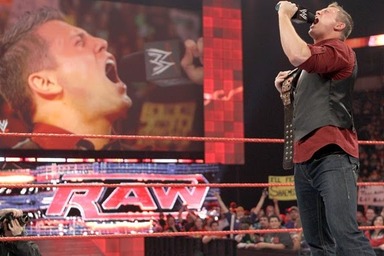 Photo courtesy of WWE.com
As of right now, the WWE Championship Contract Money in the Bank Ladder match is set at four competitors.
But what if that changes? Better yet, what if that changes just before the match happens?
Although there are four huge stars in this match, Chris Jericho is the only one who fits the ladder match prototype, and I'm really not sure if the WWE is going to want to put on a match like this without adding some more athleticism.
So, I could see a situation playing out where another former WWE champion—or perhaps even two—is added at the very last minute, just as the match is about to take place.
This would add some late intrigue, open up some possibilities for a new winner or two and likely improve the overall quality of the match.
As many wrestling fans have noted, the two likeliest candidates to make a surprise return and appearance in this match are Rey Mysterio and The Miz.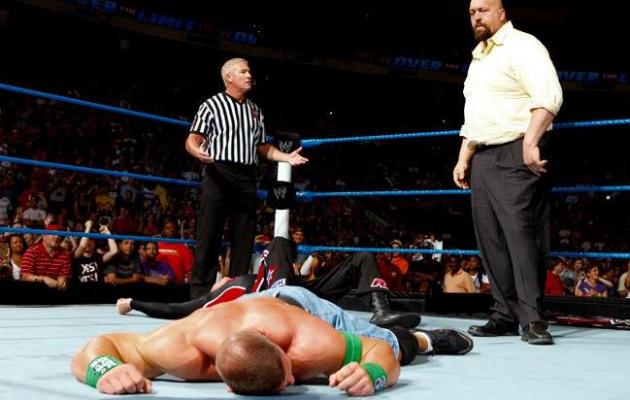 Photo courtesy of WWE.com
Does anyone think that we've really seen the last of John Laurinaitis on WWE TV?
I sure don't.
The creative team invested so much time and effort into getting Laurinaitis' character over that I find it hard to believe that he would leave the company with only a whimper and never come back.
Perhaps that's why I see Laurinaitis returning to TV very soon. In fact, I wouldn't be surprised to see it happen as soon as at Money in the Bank.
Remember that it was Big Show who saved Laurinaitis' job. So, what if Laurinaitis returns the favor so to speak?
Creative could easily book this match to where Laurinaitis shockingly returns, interferes in the match and helps Big Show pull out the victory.
That would be "returning the favor," and it could lead to a reformed alliance between Show and Laurinaitis, who would make his way back on TV, perhaps in a battle to regain his spot as general manager of Raw and SmackDown.
Of course, there's a chance that Laurinaitis is done as a TV character. But if he isn't, then having him return like this could make a lot of sense.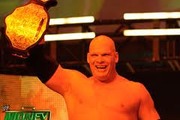 Photo courtesy of WWE.com
There have been 10 Money in the Bank winners in WWE history, but oddly enough, only one of those winners has cashed in his briefcase on the same night that he won it.
That came in 2010, when Kane won SmackDown's MITB match and later cashed in on Rey Mysterio to become World heavyweight champion.
Being that this has only happened once in the seven years that MITB has existed, might we see it happen a second time?
I think it's a very real possibility.
There are storyline reasons why each of the four competitors would win the briefcase and then cash it in on either CM Punk or Daniel Bryan later that night.
Big Show, Chris Jericho or Kane could easily cash in on a wounded Punk after a successful WWE title defense simply because they're heels, while Big Show could cash in on Bryan (as revenge for cashing in on him) and so could Jericho (they've teased a feud between the two recently).
If this match is placed early on the card, don't be shocked if that's done to set up a same-night cash-in later on in the pay-per-view.
Drake Oz is a WWE Featured Columnist for Bleacher Report. You can follow him on Twitter and ask him any wrestling-related questions on Formspring.