Rey Mysterio: 7 Fresh Opponents He Should Work with When He Returns to WWE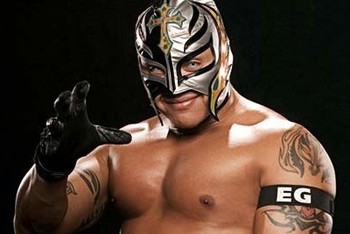 Photo courtesy of WWE.com
Rey Mysterio has been gone from the WWE for nearly a year, but he's expected back anytime now.
His 60-day suspension for a second violation of the WWE's Talent Wellness Program is officially over, and he was reportedly backstage at last week's Raw's taping.
I'll take these as two signs that Mysterio's return is right around the corner, and though I'm not Mysterio's biggest fan, his likely upcoming return couldn't come at a better time.
The WWE roster is really hurting at the moment, and Mysterio is a guy who could work with a wide range of superstars, including some who have debuted during his absence.
Here are seven fresh opponents that Mysterio should work with when he returns to the WWE.
7. Tensai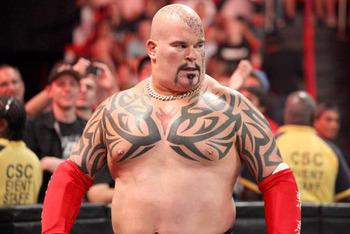 Photo courtesy of WWE.com
By all accounts, Tensai has been a complete failure since returning/debuting shortly after WrestleMania.
His gimmick hasn't gotten over in the slightest, his wrestling has been subpar and the fans can't seem to separate him from his past as Albert.
Very few superstars would be able to turn things around for Tensai right now, but Rey Mysterio is one of them.
Even though the WWE has significantly scaled back Tensai's push, they're clearly not giving up on him, either, as evidenced by the fact that he's getting a decent amount of TV time and will even compete in a Money in the Bank match on Sunday.
But if Tensai is going to have a marquee feud with someone who can make him look good for the first time since he came back, then Mysterio might be that guy.
Say what you want about Mysterio, but he can get a good match out of just about anybody, and he might be able to help Tensai get out of his early slump.
At the very least, this would be a fresh feud for both guys and a way to avoid having Tensai work at the very top of the card.
6. Antonio Cesaro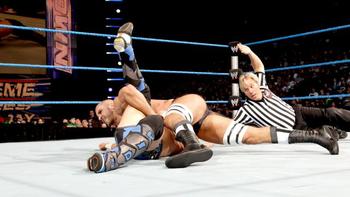 Photo courtesy of WWE.com
None of the recently debuting SmackDown stars have had legitimate feuds as of yet, and that includes Antonio Cesaro.
Since debuting a few months ago, Cesaro hasn't done much besides squash a couple of jobbers and "feud" with Teddy Long, who, of course, isn't even a wrestler.
That needs to change, and it needs to change soon.
Cesaro has to have a major feud, and though I don't think he's ready or over enough to be in the main event, I'd have absolutely no problem with seeing him feud with Rey Mysterio.
Even though he's a WWE newcomer, Cesaro is one of the best in-ring workers in the company, and he's also in desperate need of a marquee rivalry that helps the WWE fans get more familiar with him.
That's where Mysterio comes in.
Mysterio is obviously one of the most popular baby faces in the WWE, so if you want to put heat on a heel newcomer, then putting him against Mysterio is a great way to do that.
I have no doubt that, if booked right, a potential Cesaro vs. Mysterio feud could be really good, especially wrestling-wise.
5. Damien Sandow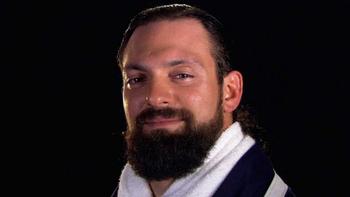 Photo courtesy of WWE.com
Speaking of new SmackDown stars who need real feuds, Damien Sandow is also due for his first major WWE rivalry.
The WWE's new aristocrat debuted a few months back and has been using big words ever since then.
I've found Sandow to be really entertaining so far, as I've enjoyed the heck out of his promos and the unique way that he wrestles.
But at some point, he's going to need to have his first feud, and I'd be all for a rivalry with Rey Mysterio.
The WWE has an easy in for Sandow's feuds, as all he has to do is verbally attack a fellow WWE star for being a "simpleton" or something along those lines.
A rivalry with Mysterio could be based largely on Sandow ridiculing Mysterio for wearing a mask and hardly ever speaking, but somehow getting the support of the fans.
Sandow could do his whole "you're stupid" shtick, and—boom—we have a feud with Mysterio.
This would be an interesting clash of styles and gimmicks, as well as Sandow's first real chance at getting over as an upper midcarder.
4. Sin Cara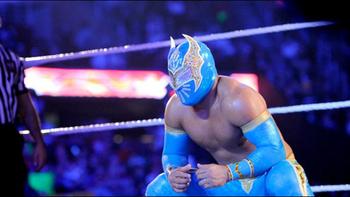 Photo courtesy of WWE.com
When Sin Cara made his WWE debut in April 2011, much of the chatter surrounding his debut centered around the fans' desire to see a major feud between arguably the two most popular Hispanic stars on the planet: Sin Cara and Rey Mysterio.
But Sin Cara's first year-plus in the company hasn't gone well at all, and the desire to see Sin Cara vs. Mysterio has cooled off considerably.
I agree that Sin Cara has been a disappointment and that has in-ring work hasn't been great, but that doesn't mean I don't want to see him feud with Mysterio.
In fact, I think that Sin Cara almost needs a rivalry with Mysterio to get out of this rut that has consumed his entire WWE career.
Sin Cara and Mysterio have two unique, fast-paced styles that should compliment each other well, and the cultural impact of a match and/or rivalry between the two can't be overlooked.
There would be a ton of international appeal behind this match/feud, and though Sin Cara hasn't delivered in the WWE, I think that creative should still take a chance and book what would likely be the biggest WWE feud that Sin Cara could participate in.
3. Dolph Ziggler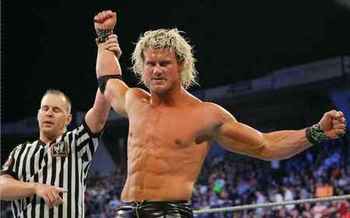 Photo courtesy of WWE.com
I know, I know—we've already seen Dolph Ziggler and Rey Mysterio feud before.
But that was way back in 2009, before Dolph Ziggler was the Dolph Ziggler that he's grown into today.
Ziggler and Mysterio had a nice little rivalry that resulted in some great matches three years ago, so just imagine how good this would be now that Ziggler has three more years of experience under his belt.
These two had some phenomenal chemistry back then, but Ziggler has drastically improved, especially over the last year or so.
If you're going to bring back Mysterio for a major feud, then you might as well put him in a rivalry with one of the hottest acts in the wrestling business and a guy who Mysterio just so happens to be very familiar with.
Ziggler is on top of his game right now, and if he's not going to win the Money in the Bank match on Sunday, then the WWE might as well use him for a great upper midcard/main-event level rivalry against Mysterio.
I think we all know just how phenomenal those matches could be.
2. Wade Barrett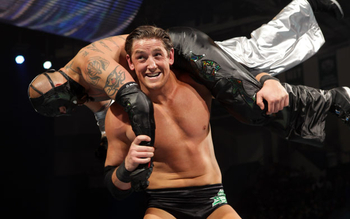 Photo courtesy of WWE.com
Like Rey Mysterio, Wade Barrett is currently sitting on the sidelines, just waiting to return to the ring.
So, how do you bring these guys back? Well, by having them feud with each other, that's how.
Barrett has had major feuds with a lot of top stars, including full-fledged ones with the likes of John Cena and Randy Orton and mini ones with guys like CM Punk and Sheamus.
But one star who Barrett has avoided for essentially his entire WWE career is Mysterio.
They've wrestled each other before, but never as part of any sort of extended rivalry. In fact, the biggest match between the two came in April 2011 as part of the WWE Draft Raw show.
Hardly any fans probably remember that, though, which is why a Mysterio vs. Barrett feud sounds both fresh and potentially very entertaining.
Just about every feud that Mysterio or Barrett could have right now would be a rehashed one.
Unless they feuded with each other.
1. Daniel Bryan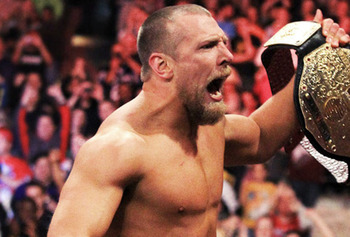 Photo courtesy of WWE.com
While Rey Mysterio has been a top star (or at least an upper midcarder) since debuting with the WWE in 2002, he's been absent for almost a year.
And what's happened during Mysterio's absence?
Well, Daniel Bryan won Money in the Bank, cashed in on Big Show to become World Heavyweight Champion, turned heel and became the hottest act in the wrestling business.
A lot has changed since we last saw Mysterio in August 2011, and a lot of that change has had to do with Bryan.
See where I'm going with this?
With Bryan taking over the WWE so far in 2012 and Mysterio nearing his return, it seems like a feud between the two is just waiting to happen.
Bryan is arguably the best heel in the business today while Mysterio is likely going to come back as a top-tier baby face.
They're almost destined to cross paths at some point, and when they do, they have the potential to put on one of the best rivalries and plenty of the best matches of 2012.
Drake Oz is a WWE Featured Columnist for Bleacher Report. You can follow him on Twitter and ask him any wrestling-related questions on Formspring.
Keep Reading