UFC 148 Fight Card: Power Ranking the Main Card Fights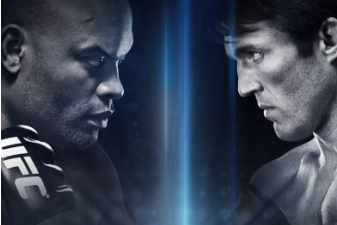 ufc.com
This card has it all. A fight between two fast-paced, dynamite finishers. A grappling battle between two of the best ground fighters in the game. A stand-up war that will end with someone staring up at lights.
Oh yeah, and there's that Anderson Silva guy fighting too.
With all that said, the one thing UFC 148 is not is a one-fight card.
Excitement top-to-bottom, drama, passion: It'll all be on display inside the Octagon tonight in Las Vegas. But as for the matches on paper? Let's take a look at how they stack up against each other.
Begin Slideshow

»
bleacherreport.com
This is a match between two grapplers. Cody McKenzie is like a gun with one bullet. Of his 12 submission wins, 11 of them are by guillotine choke.
So while he may have only one bullet in his chamber, he's accurate.
Across from him will be a very upset Chad Mendes. Mendes is a top-three featherweight and is just one great grappler who you don't count out. It should be fun watching McKenzie go for his one move, while Mendes shows him what a full array of moves look like.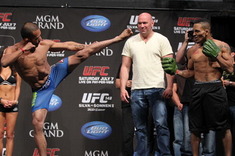 bleacherreport.com
Gotta love the little guys.
Definitely look for 15 minutes or less of fast-paced action out of these two. Both are explosive fighters who can finish, so I'll be looking for something highlight worthy in this one.
And here's hoping that Easton brings his Hulk gloves to the cage.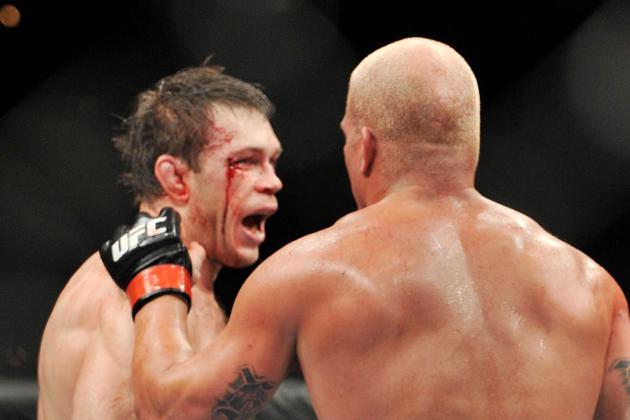 Jon Kopaloff/Getty Images

Tito Ortiz has had a stellar career that's been somewhat clouded by these last five years. Sporting a 1-6-1 record over that time span, it's safe to say that this is the time to hang up the five-ounce gloves.
What better way to do that than by having his closest rival Forrest Griffin across the cage from him?
After splitting the first two matches with split decisions, this will be the end-all-be-all. Let's hope that when it's all said and done, Ortiz gets to dig a grave one more time.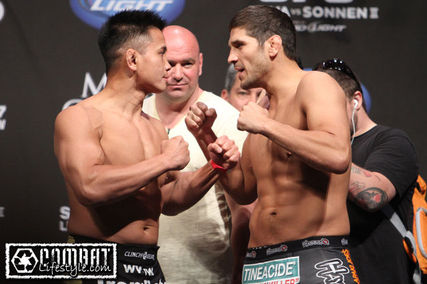 This is going to be a stand-up war.
The Fourth of July may have just passed, however, this match will contain fireworks. Cote is a tough boxer and Le can kick like his first name is Bruce. When you have these elements present in the Octagon, the match usually ends with somebody staring up at lights.
So, a word of advice: don't blink.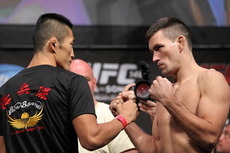 ufc.com
Look for a ground battle of epic proportions in the form of Kim's great Judo and ground control vs. Maia's mastery of Brazilian jiu-jitsu.
If you love ground fighting then don't miss a second of this fight, as both men want the fight there. It's just going to be a matter of whether the submission can beat the ground-and-pound.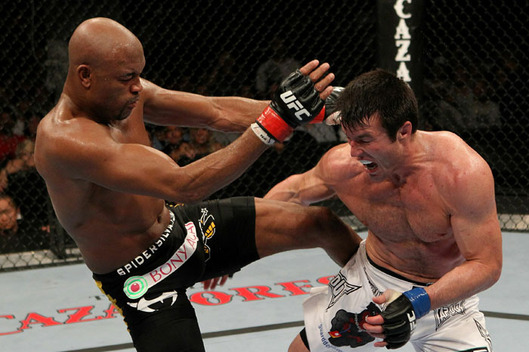 This is the most anticipated rematch in the recent history of the UFC.
The reason for that is Chael Sonnen. In August of 2010, Sonnen made Anderson Silva look mortal. Chael imposed his will and dominated him like he's never been dominated before. That warm night in Oakland, Sonnen was one minute and fifty seconds away from crushing The Spider.
Almost two years later, he gets another chance.
Against everyone else, Anderson is unstoppable. Against Sonnen, he's rattled. Once a man of few words, now Silva is talking trash and getting physical in the press conference and weigh-ins.
Telling us that he's going to pretty much cripple Sonnen?
That's not the same Anderson Silva we know. It's almost as if he feels that he needs an edge to win. A goal. Now we get to see if this spider will tangle himself in his own web.