Atlanta Braves: 5 Trade Targets Before the Trade Deadline Looms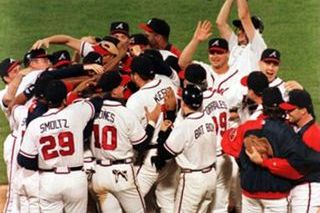 Will the Braves celebrate a National League pennant this season?
The MLB trade deadline is one of the most exciting times of the year for hardcore baseball fans. Some teams have fallen by the wayside and are selling players in order to cut payroll, get rid of bad contracts and stock up on prospects to build for the future. Other teams are buyers and are stocking up on arms in the bullpen, bolstering their starting rotation and filling gaps in the lineup to push for October.
The National League East is one of the most hotly contested in all of baseball this year.
The emergent Washington Nationals have busted out of the gate with hot young talent and have surged to the division lead. However, young ace Steven Strasburg is fresh off Tommy John surgery and is approaching the club-imposed pitch limit on his season. When he is shut down, the Nationals will need an arm to plug the gap in their rotation.
The inconsistent Atlanta Braves sit in second place, currently four games behind the Nats. Inconsistent outings by young starters Mike Minor and Randall Delgado, along with another prolonged slump by (All Star?) Dan Uggla, trouble with scoring runs against left-handed pitching and uncharacteristic bad outings by setup man Jonny Venters have the Braves treading water at this point in the season. Young phenom Andrelton Simmons provided a spark, but after breaking his pinkie finger just before the All-Star break, the Braves may have to look for offense in other places. The Braves are definitely going to be buyers to try to overtake the upstart Nationals.
The surprising New York Mets are scraping together wins and currently sit in third place in the division heading into the second half of the season. Most picked this team to finish near the bottom of the division, but R.A Dickey and David Wright have the Amazin' Mets believing again. The Mets currently sit 1/2 game behind the Braves and should be buying by the trade deadline.
The Miami Marlins are in a disappointing fourth place. The Marlins made the biggest splash in all of baseball during the offseason by acquiring sought-after free agents Jose Reyes, Heath Bell, Mark Buehrle and Carlos Zambrano during the offseason. The Marlins also added fiery manager Ozzie Guillen and opened the season in a new ballpark. After recently adding Carlos Lee from the Houston Astros, the Marlins left no doubt that they intend to be buyers at the trade deadline.
The Philadelphia Phillies, fresh off a division title last season, sit stagnant in last place. Injuries have plagued the Phils and they currently sit 13 games out of first place. The Phillies will be in full rebuilding mode by the trade deadline and should move players such as Cole Hamels, Shane Victorino, Hunter Pence and Cliff Lee.
So, in this competitive division, what do the Braves do and who should they target? There are plenty of big names that could move by the 2012 MLB Trade Deadline and this article will list five players who would fit with the Braves.
Begin Slideshow

»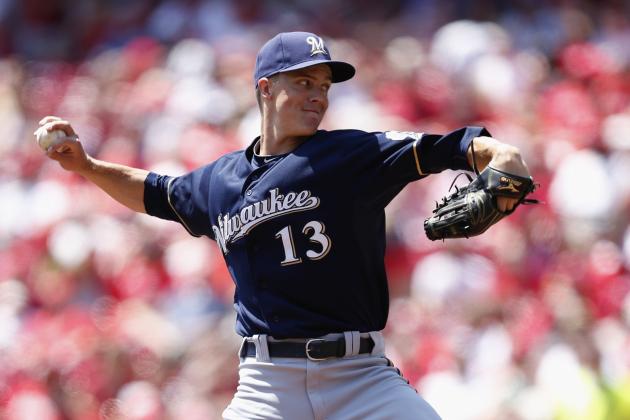 Joe Robbins/Getty Images
Greinke is a solid young arm who is in his prime
Zack Greinke is probably the No. 1 starting pitcher that the Braves will target.
Braves starter Brandon Beachy is on the shelf for the remainder of the year after undergoing Tommy John surgery. Young prospects Mike Minor and Randall Delgado have suffered some growing pains in their first full major league season.
Tim Hudson and Tommy Hanson have been solid, but Jair Jurrjens, recently recalled from the minors, is a temporary fix to an ailing and incomplete rotation. Kris Medlen may begin to get some starts later in the season, but a starting pitcher is GM Frank Wren's No. 1 priority at the deadline.
Greinke is 9-2 on the season with a 3.08 ERA and a 1.18 WHIP. He has had no arm problems, but was placed on the 60-day disabled list in 2006 due to psychological issues. He missed time in spring training the same year after it was revealed he suffered from social anxiety disorder and depression.
He also missed the opening of the 2011 season after fracturing ribs in a pickup basketball game. Greinke won the Cy Young award in 2009 with the lowly Kansas City Royals.
Zack Greinke is somewhat of a wild card as the trade deadline looms. He will be a free agent after this season, but there are murmurings that he is pushing for a trade to Atlanta or Baltimore because he will be able to resign for a lucrative long-term contract. Greinke is also said to prefer Atlanta due to its relative proximity to his Orlando, FL hometown.
There are two big downsides to this move. The first is Greinke's history of being a headcase. His own agent has stated that he will never pitch in New York because he couldn't handle the pressure. The Yankees have been among the many clubs scouting Greinke as recently as June 27th.
The second big downside is his impending contract. Greinke will be a free agent at the end of the season, and he won't come cheap. He is expected to command between 15 and 20 million per season in the free agent market, and this would mean that the Braves will have to dump some salary.
One casualty may be perennial All Star catcher and fan favorite Brian McCann, whose contract will expire in 2013. However, the Braves have a budding superstar in Christian Bethancourt. Currently starring for the Mississippi Braves, Bethancourt has been compared to future Hall of Famer Ivan Rodriguez and should be ready to break into the big leagues in 2014.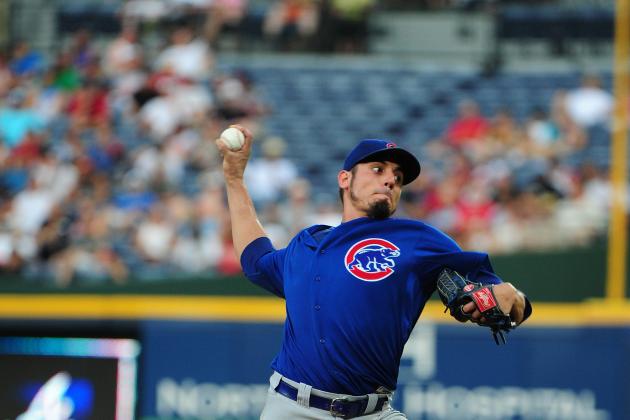 Scott Cunningham/Getty Images
Cubs pitcher Matt Garza is one of many to be moved by the deadline
Matt Garza is one of two Cubs starting pitchers that the Braves will be targeting.
Garza started strong to the 2012 season, but has struggled of late. In a possible audition for Atlanta, Garza lasted just four innings and surrendered five earned runs on five hits, including three homers. This might aid Atlanta in landing him by the deadline, since his trade value may have dropped. Currently, Garza sports a 4-7 record and a 4.32 ERA with a 1.2 WHIP.
Perhaps Garza's greatest strength for the Braves, and what would set him apart from other potential trade prospects, is his postseason experience. He reached the playoffs with the Tampa Bay Rays in 2008 and 2010. Although not dominant, Garza holds a 2-1 record in the postseason with a 3.47 ERA and a 1.3 WHIP. He was also 2-0 in the ALCS in 2008 and was an instrumental piece in the Rays' berth in the World Series.
Garza is a likely No. 2 or No. 3 starter for the Braves, which would decrease his value somewhat. The Braves lack a dominant ace and Garza is not that player. He is young at 28 and should be entering the prime of his career. The Cubs have plenty of holes and the Braves have plenty of young arms in the minor league system to help the Cubbies rebuild their big league roster.
Garza will not be a free agent at season's end, but will be eligible for arbitration at season's end. Garza could be a temporary fix for the ailing Braves rotation, but would not be a long-term solution past 2013 in all likely scenarios. Garza also likes Chicago and could be willing to negotiate to stay in the Windy City for the rebuilding process.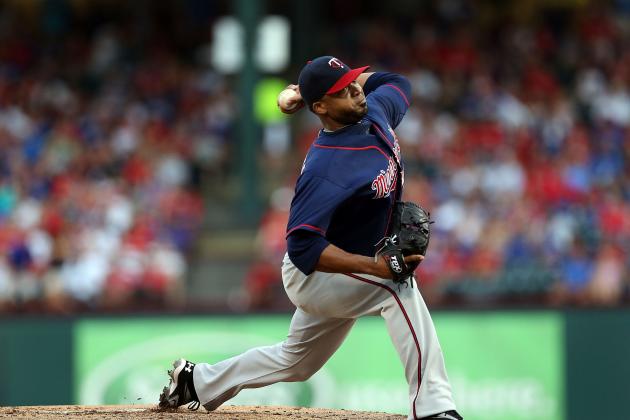 Ronald Martinez/Getty Images
Liriano could be a cheap, quick fix to the Braves rotation
Minnesota Twins starter Francisco Liriano could be a cheap, temporary solution to the Braves ailing rotation.
Liriano currently makes $5.5 million for the remainder of the season and will become an unrestricted free agent at season's end. While premium free agents like Cole Hamels and Zack Greinke could demand free agent contracts between 15 and 20 million dollars per year, Liriano will probably be a bargain at around $9 million.
Given his streaky and uneven performance throughout his career, the Braves shouldn't have to give up too much to land him. GM Frank Wren and his scouting team have shown interest as recently as July 1st, when they scouted his start against the Kansas City Royals.
Although his season stats leave a lot to be desired, he has settled down to post a 3-2 record with a 2.74 ERA in his last eight starts. Liriano has also had Tommy John surgery in 2006 and has been a notorious slow starter in his career since. When his stuff is on, it's electric, but he struggles with command from time to time.
The best thing about Liriano, aside from his previously untapped potential, is that the Braves can probably get him without having to give up premium prospects Julio Teheran, Mike Minor, Randall Delgado, Tyler Pastornicky, or Christian Bethancourt. If the Braves land him in a trade, they can choose to re-sign him for cheap in the offseason, or let him go as a free agent.
The Braves would definitely not be acquiring an ace in this deal, but Liriano could be a solid middle- to back-of-the-rotation starter to compliment Tommy Hanson and Tim Hudson at the top.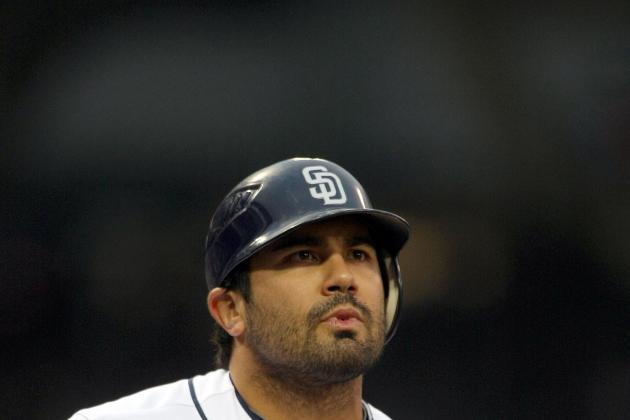 Donald Miralle/Getty Images
Carlos Quentin could provide some right-handed pop
One thing that hasn't changed in the Braves lineup is its weakness against left-handed pitching.
Last season, this glaring weakness was overlooked at the trade deadline, as the Braves opted to fill their leadoff spot with the speedy, left-handed Michael Bourn.
The Braves still lack that pop from the right side in the middle of their lineup. It's no secret why they struggle to score runs against southpaws. Bourn, Freeman, Heyward and McCann make up the bulk of the run producing this season. Martin Prado has performed admirably, but Dan Uggla has struggled. The Braves need a right-handed power bat to relieve some of the tension.
San Diego Padres left fielder Carlos Quentin could be the perfect fit.
Quentin was on the Braves radar last year, but the Braves and White Sox were unable to strike a deal. After signing with the Padres as a free agent this offseason, the Padres have tanked the first half of the 2012 season.
The Padres could be moving Quentin before the trade deadline and, if so, the Braves should be buying. Quentin would fit in nicely in left field and give Chipper Jones a break from trying to play every day. Martin Prado could move in to third base and Quentin could break up the string of left-handed hitters in the middle of the order.
Also, the Braves have enjoyed the unexpected offense of rookie Andrelton Simmons from the right side, but with Simmons likely out 4-6 weeks with a broken pinkie finger, the Braves cannot count on Jack Wilson or Tyler Pastornicky to pick up the slack. Quentin would be a more reliable option for offensive production and Jack Wilson can shore up the defense until Simmons returns from the DL.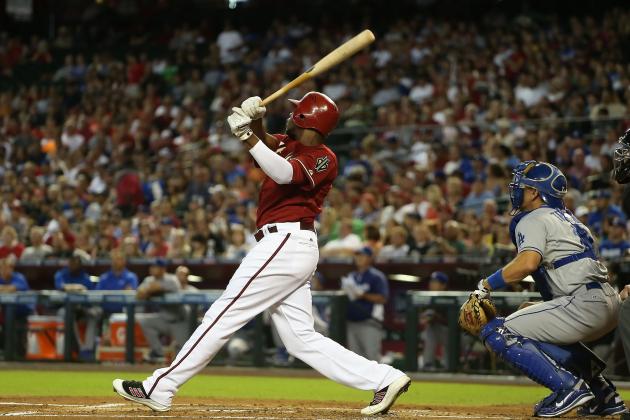 Christian Petersen/Getty Images
The Braves would be hard pressed to find a more talented player by the deadline than Justin Upton
A dream scenario may develop in the next several weeks as the Arizona Diamondbacks are listening to offers for their superstar left fielder, Justin Upton.
Upton is arguably the most talented player available in 2012. There is no argument that there will be no player available with a higher ceiling.
At 24, Upton is entering what could be the prime of a spectacular career. He is the prototypical five-tool player. He is about to surpass 100 career home runs and holds a respectable .276 career batting average. After debuting at age 19 with the Diamondbacks, he has been voted to the All Star team twice, finished fourth in MVP voting last season, and also won the Silver Slugger.
Upton has been dogged by a mediocre first half in 2012. After seeing his strikeout total dip in 2011, he is on pace to match his career high in strikeouts. He has only hit seven home runs, he has already been caught stealing eight times (his career high is nine), his fielding percentage is down 50 points and, most troubling, his slugging percentage is down 100 points. There are rumors that he is a problem in the clubhouse, he could be suffering from an injury and there are smart people in the baseball world that believe he has been overrated and overvalued his entire career
As Buster Olney of ESPN reported today, the Braves could be buyers on Upton. Olney reports that the Braves have trade bait that fits Arizona's needs. The D'Backs are interested in a third baseman and major-league-ready pitching. The Braves could be willing to offer Martin Prado and a package that could include any of their top pitching prospects, including Julio Teheran, Mike Minor or Randall Delgado.
This move could make or break the Braves until 2015, when Upton would be eligible for free agency.
This move carries the most risk for the Braves, but with Chipper Jones retiring and Michael Bourn expected to leave at the end of the season, Upton could reward the Braves with four solid years with young stars Freddie Freeman, Jason Heyward and Andrelton Simmons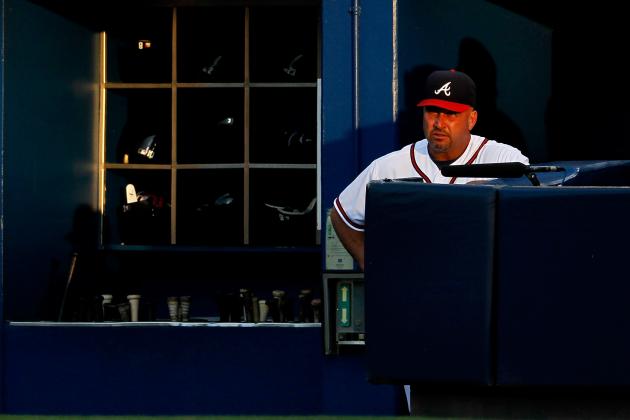 Kevin C. Cox/Getty Images
Are the Braves poised and ready to strike?
GM Frank Wren has been hoarding his top pitching prospects for several years now. This year's crop of targets at the trade deadline are as talented as any group in recent memory.
This season's NL East is every bit as competitive as the vaunted AL East. From top to bottom, the teams of the NL East are some of the strongest in baseball. Even though the defending champion Philadelphia Phillies are down, they are chocked with talent they can unload for prized prospects.
Make no mistake about it. The Braves hold the cards to be able to pull off a blockbuster this season to avoid last year's last-minute heartbreak.
With top starter Brandon Beachy out for the season, the Braves are virtually guaranteed to land another starting pitcher.
The big question is which one? And ultimately, will Frank Wren finally unload some of his top prospects and go after a game changer?
Stay tuned Braves fans, because the next few weeks could be pretty exciting to say the least.