Klitschko vs. Thompson Results: Round-by-Round Reaction and Analysis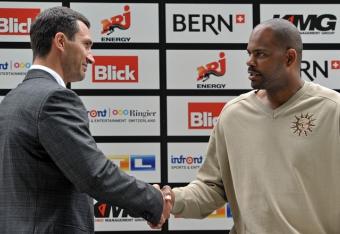 Courtesy of: BoxingScene.com

Wladimir Klitschko—the title-holder of every major heavyweight title except the WBC title, which is held by his younger brother, Vitali—will take to the ring once again and defend his heavyweight title belts when he takes on 40-year-old challenger Tony Thompson Saturday, July 7 in Bern, Switzerland.
This will be the second bout between Klitschko (57-3, 50 KOs) and Thompson (36-2, 24 KOs); the first bout went 11 rounds until Klitschko halted the bout, ending a valiant effort by the then-36-year-old Thompson back in 2008.
Thompson suffered a torn meniscus in the first fight. He said it hampered his fight plan, and he will look to capitalize on his second chance against the most dominant heavyweight of the last decade.
Klitschko will look to build his current win streak to an impressive 16 wins Saturday, as Thompson will look to run his win streak to five while also netting the biggest win of his career.
Check back at 4:30 p.m. EDT Saturday for live updates on the fight and catch it for yourself live on EPIX on TV and online at www.EPIXHD.com.
Round 6:
Slow start to the round, as Klitschko begins to open up on Thompson.
Klitschko totally in control of the fight now, as Thompson is not throwing very many punches.
Klitschko lands a huge right in the corner sending Thompson down but gets to his feet and is clearly still not all there as the referee stops the bout.
Klitschko wins by KO victory in Round 6!
Round 5:
Thompson and Klitschko exchange jabs early on in the round.
Thompson tries to counter a Klitschko jab with a combo, landing sloppily.
Klitschko rocks Thompson towards the end of the round sending Thompson down for an eight-count and clinches out to hold on the rest of the round.
Klitschko 48-46
Round 4:
Klitschko pushing the action early in the round now, looking more active.
Again slow round action-wise, but it is Klitschko this time landing more punches.
Thompson not as effective with his jab this round and Klitschko easily takes the round.
38-38 Even
Round 3:
Thompson continues to work his jab, a smart decision in my opinion.
So far there have not been too many combos thrown in the bout, which is good for Thompson.
Very slow round action-wise, but Thompson did just enough to steal the round
29-28 Thompson
Round 2:
Klitschko coming out more aggressive in Round 2, looking to push the action early on.
Thompson and Klitschko collide, sending Thompson to the canvas and is ruled a slip.
Thompson continues to work his jab and takes a big right from Klitschko, much to the delight of the crowd.
Klitschko throws Thompson to the canvas once again to end Round 2.
Even 19-19
Round 1:
Thompson trying to establish the jab early on in the bout.
Thompson is pushing the action and is the aggressor early on.
Klitschko is not throwing too many punches and hasn't landed a clean punch all round.
Thompson did enough to win the first round.
10-9 Thompson
Wladimir Klitschko is now making his way towards the ring after a dramatic intro video, to the Red Hot Chili Peppers.
Klitschko will look to keep his sturdy 15-fight win streak forging ahead towards No. 16 tonight, with an expected win over Tony Thompson.
The crowd—as usual in a Klitschko fight overseas—can play a huge part in the bout, as if Wladimir lands some solid blows, the crowd will go into a freenzy, which could prove to be intimidating for Thompson.
Tony Thompson is now making his way to the ring after being introduced by Michael Buffer. Thompson is getting a more friendly welcome than I expected, getting a slight round of cheers.
He is going in as a huge underdog and will look to pull off one of the most shocking upsets in recent boxing history.
This article is
What is the duplicate article?
Why is this article offensive?
Where is this article plagiarized from?
Why is this article poorly edited?