Predicting the Packers' Rookie Statistics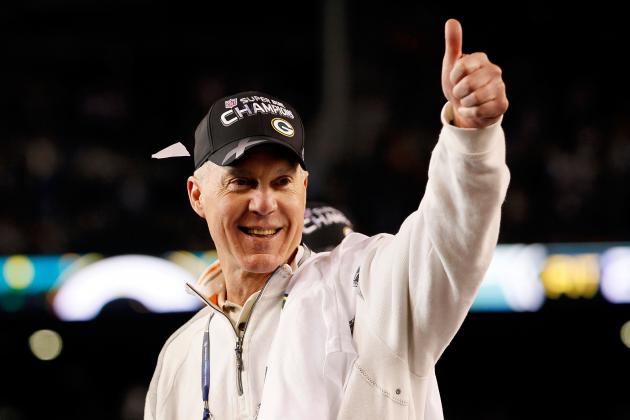 Kevin C. Cox/Getty Images

The Green Bay Packers are two weeks away from the start of training camp. The draft class of 2012 will be in attendance there too. I've talked about this draft class a number of times, and there is no doubt that Ted Thompson conducted this draft for the Packers with the defense in mind.
Especially on the first two days of the draft. The big pick was the 1st round selection of Nick Perry.
So...how will this draft class perform this year for the Packers? Well, that's hard to say. We haven't even seen the rookies with pads on yet.
But I'll give it a shot and try and do my best impression of Nostradamus and predict what this draft class will do.
Begin Slideshow

»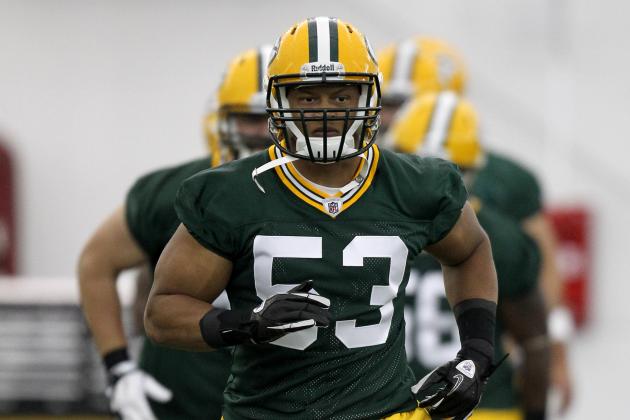 Mike McGinnis/Getty Images

Nick Perry is going to play opposite of Clay Matthews at LOLB, which is the position that Matthews used to play. Matthews has moved over to ROLB for the upcoming season. The Packers and Dom Capers plan to move Matthews around a lot to create some mismatches, depending on where Matthews is lined up.
That's why it's key that Perry does his job and creates pass pressure from the left side, while also holding his own against the run.
In 2011 at USC, Perry had 54 tackles with 9.5 sacks, 13 tackles for a loss, three forced fumbles, one fumble recovery and three passes batted down.
Perry had a fantastic workout at the NFL Scouting Combine, as he ran 40 yards in 4.58 seconds, had a vertical jump of 38½ inches, had a broad jump of 10-4 and he bench-pressed 225 pounds 35 times.
That outstanding athletic ability is expected to help get the defense of the Packers back into the top five statistically in the NFL, like it was in 2009 and 2010 under Capers.
I see Perry having a pretty good year opposite Matthews. They both will get some help from a much improved and noticeably deeper defensive line, with the additions of rookies Jerel Worthy and Mike Daniels, as well as veterans like Anthony Hargrove and Phillip Merling.
Here is how I think Perry will do this year...
Tackles - 60
Sacks - 8.0
Interceptions - 1.0
Forced Fumbles - 2.0
Fumble Recoveries - 1.0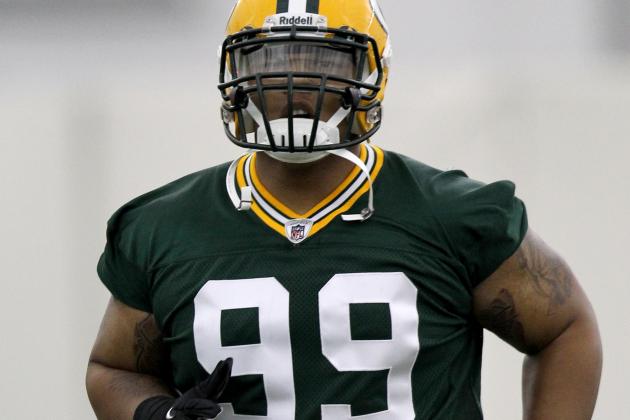 Mike McGinnis/Getty Images

Jerel Worthy looked to be a starter for the Packers in the first OTA in the nickel package, and I also expect him to get similar playing time in the dime package as well as the regular base defense.
Worthy will play a key role in the success of the Packers defense this year. Not only in stopping the run, where the Packers were ranked 14th in the NFL in 2011, but also in stopping the pass, where the Packers were ranked dead last in the league.
Worthy is very strong and explosive at the snap of the football. Worthy had 30 tackles, including 10.5 for losses, and 3.5 sacks in his senior year at Michigan State. Overall, he had 12 sacks during his career at MSU.
The defensive line of the Packers only had six of the the Packers 29 sacks last season. That overall sack total was ranked 27th in the NFL last season, compared to being second in the NFL in 2010, when the Green Bay defense had 47 sacks.
Here is how I see Worthy doing this year...
Tackles - 50
Sacks - 4.0
Forced Fumbles - 1.0
Fumble Recoveries - 1.0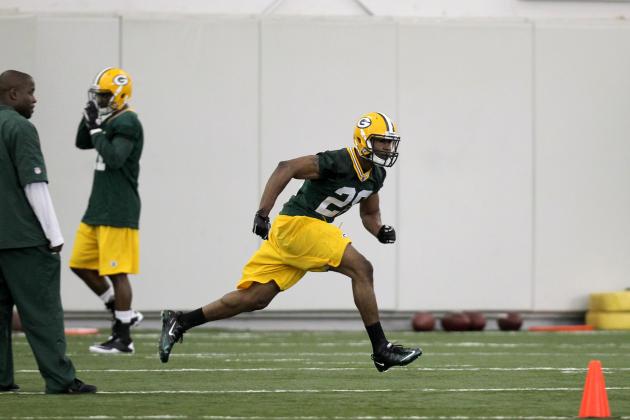 Mike McGinnis/Getty Images

Casey Hayward has impressed the coaching staff of the Packers, especially Mike McCarthy.
"He looks great," McCarthy said of Hayward via Packers.com. "He definitely looks very explosive through the hips. It's something that jumped out at me the little bit I saw during drill work. He's an excellent athlete. I think he's an excellent selection. I'm glad he's here."
Hayward has a chance to get significant playing time, as the Packers will utilize their nickel and dime alignments quite often this year.
If Charles Woodson moves to safety in the base 3-4 defense, Hayward will compete with Sam Shields, Jarrett Bush and Davon House for the other CB spot opposite Tramon Williams.
Hayward was tied for 4th in the country with seven interceptions in 2011 at Vanderbilt, which was actually 2nd in the SEC. One of those interceptions was returned for a touchdown.
I do expect Hayward to get a lot of time in both the nickel and dime defensive looks by the Packers, as he has an uncanny ability to pick off passes—15 interceptions overall in college.
Here is what I think Hayward will do this season...
Tackles - 25
Interceptions - 3.0
Forced Fumbles - 1.0
Fumble Recoveries - 1.0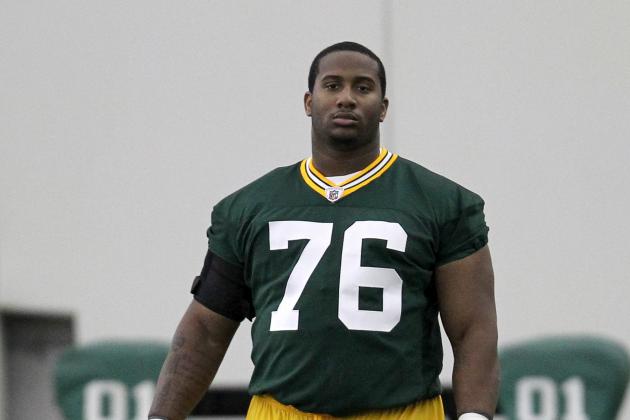 Mike McGinnis/Getty Images

Mike Daniels looks to be in the defensive line rotation when the Packers will be in their nickel and dime defensive alignments, which looks to be the defenses the Packers will utilize more often than not.
The Packers like to use two defensive linemen (2-4-5 or 2-3-6) when they are in the nickel or dime. I would expect the defensive line rotation to include B.J. Raji, Jerel Worthy, Anthony Hargrove and Daniels.
Daniels had nine sacks in 2011 (3rd in the Big Ten). Overall, had 124 tackles, 27 tackles for losses and 15.5 sacks in his career at Iowa.
Here is what I think Daniels will do this season...
Tackles - 25
Sacks - 4.0
Forced Fumbles - 1.0
Fumble Recoveries - 1.0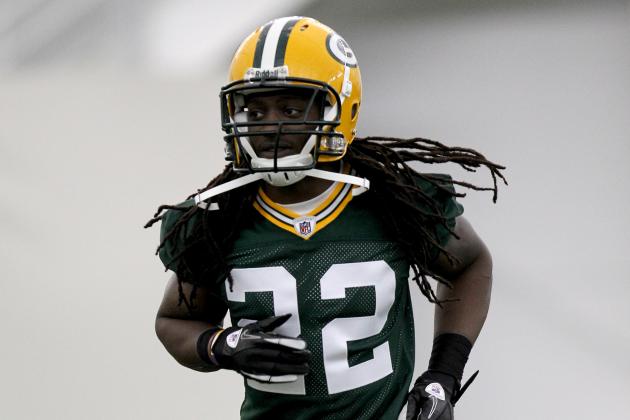 Mike McGinnis/Getty Images

Jerron McMillian will face a lot of competition at safety this training camp in order to see who will play opposite FS Morgan Burnett. The Packers might end up playing Charles Woodson there in the team's base 3-4 alignment, but Woodson would most likely move back to the slot CB position in the nickel and dime alignments, which is what the Packers will play most of the time.
McMillian's main competition will include veterans Charlie Peprah, M.D. Jennings, Anthony Levine, along with a couple other rookies in Sean Richardson and Micah Pellerin.
As a senior at Maine, McMillian had 92 tackles, 11.5 tackles for a loss, 3.5 sacks, five passes broken up and one interception.
I expect McMilllian to get most of his playing time his rookie year on special teams.
Here is what I think McMillian will do this year...
Tackles - 15
Interceptions - 1.0
Forced Fumbles - 1.0
Fumble Recoveries - 0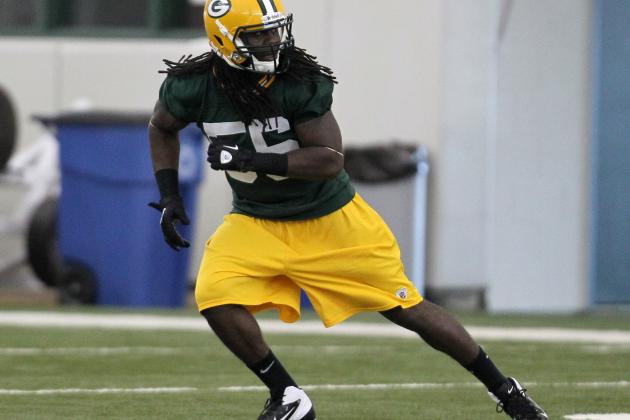 Mike McGinnis/Getty Images

Terrell Manning will play ILB this year and will back up starters A.J. Hawk and Desmond Bishop. The competition at ILB will be fierce, as others like D.J. Smith, Robert Francois, Brad Jones and Jamari Lattimore will also battle for playing time as well.
One of Manning's strengths is pass coverage, and this is where I could see him as a viable option when the Packers utilize their nickel and dime packages defensively. I also see Manning as a big contributor on special teams.
In 2011, Manning was tied for 16th in the country with four forced fumbles at North Carolina State, which led the ACC. He was also ranked 7th in the ACC with three interceptions in 2011 while also being ranked 8th in the ACC with 5.5 sacks.
Here is what I think Manning will do this season...
Tackles - 15
Sacks - 1.0
Interceptions - 2.0
Forced Fumbles - 0
Fumble Recoveries - 1.0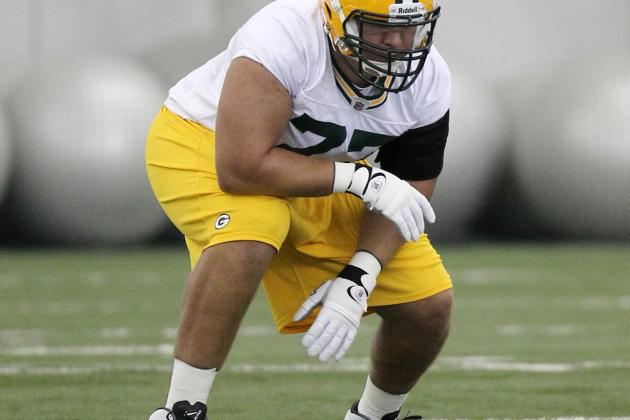 Mike McGinnis/Getty Images

Andrew Datko will have an opportunity to establish himself as a possible long-term prospect coming off the injury history this training camp.
Datko is backing up Bryan Bulaga at RT for now, but if the LT situation doesn't work out between Marshall Newhouse and Derek Sherrod, Datko could be a possibility there as well.
Datko was a four-year starter at Florida State at left tackle, with 40 career starts.
I expect Datko to make the team as a backup OT, but I think he will most likely be listed as inactive on game day.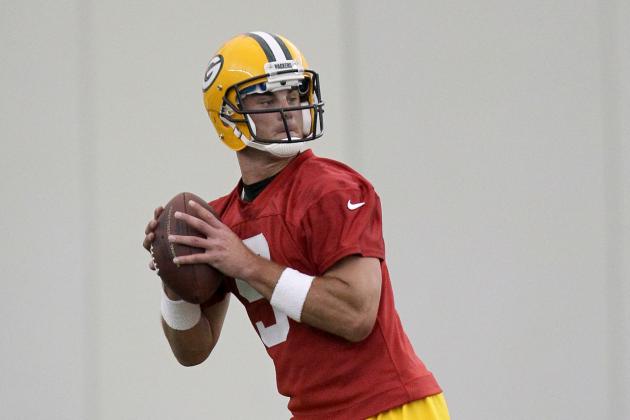 Mike McGinnis/Getty Images

B.J. Coleman has a real chance to make the roster of the Packers this season. A lot will depend on the progress of backup QB Graham Harrell.
If Harrell is deemed ready to play effectively, then I believe there is a chance that Coleman would then be an option for the practice squad, as there will be a ton of competition for other roster spots on the team.
Coleman threw for 6,892 yards in his collegiate career, which he began initially at Tennessee before transferring to Tennessee-Chattanooga. He also completed 10 of his 15 pass attempts for 170 yards and a touchdown for the East in the 2012 East-West Shrine game.
If I had to make a guess now, I would say that Coleman will probably be on the practice squad, as opposed to getting a roster spot.