NBA Free Agency 2012: Grading the Most Overvalued Summer Signings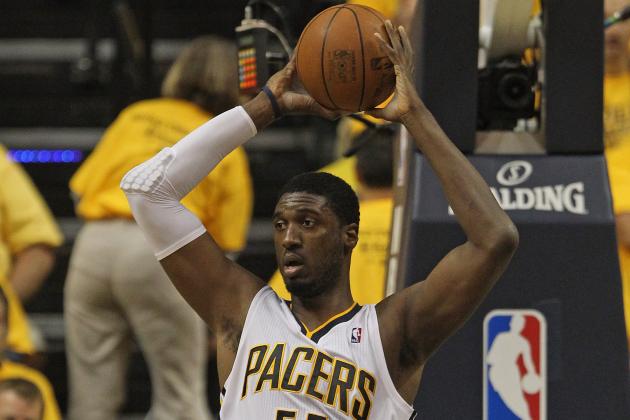 Jonathan Daniel/Getty Images

If this summer's 2012 NBA free agency period had one inevitability or theme, it was overvaluation. Players signing contracts more than their worth was a simple matter of supply and demand economics.
On the supply side, the market has been exclusively comprised of young skill-set players or veteran stars who are well past their prime.
On the demand side, various underachieving teams from last year have been under pressure to somehow improve their rosters for the following season (e.g., the "win now" mentality).
Additional pressure to make hasty acquisitions this year have come from the NBA's punishing collective bargaining agreement. In 2013-14, new luxury tax rules will kick in that will force teams to pay a greater than 1:1 ratio for every dollar they exceed over the cap.
In summation, teams have competed hard to obtain these seemingly scarce players, even if it means overvaluing them.
Here are the grades of five overvalued player acquisitions.
Begin Slideshow

»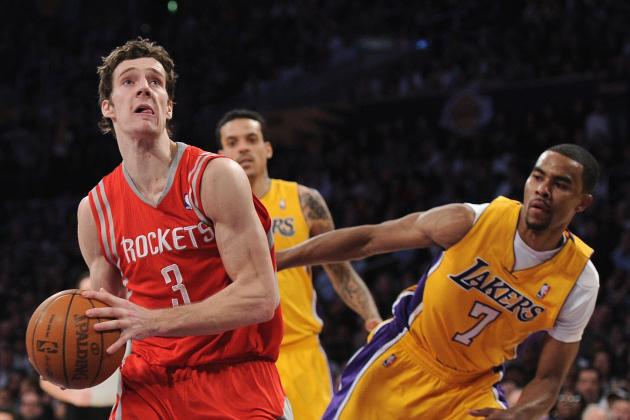 Harry How/Getty Images

With seemingly every team in the NBA having a talented and athletic backcourt, teams that were in want got desperate for young, unproven free agent guards with unknown upsides.
Goran Dragic may be this summer's biggest market winner. Dragic has been a backup point guard for the vast majority of his NBA career. However, when Houston's starting point guard Kyle Lowery was sidelined due to a bacterial infection last year, Dragic started the final 14 games.
Dragic's output was impressive in the short run: 18ppg, 8apg, 1.7 steals. But an above-average short-run performance is not worth a $8.5 million a year contract over four years.
Dragic has a quick first step, is a strong ball handler and has good court vision. However, his athleticism, jump shot and defense are unremarkable.
On a young Suns team with no star players (or a backup plan at point guard), defenses will effectively learn Dragic's tendencies and will be likely to limit his effectiveness. More athletic competition will exploit Dragic on a nightly basis.
Unlike international sensation Jeremy Lin—another free agent point guard about to cash in for high performance over a small sample size—Dragic does not have strong endorsement or marketing value.
The odds are against Dragic being worth what his new contract demands, which is to be a slightly above average NBA point guard.
Grade: C+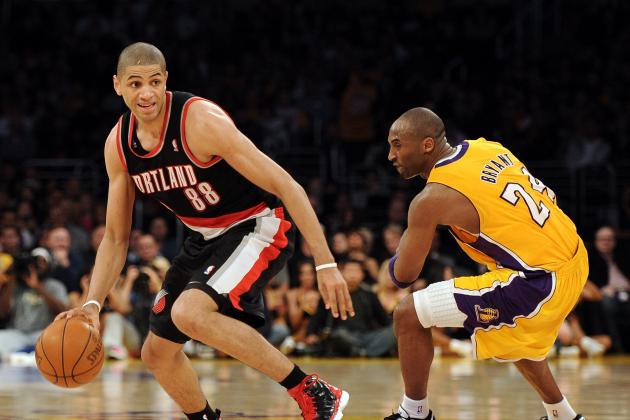 Harry How/Getty Images

The sexiest position in the NBA is a long small forward who can play other positions. If a young player has even a chance of being a highly effective multi-position player, a huge contract will likely follow soon after.
6'8", 200-lb Nicolas Batum had a nice season with the Portland Trailblazers last year. Averaging 13.9 PPG on 45 percent FG and 38 percent 3FG, Batum proved that he could score from anywhere on the floor.
Batum also averaged one steal and one blocked shot a game. Although Batum's perimeter defense is questionable, he is long and athletic and still has room to improve in the area.
According to ESPN, Batum has accepted an offer sheet from the Minnesota Timberwolves for a 4-year, 45 million dollar contract with bonuses that could push the deal over $50 million. The Portland Trailblazers will have until July 14th to match the offer.
For perspective, that is more than proven All-Star Gerald Wallace will be making per year and just slightly less than All-NBA player Rajon Rondo's current contract.
The value of Batum's contract is pure upside. If his scoring and defense improve, then his contract may even be considered for value. If not, this will be considered a small loss for value.
Grade: B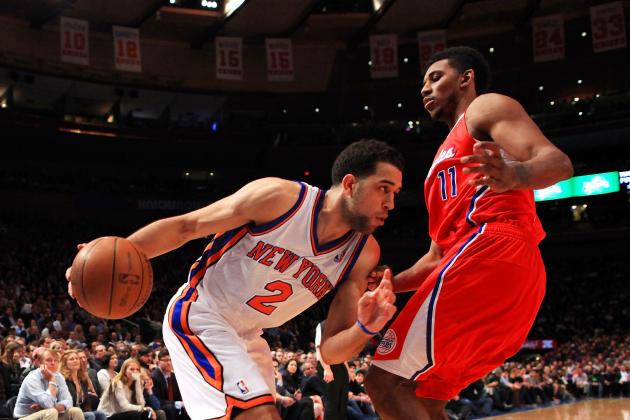 Chris Trotman/Getty Images

Guard Landry Fields had a below average 2011-12 season. He averaged 8.8 points and 4.5 rebounds a game for the New York Knicks. Fields' athleticism and shooting ability is limited; his upside unimpressive.
The one potentially unique aspect of Fields' game is that he may be a strong rebounding guard. In his rookie season, Fields averaged 6.4 rebounds a game.
Just how valuable a "rebounding guard" is on a basketball team, though, is questionable. The most important value behind a guard is scoring, assists, and perimeter defense.
However, because teams are flocking to attain guards of any significance, the Raptors signed Fields to an inflated three-year, $20 million contract.
The reason for the signing was a desperation attempt to lure free agent point guard Steve Nash to sign with the squad. That attempt failed, and a Fields signing is pure overvaluation.
Grade: D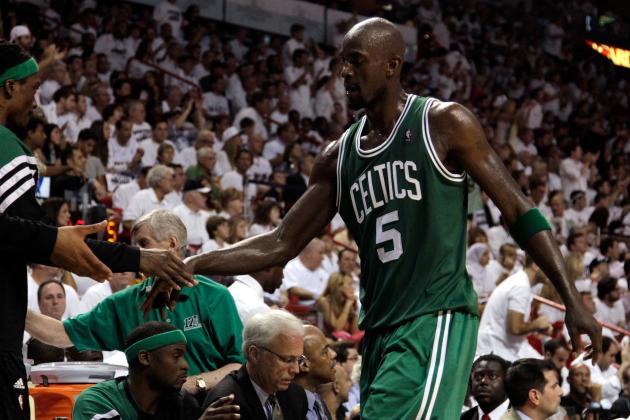 Mike Ehrmann/Getty Images

The Boston Celtics have agreed to sign Kevin Garnett to a three-year, $36 million contract. Garnett will be 36 years old at the start of the 2012-13 season.
Garnett had a strong season last year, averaging 16 PPG and 9 RPG. During the Boston Celtics' deep playoff run, Garnett averaged 19 PPG and 10 RPG over 20 games.
Whether Garnett's productivity drops next year is questionable; but two years from now, a drop is very likely—and a $12 million paycheck in 2014-15 will seem unreasonable. This is particularly so because by that time, the Celtics will be looking to spend money on young players.
The Celtics signed Garnett in order to preserve one last chance to attain an NBA championship. The problem is, the Celtics chances of winning a ring are extremely slim even if Garnett's production remains steady.
The Miami Heat, Brooklyn Nets, and a healthy Chicago Bulls simply have too much athleticism for the Celtics to advance to the NBA Finals. That the Celtics have just lost sharp shooter Ray Allen to the Miami Heat (via ESPN.com) diminishes the Celts' chances even further.
Having said that, Garnett will most likely complete his legendary career as a Celtic, which has significant intrinsic value.
Grade: C+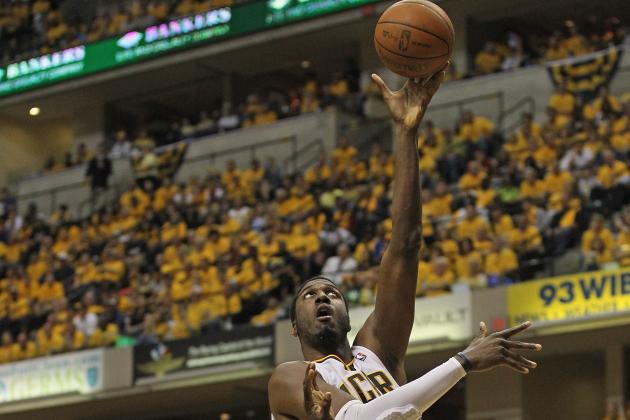 Jonathan Daniel/Getty Images

Roy Hibbert is guaranteed to give a team some highly coveted services. The 25-year-old center averaged two blocked shots and 8.8 rebounds a game last year. Hibbert's defensive rating (101) was amongst the best in the NBA.
However, Hibbert is only an average scorer (12.8 PPG) and his field goal percentage (50%) is unremarkable given his 7'2", 270lb frame.
And yet, on July 1st, the Portland Trail Blazers offered Hibbert a 4-year, $58 million maximum contract.
The offer makes little sense. It's not conceivable that Hibbert, with a limited offensive skill set, will blossom into a 20ppg center worthy of a maximum contract. Hibbert's rebounding output is not worthy of that salary, either.
If Hibbert goes to the Blazers, the Blazers' ability to sign needed free agents to improve their backcourt becomes increasingly limited.
The Trail Blazers' over-inflated offer puts the small-market Indiana Pacers in a difficult bind. The Pacers would likely have attained Hibbert for less had the Blazers' not made such a zealous offer.
Now the Pacers will have to match the offer and overpay HIbbert or acquire a lesser center.
Another cruel effect of supply and demand economics.
Grade: D