Chael Sonnen vs. Steven Seagal: Who Is MMA's Biggest Troll?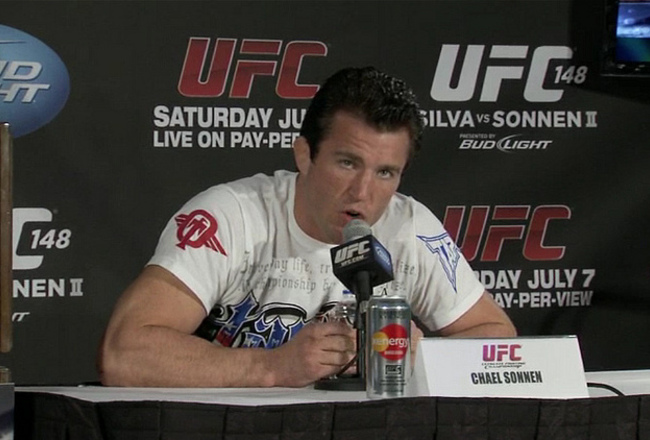 UFC middleweight contender Chael Sonnen is also in contention for the title of MMA's Biggest Troll.

The night is finally upon us. Twenty-three months after the first fight, Chael Sonnen will finally have a chance to defend his UFC middleweight championship against the man he took it from, Anderson Silva, on Saturday, July 7th at 7 p.m. and only on pay-per-view.

...or so says Chael himself.

The truth is that, after 23 months of building up a fight that looked like it might not happen again, Sonnen is going to have a chance to back up all of his outrageous smack-talk.

Everything that Sonnen has done since that first bout against Silva has been a lesson in epic, real-life trolling. It's the kind of trolling that you just don't see very often in the mainstream, and somehow it has been perfected by a guy who very well might be the baddest 185-pounder on the planet.

But recently, Chael has seen competition for his crown of being MMA's biggest troll, and it's coming from the Silva camp in Brazil. No, it's not Anderson himself, though the champion has been known to clown his opponents from time to time. Instead, it's coming from an unlikely source who has publicly taken credit for much of Silva's success. Martial arts film actor Steven Seagal.

So who is MMA's biggest and best troll?

Here's a pound-for-pound breakdown as we go into Saturday night's festivities.
Humor
Being a troll can be surprisingly difficult, but it's even more difficult when someone tacks on the added pressure of getting laughs out of his or her audience.

A truly great troll is not only entertaining with those who don't know it's a troll, but also those who do know that it's a troll. This is typically done with subtle, yet hilarious comments that only some will laugh at.

CHAEL SONNEN GRADE: A
"I'm from the mean streets of West Linn, Oregon and I have seen things and been through things..."

STEVEN SEAGAL GRADE: D
"I started teaching kicks that I thought [Anderson] could really hurt people with."
Believability
The single most important aspect of being a great troll is the ability to get people to believe that you are being completely honest and presenting them with only the facts.

Both Seagal and Sonnen have achieved this to some extent and leave most fans asking the question, "Wait...so is he being serious?"

CHAEL SONNEN GRADE: B
Who are you going to believe? Chael, or you can believe your lyin' eyes?

STEVEN SEAGAL GRADE: B
Sensei Seagal has either achieved the buy-in from Anderson Silva and the other members of Black House, or they're in on the troll with him.
Believing His Own Troll
An aspect to trolling that is often overlooked is whether or not the troll has convinced himself of his own troll. One could argue that this is either the sign of a bad troll, or a truly amazing troll.
CHAEL SONNEN GRADE: D
As frequent and consistent as Sonnen's trolling has been, the most recent troll where he spoke about being shocked to see a man litter on the ground when he was young all but confirmed that Chael doesn't believe his own troll.

STEVEN SEAGAL: A
This guy has either lost his mind, or he truly is the baddest martial artist on the planet.
And the Winner of MMA's Biggest Troll Is...
...Chael Sonnen!

As good as Seagal's trolling is, it's kind of a negative that he seems to believe his own troll. It just kind of takes away from the quality of the bit and makes us question whether Mr. Seagal should instead be in a mental institution.

Yes, we know that he has extensive martial arts experience, but to make these claims that he is teaching UFC champions how to kick is just absurd.

Meanwhile, Sonnen's troll has been on a level that may never be seen again in mixed martial arts, or any sport for that matter. It's like pro wrestling in a way where we all know that it's scripted, yet we're still sitting on the edge of our seats, waiting to see what's going to happen next.

The difference between the two is that, unlike the WWE in recent years, Mr. Sonnen delivers high-quality work every single time he's in front of the camera.

A victory at UFC 148 could be his best troll yet.
For more MMA news, fighter interviews and opinions, follow Nick Caron: @NicholasCaron.
Keep Reading