Freddy Garcia, New York Yankees Overpower Boston Red Sox, Win 6-1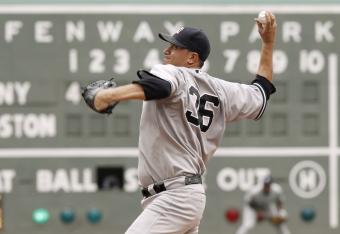 Freddy Garcia held Boston to one run over 6.2 innings.
Winslow Townson/Getty Images
The clouds were rolling in on Fenway Park this afternoon, setting an ominous tone for the New York Yankees game with the Boston Red Sox before Franklin Morales even threw a pitch.
Derek Jeter started the day with a bloop single to center field. After getting Mark Teixeira and Alex Rodriguez to both pop out, Morales hit Robinson Cano on the hand.
Then Nick Swisher came up.
He absolutely crushed a three-run bomb over the Green Monster (which you can watch on MLB.com).
Round 2 of the slugfest had begun. But this time the Red Sox took all of the punches.
Andruw Jones kept the punches coming with a solo shot into the Monster seats. It was the fifth time this season that the Yankees hit back-to-back home runs.
Morales got Jayson Nix to line out to center field, but the damage had been done. Once again the Red Sox were down before they even came to bat.
This was not what the Red Sox were expecting out of Morales. In his previous six appearances, Morales posted a 1.35 ERA with 33 strikeouts, in 26.2 innings pitched.
The Red Sox did not respond in the first inning as they did Friday night. Freddy Garcia's only blemish in the first was a walk to David Ortiz.
Morales settled down in the second inning, getting Darnell McDonald, Chris Stewart and Jeter to go 1-2-3. But a confident-looking Garcia made easy work Mauro Gomez, Ryan Kalish and Mike Aviles in the bottom half of the second.
A light rain began to fall on Fenway in the third, and it seemed as though Yankees were about to pour it on.
After walking Teixeira, Morales gave a up a single to Alex Rodriguez. But Morales struck out Cano and was able to pick Rodriguez off at first. Morales walked Swisher, but his great pick-off move came into play again as he got Swisher by a good margin at first.
Garcia once again made easy work of the Red Sox in the fourth, getting Kelly Shoppach, Brent Lillibridge and Daniel Nava for a 1-2-3 inning.
The one-sided slugfest continued in the fourth, as Jones hit his second home run of the day off of Morales. The light-hitting Nix added insult to injury as he followed Jones' home run with one of his own (ht/ MLB.com). It was Nix's third home run of the year and the second time the Yankees went back-to-back in the game.
After Stewart reached second on an error by Gomez, Morales' day was done. Morales' final line for the day: 3.1IP, 6H, 6ER, 2BB, 2K, 4HR, HBP.
In the bottom of the fourth, Ortiz got Boston's first hit of the day, with a single off the Monster. Gonzalez followed with a single of his own. Gonzalez's hit extended his hitting streak to 17 games. Mauro made up for his error by driving in Ortiz with a single.
Like the clouds overhead, it looked as though the Red Sox were about to explode.
But then Kalish grounded into a double play to end the inning.
After getting Aviles and Shoppach to start the bottom of the fifth, Garcia found himself in a jam. Lillibridge and Nava had back-to-back singles to put runners at the corners with two outs, but Garcia made quick work of Ciriaco to end the threat.
The Red Sox had stalled once again.
Ortiz walked to start the bottom of the sixth, but Boston's luck continued to be amazingly bad. Gonzalez hit a ball toward the the Green Monster and Jones made a great leaping catch. Ortiz, believing it was going to be a hit, had to race back to first to avoid the double play. Jones gunned the ball to Teixeira, and although Teixeira's foot was clearly off the base, Ortiz was called out.
ESPN Boston's Gordon Edes tweeted:
Umpires will not be happy that video board showed replay of close play at first, when Ortiz was doubled up

— Gordon Edes (@GordonEdes) July 7, 2012
In the seventh, Shoppach doubled, bringing an end to Garcia's great day. But the Red Sox could not do anything with the double, and the Yankees got out of the inning unscathed.
Garcia's final line: 6.2 IP,1ER, 6H, 5K, 2BB.
It was just that kind of day for the Red Sox. They looked like an old car desperately in need if a tune-up. Every time they had something going, they simply stalled.
The lone bright spot for the Red Sox was the relief performance by Germano. He saved the bullpen for the second half of today's doubleheader.
Sean McAdam of FoxSports.com tweeted:
Nice hand for Germano, who saves the pen with 5 2/3 scoreless innings. 5 2/3 IP, 5 H, 0 R, 7 K, 2 BB.

— Sean McAdam(@Sean_McAdam) July 7, 2012
It is small consolation for Red Sox fans in what really was thorough beating by the Yankees.
New York and Boston play again tonight at 7:15 on FOX.
This article is
What is the duplicate article?
Why is this article offensive?
Where is this article plagiarized from?
Why is this article poorly edited?

Boston Red Sox: Like this team?