Andre Ethier: Can the Los Angeles Dodgers Endure If He Can't Match His 1st Half?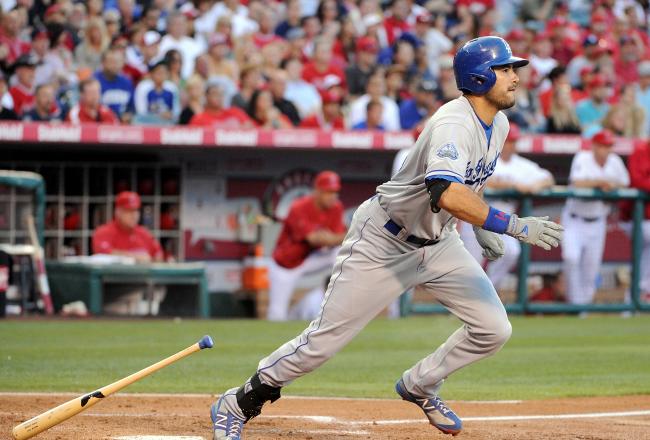 Lisa Blumenfeld/Getty Images
That's a wrap on the first half of the 2012 Los Angeles Dodgers' season. Despite the Dodgers' allowing the rival San Francisco Giants to close the gap in the National League West, you'd be hard pressed to find a baseball fan who wasn't impressed by how Los Angeles played through its first 87 games.
Despite losing Matt Kemp, Andre Ethier, Dee Gordon, Ted Lilly, Javy Guerra, Juan Rivera and Mark Ellis (among others) to DL stints, the Dodgers are right in the thick of it in the National League and have to be considered a legit contender for the playoffs.
When Kemp went down, the glue for the offense became Ethier, who went on to lead the league in RBI until recently. Ethier turned his increased work load into higher production and a rich, five-year contract extension.
Unfortunately, he was the latest victim of the injury bug, hurting an oblique against the Giants.
It was always a matter of "when" Ethier would miss time, not "if." But after his 15 days on the DL are up, can he return to his early-season form?
Even more troubling, can the Dodgers survive if he doesn't? Read on.
L.A.'s National League club may be the most grateful team in baseball for this All-Star break. Ellis and Guerra just recently came back, and Kemp is due back for the second half. Ethier will follow shortly, and then another month down the road we'll see Gordon.
That's four starting position players (the regular No. 1 through No. 4 in the lineup, no less) either rusty, on the mend or shelved.
So, needless to say, this Dodgers team can use the time off.
But the question du jour is about Robin to Kemp's Batman. We saw the Dodgers dominate the second half last year almost entirely on the broad shoulders of Kemp, but that was after it didn't matter anymore.
And we've seen the damage they can inflict when Kemp and Ethier are both healthy and in the lineup every day.
We know that Kemp will be great when healed.
Can the same be said for Ethier?
In the first half before his injury, Ethier hit .291 with 10 homers and 55 RBI, despite having mediocre production around him after Kemp hit the DL. For the sake of argument, let's say Ethier doesn't replicate those numbers.
Let's say he finishes the season around .285/17/100, whether the dip in production is due to injury, exhaustion or just plain regression.
Disclaimer: If healthy, I believe Ethier puts up a .300/23/115 line. But for the question being asked, we will pretend.
In that case, the Dodgers are not a lock for a playoff spot. Even with Kemp at full force in the second half, they could miss the boat if Ethier's production drops.
But it wouldn't be entirely Ethier's fault; this team needs upgrades in the bullpen and the bottom of the lineup, unless they think James Loney (.251/2/24) and Juan Uribe (.198/1/12) are really answers at the corners. They could also use one more starting arm and an impact bat in left field.
The magic that kept this rag-tag group of Triple-A players and veteran role players rolling in the first half of Kemp's absence ran out long ago.
Now it's just puffs of smoke that other good teams are simply brushing away.
So answers to our questions continue to begin with "if." If Kemp's hamstring doesn't flare up again. If the offense gets a boost at the trade deadline. If Ned Colletti can add a lefty reliever to complement Scott Elbert. If Ethier stays healthy and continues to hit well.
If all these things happen—none out of the realm of possibility...all of which expected, in fact—the Dodgers are the prohibitive favorites in the division.
Dodgers ownership has publicly declared a dedication to spending money and doing whatever it will take to create a winner.
That means you could be seeing a Justin Morneau-type figure take over at first base. Or a Carlos Quentin in left field. And it's no secret that the Dodgers are interested in another elite starter, like Cole Hamels or Zack Greinke, to pair with reigning Cy Young winner Clayton Kershaw.
It's hard to say that any moves will happen. So it leaves a dreamer like me in a tough spot: What is a realistic scenario?
As for the offense, the lineup for the majority of the second half has Gordon, Ellis, Kemp and Ethier at the top. It has A.J. Ellis. It has a Quentin or a Morneau hitting fifth.
Most importantly, it has its two biggest stars in good health, terrorizing opposing pitchers on a nightly basis.
You never know what will happen in a sport that demands its athletes to throw, run, swing, slide and dive for 162 games. But we Dodger fans are glad Kemp and Ethier are getting their injuries out of the way in the first half of the season.
Because we need at least for the 2011 versions to supplement the strong pitching staff and continue to make other players around them more dangerous.
And in this new age of baseball, in which 10 teams make the postseason, and from there anything can happen (cf. 2011 Cardinals), our answer is yes.
Yes, the Dodgers can and will survive, even if Ethier does not replicate his first half.
This article is
What is the duplicate article?
Why is this article offensive?
Where is this article plagiarized from?
Why is this article poorly edited?