Joe Paterno: Facing the Truth of His Involvement in the Jerry Sandusky Cover-Up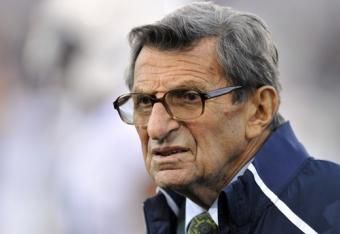 Joe Paterno: more evidence of his complicity in the Jerry Sandusky cover-up.

Jerry Sandusky has begun the final chapter of his wretched life. Incarcerated, forever living apart from the society he so carelessly abused to satisfy his carnal desire for little boys. Despite his grandfatherly looks and resume of good deeds, he has been exposed as a cretin, one who uses power and guile to prey on the unsuspecting.
This story is far from over. There are more investigations to come. Hopefully, there will be more trials to punish those who were involved even on the periphery. And one can only hope there is not a single person who then would not want to see plenty of cellmates for Sandusky.
However, there is one nagging, persistent question that a majority of college football fans and those who have never even seen NCAA games keep asking. One that the minority seem to keep avoiding.
Let's first put our play charts on the table, shall we?
This is an honest, open column to administrators, teachers, students, followers and fans of Penn State University and their athletic program.
It will not seek to insult or belittle your faith and fandom in the Nittany Lions. You are loyal fans and deserve respect for your allegiance.
This is not written or influenced by someone with an axe to grind against Penn State or its athletic program. I am neither fan nor detractor.
This column is meant to elicit answers using simple questions based on fact, testimony and reliable news sources, not insipid website rumor-mongering.
After reading, I sincerely hope you take the time to comment honestly, objectively, logically and without seething anger or desire to have the message-bearer hung in something more effective than effigy.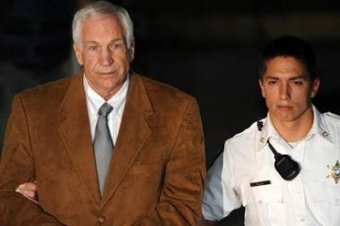 Jerry Sandusky: imprisoned, but whose case is far from over.
How can you continue to make excuses for Joe Paterno, the legendary head football coach who was merely human and who made his share of tragic mistakes in the current nightmare that has engulfed the University?
In light of all the evidence in the Jerry Sandusky sexual-abuse case, how can you not admit to yourselves that Joe Pa was at the very least aware of the situation taking place on his watch and did not do nearly enough to stop it? Or, at the very worst, that he was part of a massive cover-up?
That he was told a young boy was being fondled in his locker room and apparently took what can only be described as action of a casual indifference?
That according to evidence being uncovered almost daily, he was complicit in allowing the sexual abuse of young boys to continue in order to protect the university and his football program?
And as one of the most powerful men in college athletics, certainly college football, he had the power right there in his hands to do much more than he did, to go over the head of the ineffective administration and shut the evil down long before it became endemic.
Yet he did not.
Having a number of friends and colleagues who are Penn State alumni, I'm fully aware of the anger and insult these comments and questions bring to the foreground.
Actually, I have lost a few of what I considered to be lifetime friends over the last year due to my critical comments about Penn State, Joe Paterno and the Sandusky case. As one put it to me, "How dare you question the integrity of Joe Paterno?"
So take a deep breath. Exhale.
No one—and I mean no one—will or should ever question the positive impact Paterno had on so many young men on the football field. We could fill the University Park library, and not just the inclusive Paterno Library, with reams of documents and hours of audio and videotape authored by those who owe their professional and, sometimes, personal success to Joe Pa.
From ball boys to NFL stars, student assistants to those who went on to carve their own head coaching legends, interns in the sports information office to athletic directors and school presidents, they and so many more were positively influenced by Paterno.
Likewise, we cannot take anything away from what he accomplished on the scoreboard: A total of 433 career victories, 409 of those coming in the regular season, shows extreme dedication and masterful strategizing.
In this stead, he has very, very few peers.
However, all of this good will must be balanced with the ever-emerging darker side of what Paterno was involved in—the young men he could have saved from lifetimes of torment had he just applied the same dedication in teaching football players about life to what was happening right under his nose.
Those who either are or are not within the Penn State sphere are just trying to understand your reaction to Paterno's obvious and admitted role in what we know to be jury and personal statements of fact.
We're all human. We all make mistakes.
Why is it so difficult, or even impossible, to admit Joe Paterno screwed up?
In the minds and eyes of many, he did.
Badly.
Whether Grandfatherly caution or misguided loyalty, Paterno was involved in allowing Sandusky's evil to continue.
Is there any doubt Joe Paterno was involved in a cover-up of the Jerry Sandusky case?
We want to know how you overlook Paterno's involvement in this case. How to this day you worship and glorify him without reservation on multiple Facebook pages, Twitter accounts, sports network web sites, college football blogs, radio talk shows, tee shirts and bumper stickers. Why you react with swift and often malicious and vulgar anger when someone like me "dares" to ask the questions.
Joe Paterno knew what was going on. He heard from those he trusted what Sandusky was doing with young boys. He talked about it with former PSU President Graham Spanier and former Athletic Director Tim Curly.
There is proof that he tacitly approved of the idea to be "humane" in keeping the transgressions swept under the floorboards.
As reported by CNN, there is email evidence that Curley and Gary Schultz, the retired school administrator who was in charge of Penn State campus police in 2001, were prepared to report the Sandusky allegations. Yet both men reconsidered and said nothing.
After meeting with Paterno.
You may choose to discount the CNN report as a poor excuse for journalism with no solid facts. You may look away from a consulting firm's report that promises to be tough on Paterno for also looking the other way as these crimes were being committed. You can say that former assistant Mike McQueary is a bone-solid liar doing nothing more than covering up his failure to sound off on what he saw. And you can certainly make a case that Spanier, Curley and Schultz have banded together to smear the memory of a great coach.
You can, but you would still be sidestepping and ignoring the evidence.
Joe Paterno was involved.
There is, as of this writing, no evidence that he was mixed in at the level of Spanier, Curley and plenty more reprehensible people we likely have never heard about and possibly never will.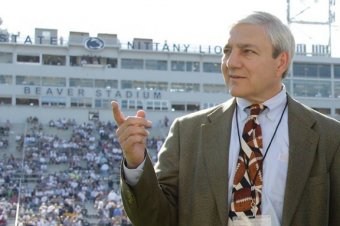 Former Penn State President Graham Spanier: just one tip of the cover-up iceberg.
But he was involved.
This is the poser.
Can you not admit Joe Paterno made a huge mistake here and thus was complicit in allowing Jerry Sandusky's evil to flourish? That he had the power and should have done more to protect these children? That like everyone else, he was flawed—human—able to make terrible mistakes he hopefully regretted until his dying breath?
That his legacy must include triumphs on the football field and failures off the playing surface?
This was a heinous error in judgement that cannot and should not be forgotten, in the hopes that there will be another powerful person who will learn from this mistake and either be frightened into action or, in a more positive sense, have the fortitude to make sure it never happens again.
That is exactly the the kind of lesson Joe Paterno would preach.
So then, what is the lesson you want us to learn from you?
Veteran broadcast network anchor & reporter Ed Berliner is currently Senior Contributing Editor to "Sports Media Masters" (http://sportsmediamasters.com), where his comments and coverage of college athletics and much more can be read daily.
This article is
What is the duplicate article?
Why is this article offensive?
Where is this article plagiarized from?
Why is this article poorly edited?

Penn State Football: Like this team?