UFC 148 Results: Burning Questions for the Remainder of July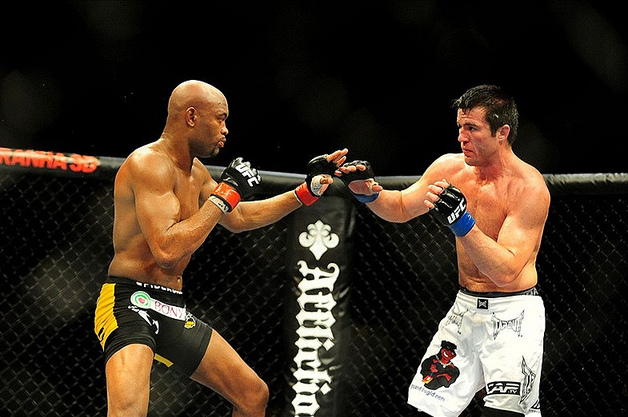 Mark J. Rebilas-US PRESSWIRE
UFC 148 has come to a close and Anderson Silva retained his UFC middleweight title with a TKO victory.
Here are the full official results:
Anderson Silva defeats Chael Sonnen via TKO at 1:55 of Round 2
Forrest Griffin defeats Tito Ortiz via unanimous decision (29-28 x 3)
Cung Le defeats Patrick Cote via unanimous decision (30-27 x 3)
Demian Maia defeats Dong Hyun Kim via TKO at :47 of Round 1
Chad Mendes defeats Cody McKenzie via TKO at 0:31 of Round 1
Mike Easton defeats Ivan Menjivar via unanimous decision (30-27, 29-28, 30-27)
Melvin Guillard defeats Fabricio Camoes via unanimous decision (30-27 x 3)
Khabib Nurmagomedov defeats Gleison Tibau via unanimous decision (30-27 x 3)
Constantinos Philippou defeats Riki Fukuda via unanimous decision (30-27, 30-27, 29-28)
Shane Roller defeats John Alessio via unanimous decision (29-28 x 3)
Rafaello Oliveira defeats Yoislandy Izquierdo via unanimous decision (29-28 x 3)
Now that most likely the biggest UFC event of 2012 is in the books, we can turn our eyes toward the remainder of July. Still to come during the month are two UFC fight cards as well as one Strikeforce card, and here are some questions we have as we get deeper into the month.
Begin Slideshow

»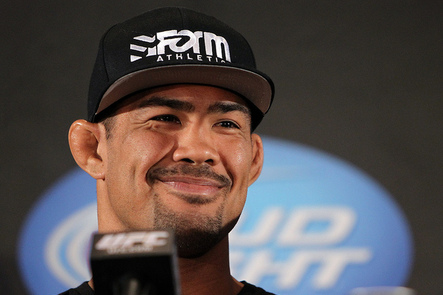 Josh Hedges/Zuffa LLC/Zuffa LLC via Getty Images
Mark Munoz has a professional record of 12-2 with his last loss being a split-decision defeat to Yushin Okami in August of 2010. Since that loss he has gone 4-0, working his way up the middleweight rankings by defeating Aaron Simpson, C.B. Dollaway, Demian Maia and most recently Chris Leben.
Munoz had been slated to face Chael Sonnen on January's UFC on FOX card, but an injury and subsequent surgery prevented that fight from taking place.
A healed Munoz is scheduled to meet Chris Weidman in the main event of the upcoming UFC on Fuel TV 4 card, and some would argue that with a win he deserves a shot at the UFC middleweight crown. The only problem there, is that Hector Lombard has arrived on the UFC scene, and with a win over Tim Boetsch at UFC on FOX 4, he may get that title shot before Munoz, even though that win would put Lombard at only 1-0 inside the Octagon.
That idea does not sit well with Munoz, who told MiddleEasy.com:
To be honest with you, I truly believe he's jumping me and that he needs to earn his stripes in order to be able to fight for a world title. I'm just being real.

I've been in this organization for almost three years and I've been earning my stripes, and I did lose a couple times. I lost to Matt Hamill and I lost to Yushin Okami, and I take full responsibility for those losses, but at the same time I came back and proved everybody wrong in developing and improving a lot of things I had holes in and know I'm a well-rounded fighter.

It's gotten me to be one of the top five fighters in the world.
It's an interesting situation, and if both Munoz and Lombard win their upcoming bouts in dominant fashion, someone is going to be left one unhappy middleweight contender.
Chris Weidman is 8-0 in his professional MMA career, with half of those victories coming inside the Octagon. In three of those four bouts he was a replacement fighter, taking his first UFC fight against Alessio Sakara on short notice and prevailing by unanimous decision.
His most recent bout came against former middleweight title contender Demian Maia, in a fight that he took on less than two week's notice, weighing 216.8 lbs when he accepted the fight. Obviously, at that weight and with that little time, most of Weidman's pre-fight training time was spent cutting down to the 185-pound middleweight limit.
Let's face it, the weight cut was evident in Weidman's performance, but he took the win and will now face Mark Munoz. This fight is a step up for Weidman who, like Munoz, is a former All-American wrestler. It will be interesting to see how a healthy and prepped Chris Weidman performs.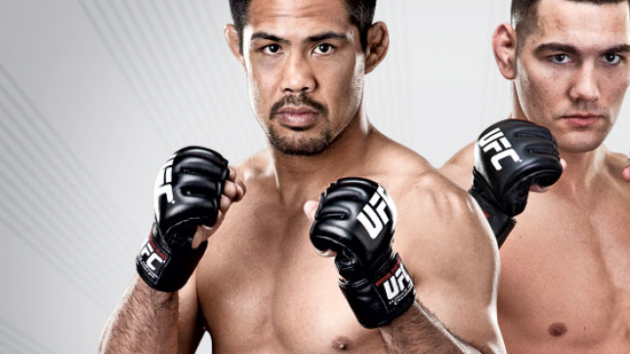 photo via Fuel TV
Obviously there are no pay-per-view numbers coming out as of yet for UFC 148, but odds are it will be one of the most purchased events in recent times. UFC president Dana White proclaimed during the recent UFC 148 media call that he felt that the card would do over $1 million in PPV sales and that it would rival UFC 100's 1.6 million buys.
These are huge expectations, especially since the UFC has not had a $1 million PPV buy event since UFC 121, when Cain Velasquez defeated Brock Lesnar for the UFC heavyweight crown.
There is no doubt that UFC 148 was the most anticipated card of the 2012, and with that one has to wonder if that buildup and release will prove to be good or bad for the UFC on Fuel 4 card that will take place on Wednesday, July 11.
Will UFC 148 prove to be the ultimate lead-in for that card or will it result in a viewing base that got their fill of MMA from this weekend's Silva versus Sonnen headlined card?
Strikeforce will return on Saturday, July 14 with a fight card that will feature two title bouts. In the main event, UFC middleweight champion Luke Rockhold will defend his title against Tim Kennedy. In the evening's co-main event, Nate Marquardt and Tyron Woodley will compete for the welterweight crown left vacant when Nick Diaz bolted for the UFC.
Also competing on the main card will be Robbie Lawler, who will meet Lorenz Larkin, and Keith Jardine, who will face Roger Gracie.
This is a card you shouldn't sleep on. I know people give Strikeforce grief, and some of it is justified, but if you have watched any of their recent cards from start to finish (thank you Showtime Extreme), it's hard to imagine that you walked away disappointed.
Sure, you have a lot of MMA to choose from, but take a chance on this card. You know you're going to purchase Showtime for the upcoming Ronda Rousey fight, so why not just buy it a little earlier?
In 2008, Ryan Jimmo was a 6-1 professional fighter trying out for the eighth season of The Ultimate Fighter. Jimmo fell to Antwain Britt in the elimination round of the reality show and failed to make it into the house.
After missing out on that opportunity, Jimmo went back to fighting in Canada, where he put together 10 consecutive wins. During that streak he claimed the MFC light heavyweight title, successfully defending the crown twice before getting the call to join the UFC.
Jimmo was set to join the organization in January, but an injury knocked him from that fight. He will debut at UFC 149, facing Anthony Perosh—a fighter who is on a three-fight winning streak, with all of three wins coming via stoppage before the end of the second round.
In the behind-the-scenes video from the recent UFC on FX card, we got to see a somewhat dejected Brian Ebersole bemoaning the fact that he feels "lethargic when I fight. I feel like a freak in the gym and then I get in there and I'm like..."
Ebersole later added, "It's just so frustrating. I get in there and beat kids up and beat kids up, I get beat up every now and again, but I feel comfortable, I never feel comfortable in the Octagon."
Ebersole was victorious on that June 22 card, defeating T.J. Waldburger via unanimous decision. The win was the 50th victory of Ebersole's career and fourth in the UFC. Ebersole will get the chance to find some comfort inside the Octagon when he faces James Head on July 21 at UFC 149.
Who knows, maybe the short time between fights will benefit Ebersole.
On paper, Hector Lombard is an impressive figure, sporting a record of 31-2-1-1, with his last loss coming back in November 2006 when he fell to Gegard Mousasi by unanimous decision. Since that loss he has put together a 25-fight unbeaten streak. That run has earned him consideration as one of the top middleweights in the sport.
The problem is that all of those wins have taken place outside the UFC. This fact may lead some to say that Lombard does not deserve his ranking among the best in the 185-pound division.
That question will be answered on July 21 when he faces Tim Boetsch at UFC 149. Boetsch is unbeaten since dropping to the 185-pound division, dispatching Kendall Grove, Nick Ring and most recently Yushin Okami.
And just to give Lombard a little extra pressure, there is a possible title shot awaiting him if he proves victorious.
Is he ready? We shall see in Calgary.
One thing that most athletes try to not do is send a message that they are taking an opponent lightly. Intentionally or not, that was what Urijah Faber did when he recently appeared on HDNet's Inside MMA.
Did he offer up some praise for his UFC 149 opponent Renan Barao? Sure he did, but those are not the words that Barao and his camp are going to focus on.
What they will remember are these lines: "I've definitely fought better fighters..." and, "This is going to be his toughest test, but he's not going to be my toughest test."
I doubt that Faber is taking the fight lightly, but with the proper spin, Barao's camp can convince him that Faber is looking past their fighter.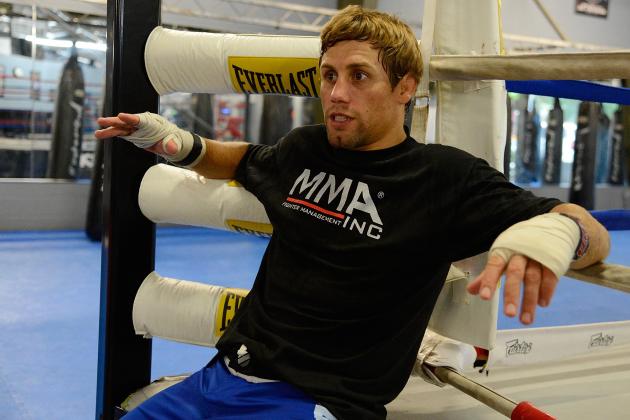 Thearon W. Henderson/Getty Images

When UFC 149 was first announced it featured Jose Aldo defending his UFC featherweight crown against Erik Koch as the main event. After an injury to Aldo, that main event was switched to Urijah Faber versus Renan Barao for the interim bantamweight title.
That's not a bad trade-off, but what about all the other fights that have been lost from the card?
Michael Bisping versus Tim Boetsch, Yoshihiro Akiayama versus Thiago Alves, Thiago Alves versus Siyar Bahadurzada, Siyar Bahadurzada versus Chris Clements, Thiago Silva versus Mauricio Rua, George Roop versus Antonio Carvalho, Antonio Rodrigo Nogueira versus Cheick Kongo and, finally, Claude Patrick versus James Head have all been lost from this card.
What we have left is a card that looks like this:
Urijah Faber vs. Renan Barao
Tim Boetsch vs. Hector Lombard
Shawn Jordan vs. Cheick Kongo
Brian Ebersole vs. James Head
Chris Clements vs. Matt Riddle
Court McGee vs. Nick Ring
Roland Delorme vs. Francisco Rivera
Ryan Jimmo vs. Anthony Perosh
Bryan Caraway vs. Mitch Gagnon
Antonio Carvalho vs. Daniel Pineda
Mitch Clarke vs. Anton Kuivanen
The bad thing is that we are still a few weeks away from the event, and if we use the past as an indicator, don't put money down on this card remaining set in stone.
The UFC has been hit hard by injuries as of late, and this card has been one of the most affected.