USC Football: What You Need to Know About Trojans LB Dion Bailey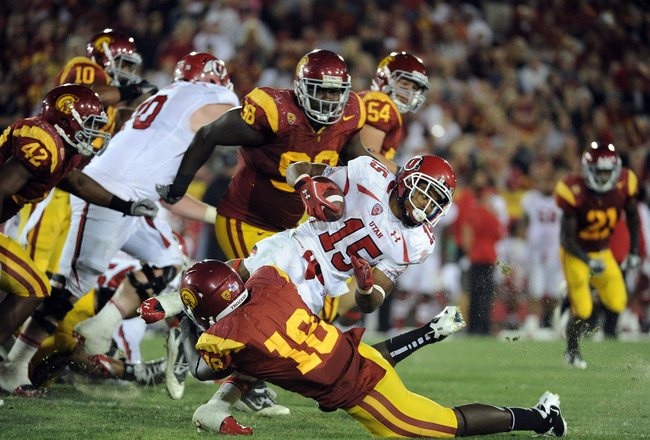 Harry How/Getty Images
When USC's defense steps on the field for the 2012 season, it will be led by a linebacker who personifies the phrase, "Plays bigger than he is."
That's because outside linebacker Dion Bailey really should be playing about seven yards deeper, lining up next to safety T.J. McDonald and taking on receivers instead of offensive linemen and bruising fullbacks.
The fact that he is in the thick of things every play speaks volumes to his competitive spirit, but his effectiveness in doing so magnifies his value to the team.
Bailey is the ultimate overachiever, doing things at his position that guys his size just aren't supposed to.
This slideshow will look at some of the attributes that set him apart and make him so valuable to the aspirations of this year's version of the Men of Troy.
So, let's get to know this undersized, yet extraordinarily effective tackling machine known as Dion Bailey.
Bailey Is a Very Talented Player No Matter Where It Is He Plays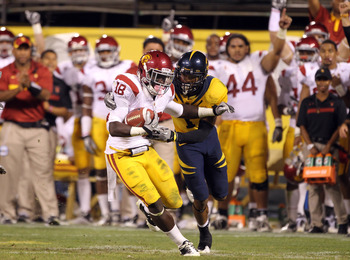 Ezra Shaw/Getty Images
Its one thing to be a starter on a very talented team, but when you are a statistical leader on that team, it shouts very loudly about the physical abilities that player possesses.
Such is the case for Bailey, who tied for the team lead in tackles last year with fellow linebacker Hayes Pullard.
In addition to those 81 tackles, Bailey also had two sacks, two deflections, two interceptions and a forced fumble.
All this from a redshirt freshman.
Extraordinarily athletic, quick, smart and with a freakish nose for the ball, No. 18 will receive a lot of consideration for All-American honors and postseason awards.
Is Bailey talented?
Indeed.
This Is a Guy You Can Count on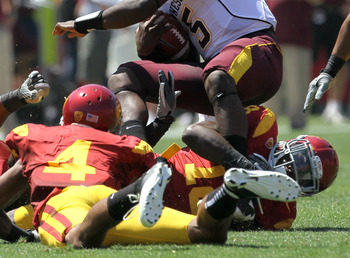 Stephen Dunn/Getty Images
Though the body of his work is limited, by all accounts, Dion Bailey is a gamer.
A relentless advocate on the practice field, Bailey personifies the "first one on, last one off" type of player who never takes a play off nor misses his obligations to the team when it comes to becoming the best he can be.
Last year, a concussion late against Stanford forced Bailey to miss the following game against Colorado. He was miserable watching on the sidelines, and the following week, just as soon as he could, Bailey was back out there making life miserable for opposing offenses.
Reliability is a crucial attribute for a Trojan team that will spend the next three years of NCAA mandated scholarship reductions counting on players to go whenever called upon.
Bailey has that in spades and that should keep a smile on linebackers coach Scottie Hazelton for the foreseeable future.
In Order to Be Reliable, You Must Be Tough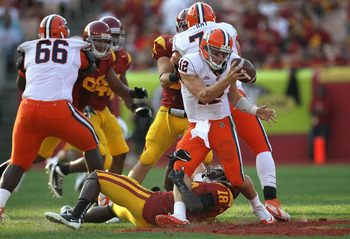 Stephen Dunn/Getty Images
As noted before, Bailey is reliable, and as evidence of that, his return from a major concussion was cited as an example.
But even more illustrative of his toughness is the simple fact that he is a safety playing linebacker.
In college football, most linebackers go 220-245 pounds, and the reason for this is the violence that occurs at the point of contact and the need to shed 300-pound offensive linemen.
Bailey weighs 215 pounds, max.
Yet, there he is, play after play, taking on and winning those individual battles that inevitably result in another tackled ball-carrier.
Does that make Bailey a tough player?
I'd say so.
Bailey's Versatility Makes Him Invaluable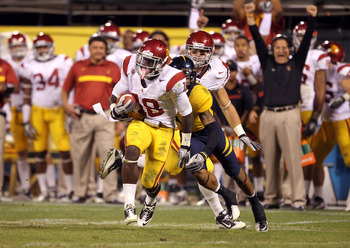 Ezra Shaw/Getty Images
Much has been made of USC's scholarship reductions that limit yearly signings to 15 and the roster to 75 players who are on schollies.
And with good reason, too.
The restrictions it puts on a major college program is abundant, and it forces the coaches to sometimes play guys out of position due to depth issues.
All of this means that guys like Dion Bailey, who can play multiple positions, are extremely valuable.
If needed, he can return to his natural position at safety and not miss a beat.
And as a consummate team player (more on this in the next slide), he would do so more than willingly.
Just another reason he is a special player.
For Bailey, It's Always Team First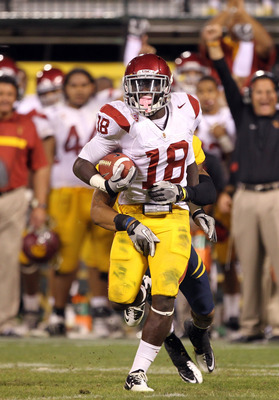 Ezra Shaw/Getty Images
Let's be very clear about one thing:
If Dion Bailey makes it big in the NFL, it probably won't be as a linebacker.
At that level, coaches simply aren't beating down doors for 215-pound 'backers.
So, for Bailey to willingly take on the role of outside linebacker for USC, he may be hindering his dream to play professionally.
This is not to say it is beyond his reach, because anyone with any intelligence at all would know better than to say "never" when it comes to a guy like Bailey.
But what we know for sure is the path that he has taken to help his team is not the typical road on which one would embark for personal success at the next level.
Whether or not Bailey makes it to the NFL is a story still waiting to be written.
But the first chapter of that book should feature his willingness to do whatever it takes for his team to win.
Conclusion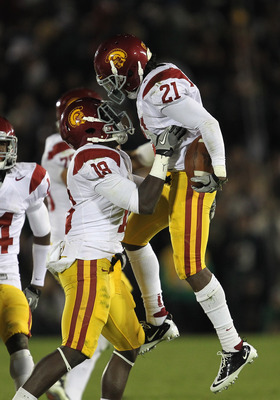 Jonathan Daniel/Getty Images
Dion Bailey makes up one-third of a starting Trojan linebacking unit whose youth is only matched by its incredible potential.
Along with true sophomore middle linebacker Lamar Dawson and fellow redshirt sophomore inside linebacker Hayes Pullard, the Trojans appear to be set for at least the next two years.
All of which should make Trojan fans very happy indeed.
In 2012, USC will make its living with what most consider to be the nation's most prolific offense.
But if the Trojans are to make it where they really want to go,—the National Championship Game—they will need a stout defense to match the productivity of quarterback Matt Barkley and his offensive cohorts.
Fortunately for USC, with a guy like Dion Bailey leading the way on defense, the road to the "natty" seems a lot more accessible.
Keep Reading

USC Football: Like this team?