Wimbledon 2012 Women's Final: Score and Highlights from Williams vs. Radwanska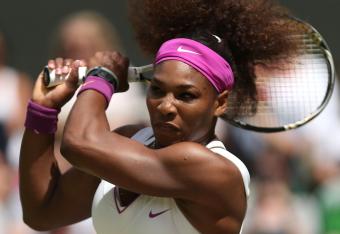 Clive Rose/Getty Images
After two weeks at Wimbledon, the women's draw came to a close today. In an anticipated final, No. 6 Serena Williams defeated No. 3 Agnieszka Radwanska in three sets, 6-1, 5-7, 6-2.
Serena secured her fifth Wimbledon crown and her 14th Grand Slam. Serena has now taken all three meetings between the two, including both at Wimbledon.
Serena has now won her last 11 matches against top-five players. After two difficult years, Serena Williams, the preeminent player of her generation, is back at the top of her sport.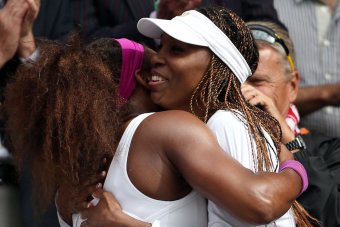 Julian Finney/Getty Images
Thank you to everyone for following this live blog today and the ones of the past couple days. I'll be back tomorrow for the men's final for anyone interested.
Thank you again and enjoy your Saturday!
Serena will be back on the court later for the doubles final with Venus. Serena is very excited and deservedly so after he last couple of years.
What a great tournament for the women's field, seeing some great tennis and the preeminent player of her generation get back on top.
Serena won her 14th Grand Slam today as well. What a tremendous career so far and it appears far from over as she has the most dangerous weapon in women's tennis.
She is really savoring this moment, still making her way around the court in front of the crowd.
Tremendous win by Serena and a charming interview after. She is good for tennis, women's sports and sports in general.
She is now taking photos jumping with her trophy.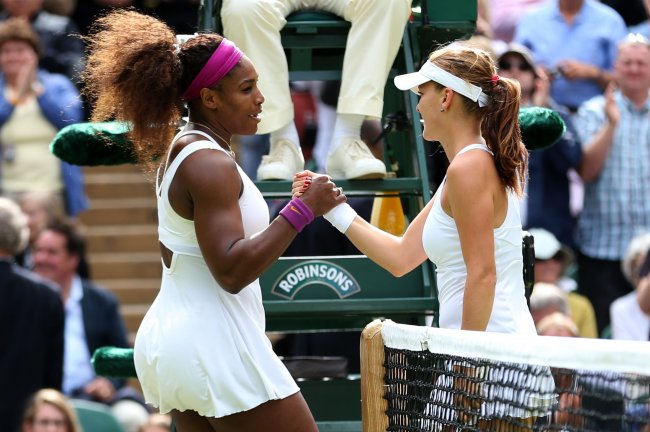 Julian Finney/Getty Images
Serena won it with 102 aces against just 10 double faults. She also hit 265 winners against 107 unforced errors.
Serena is getting very emotional talking about being back at the top after her lows. She thanked her family for supporting her when she was in the hospital. Fan or not, you have to be happy for her and respect her battling back to this point.
And Serena is awarded with her fifth championship trophy at Wimbledon. What a performance after her flame out in France.
Radwanska steps up to receive her runner-up plate. She gets a well deserve hand for a scrappy match.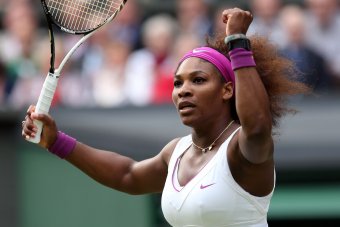 Julian Finney/Getty Images
In a wonderful moment Serena makes her way up to the family box to share her accomplishment with her loved ones.
You have to feel happy for Serena after all she's been through. The death of her sister, injuries to herself and Venus. Her career-threatening issue with her foot. Great to see another human being with this type of happiness.
A backhand winner and Serena Williams has won her fifth Wimbledon title!
Serena just crushes a wide serve for another ace! 30-15 for Serena! She blasts another down the T and Radwanska can't return! Double championship point!
Serena misses her first serve but wins the point on her second, 15-0. She misses another first serve and hits a slam into the net on her second. 15-15.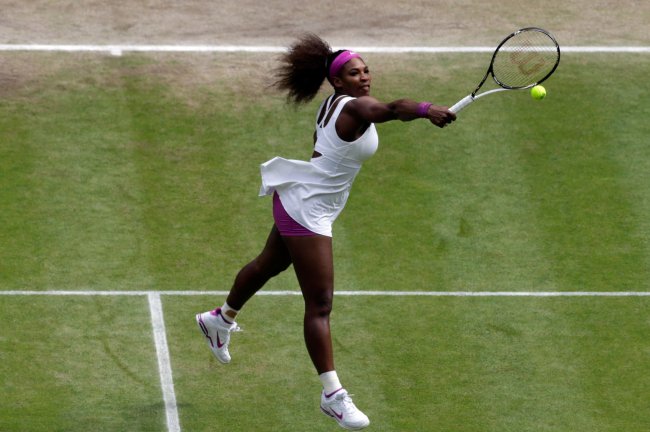 Pool/Getty Images
Serena now leads the third and final set 5-2! She is serving for the championship!
Advantage Serena on a miss into the net by Radwanska. Break point #4 and Serena wins it with a touch forehand!
Serena fires into the net, 15-40. Radwanska needs to hold to prevent Serena from serving for the match.
Serena with another misfire, 30-40. Radwanska pulls out another long rally on a ball that tipped the net and Serena couldn't return! She battles back for deuce!
Serena wins two long rallies to go up 0-30 on Radwanska's service game. This is a huge game for Radwanska. Serena with a big backhand winner for triple break point!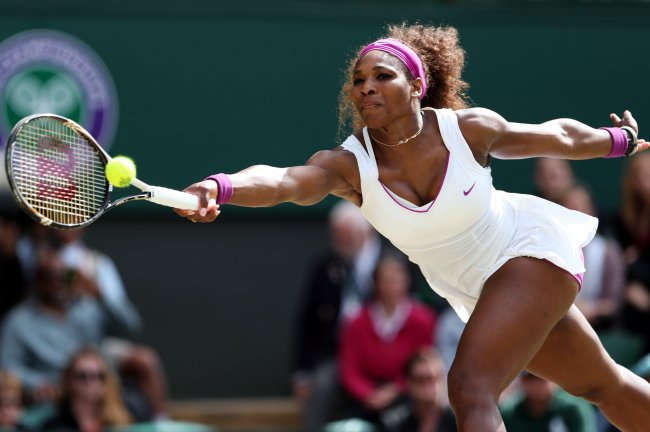 Julian Finney/Getty Images
Radwanska fails to return a second serve and Serena takes the game! Serena now leads 4-2 in the third set.
Serena then crushes another ace to get to game point! Radwanska forces an awkward backhand that Serena misses, 15-40.
An ESPN graphic just showed Serena has never lost a 3-set Grand Slam final. Serena follows with two big winners to go up 30-0.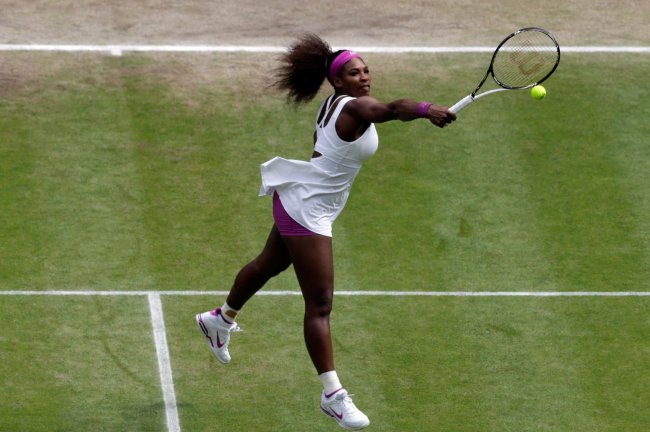 Pool/Getty Images
Serena serving for a two-game lead in the set.
Radwanska misfires on a backhand and Serena finally breaks her serve! Serena is now up in the final set 3-2!
Serena with another slam! Break point for Williams!
Serena blasts a backhand winner to go up 15-30! She hits long with a backhand and Radwanska is even at 30-30.
Serena hits a forehand wide. She challenges and it was wide. Serena wins the next point on a wide forehand by Radwanska.
She follows with another ace! And then another! Game point! She hits another ace! Wow! Serena evens it up at 2-2!
This article is
What is the duplicate article?
Why is this article offensive?
Where is this article plagiarized from?
Why is this article poorly edited?