Top 15 Active MLB Hitters by Career Achievements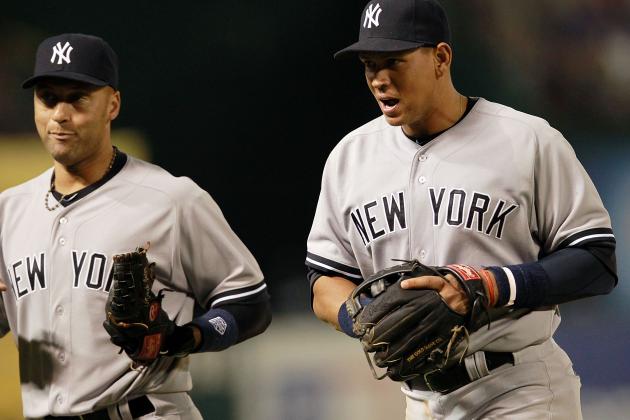 Ronald Martinez/Getty Images

There are many players right now in the MLB that, if retiring today, would be first-ballot Hall of Famers in five years.
It is also an exciting time to be a baseball fan with the new additions to the league, such as Bryce Harper and Mike Trout. Many years from now we may see these players and others make a trip to Cooperstown, but the list today is about those major league hitters who have had long, outstanding careers.
Like them or hate them, you have to respect what these men have been able to do with a bat throughout their many seasons in Major League Baseball.
Begin Slideshow

»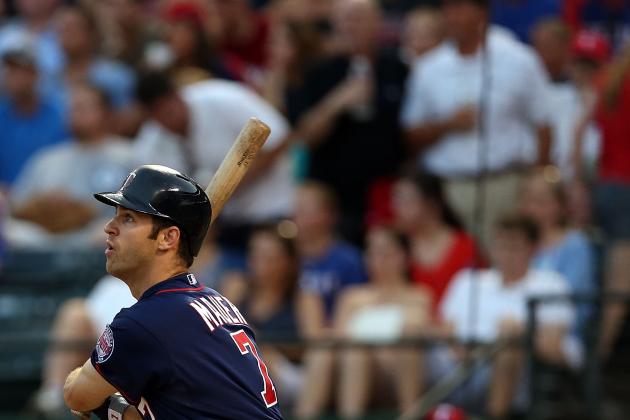 Ronald Martinez/Getty Images

These are the players (in no particular order) who were very close to cracking the top 15 and with a few more good years in the books, will be hard to keep out in the future.
- C Joe Mauer, Minnesota Twins
- 1B Prince Fielder, Detroit Tigers
- 2B Chase Utley, Philadelphia Phillies
- 2B Robinson Cano, New York Yankees
- SS Jimmy Rollins, Philadelphia Phillies
- OF Matt Holliday, St. Louis Cardinals
- OF Ryan Braun, Milwaukee Brewers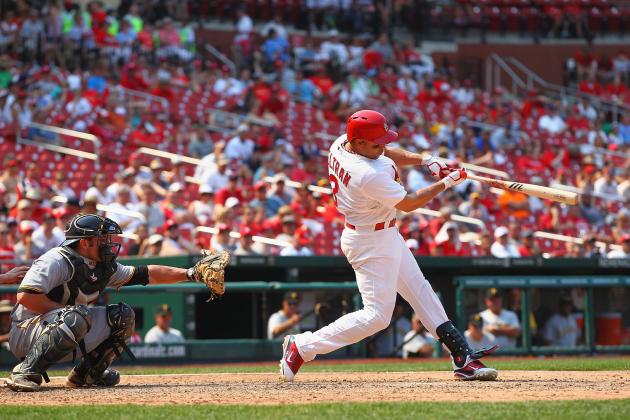 Dilip Vishwanat/Getty Images

The new Cardinals outfielder is having one of the best starts of his career this season. Leading the National League in RBI and second in home runs at the All-Star break, Beltran is really settling in to his new surroundings.
After four 100-RBI seasons that were mostly overlooked in Kansas City, Beltran made a huge impact in the playoffs for the Astros in 2004. With eight homers and 15 RBI in only 12 games, it's no wonder Beltran has the highest slugging percentage (.817) and OBPS (1.302) in playoff history.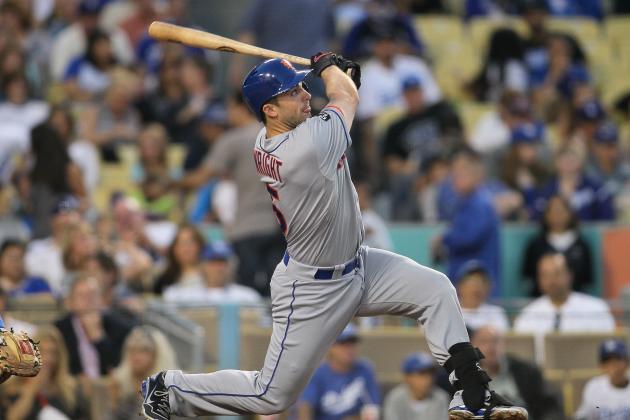 Victor Decolongon/Getty Images

A six-time All-Star, Wright has established himself as one of the premier hitting third basemen in all of baseball. In seven full seasons in the majors, Wright has five years of over 100 RBI and a career .303 average.
He is a home run threat at any time, but Wright's career will continue to stay strong by focusing on average. His first five full seasons led to five top-10 finishes in batting average.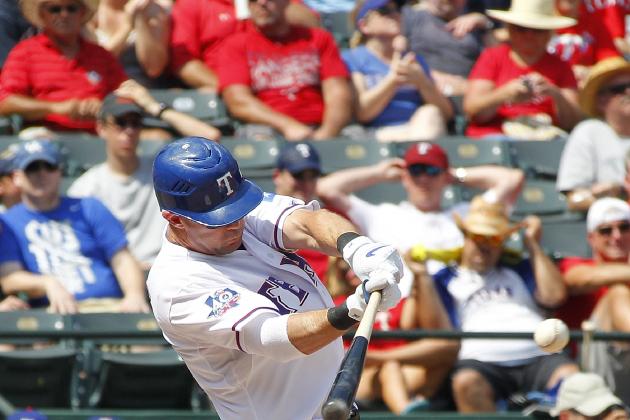 Rick Yeatts/Getty Images

Michael Young has been undervalued his whole career as a Texas Ranger. Rarely talked about as an elite third baseman when matched with A-Rod, Evan Longoria and even his teammate, Adrian Beltre, Young has still compiled seven All-Star game appearances at multiple infield positions.
One of his most memorable moments came when he won the 2006 All-Star Game MVP with a walk-off hit for the American League. More important then that, though, has to be his six 200-hit seasons, which includes leading the league in hits twice and winning the 2005 AL batting crown.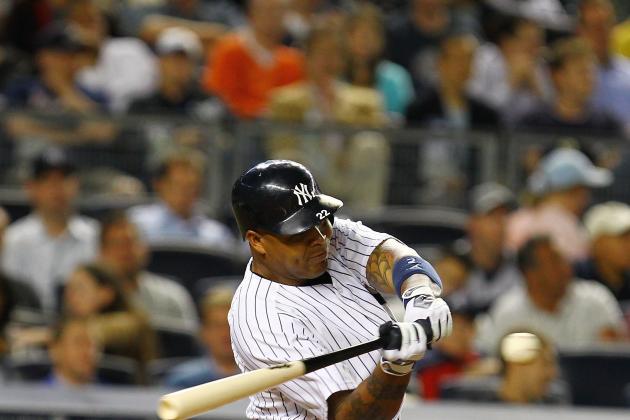 Al Bello/Getty Images

Even though the last few seasons have not been impressive in any sense, Jones is very deserving to be on a list such as this for his 12 seasons in an Atlanta Braves uniform alone.
For 10 straight seasons, from 1998 to 2007, Jones hit 25-plus homers, including a 51-homer, 128-RBI 2005 season that led to him being the runner-up for NL MVP.
He is currently eighth on the active list of home run leaders with 427 career bombs. His glove (10 straight gold gloves from 1998-2007) sometimes overshadows his terrific bat, but not today.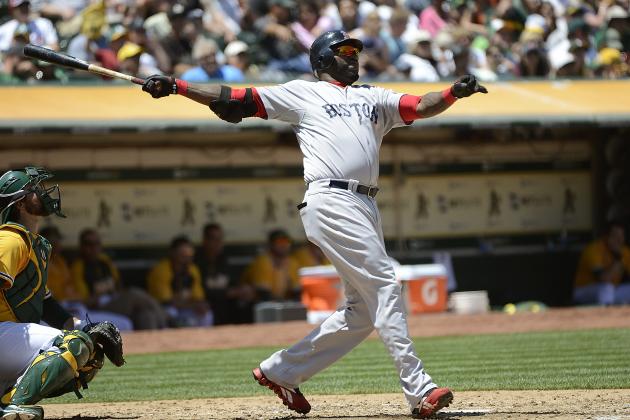 Thearon W. Henderson/Getty Images

David Ortiz is a hitter in every sense of the word. Even though he did play around 250 games at first base, he will challenge Edgar Martinez as the greatest pure DH of all time.
The eight-time All-Star and five-time Silver Slugger had one of the best five-year hitting stretches in MLB history from 2003-2007. In that span, Ortiz averaged 42 homers and 128 RBI while finishing in the top five in MVP voting each year.
Since he is a DH, Ortiz should be able to play long enough to get the 100 homers he needs to join the 500 home run club.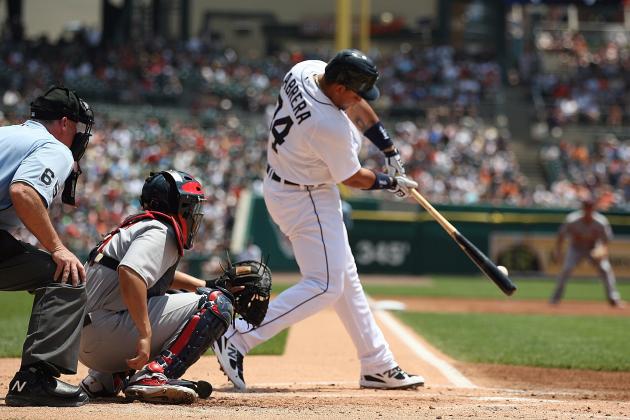 Dave Reginek/Getty Images

Reigning AL batting champion Miguel Cabrera has been destroying baseballs ever since his rookie campaign helped lead the Florida Marlins to a World Series championship.
Cabrera is sixth on the active career list for both batting average (.317) and slugging (.556), and he doesn't look to be slowing down any time soon. He has appeared in seven All-Star games, has five top-five MVP finishes, three Silver Slugger awards and also a very impressive .320-or-higher batting average in seven of his nine full seasons in the majors.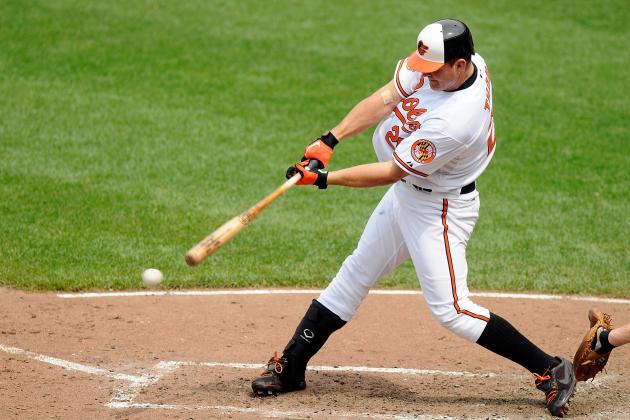 Greg Fiume/Getty Images

Twenty-two-year veteran Jim Thome is at the tail end of a borderline Hall of Fame career. Longevity is something that very few achieve, and Thome has lasted and excelled for a very long time.
He is currently seventh on the all-time home run list with 609 and seventh on the all-time playoff home run list with 17. The five-time All-Star has nine 100-RBI seasons, six 40-home run seasons and 1,690 career RBI (third among active players) on his resume, and because of the AL DH position, he could still have a year or two left even at age 41.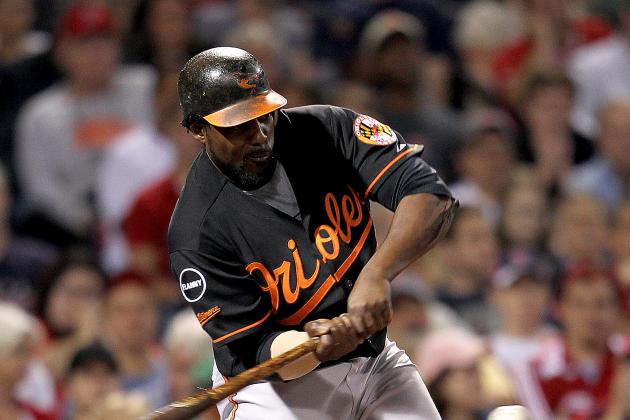 Jim Rogash/Getty Images

Amazingly a free agent after hitting .290 last season in Baltimore (current league average is .267), Guerrero has been successful despite his unorthodox batting approach. Swing at everything!
This batting style has him fifth among active hitters in average at .317, and Guerrero has only twice in 15 years batted below .300, which is the measuring stick of a great hitter over the last 50 years. Power has never been a problem either, as he has 449 career long balls and many awards to prove his dominance (nine All-Star appearances and eight Silver Sluggers).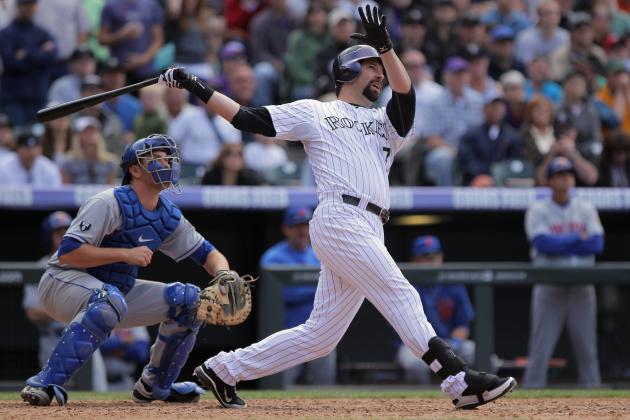 Doug Pensinger/Getty Images

Todd Helton was one of the most consistent hitters of the 2000s and even a more consistent teammate, having played all 16 years of his career in Colorado.
Helton is currently fourth on the active hitting list with a .320 career average, which includes one of the highest hitting seasons in the last 20 years when he hit .372 for the 2000 Rockies.
His smooth lefty swing has brought him five All-Star game appearances and four Silver Sluggers at first base, arguably the hardest position to compete with in baseball. Not lost on his resume is Helton's career .419 on-base percentage, which is tops among active MLB players.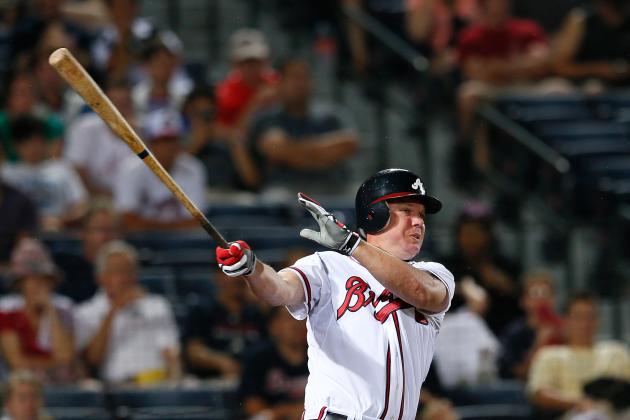 Kevin C. Cox/Getty Images

Chipper Jones will go next to Mickey Mantle in the history books as one of the best switch-hitters of all time. Like Helton and few others, Jones has also spent his entire career with one team, the Atlanta Braves, which is to be admired.
The 1998 MVP and 2008 batting champ has been an elite player for much of the last 20 years. He ranks in the top 40 all time in home runs (fourth among active players), RBI, doubles, total bases and walks.
And if it weren't for a few injury-plagued seasons, he could be looking at the 500 home run club.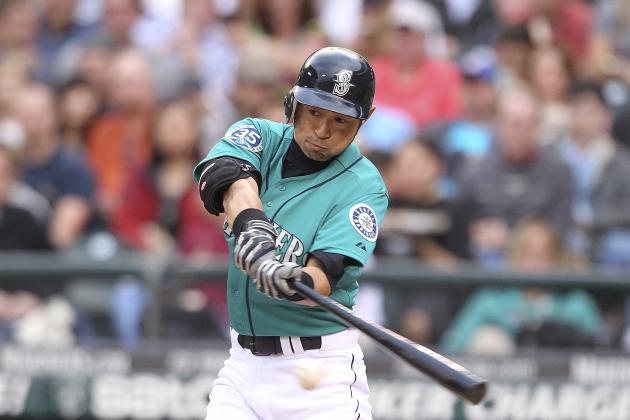 Otto Greule Jr/Getty Images

If 10 consecutive 200-hit seasons to start his MLB career doesn't do it for you, how bout a duel MVP and Rookie of the Year award in 2001. The seven-time league leader in hits, two-time leader in average, 10-time All-Star and three-time Silver Slugger has excelled at all levels.
One of the best hitters in Japanese baseball history, he still has an outside chance at 3,000 hits. He also has done very well in his limited playoff experience, owning the second-best career playoff average in history at .421, added to his .323 career average.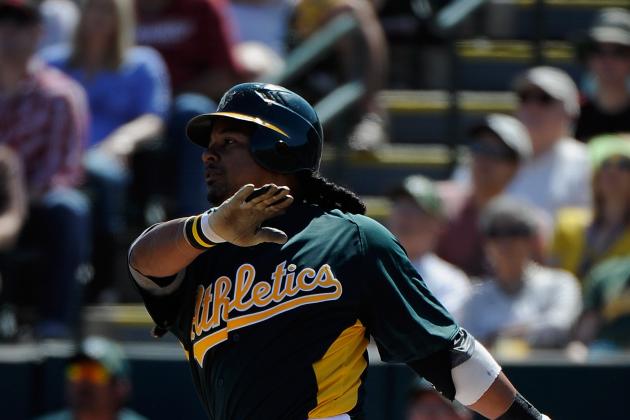 Kevork Djansezian/Getty Images

Currently trying to get back to the big leagues after suspensions, Manny is on many top-five active hitting lists. He is sitting at 555 career home runs (third among active players), with 12 All-Star games, nine Silver Sluggers and a World Series MVP award under his belt.
His reputation as a "professional hitter" has also followed him in the playoffs, as he ranks No. 1 all time in home runs (29), second in RBI (111) and total bases and third in runs and hits.
Those postseason numbers alone are almost enough for Manny to make this list.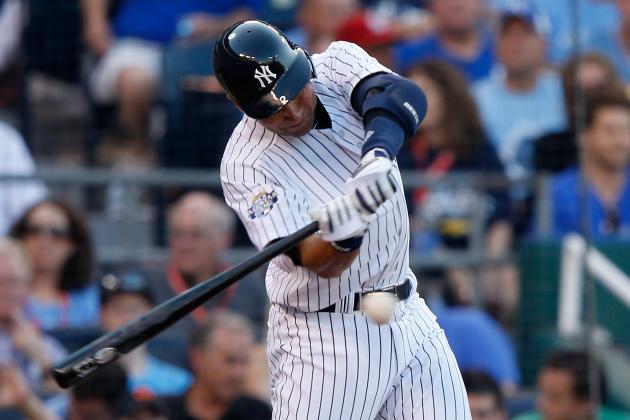 Jamie Squire/Getty Images

Arguably the best postseason hitter of all time, Derek Jeter has been a fixture in the Yankees' lineup for years, and he doesn't look to be slowing down, either.
Rarely a league leader, never an MVP, but always a model of consistency, Jeter has already passed the 3,000-hit mark and has compiled a crazy 13 All-Star game appearances. The active leader in hits is also the all-time leader in playoff games (152), at-bats, runs (107), hits (191), total bases, doubles and ranks in the top five in almost every other offensive category.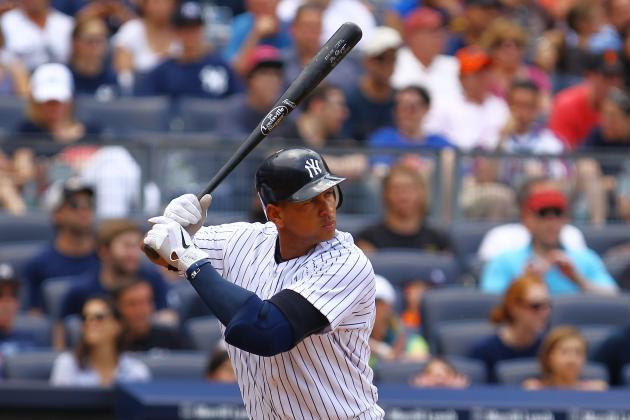 Al Bello/Getty Images

The five-time league leader in home runs also has the average to match the power. Alex Rodriguez has been putting up Hall of Fame numbers since his first full season in the majors, when, at the age of 20, he earned a batting title and was runner-up for the AL MVP.
The three-time MVP is very decorated in all aspects of his game (13 All-Star game appearances, 10 Silver Sluggers) and is the active leader in home runs with 642, as he rapidly approaches Willie Mays for fourth all time.
Some time within the next year, A-Rod will join his teammate, Derek Jeter, as the only active players with 3,000 hits.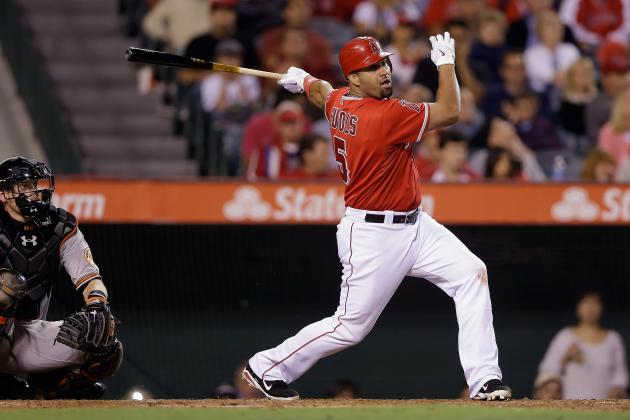 Jeff Gross/Getty Images

Albert Pujols is the best hitter in baseball and he will finish this season as he has finished all of his previous seasons—with fantastic numbers.
In his 11 full seasons, Pujols has earned three MVP awards and has never finished lower than ninth in the MVP voting (runner-up three times). He is the active leader in batting average with a career mark of .326, slugging (.609), second in OBP and fifth in home runs.
Pujols is a machine, as evidenced by his 162-game average: .326 BA, 42 HR, 125 RBI. That would be an amazing one-season explosion for any other player. His combination of average and power has made him the most difficult player to get out over the last decade and with a 10-year contract in L.A., he has the chance to surpass almost everyone in all major all-time hitting categories.