MLB: Midseason Busts at Each Position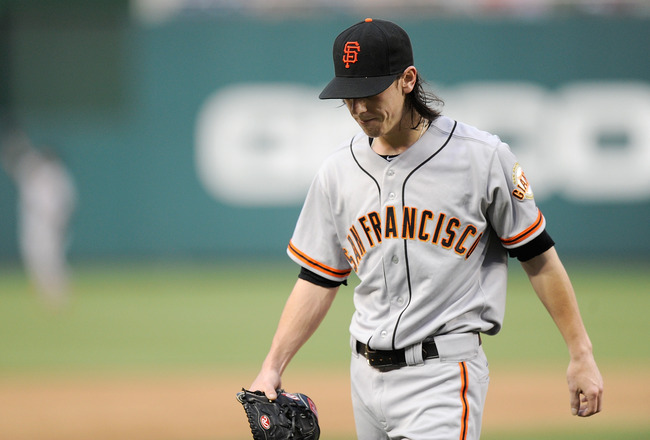 Greg Fiume/Getty Images
There have been many MLB players that have exceeded our expectations this year. Some guys have greatly improved their power numbers, lowered their career ERAs or already surpassed their career high in stolen bases.
However, with all of the positive surprises comes some negative. In this article, I will list the most disappointing player at each position for both leagues.
Catcher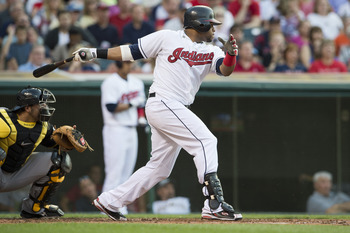 Jason Miller/Getty Images
AL: Carlos Santana, Indians
Before the 2012 campaign, most people believed Carlos Santana may become the best catcher in baseball by year's end. He had just finished a strong 2011 campaign with 27 home runs, 79 RBI, 84 Runs and 97 Walks.
In 2012, his numbers have greatly dipped. His OPS dropped from .808 last year to .667, and he only has five home runs and 29 RBI through the first few months of the season.
He still is walking a ton, but Santana needs to find his power stroke if he wants to turn this season around.
NL: Brian McCann, Braves
Like Santana, Brian McCann was considered one of the best catchers in baseball before the 2012 season. But he missed the All-Star game for the first time since 2006 this year due to a poor first half.
He's batting .230 with a .297 OBP, which is awful compared to his career .282 and .354 marks. McCann is on pace to hit his usual 20-plus home runs, but his other numbers are down, and he is most likely going to lose his title as the best catcher in baseball by season's end.
First Base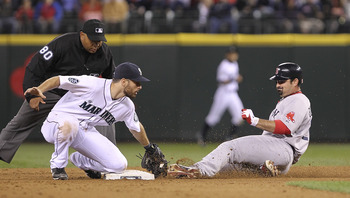 Otto Greule Jr/Getty Images
AL: Adrian Gonzalez, Red Sox
For a player who has been so dominant for the past six years, Adrian Gonzalez has been very pedestrian to start the 2012 season. He only has six home runs, 44 RBI, 23 Walks, a .275 batting average and a low .727 OPS.
All of those numbers are on pace to be career lows. The Red Sox need Gonzalez to start producing at his usual production if they want to even sniff the playoffs.
NL: Gaby Sanchez, Marlins
Gaby Sanchez has been so terrible this year that he's already been demoted to the minor leagues, twice.
After a very promising first half last season, where he batted .293 with 13 home runs and 50 RBI, he's since come tumbling back to earth. In 183 at-bats, he's batting .202 with a .250 OBP, three homers, 17 RBI and 36 strikeouts.
With Carlos Lee aboard, the Marlins may have no use for Gaby Sanchez this season. If the 28-year-old first baseman wants to bounce back next year, he has a lot of work to do.
Second Base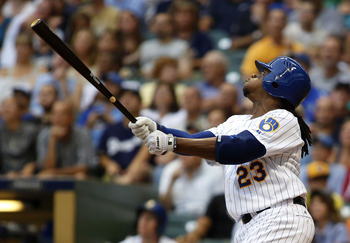 Mark Hirsch/Getty Images
AL: Jemile Weeks, Athletics
Jemile Weeks put together a nice season last year in his rookie year. He batted .303 with 22 stolen bases, eight triples and 50 runs in 406 at-bats.
This year has been the complete opposite for Weeks, as he hasn't been able to put anything together.
He's batting .215 with two homers, 12 RBI, 32 runs and an ugly .610 OPS. However, he's still showing speed with 11 stolen bases in 16 chances, along with five triples.
Weeks is young, so he has time to grow, but this season has definitely been a disappointment.
NL: Rickie Weeks, Brewers
Health used to be Rickie Weeks' biggest problem in the past, but this year, he just can't hit.
He is hitting .193 on the season, which is awful compared to his career average of .250. He also is striking out way too much, with 99 whiffs on the season, which puts him on pace for 193 strikeouts.
Shortstop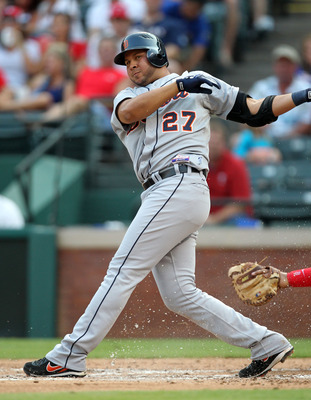 Layne Murdoch/Getty Images
AL: Jhonny Peralta, Tigers
After back-to-back nice seasons, Jhonny Peralta's production has come way down.
Peralta, who hits in a strong Tigers lineup, has four home runs, 24 RBI, 26 runs, a .256 batting average and a low .709 OPS. He hit 21 home runs last year, and is now on pace for only eight this season.
The Tigers can use all the offense they can get, and Jhonny Peralta needs to step up.
NL: Tyler Pastornicky, Braves
Scouts considered Tyler Pastornicky to be a decent prospect going into the 2012 season. He was ranked seventh in the Braves' organization by Baseball America, and eighth by John Sickles of MinorLeagueBall.com.
Pastornicky won the starting shortstop job in the spring and has gone on to post unimpressive numbers. He batted .248 with one homer, 12 RBI and 17 runs in 145 at-bats before being sent down to Triple-A.
Andrelton Simmons now has the shortstop gig, so baring any injury, Pastornicky will not be the Braves' everyday shortstop this year.
Third Base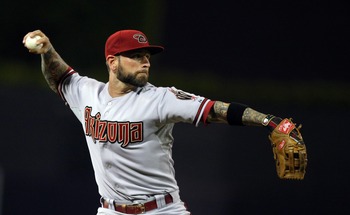 Donald Miralle/Getty Images
AL: Mark Reynolds, Orioles
Mark Reynolds is known to put up two very high totals, in two different categories: home runs and strikeouts.
In 2011, he had 37 homers and struck out 196 times. The strikeout numbers are still there in 2012, with 69 in 187 at-bats. But, he only has seven round-trippers.
Reynolds is on pace for 14 homers, 45 RBI and 135 strikeouts, but those numbers will change depending on the amount of playing time he gets. The Orioles are surprisingly still in contention for the playoffs, so they may look for a more consistent bat to play at third base.
NL: Ryan Roberts, Diamondbacks
Ryan Roberts, or "Tat Man," was one of the biggest surprises of the 2011 season. He hit 19 home runs, swiped 18 bags and scored 89 runs in a solid season.
Unfortunately, he hasn't been able to replicate it.
Roberts is 4-for-7 in stolen base attempts, has homered only six times and has a weak .639 OPS. No player is likely to threaten his playing time, so he will have plenty of chances to improve his hitting.
Outfield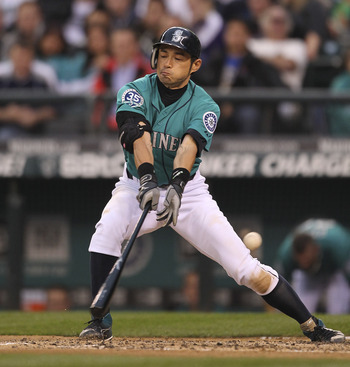 Otto Greule Jr/Getty Images
AL: Ichiro Suzuki, Mariners
Ichiro had been good for so long, but it's extremely hard to maintain production for over 10 years without showing a decline in productivity.
Ichiro did two things last year that he hadn't done since coming over from Japan in 2001: He hit under .300 and failed to reach 200 hits in a season.
He's now 38 (and will be 39 in October) and doesn't have much left in the tank. He's on pace for even worse numbers than last year, batting .262, and on pace for only 170 hits. We may be nearing the end of Ichiro Suzuki's great career.
NL: Justin Upton, Diamondbacks
Justin Upton has played six years in the big leagues, and he's only 24 years old. But for one of the most hyped outfielders in the preseason, Justin's bat has been extremely cold to start the year.
He's batting .266 with seven home runs, 34 RBI, 10 stolen bases in 17 attempts and has 73 strikeouts. He's a streaky player, but Upton really needs to get his bat going if he wants to maintain his reputation as one of the game's best young stars.
Starting Pitcher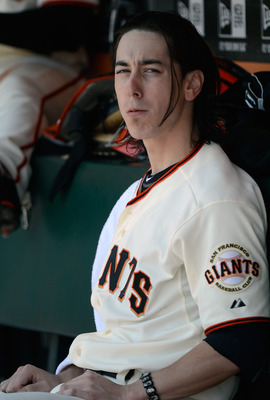 Thearon W. Henderson/Getty Images
AL: Ricky Romero, Blue Jays
Wins are such an unpredictable stat. Ricky Romero has a 5.35 ERA and eight wins, while Cliff Lee has a 3.98 ERA and only one win to show for it.
Romero has been a big disappointment in 2012. He had improved his ERA almost a full run every year from 2009 to 2011, but this year he has gone backwards.
He is on pace to give up a career-high 27 home runs and 107 walks. If he is to fix his problems, he needs to keep the ball in the park and limit the amount of walks issued.
NL: Tim Lincecum, Giants
Tim Lincecum has dropped from dominant to inconsistent insanely fast. The two-time NL Cy Young winner has been awful this season. A career 3.23 ERA pitcher, Lincecum has a 5.65 ERA this year.
The only stat that hasn't changed is his strikeouts, as he already has 101 on the season. He's not giving distance and can't find the zone.
Tim Lincecum needs to find a fix soon, or else his payday may be in jeopardy.
Relief Pitcher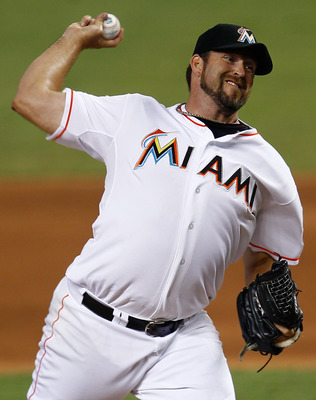 Sarah Glenn/Getty Images
AL: Brandon League, Mariners
Brandon League was great for the Mariners as their closer in 2011. He saved 37 games in 42 chances, with a 2.79 ERA and 1.08 WHIP.
This year has been a different story. He's already blown one more save than he did all of last year with six, and he lost his job to Tom Wilhelmsen. He's a likely trade candidate at the deadline, but it doesn't look like he'll get anymore saves this season.
NL: Heath Bell, Marlins
The Marlins signed Heath Bell to a three-year, $27 million contract during this offseason. But the usually dominant closer has been very inconsistent to start the 2012 campaign.
He's tied for the National League lead with five blown saves, has a 6.00 ERA and a 1.70 WHIP. However, he has converted 14 of his last 15 saves. Bell is usually lights-out, so the Marlins have to hope he continues to get better as the season goes on.
Keep Reading