UFC 148 Results: Reactions and Play by Play Live from Cage Side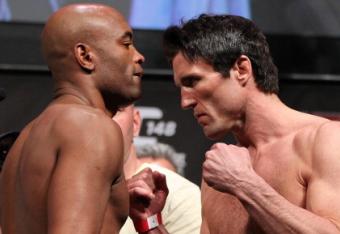 The brutal two-year wait is finally over. UFC champion Anderson Silva will finally meet Chael Sonnen again at UFC 148. In the lead-up this week, Silva flipped the page on Sonnen, taking the lead on promoting this fight by letting out all that frustration and anger. You know, as if fans needed another reason to buy this card.
In the co-main event, Tito Ortiz enters the Octagon for the final time as he closes his career with a rubber match against Forrest Griffin. The fighters split the first two outings, which makes this one of the most important fights of their respective careers.
The rest of the card is filled with interesting match ups that promise to entertain.
Main Card

Anderson Silva vs. Chael Sonnen
Forrest Griffin vs. Tito Ortiz
Cung Le vs. Patrick Cote
Dong Hyun Kim vs. Demian Maia
Chad Mendes vs. Cody McKenzie
Ivan Menjivar vs. Mike Easton
Join Bleacher Report for a live discussion and play-by-play, live from cageside.
Anderson Silva vs Chael Sonnen
Official Result: Anderson Silva defeats Chael Sonnen by TKO in the second round.
Anderson Silva vs Chael Sonnen
Round 2: Chael clinches up against the cage and he's making Anderson carry his weight. He lands some knees to the head and body, just tiring out the Brazilian. He drops for a leg but gives up on it. They separate and Anderson finally lands on Sonnen. Chael's hurt. Chael throws a spinning back fist and falls on his butt. Anderson knees to the head and then punches. Chael gets back to his feet and is dropped again. Anderson lands punches to the head and that's it folks. The fight is over as is this rivalry. Actually, I expect that this won't be the last time this fight is mentioned.
Anderson Silva vs Chael Sonnen
Round 1: Anderson throws a combination and Chael gets the takedown. This place is wild. You have no idea the atmosphere. Chael is throwing short punches to the head and body trying to get some space. Hard shots to the head and this is very similar to the first fight. Anderson takes one right to the chin and just shakes it off. Chael passes to half guard and has control of a wrist. He's throwing elbows to the head and now open palm strikes. He's looking to pass to side control. Anderson doing well keeping the position. Short punches to the head for Sonnen. USA! chants. Knee to the body from Chael. He has Anderson flat on his back. That's the worst position to be. Chael is just slapping Anderson on the side of the head and unloads a huge punch. Anderson looked for a submission but Chael escaped. He's bodying Anderson. This is crazy. Those punches to the body are hard as hell. 'Let's go Sonnen' chants. Elbows to the head followed by punches to the body. Chael gets mount with a minute left. He has a grape vine and is landing punches to the head. Anderson is just holding on to close the round. 10-8 Chael Sonnen.
Forrest Griffin is interviewing Tito Ortiz. This is crazy. Great questions though. That's actually pretty wild. Joe Rogan must be kinda pissed.
Rogan is trying to interview Forrest and you can't hear anything because the crowd is booing. Forrest says that he feels like each of their fights were draws. He wants a fourth round. Says that the second knockdown was a legit one. He was dazed.
Tito walks around the cage and shakes Dana White's hand. There's a ton of history there and I expect to hear about it at the post-fight presser.
Forrest Griffin vs Tito Ortiz
Official Result: Forrest Griffin defeats Tito Ortiz by Unanimous Decision. All three judges scored the fight 29-28.
Forrest Griffin vs Tito Ortiz
Round 3: This is the last round of Tito Ortiz' UFC career. Forrest is landing at will but Ortiz counters with a hook that drops Forrest. He pressures and gets Forrest to the ground. He is in Griffin's full guard and is trying to keep position in the center of the cage. Short elbows from the ton from Ortiz. He's relentless in keeping position. He lands a clean elbow to the head. Forrest is throwing punches off his back. The crowd is going crazy cheering for Tito Ortiz. Forrest works his way back to his feet and presses Ortiz against the cage. Knee to the body from Forrest on the break. Tito is showing a ton of heart but Forrest is just teeing offf at tho spoint from range. Huge overhand right for Tito. Brief exchange with 30 second left in the round. Tito's exhausted and just throwing punches. This was a great fight. Tito is walking around with his hands up and Forrst Grififn has left the cage and walking back to the locker room. UFC personnel are chasing after him to get him back. He's back. Weird ending. 10-9 Tito Ortiz
Forrest Griffin vs Tito Ortiz
Round 2: Forrest lands three punches to open the second. Tito rocks Forrest and is looking to finish the fight. Forrest is trying to regain his faculties as they clinch against the fence. The break and Tito sticks Forrest with a jab. Forrest responds by coming forward with punches and lands a stiff jab. They are trading punches and Ortiz is landing the cleaner strikes. Nice straight form Ortiz. Forrest responds with his own. This is great. Uppercut from the pocket form Ortiz. Nice two punch combo from Forrest back Tito up. He's finding a home for that right hand. Ortiz checks a leg kick and responds with a nice punch. THis is a very even fight though Forrest is far more active. Ortiz is landing the heavier shots as he lands two punches that force Forrest to disengage. They are trading in the pocket and Ortiz has definitely slowed down in the second. Forrest is way ahead on the strike tally and that's playing a huge role. Ortiz hits a takedown to end the round and is hammerfisted for his troubles. 10-9 Forrest Griffin
Forrest Griffin vs Tito Ortiz
Round 1: Forrest is out first and lands a kick to the body. Ortiz responds with a nice two punch combination. Crowd is split in support of the fighters. Forrest with a front kick and Ortiz gets the takedown. He's working from full guard and looking to unload with punches. That's vintage Tito Ortiz with the solid elbow and punches to the face. He's passed to half guard after a scramble but can't keep Forrest down. Forrest letting his hands god and Ortiz lands a clean hook. Forrest has found is rhythm and is starting to land. Ortiz drops for a takedown and then gives up on it to throw a high kick. Tito shoots from way outside and nearly gets the takedown but Forrest sprawls out. Tito looks to clinch but Forrest shucks him off. Nice stiff right hand from Forrest. Forrest is circling well and avoiding exchanges. Superman punch and kicks from Forrest. The round ends with Tito dragging Forrest to the mat. 10-9 Forrest Griffin
Patrick Cote vs Cung Le
Official Result: Cung Le defeats Patrick Cote by Unanimous Decision. All judges scored the bout 30-27.
Patrick Cote vs Cung Le
Round 3: Nice head kick from Le but Cote is unphased. He throws a side kick tot eh body and it lands low. Cote runs around the cage and action continues. Cote with two right hands. They clinch up and Le looks for a trip. Cote has a single collar tie and presses Le against the fence. They trade knees tot eh body and Le works to create distance. Cote responds with a spinning back fist with lands clean. Cote doubles up the right hands again. He's the fresher fighter midway through the third. Le with another spinning back kick but Cote avoids taking too much damage by circling away. They clinch against the fence and Cote is throwing short punches to the body. Those may not look like they hurt but they take a lot out of you. Le hit a trip but Cote regains his feet quickly. Cote grabs a leg and tries to finish a single leg but can't get Le to the ground. They trade in the center of the cage with a minute left. Cote is just landing on Le at this point. His boxing looks great. Le clinches up and drips Cote to the mat. Cote tries to wizzer but ends up on his back in full guard. He's far more active as Le looks to cruise to the end. 10-9 Patrick Cote
Patrick Cote vs Cung Le
Round 2: Cung Le is breathing heavy. The issue with his style is that when he's not able to get an early finish it drains a ton of energy. Cote lands a nice straight to the body. Hook kick from Cung but Cote blocks it. Cung again goes high and Cote counters with punches. He's finally finding his range. Three punch combo from Cote. Le with a side kick to the stomach. Exchange of punches in the pocket. Le throws a spinning elbow and follows up with a spinning back kick. That elbow cut Cote on the side of his head. Nice spinning back kick to the body from Le connects but Cote walks through it. Le is finally throwing his hands but nothing with too much power. He lands a shin to the head and Cote responds with several punches to the head. Cote with a hook to the body. Cote is winning this round though Le's flashy kicks are far more impressive. Le lands a one to the body and a hook. Cote responds with punches and he has Le hurt. Le is forced to clinch against the fence to get his faculties back. Cote is throwing uppercuts to the body as Le walks him across the cage. Knees to the body from Cote as the round ends. 10-9 Patrick Cote.
Patrick Cote vs Cung Le
Round 1: Cote throws a kick to the body and Cung Le hits a San Shou trip. Cote back to his feet and he's trying to find his distance. Nice two kick combination from Le. Cote comes forward and Le circles away. Kick to the body from Le. Cote is having trouble with distance as Le is circling away nicely. He does land a nice punch to the body but can't follow up. Body kick from Le. They trade kicks to the body and Cote has finally put his hands on Le. Cote counters nicely with a right hand. He comes forward and lands a hook but is met with a stiff uppercut. Cote is getting antsy and trying to push forward but he's getting countered. Cote fakes a switch kick and they both laugh. 10-9 Cung Le
Demian Maia vs Dong Hyun Kim
Round 1: Maia closes the distance quickly and he's looking to get Kim down to the mat. He's taken his back and has a single hook in. Kim defends well but Maia is just hanging on to him. Uh...Kim fell to the mat and Demian landed two punches? The referee didn't stop the fight but apparently Kim's abdomen is hurt. Weirdest finish.
Official Result: Demian Maia defeats Dong Hyun Kim by TKO. The stoppage came at :47 in the first.
Cody McKenzie vs Chad Mendes
Round 1: Mendes lands some nice hooks to the body and then lands a knee as they clinch up. McKenzie throws a high kick from distance. A straight right to the body drops Cody McKenzie and Chad Mendes throws hammer fists to the finish. That's it. Fight is over.
Official Result: Chad Mendes defeats Cody McKenzie by TKO. The stoppage came at :31 seconds in the first round.
Mike Easton vs Ivan Menjivar
Round 1: Menjivar goes high with a kick that Easton ducks under. Mike responds with punches. They exchange in the center of the cage. Slow pace as Easton stalks and lands a kick to the face that staggers Menjivar. Menjivar is throwing spinning back kicks. And Easton responds with a heavy kick to the thigh. Another heavy kick as Menjivar backs away. Ivan responds with a light kick to the leg. They clinch up at the end of the round and Ivan lands a elbow to the face as the horn sounds. 10-9 Mike Easton.
Round 2: Brief exchange to open the round and Easton has Ivan backing up. This is a really slow pace for both fighters. Absolutely crazy for bantamweights. Nice combination and leg kick from Menjivar. Menjivar sticks out a jab but nothing is there. Nice punch to the body from Easton. Crowd member yells 'stop shadow boxing'. That's some good advice. We're almost two rounds in and Fight Metric stats are pathetic. This is terrible as neither fighter is committing. This is a light sparring session. Menjivar lands a kick to the head and a slow punch. Easton comes up empty as he lunges forward with a hook. Leg kicks at the close. 10-10.
Round 3: Okay finally they decide to exchange and it's Easton who is stalking. They trade punches for a bit and then the pace slows again. Menjivar just doesn't want to engage at all They both swing wildly and neither connects. They are lightly throwing out side kicks and neither really con nets. Easton finally hits a takedown and has Menjivar on the mat. Menjivar looks to get an arm bar but Easton postures up and out. Menjivar pushes off and he gets enough distance to stand. Nothing is landing for these guys as Menjivar just keeps backing away. Awful. Nice counter hook from Easton. Easton tries a jumping something and falls on his butt. The horn sounds and he raises his hands. 10-9 Easton?
Official Result: Mike Easton defeats Ivan Menjivar by Unanimous Decision. The scores were 30-27, 29-28, 30-27.
Melvin Guillard vs Fabricio Camoes
Round 1: Nice leg kick from Melvin to open the fight. Camoes responds with his own. Straight right lands for Melvin as does the follow up left. He's moving well early on. Camoes looks for a takedown and Melvin catches him with a quick uppercut and drops him briefly. Camoes is up and looking for a takedown. He has a high crotch single and gets Melvin down but can't keep him there. They clinch against the cage and Melvin uses a standing kimura to escape. Camoes is looking for that takedown and can't get it. He goes high with a kick and Melvin dumps him on his butt. Melvin comes forward and Camoes drives for a leg but Melvin steps out. Melvin with a takedown and it looks like Camoes has a guillotine. Melvin pops his head up and is throwing punches but is swept and dumped on his but against the cage. He tries to stand and Camoes takes him down and has mount. He's throwing punches down to finish but Melvin is able to escape and get back to his feet. He drops Camoes and is looking to close the round with a finish. Great first round. 10-9 Melvin Guillard.
Round 2: Melvin is controlling distance well and avoiding Camoes' strikes. Neither fighter looks to want to commit too much in the first 90 seconds. Nice kick to the body from Guillard. Camoes responds with a hook kick but can't land it. Camoes has a single and gets Guillard to the ground but Melvin rolls through and they're back to their feet. Camoes dives for another takedown and Guillard steps out of it. Crowd is booing as neither fighter really wants to push the pace. Now 'Brazil' chants as Camoes presses forward and gets a body lock against the cage. He trips Melvin down but can't keep him down. Melvin drops him and is throwing punches to the head while Camoes is turtled. Camoes rolls to his back and Melvin works for another finish at the end of the round. Terrible round but I'm giving it to Melvin again 10-9 Melvin Guillard.
Round 3: USA! chants to open the third. This is a pro-Guillard crowd. Camoes looks for another single leg and Melvin punches his way out. They are throwing hands in the center of the cage and trading leg kicks. Nice short uppercut from Melvin. Nice body kick from Camoes. Melvin snaps out a jab but Camoes keeps pushing forward and bkacs melvin up against the cage. Melvin bounces off and lands a straight right to the body. That's the same punch that has won him many fights. Nice flurry from Guillard but Camoes covers up well. Camoes come cover the top with a right hand but it misses its mark. Camoes has a single and Melvin uses hammer fists to get out. Melvin slips as he come sin and the crowd reacts. Camoes drops low for a single and then transitions to a knee bar. Awesome set up. Camoes kicks Melvin in the head but there's not reaction from the referee. 10-9 Melvin Guillard.
Offiicial Result: Melvin Guillard defeats Fabricio Camoes by Unanimous Decision. All three judges scored the bout 30-27.
Gleison Tibau vs. Khabib Nurmagomedov
Round 1: Cleison is the first to land as he puts a a hand in Khabib's face. He's pushing forward and has Khabib backing up in a straight line. Khabib just doesn't look all that comfortable right now in the cage. Gleison is stalking but neither fighter wants to commit. Khabib drops for a takedown but Gleison is defending well. Khabib really wants this takedown but can't get it as they push off. The crowd is chanting 'Brazil' for Tibau as Khabib clinches up against the cage. There's not much action as this is a battle of wills. Mario Yamasaki breaks the fighters and the crowd is singing. This is crazy. How do they all know the same song? Khabib comes forward with a flying knee and Gleison responds with a nice counter right over the top. Khabib has a leg and is looking to run the pipe but Gleison is displaying really great balance. Round ends and I'd score it for Gleison Tibau 10-9.
Round 2: There's not much action as they both seem to respect the other's takedown ability too much. Khabib drives forward looking for another single but he's not chaining it together to run the pipe. Nice counter right hand from Gleison. And then another. He finally gets the first takedown but can't keep the Russian on the mat. They are exchanging and Khabib again looks for the double leg but his chain wrestling just isn't there. It's a shame because his samba is as good as it gets in MMA. Brief flurry of punches from Tibau and they're back to the clinch. Gleison slips a punch and fires back two of his own. He's looking sharp as he sprawls out to avoid a quick double. Knee to the body from TIbau to close the round. 10-9 Gleison Tibau.
Round 3: Gleison with a quick two punch combination. He's definitely moving better on the feet. He fakes a single and Khabib counters with a left hand. Wild uppercut from Khabib to close the distance for a clinch. Gleison pushes off and shoots his own takedown and gets it. Again Khabib is back to his feet but he's having trouble with the strength of Tibau. Khabib looks for his own takedown and can't get it again. I don't think he's hit one yet. Wild punches form Khabib come up empty. He's gotta be desperate at this point. Nice right hand from Khabib but Gleison doesn't seem to be hurt at all. Nice punch to the body from Tibau. A exchange and it looks like a left hook has Khabib hurt. THey punch to the finish and I'm scoring this round again 10-9 for Gleison Tibau.
Official Result: Khabib Nurmagomedov defeats Gleison Tibau by Unanimous Decision. All three judges scored the fight 30-27. No idea what fight they were watching. Failed takedown attempts down win fights in my opinion.
Costatinos Philippou vs Riki Fukuda
Round 1: Both fighters are tentative to attack first as they circle around the cage. It's Fukuda who lands first with an inside leg kick. Costa lands his first big punch and Fukuda drives forward with a takedown. He has Costa down and is throwing short arm punches but Costa is able to get back to his feet. Philippou lands a nice right hand but he seems a bit slow tonight. Fukuda has some swelling on his left eye from some of Costa's punches. Nice right hand from Costa lands right to the chin. They trade upper cuts in the clinch and he lands that right hand again. Left-Right combo from Costa followed by an uppercut. He throws a head kick and he finally looks to have found his range and pace. Inside and outside leg kicks from Fukuda. Costa attacks the body as the round comes to a close. 10-9 Costatinos Philippou
Round 2: Nice hook to the body to open the second from Philippou. He then looks for a single but gives up on it very quickly. They trade in the pocket and Philippou is landing nice uppercuts. Fukuda drops for a takedown and Philippou keeps his balance and remains on his feet. THey are clinched against the cage and Fukuda lands some nice uppercuts. Philippou pushes off and goes back to punching from range. Fukuda lands a really nice inside leg kick and then another. Those don't look very powerful but they'll take a lot out of Philippou's punches. Nice exchange and Philippou lands several big punches. Fukuda drops down and Philippou quickly shucks off the takedown attempt. Really nice kick to the body from Fukuda. Philippou looks to have some issues with his eyes. Nice combination from Philippou and Fukuda responds with a combination. Inside leg kick from Fukuda looks to have grazed the cup and Philippou is saying it landed low. May just want a breather. Action continues and Fukuda lands a nice kick to the body and is pushing the pace. Philippou throws a spinning back fist and comes up empty. Fukuda throws a kick to the body and Philippou counters with a right hand over the top. Nice stiff right from Costa to close the round. 10-9 Costa Philippou
Round 3: Fukuda comes forward with punches and Philippou avoids taking damage. He shoots forward and Costa pushes off and is free. Fukuda lands a kick to the thigh and Philippou responds with a right hand over the top. Both fighters seem to be a bit tired as the pace as slowed in the third round. With three minutes left Riki Fukuda needs to stop Philippou if he hopes to win this fight. He gets a single leg and Philippou defends again. This is a great display on how well Philippou has improved his defensive wrestling. Kick to the body from Fukuda and it looks like he poked Philippou in the eye. He's in serious agony and this is bad. He's yelling out 'OH MY GOD!' on his knees. This is bad. The doctor is in the cage and he can't even open his eyes. He's actually using his fingers to open them. Ugh. The crowd is booing and they're being ridiculous. That's gotta be it. No way he can continue. Doctor said he'll wait to see if it clears up. That definitely did a ton of damage. He's going to fight? Alright he's back and Philippou is coming out like a bat outta hell. He's mad and looking to finish this fight. Fukuda looks for a takedown and Philippou locks a guillotine. Fukuda pops his head out and they are back to exchanging. This is a great show up heart. Nice straight right from Philippou to close the round.
Official Result: Costa Philippou defeats Riki Fukuda by Unanimous Decision. The judges scored the fight 30-27, 30-27, 29-28.
Shane Roller vs John Alessio
Round 1: Roller lands first with a nice hook to the body. Alessio responds with punches but is stopped in his tracks by a leg kick. Shane Roller is moving well and avoiding a lot of Alessio's strikes. Alessio is also managing distances well but is having trouble finding his range. Roller lands a nice overhand that looks to have Alessio hurt. He follows up with a hook to the body. Roller throws a kick to the body and that's right to the groin. Legitimately audible. Alessio is on his knees trying to get his wind back. That looked awful. Action continues and Alessio is the aggressor. Roller's head movement looks good as he avoids many of them and covers up on the rest. Roller comes forward with wild overhand and then dives for a leg but comes up empty. Nice stiff jab from Alessio. They clinch against the cage and Alessio is looking for the takedown. He's locking up a single leg but Roller defends well. Alessio has undercooks and they're head fighting to control posture. Nice punches to the body from Alessio as they break. Roller comes forward but it's Alessio who is landing cleaner. They fight in the pocket and Roller is dropped with an uppercut. Alessio looks for the kill but Roller controls posture well and the round ends. 10-9 John Alessio
Round 2: They are immediately exchanging as the second round opens. They are fighting against the cage and Roller locks in a guillotine choke. He can't close his guard and Alessio escapes. Roller gets back to his feet and slams Alessio down on his back. Roller is in a high half guard and he's landing some big elbows from the top. He's looking for a d'arce choke and Alessio escapes but gives up his back. Alessio is turtled up and Roller has a single hook in. Roller is looking for the rear naked choke and has both hooks in. He changes to a body triangle. Nasty elbows and punches from the top. This is a dominant round for Roller. 10-9 Shane Roller
Round 3: Alessio is coming out like a maniac and just throwing punches like a machine gun. Roller is taking a lot of punishment and looks for a takedown to stop the onslaught. Roller shoots a double leg and is able to Alessio on his back. He's in an open high half guard and is throwing big elbows from the top. Alessio is able to use Roller's aggression to get back to his feet and is defending well against the cage to stop another takedown. Roller has Alessio's back and takes him down to the mat. He has one hook in and is looking for the other. Alessio is turning in and preventing a lot of damage. Alessio is talking trash asking 'wanna ride me?'...Pause. Those are some big shots from Roller to open Alessio up for a rear naked choke. Body triangle and Roller is looking for an arm triangle. Alessio is able to sweep and throws punches from the top to the finish. 10-9 Shane Roller.
Official Result: Shane Roller defeats John Alessio by Unanimous Decision. All three judges score the fight 29-28.
Rafaello Oliveira vs. Yoislandy Izquierdo
Round 1: Rafaello Oliveira comes forward with strikes before taking Izqueirdo to the ground. Izquierdo locks up full guard but Oliveira quickly passes to side control. Nice work from Oliveira keeping buys as he looks to step over to mount. He's just biding his time as starts to tries to lock in an Americana. Izquiero defends well by muscling out and then pushes off and stands. Izquierdo lands a nice left hand and Oliveira lands his own. Oliveira dives forward with a double leg and Izquierdo shucks him off. A straight left from Izquierdo staggers Rafaello. Round comes to a close and I'm scoring it 10-9 for Rafaello Oliviera.
Round 2: Nice superman punch from Izquierdo to open the round. Oliveira responds with a heavy leg kick. Oliveira presses forward and slips. Izqueirdo lands a jumping knee and punches but is taken down to the mat. Rafaello passes to side control and Izqueirdo explodes up and almost locks in an inverted triangle. Rafaello quickly slips his head out and looks like he is bleeding from his forehead. Izqueirdo does well to escape but Oliveira is relentless looking for an americana. Mario Yamasaki stops the fight to check Oliveira's cut. Doctor gives the OK and the fight continues. Oliveira is back to the mat and he's back to working for submissions. Izquierdo is defending well but he's opening himself up for punches. Dominant round for Rafaello Oliveira who takes it 10-9.
Round 3: Oliveira lands a huge head kick to open the third round. He is back to the takedown and gets Izqueirdo to the mat. He's working in full guard and throwing short punches to look for a pass. Izquierdo's guard is wide open and Oliveira passes to high side control. He's working for another arm and Izquierdo hip escapes and gets free of the submission. He stands quickly but Oliveira is relentless in his takedowns and puts Izquierdo on his back against the cage. He's in north/south control and then back to side control. He's passing over to a mounted crucifix and landing elbows tot he face. He looks for a kimura and loses the position again. I don't get that as he was working punches from the top. He really wants that submission. The round ends. 10-9 Rafaello Oliveira
Official Result: Rafaello Oliveira defeats Yoislandy Izquierdo by Unanimous Decision. All three judges scored the fight 29-28.
This article is
What is the duplicate article?
Why is this article offensive?
Where is this article plagiarized from?
Why is this article poorly edited?