Why the New York Jets Need to Lock Up Darrelle Revis Right Now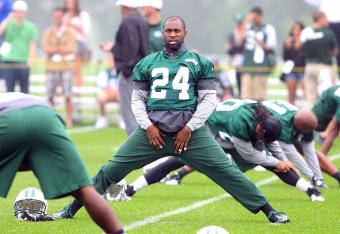 The fact that Darrelle Revis still hasn't received a new contract is a major black mark on Mike Tannenbaum's record as a GM. The Jets can't afford to have him hold out—they need to get him a new contract right now.
Darrelle Revis is the Jets' defense. Don't get me wrong, they have several excellent players, and Rex Ryan is an amazing play-caller, but Darrelle Revis changes the entire way the team plays defense.
He completely locks down half of the field. He's the only player in the league that can do that. It allows the Jets to get extremely creative with their blitz packages, and gives safeties the freedom to creep towards the line of scrimmage on runs because they know Revis is behind them protecting against the deep ball.
Without Revis, the Jets go from a top-10 defense to a bottom-10 defense. That's not hyperbole. That is fact.
Bart Scott isn't the same player he was when he signed with the Jets. Shaun Ellis and Jim Leonhard are gone. While the Jets' defense is still potent, it isn't the same without Revis.
The last time Revis held out, he came to camp only days before the start of the season and predictably got hurt.
The 2010 Jets could weather his injury because they were younger and deeper than this year's team. But a serious injury to Revis early in the 2012 season could critically damage New York's playoff hopes.
In their first seven games, the Jets face four legitimate contenders (New England, Pittsburgh, San Francisco and Houston), and a real sleeper in the Bills. Losing Revis for any extended time in that stretch could cost them several wins against top teams.
Finally, there's the loyalty aspect of this situation. Revis took a Band-Aid contract in 2010 with the understanding that a long-term solution would be figured out.
He is New York's best player and deserves to be treated as such. If he isn't happy with how the team is handling his situation, it could seriously affect locker room chemistry and his performance on the field.
The team owes it to him and his teammates to get a new deal done. If not, it could kill any chances the Jets have at making the playoffs in 2012.
This article is
What is the duplicate article?
Why is this article offensive?
Where is this article plagiarized from?
Why is this article poorly edited?

New York Jets: Like this team?