US Olympic Men's Gymnastics Team 2012: Breaking Down Team USA's 3 Alternates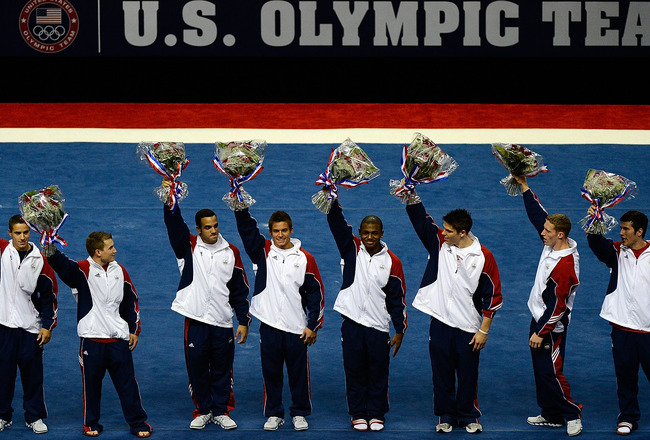 Ronald Martinez/Getty Images
It was a challenge to crop this photo of the 2012 U.S. men's gymnastics team and alternates.
Why?
Because eight is a crowd. It would have been a lot easier if the photo was just of the five competitors.
Then the alternates would have been cut off, which so commonly happens in the Olympics.
These alternates have been working their whole lives for this dream and came so close. They gave it everything they had and were not announced as members of the Olympic team.
But, it's not like they didn't make it. They'll still be practicing, training and traveling abroad. Maybe they'll compete, maybe they wont. It won't be definite until the last possible second.
It was tough to make the decisions, especially as the lineups went from six team members to five, Kevin Mazeika, the men's gymnastics national team coordinator, said in an interview with the Emporia Gazette.
"This is definitely the toughest one because we have so many great athletes," Mazeika said. "We're so deep. We knew it was going to be tough coming in and it was."
If one were to compete, he has his chance to prove himself and can be a part of the glory or the pain. If he doesn't compete than he's still a part of it, but not really. Alternates do not receive Olympic medals.
Alternates are an important and integral part to any Olympic team because they might be called up.
The alternates will stay in Birmingham—about two hours northwest of London—during the games.
Here's a look at the three alternates for the U.S. men's gymnastics team: Chris Brooks, Steven Legendre and Alexander Naddour. All three are former Oklahoma Sooners—Brooks graduated in 2009, Legendre in 2011 and Naddour left during 2011 to train with his father.
Chris Brooks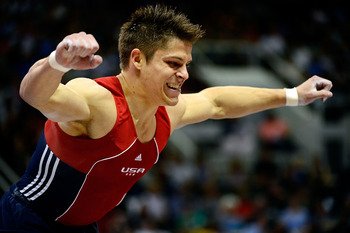 Ronald Martinez/Getty Images
It can be said that the last spot on the Olympic roster came between Brooks and Jake Dalton.
After four days of competition at Trials and Visa's the two tied for fourth place in the all-around.
In the individual events, Brooks finished fifth on floor, rings, vault and parallel bars— seventh on high bar and ninth on pommel horse.
Brooks had falls on vault and parallel bars—two of his best events—on day one of Trials.
Brooks is considered more of an all-around gymnast than an alternate and could step in for Sam Mikulak if his ankles do not fully heal.
In an interview with the Emporia Gazette, Brooks said there was a chance he may compete. "I'm going to prepare like I'm on the team," he said. "But I fully expect the five guys to rock it."
Brooks will try to stay focused, pointing out the U.S. used two alternates in Beijing four years ago.
"That's something you notice," he said. "At the same time, you know you want the guys in front of you to stay healthy."


Steven Legendre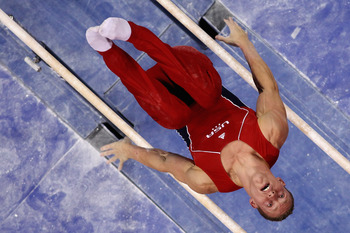 Ezra Shaw/Getty Images
Steven Legendre is not technically a specialist, but he sticks out on floor and vault.
He finished second on floor and third on vault after Trials and Visa's—and that was after having a terrible second day at Visa's.
Legendre has high difficulty on floor and vault, but he has never had any Worlds medals.
It is likely he would fill in for Jake Dalton, who also stands out on floor and vault.
"Gymnastics, the unfortunate reality is that it's a dangerous sport and anything can happen," Legendre said in a press conference. "So I think myself and the other two alternates feel that we're in a very important position to be 100 percent ready. If we need to go out there and compete, I think we'll all be there."
Alexander Naddour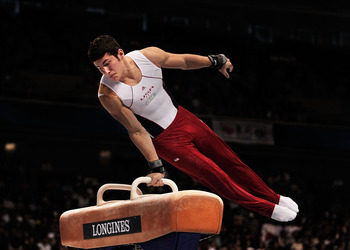 Adam Pretty/Getty Images
Naddour was selected as an alternate because of his pommel horse prowess.
He wasn't perfect during the four days of competition—14.75, 15.35, 15.40, 14.80—and still won by 1.3 points.
I even thought he might get a spot on the team, solely because there's concern about team USA being weak on pommel horse. It's the event USA has the lowest scoring potential on, although the rest of the world is typically weak at it.
Naddour can compete in all the events, but he will probably only be called up for pommel horse if necessary. His next highest finish at Trials was eighth place on the rings, which is also one of Team USA's weaker events.
Keep Reading