MLB Power Rankings: Who Leads the Awards Races at the All-Star Break?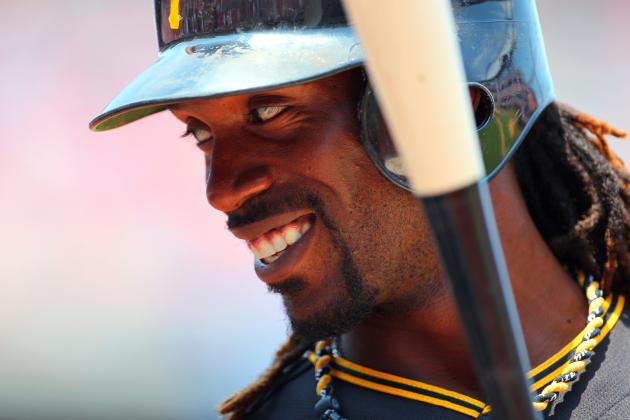 Rich Schultz/Getty Images

The unofficial first half of the 2012 Major League Baseball season has now come to a close. And since we're right upon the cusp of this year's All-Star break, I'm sure everyone is psyched for the upcoming festivities.
But before we watch the game's very best all take the same field on the same night, let's take a look at which players are leading the league's awards races thus far.
Here are the first half power rankings for the 2012 MLB hardware.
Begin Slideshow

»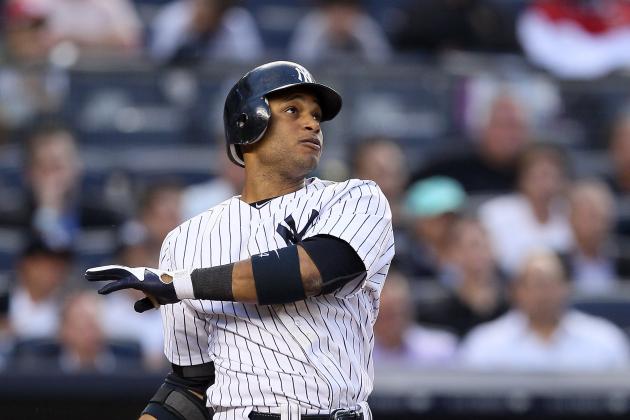 Elsa/Getty Images

1) Robinson Cano (NYY): .313 AVG, 20 HR, 51 RBI, 57 R, 1 SB
2) Josh Hamilton (TEX): .308 AVG, 27 HR, 75 RBI, 54 R, 6 SB
3) Mike Trout (LAA): .341 AVG, 12 HR, 40 RBI, 57 R, 26 SB
4) Adam Jones (BAL): .289 AVG, 20 HR, 44 RBI, 54 R, 11 SB
5) Mark Trumbo (LAA): .306 AVG, 22 HR, 57 RBI, 42 R, 4 SB
For some particular reason, the meaning of any sports' Most Valuable Player has become a bit misconstrued. The honor does not necessarily tab the player with the best statistics, rather his individual value to his respective club or team.
In this case, that man is Yankees second baseman Robinson Cano. Sure, Texas' Josh Hamilton does beat out Cano in just about every major offensive category. But when determining which player means the most to his team, the process isn't exclusive to offensive numbers.
When I look at Cano I see offense, defense and perhaps most importantly, durability. He has played each of the Yankees' 85 games so far at an extremely high level. Cano hits just about as well as anyone and plays incredibly efficient defense at a premium position.
And what if you take Cano and Hamilton off of their respective teams? Would the Yankees or Rangers be worse off if so?
The simple answer to that screams Yankees. With Alex Rodriguez and Mark Teixeira turning in less than stellar numbers so far, the first place Yanks couldn't afford to lose Cano.
The Rangers, on the other hand, have benefited from a more efficient offense. Although Hamilton is having a ridiculous season, guys like Adrian Beltre, Nelson Cruz, Ian Kinsler and Elvis Andrus are also enjoying above average campaigns.
Cano has his Yankees sitting atop the highly competitive AL East with the best overall record in all of baseball.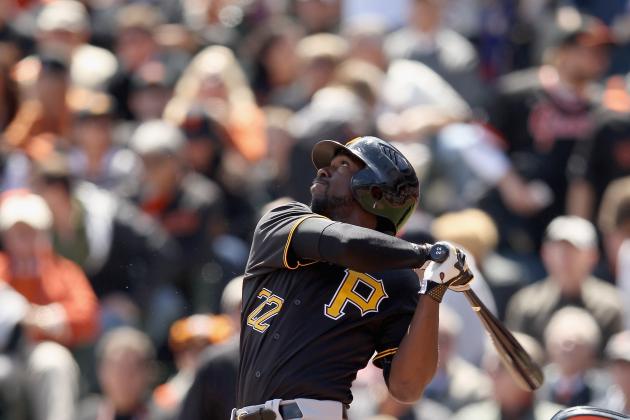 Ezra Shaw/Getty Images

1) Andrew McCutchen (PIT): .362 AVG, 18 HR, 60 RBI, 58 R, 14 SB
2) Joey Votto (CIN): .348 AVG, 14 HR, 48 RBI, 50 R, 5 SB
3) David Wright (NYM): .351 AVG, 11 HR, 59 RBI, 56 R, 9 SB
4) Ryan Braun (MIL): .306 AVG, 24 HR, 61 RBI, 56 R, 15 SB
5) Melky Cabrera: .353 AVG, 8 HR, 44 RBI, 55 R, 10 SB
Joey Votto has had a vice grip on this race since the early goings of the season. Until now.
With his Pittsburgh Pirates sitting atop the NL Central by one full game, Andrew McCutchen is the easy choice for the first half Most Valuable Player.
For one, the numbers are simply outrageous for the young outfielder. He's tops in the league in batting average, third in runs batted in, third in runs scored and fourth in homers.
But most of all, he's leading the Pirates to a 48-37 record. That's right. The Pittsburgh Pirates are 11 games over .500.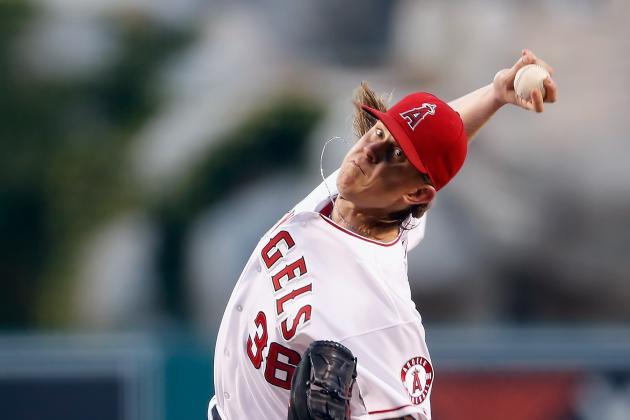 Jeff Gross/Getty Images

1) Jered Weaver (LAA): 10-1, 1.96 ERA, 96.2 IP, 73 SO, 0.90 WHIP
2) Justin Verlander (DET): 9-5, 2.58 ERA, 132.2 IP, 128 SO, 0.95 WHIP
3) Chris Sale (CHW): 10-2, 2.19 ERA, 102.2 IP, 98 SO, 0.95 WHIP
4) David Price (TB): 11-4, 2.82 ERA, 111.2 IP, 105 SO, 1.20 WHIP
5) C.J. Wilson (LAA:) 9-5, 2.43 ERA, 111.1 IP, 88 SO, 1.16 WHIP
He hasn't pitched as many starts as his fellow competitors, but Jered Weaver's first half campaign is just straight up ridiculous.
Not only has the right-hander won 10 of his 15 starts, he has also held opponents to a minuscule .188 batting average. Weaver also boasts the lowest earned run average in all of baseball and has helped the Angels rebound back into contention after a horrific start.
And oh yeah, he tossed a no-hitter against the Minnesota Twins back on May 2.
Justin Verlander, last year's American League Cy Young winner, places a close second with his workhorse of a season.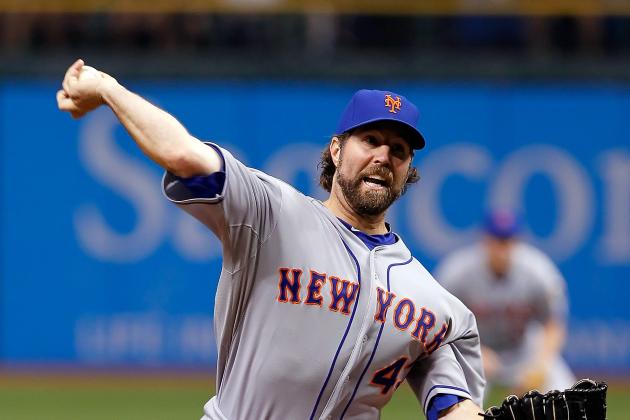 J. Meric/Getty Images

1) R.A. Dickey (NYM): 12-1, 2.40 ERA, 120.0 IP, 123 SO, 0.93 WHIP
2) Gio Gonzalez (WSH): 12-3, 2.92 ERA, 101.2 IP, 118 SO, 1.11 WHIP
3) James McDonald (PIT): 9-3, 2.37 ERA, 110.0 IP, 100 SO, 0.97 WHIP
4) Matt Cain (SF): 9-3, 2.62 ERA, 120.1 IP, 118 SO, 0.96 WHIP
5) Johnny Cueto (CIN): 10-5, 2.39 ERA, 120.1 IP, 91 SO, 1.16 WHIP
There have been quite a few worthy arms thus far in the National League. This award, however, has a clear cut leader at the break. That leader is none other than the knuckleballer himself, Robert Allen Dickey.
In addition to the sparkling numbers you see above, Dickey has compiled some incredible work in your less conventional stats. He has already tossed two one-hit complete game shutouts this season. Both of which he reached at least 12 strikeouts.
Dickey also strung together 44.1 innings consecutive innings of not allowing a single earned run.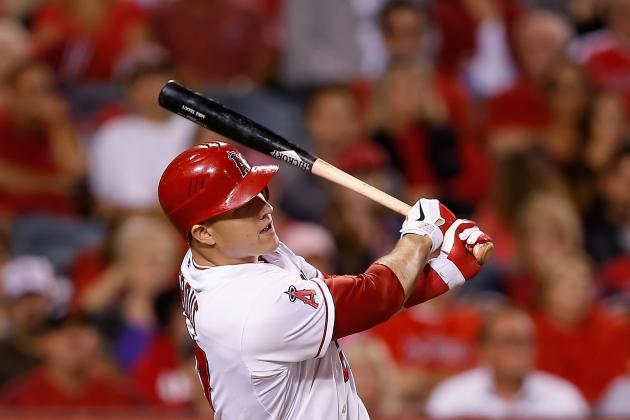 Jeff Gross/Getty Images

1) Mike Trout (LAA): .341 AVG, 12 HR, 40 RBI, 57 R, 26 SB
2) Yu Darvish (TEX): 10-5, 3.59 ERA, 102.2 IP, 117 SO, 1.36 WHIP
3) Will Middlebrooks (BOS): .298 AVG, 10 HR, 37 RBI, 25 R, 3 SB
4) Yoenis Cespedes (OAK): .263 AVG, 9 HR, 36 RBI, 19 R, 6 SB
5) Tommy Millone (OAK): 8-6, 3.57 ERA, 108.1 IP, 72 SO, 1.18 WHIP
There isn't much to really go over here.
As a top tier contender for the league's Most Valuable Player honors, Mike Trout is clearly the AL's top rookie right now. His .341 batting average is tops in the league and has also added in 12 homers, 40 runs batted in and 26 stolen bases.
But those aforementioned numbers were not compiled through a normal first half. Trout has put together that impressive campaign in just 64 games.
Trout has been the major driving force behind the Angels' turnaround, picking up the slack for a below average Albert Pujols this season.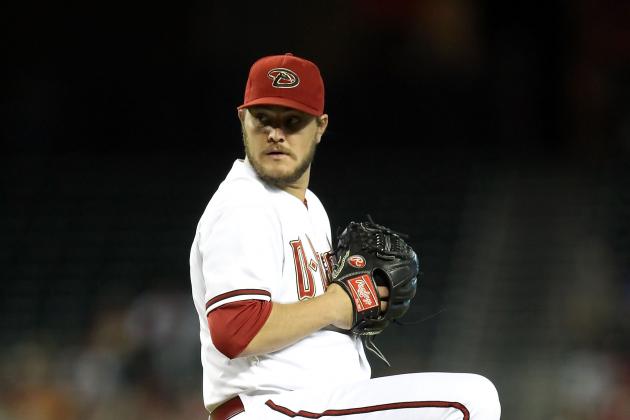 Christian Petersen/Getty Images

1) Wade Miley (ARI): 9-5, 3.04 ERA, 100.2 IP, 70 SO, 1.09 WHIP
2) Bryce Harper (WSH): .282 AVG, 8 HR, 25 RBI, 43 R, 10 SB
3) Wilin Rosario (COL): .247 AVG, 14 HR, 36 RBI, 29 R, 3 SB
4) Todd Frazier (CIN): .278 AVG, 9 HR, 29 RBI, 22 R, 1 SB
5) Kirk Nieuwenhuis (NYM): .268 AVG, 7 HR, 25 RBI, 39 R, 4 SB
Sorry, I'm not riding on the Bryce Harper train just yet. Although the 19-year-old Harper has turned in quite an impressive start to his promising career, there's been one National League rookie that's been better—Arizona's Wade Miley.
Miley has put together a silent, but very good season so far. His nine wins along with his 70 punch outs lead all National League rookies. The left-hander has been an extremely valuable part of the Diamondbacks rotation and has earned himself a spot in Tuesday's All-Star game.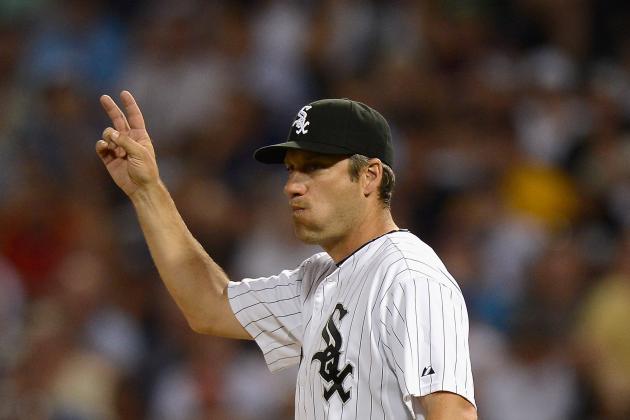 Jonathan Daniel/Getty Images

1) Robin Ventura (CHW): 47-38, 1st in AL Central
2) Buck Showalter (BAL): 45-40, 2nd in AL East
3) Joe Girardi (NYY): 52-33, 1st in AL East
4) Ron Washington (TEX): 51-34, 1st in AL West
5) Manny Acta (CLE): 44-41, 2nd in AL Central
Robin Ventura has accomplished quite a bit in his first year as a major league skipper.
As we sit at the break, Ventura has his White Sox three games atop the American League Central. Despite not having the best talent in the league, Chicago has bought into the rookie head coach as they look down at the likes of Cleveland and Detroit.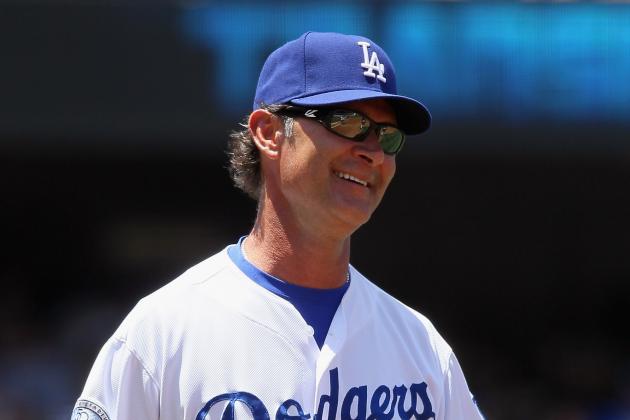 Jeff Gross/Getty Images

1) Don Mattingly (LAD): 47-40, 1st in NL West
2) Clint Hurdle (PIT): 48-37, 1st in NL Central
3) Davey Johnson (WSH): 49-34, 1st in NL East
4) Terry Collins (NYM): 46-40, 2nd in NL East
5) Mike Matheny (STL): 46-40, 3rd in NL Central
The Los Angeles Dodgers certainly do not have the most intimidating lineup in baseball. And when you ass the fact that their best player, Matt Kemp, has played in just 36 of the team's 87 games, it might be a miracle that the Dodgers are in first place.
Manager Don Mattingly has led and maintained a first place NL West lead for his Dodgers for the majority of the season's first half. Although fellow candidates Clint Hurdle and Davey Johnson have also grasped division leads, Donnie Baseball has done it with far less talent on the roster.