UFC 148: Predictions for the Main Card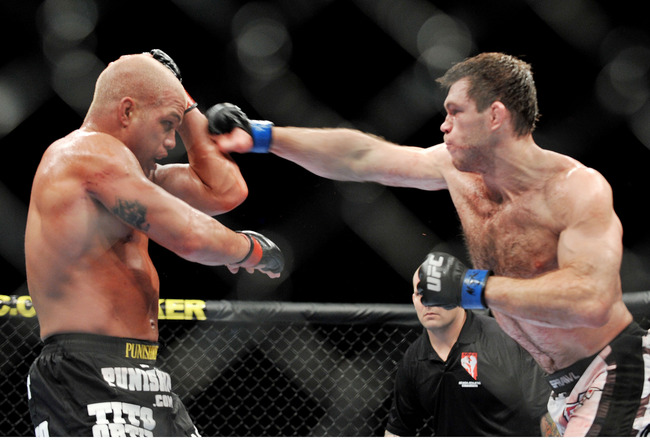 Jon Kopaloff/Getty Images
UFC 148 showcases the biggest main card of the year with compelling matchups from top to bottom.
From Ivan Menjivar and Mike Easton's bantamweight showdown to Anderson Silva and Chael Sonnen's grudge match, the card provides remarkable style clashes.
As a result, predicting such chess matches between high-caliber athletes is rather enticing.The only question that remains is if a journalist has enough bravery to pick Sonnen against Silva.
That's rubbish! There's no way anyone could pick Sonnen to upset Silva... Could they?
Mike Easton vs. Ivan Menjivar
Mike Easton and Ivan Menjivar is a solid pick for Fight of the Night.
Since coming from the WEC, Menjivar is undefeated and was being considered as a replacement for Dominick Cruz to face Urijah Faber for the bantamweight interim championship fight. The spot was given to Renan Barao and Menjivar was set to face Easton at UFC 148.
Considering that he was on the verge of receiving a title shot, that should make Menjivar the favorite, right? Wrong. Easton is a wrecking ball. He's 12-1 in his MMA career and won both of his UFC fights in impressive fashion.
He's a strong wrestler that likes to get into some wild exchanges, and putting him against another guy who's willing to bang like Menjivar is a calculated move by UFC matchmaker Joe Silva. This fight will go everywhere and it will be entertaining throughout, with Easton walking away the victor.
Prediction: Mike Easton via Decision
Chad Mendes vs. Cody McKenzie
How do you choke a man with no neck?
Of Cody McKenzie's 15 opponents, 10 of them have been submitted by his go-to-guillotine, the McKenzietine.
But here's the deal with this matchup, Chad Mendes has no neck. The guy is all shoulders. So how in the world is he going to apply that guillotine on Mendes?
Here's a better question: how did this matchup even come about? Mendes is leaps and bounds above McKenzie. In fact, Mendes is coming off of the first loss in his career to featherweight champion Jose Aldo, while McKenzie sports a 2-2 UFC record.
Don't expect this one to be close. McKenzie will push forward and try to make it entertaining, but Mendes will bring it to the ground and batter McKenzie with ground-and-pound.
Prediction: Chad Mendes via First-Round TKO
Dong Hyun Kim vs. Demian Maia
Dong Hyun Kim vs. Demian Maia could be exciting, but more than likely, it'll be the most boring fight on the main card.
That in itself isn't terrible, simply because of how stacked the main card is, but it's hard to stand out on a card this rich in talent.
For some reason, Maia seems to want to stand and show off his striking game against his opponents lately, while Kim has been doing much of the same.
Both guys are strong grapplers with tremendous ground games, and because of that, we could see both fighters trading strikes in the center of the Octagon.
With Maia's sub-par striking and Kim's judo-first style, Kim will most likely instigate the clinch at some point and bring it to the mat. Kim's good enough to stay away from Maia's dangerous submission game, and he will grind out a decision.
Prediction: Dong Hyun Kim via Decision
Cung Le vs. Patrick Cote
Any time Cung Le is on the card, he's a favorite for bringing home Fight of the Night honors.
Add in the fact that he has a pretty game opponent in Patrick Cote, and the odds are in his favor once again for stealing the show.
Expect Le to look strong early with his versatile striking. With one kick after another, Le will dazzle the fans with his spectacular striking. But Cote is a veteran in the cage.
After receiving his walking papers in 2010 from the UFC, Cote has went on a four-fight win streak, and he's looking to pull off a victory in his first fight back with the company.
Cote can endure punishment while moving forward, and that's just what he will do in this fight. Le will fade in the second round, as he tends to normally do.
Prediction: Patrick Cote via Second-Round TKO
Forrest Griffin vs. Tito Ortiz III
While many fans complained about a third fight between Forrest Griffin and Tito Ortiz, I was ecstatic.
Griffin and Ortiz always put on great fights, as their two previous bouts can account for that.
Entering their trilogy fight, which is Ortiz's last UFC fight, several questions emerge. The first being if Ortiz can take this fight to the ground and do some vintage Tito Ortiz ground-and-pound. Can he force his will on Griffin like he did in the past?
The second question is if Griffin's striking will be too much for Ortiz in the rubber match. With both fighters splitting the previous encounters, Griffin got the better of the striking in both bouts.
Will Griffin be able to overwhelm Ortiz and force a stoppage this time? He'll dominate the striking once again, but he won't finish Ortiz.
Prediction: Forrest Griffin via Decision
Anderson Silva vs. Chael Sonnen II
There's just no way anyone could pick Sonnen to win at UFC 148 with a clean conscience. It can't be done.
Silva is the greatest champion the UFC has ever seen, and if he wins tonight, he will be 15-0 inside the Octagon. No other fighter can make such a claim, and most likely, no other fighter ever will.
But there's just something in the air tonight. There's just something about Sonnen's pressure that frustrates Silva and doesn't allow him to get off on his striking.
With rib injuries and testosterone levels aside, Sonnen should be able to get this fight to the ground when he wants to.
If he can advance his position and avoid the triangle, we could very well see a repeat of UFC 117 with a different conclusion.
Prediction: Sonnen via Decision
Keep Reading