WWE Stock Watch: Tyson Kidd, AJ, Brodus Clay; Whose Stock Is Up?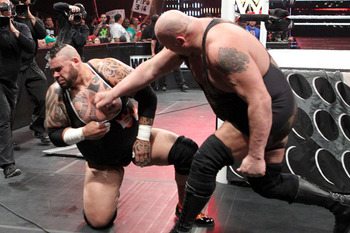 From Sify
Money in the Bank season coincides with the showcasing of young, hungry talent looking to make a pivotal leap onto the main event stage. And while several WWE stars will look to do so by winning the Money in the Bank match, some don't even need to set foot on a ladder to make an impression.
In AJ's case, she's much more comfortable setting foot atop a turnbuckle before threatening to jump.
Booking patterns have suggested a separation of talent as some new names, and some familiar, appear destined to climb a ladder of success while others very well may crash and burn.
STOCK UP: AJ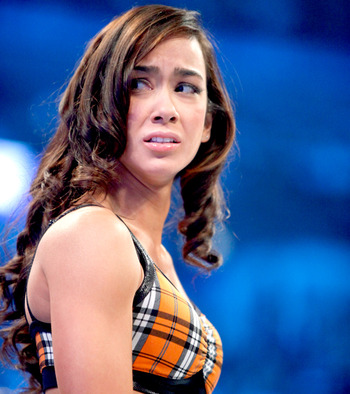 From WWE.com
AJ's stock couldn't be any higher if the late Steve Jobs had announced her IPO. In AJ, the WWE may have their most complete diva in several years. Trish Stratus could work, but she was a terrible actress. Kelly Kelly excelled as eye candy but she was a terrible worker and actress.
AJ's proficiency in all three of the above categories put her in the same rarefied air as Lita—a dynamic performer and in-ring worker who knew how to execute her role to perfection.
As AJ continues to transform from girl-next-door to mental patient-next-door, as a key piece in the ongoing WWE Championship feud between Daniel Bryan and CM Punk, her stock will only continue to soar.
STOCK DOWN: Brodus Clay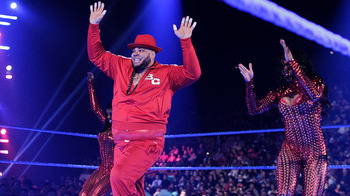 From WWE.com
For a while, Brodus Clay was undefeated and somehow managed to make an otherwise silly gimmick work.
However, after being fed to the Big Show for weeks and unceremoniously defeated on RAW, Clay has gone from potential main-eventer to Akeem.
STOCK UP: Dolph Ziggler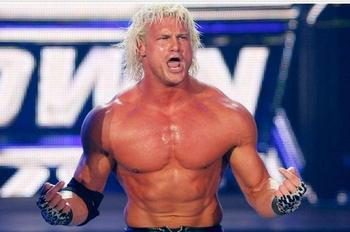 From WWE.com
Dolph Ziggler has been re-re-invigorated through his continued working relationship with Vickie Guerrero. The WWE seems as close to finally pulling the trigger on Ziggler as they have in years, and Ziggler will walk into a wide open Money in the Bank match as one of the modest favorites.
STOCK DOWN: Sin Cara
From WWE.com
Sin Cara has been less awkward in the ring since his return, but any momentum he had accumulated as the freshly heralded "biggest draw in Mexican wrestling history" was lost with a swift knee to the head by Alberto Del Rio.
Sin Cara received the Brodus Clay treatment recently on RAW as Del Rio attacked the former Mexican wrestling star before their match even began. Creatively, this could be seen as a means of protecting Sin Cara so he doesn't take a clean loss, but I'd argue this is worse.
STOCK UP: Tyson Kidd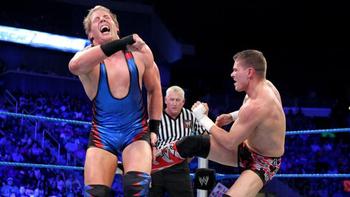 From WWE.com
Tyson Kidd is receiving the biggest push of his career and one that is well-deserved given his incredible skill set.
After qualifying for the world heavyweight championship Money in the Bank match, Kidd scored a shocking upset victory over Tensai, and while he did take a locker room beating as a result, it's obvious the WWE at least wants fans to take notice of Tyson Kidd for the time being.
STOCK DOWN: Tensai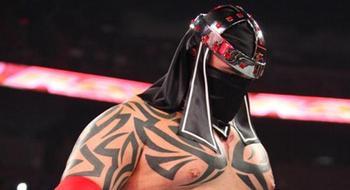 From WWE.com
Tensai is pressing as he still has yet to connect with this era of American wrestling fans. After dropping his Japanese robe and disciple, Tensai only has his American roots to blame if he still struggles to get over.
The artist formerly known as A-Train is quite the longshot to win Money in the Bank given his fall from grace as of late, not to mention the fact that the briefcase gimmick really doesn't suit his brand of heel character to begin with.
STOCK UP: Damien Sandow
Damien Sandow slowly, but surely, continues to progress in a throwback heel role. Sandow's gimmick may require a bit more tweaking in order to be less vanilla moving forward, but strong promos and a smug attitude in the ring have clearly established him as a premiere heel.
You're welcome.
STOCK DOWN: Zack Ryder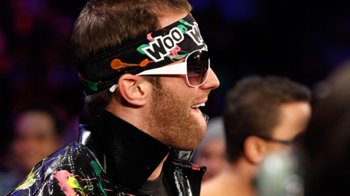 From WWE.com
The WWE may have missed a significant opportunity for a much-needed babyface star in Zack Ryder. For the jaded wrestling fan of today, it is quite rare for a babyface to be cheered as universally as Zack Ryder is.
Ryder lost to Damien Sandow as he vied for a spot in the world heavyweight championship Money in the Bank match and is not advertised to wrestle on the upcoming pay-per-view.
Ryder's self-made popularity may have played a hand in the continued hindrance of Ryder's character as he has regressed over the past several months to an enhancement talent.
Watch Big Nasty run down the best WWE Tweets of the week, then follow him on Twitter @ThisIsNasty!
Keep Reading