Michigan Football: Analyzing Denard Robinson's Strengths and Weaknesses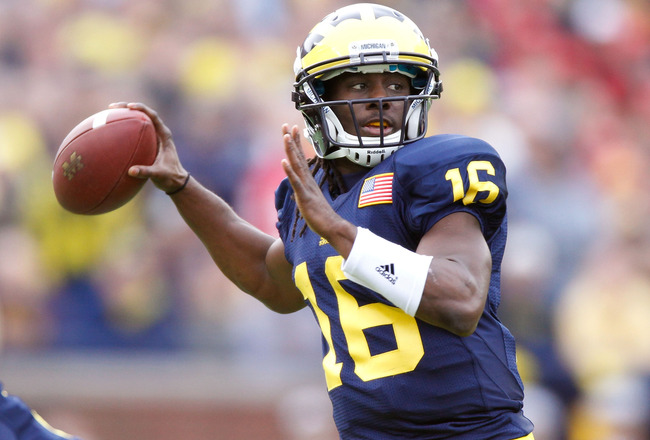 Gregory Shamus/Getty Images
Denard Robinson sure is a popular name in college football these days. For some, he is the subject of much criticism, while for others, he is subject of high praise.
Whatever your opinion of Denard Robinson is, there is no denying that he is one of the most explosive and exciting players college football has seen in recent memory. He certainly has his flaws, though.
Here's a look at the strengths and weaknesses of one of college football's biggest names, not only on the field, but off it as well.
Strength: Explosiveness and Playmaking Ability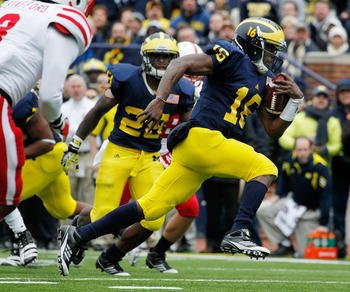 Gregory Shamus/Getty Images
I'm only 19 years old, so I haven't been watching college football as long as most people, but Denard Robinson is the most explosive and fastest quarterback I have ever seen.
I would love to call him the most explosive and fastest football player I have ever seen, but there have been a handful of players in the SEC over the last few years that probably can hold that honor.
But Robinson is the definition of a playmaker; he is literally a threat to score anywhere on the field, proven by his 87-yard touchdown run at Notre Dame in 2010.
Honestly, sometimes I think his rushing ability is taken for granted. For his career, he has 546 carries and has averaged 5.6 yards per carry. That is absolutely unheard of for a quarterback with that many rushes.
It almost feels that if he gains five or six yards on a play, it's looked at as mediocre and nothing special. His ability to gain five or six yards seemingly at will is a luxury that just about any team would love to have, and simply cannot be taken for granted.
Once he has graduated, he will likely be remembered by the country as the best running quarterback of all time, and one of the best athletes of the last few decades.
Weakness: Ball Security and Carelessness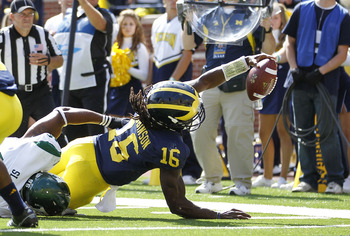 Leon Halip/Getty Images
Ball security has been an issue for Robinson throughout his entire career. Everybody knows how prone he is to throw interceptions, but fumbling has been a big issue as well.
He progressed mightily in 2010 as a passer, but then took a huge step back in 2011, constantly throwing the ball into traffic and making poor decisions.
In the last two regular season games of 2011 against Nebraska and Ohio State, Robinson looked like a completely different player. He made smart choices in both of those games, rarely, if ever throwing the ball into traffic, and basically protecting the ball with his life.
And look what the offense did—45 points were scored on a solid Nebraska defense, while 40 were put up on an adequate Ohio State defense.
Robinson simply needs to protect the ball that way in all of 2012. When you think about it, it's really not that much to ask; just simply protect the ball better when rushing and do not throw into traffic or lob the ball into the air.
Strength: Leadership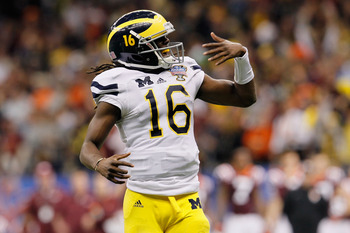 Kevin C. Cox/Getty Images
Some may disagree with this one because he doesn't always seem to be the most vocal leader. However, I think as he gets older, he is becoming more and more vocal.
As we all know though, it's what you do on the field that counts. Robinson has been leading Michigan's offense since his sophomore year of 2010, and has obviously done some incredible things.
People may look at Michigan's record and say that he doesn't have the wins to show for it, but that obviously wasn't his fault in 2010; Robinson and the offense did their part that year.
Still, you never heard him once complain about the defense. He has never quit on this team, and honestly never would. Even when he has been pulled from games because of injury, we saw him standing on the sideline with his helmet on, fully ready to go back in.
I really can't think of a better option than Robinson to be leading this Michigan offense.
Weakness: Throwing Ability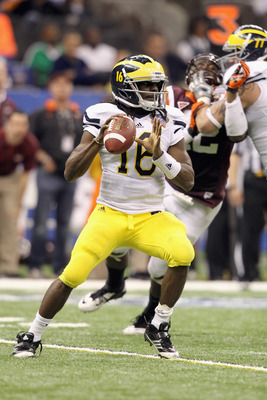 Matthew Stockman/Getty Images
Robinson's throwing ability (or lack thereof) has been a topic of hot debate over the last few years. How could he have looked so good in 2010, and then regress so much in 2011?
Was it the changes on the coaching staff? Or learning a new offense? Whatever it was, Robinson needs to revert back to his 2010 form in 2012.
With the amount of tough games they have, Michigan cannot afford Robinson to be making poor reads, constantly throwing into coverage and basically relying on his receivers to make plays.
If he can have a solid year throwing the ball as a senior, it can prove all of his critics wrong. He has been criticized endlessly throughout his career, with people saying he's not a true quarterback because he doesn't throw well enough.
That image can be shattered with a solid senior season.
Strength: Personality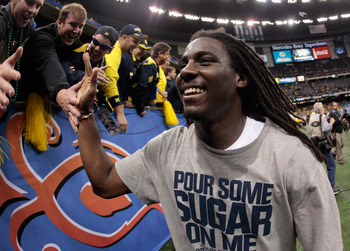 Chris Graythen/Getty Images
Some may think that this one is cheesy or unrealistic, but I really think Robinson's personality has a huge impact on this football team. His teammates love playing with him, and want him to do well.
Anybody that has ever listened to Robinson's interviews knows that he is all about THE TEAM, THE TEAM, THE TEAM!
He is way too humble to accept any of the credit in a big win, yet he will be the first to take all the blame in a loss. He cares a tremendous amount about his teammates, and as a result, plays his heart out every time they take the field.
It seems as if every interviewer and/or analyst has a great time when they do a segment on Robinson. With his attitude though, how can you blame them?
Denard Robinson will be sorely missed once he graduates around college football and around the University of Michigan, as he is certainly a true Michigan Man.
Keep Reading

Michigan Wolverines Football: Like this team?