8 Most Overpaid, Underpaid Seattle Seahawks Currently on Roster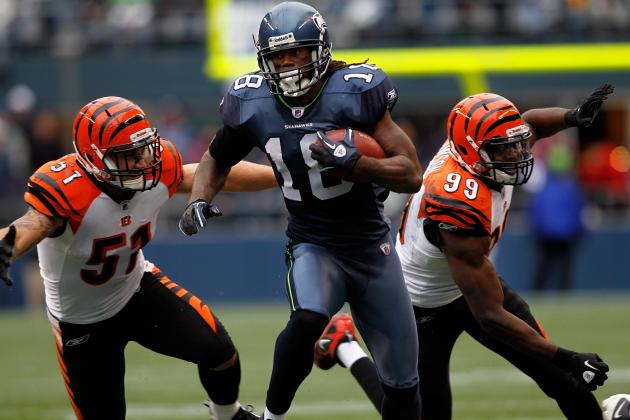 Jonathan Ferrey/Getty Images

Players in the National Football League are some of the highest compensated individuals in the world. However, there is a large disparity with some of their contracts, often generating buzz about what player is overpaid or what player is underappreciated by his team.
The Seattle Seahawks are largely comprised of young talent, but they have also attracted some upper-tier players in free agency. Some have lived up to their contracts while others have not.
Then there are the likes of players that are yet to play a down for Seattle. In a few months fans will start to weigh in on Matt Flynn's contract and if it was a good decision or not. Russell Wilson was signed to an affordable contract and could end up outplaying his deal in the next few seasons.
Here is an analysis of some players that have been scrutinized along with some players that are giving the Seahawks incredible bang for their buck.
Salary information for this article was taken from spotrac.com unless otherwise stated.
Begin Slideshow

»
Jay Drowns/Getty Images

Contract Years: Five, 2011-2015
Guaranteed Amount: $13 million
Total Value: $34 million
Average Value: $6.8 million per year
Zach Miller was a coveted free agent prior to the 2011 season. The Seahawks were able to use the presence of Miller's former coach, Tom Cable, to lure the tight end north.
While his contract high a hefty price tag, it was the going rate for a Pro Bowl tight end. The issue in Seattle is they didn't get the offensive production one would expect.
Miller's contract has been called the worst in the NFL. However, it isn't fair to blame Miller—at least not yet.
The Seahawks offensive line struggled last season and Miller turned into a glorified offensive tackle for much of the year. He also had a quarterback that didn't know how to properly use him.
Both of those issues should change this season, as the line should be more experienced and Seattle will likely have a new thrower under center.
Miller deserves a mulligan for last season. Seahawks fans are eager to see how he uses it with new tight end Kellen Winslow, Jr.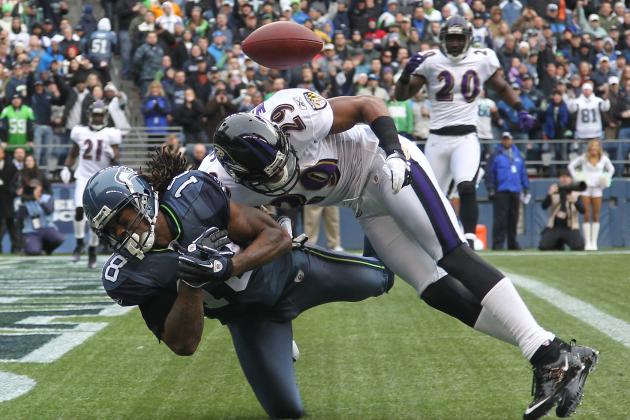 Otto Greule Jr/Getty Images

Contract Years: Five, 2011-2015
Guaranteed Amount: $18 million
Total Value: $41 million
Average Value: $8.2 million per year
When Sidney Rice is on the field he is one of the most dynamic receivers in the league. He has great height, impressive speed and is a sure-handed receiver. Rice has the ability to go up and secure passes as well as almost any player in the NFL. Granted, he's not at Larry Fitzgerald's level, but he isn't far behind him.
The issue with Rice is he just isn't on the field enough.
In his five-year career, Rice has played all 16 regular-season games just once. The results were telling that season, though. He had more than 1,300 receiving yards and went to the Pro Bowl.
If Rice can stay healthy and on the field there is little doubt he'll live up to his contract. He's been working on gaining muscle this offseason in hopes it will improve his durability. If he can stay healthy, the production will come and he'll be worth every bit of his $8.2 million per season.
However, his track record is against him.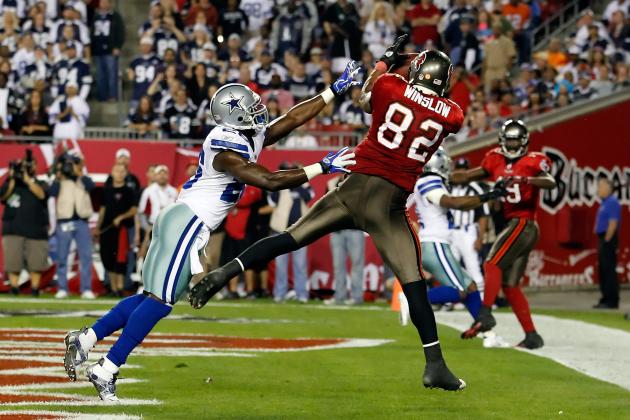 J. Meric/Getty Images

Contract Years: Six, 2009-2014
Guaranteed Amount: $20.1 million (completed in Tampa Bay)
Total Value: $36.1 million
Average Value: $4.4 million per year while in Seattle
The Kellen Winslow, Jr. trade was met with guarded optimism from most of the Seahawks fanbase. Yes, he's been a productive tight end for several years despite lingering concerns with his knee injury.
In fact, his worst season with the Tampa Bay Buccaneers (66 catches, 730 yards, five TDs) would be the best year ever for a Seattle Seahawk tight end.
The concerns were with taking on his perceived attitude issues and a contract that averages $6 million a season.
While the attitude will likely be something he'll need to work through with his new coaching staff and teammates, the money isn't an issue.
Most of the big dollar years in Winslow's deal have been paid. He's scheduled to make $3.3 million in 2012, $4.5 million next season and $5.5 million in the final year of his deal.
The Seahawks can cut ties with Winslow at any time without a pro-rated cap hit. There is no guaranteed money left and, at least for 2012, the contract is a relative bargain.
This move cost very little in draft capital and Seattle can part ways at any time if his production isn't validating the contract or his attitude costs more than the production.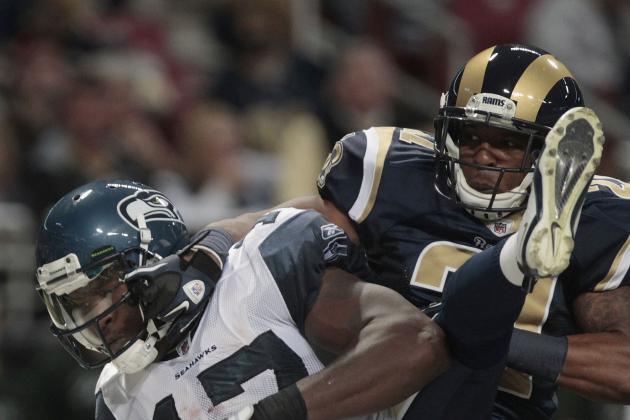 Whitney Curtis/Getty Images

Contract Years: Three, 2011-2013
Guaranteed Amount: $500,000 signing bonus
Total Value: $8.65 million
Average Value: $2.88 million per year
Mike Williams made $545,000 playing for the Seahawks in 2010. He had a prolific season and validated the Seahawks making him one of their higher-paid players.
He had more than 750 yards in 14 games, showing signs of a receiver that could post a 1,000-yard campaign.
The new contract with Seattle validated his efforts, but 2011 was a tough year. Williams never seemed to be on the same page as Tarvaris Jackson. The receiver felt he was open on plays, but Jackson struggled to throw the ball with defenders in the immediate vicinity.
It isn't exactly odd that Williams' biggest play on the season was a pass from Rice, not Jackson. While Williams appeared covered, his fellow wide receiver knew the ball would, at worst, be incomplete if he got the ball to Williams.
Instead, as seen in the picture above, Williams went up and got the ball for a 55-yard reception.
If Williams can show the form and production from 2010, his contract will be validated. However, if he doesn't have a better rapport with Seattle's quarterback this year he'll have another bloated contract.
The Seahawks front office of Pete Carroll and John Schneider have shown, via Lofa Tatupu, Marcus Trufant and Aaron Curry, that inflated contracts won't be allowed to linger for long.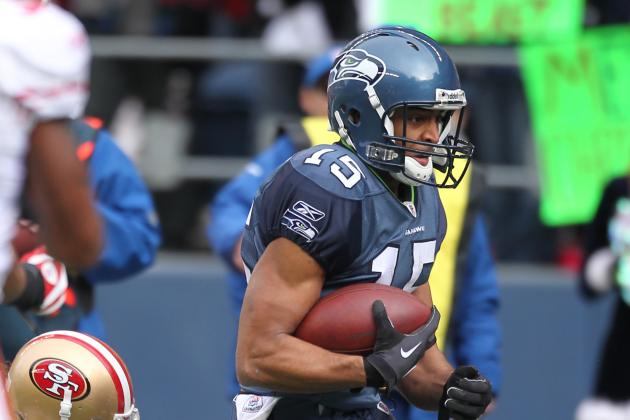 Otto Greule Jr/Getty Images
Two of Baldwin's four TDs came against his former coach, who didn't press for his services as much as the Seahawks.
Contract Years: Five, 2011-2015
Guaranteed Amount: $17,500 signing bonus
Total Value: $1.4 million
Average Value: $471,000 per year
Doug Baldwin had an incredibly good rookie season. He led the team in reception and yards, admirably taking up slack for the injured Sidney Rice and Mike Williams.
So while there will still be some discussion regarding Williams' contract this season, the verdict is in on Baldwin. Fans are simply awaiting the final statement—something that his second season with the Seahawks will do.
If Baldwin can put together another impressive season he will prove he is vastly underpaid and he'll be eagerly awaiting the opportunity to sign an extension with the team that actively pursued him last season. Even if his numbers wane slightly, the production they received from the undrafted receiver only serves to increase his overall value.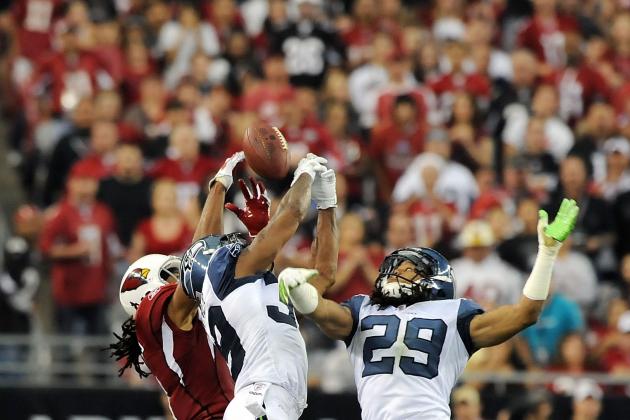 Norm Hall/Getty Images

Contract Years: Three, 2011-2013
Guaranteed Amount: None
Total Value: $1.3 million
Average Value: $433,000 per year
As a free agent with no accumulated years in the NFL, Brandon Browner was available for a league-minimum offer. There was no signing bonus, no guaranteed money and no security of making the Seahawks roster.
Browner was simply thankful a team thought it could use his unique skill set. He made $375,000 last season and played well enough to earn a spot in the Pro Bowl.
The Seahawks continue to hold all the cards with Browner.
He's under contract for two more years and will then be a restricted free agent. They can re-sign him to a long-term deal or see if the free-agent market comes to visit. Given that a team would need to surrender a first-round draft pick to sign him, offers could be slow.
Browner would also be 30 years old when the first season under his new contract started. That could keep some teams away.
Seattle will likely wait until following the 2013 season and then sign its impressive corner to a long-term deal. The cost will likely go up each season, though, so long as Browner continues to improve and stays healthy.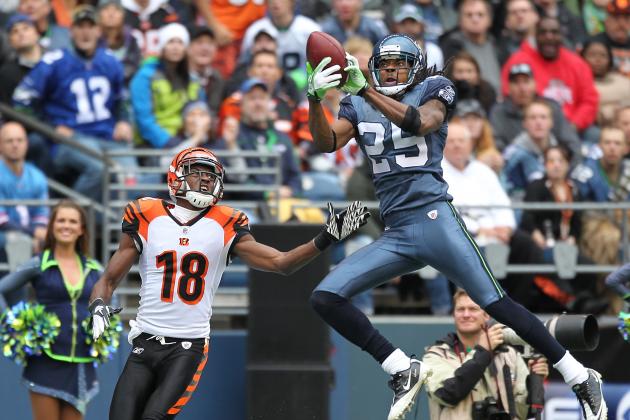 Otto Greule Jr/Getty Images

Contract Years: Four, 2011-2014
Guaranteed Amount: $182,424 signing bonus
Total Value: $2.2 million
Average Value: $0.555 million per year
Richard Sherman is an example of the new mid-round draft pick in the NFL that makes good. Players selected in Round 4 or later get very small signing bonus and then play for basically the league minimum.
Some of these players, like Sherman or K.J. Wright, play very well and will validate a hefty new contract when they become free agents.
Others don't make it out of their first NFL season.
Some will argue Wright is also underpaid, but even though he played well enough last season, he just wasn't on the same level. Sherman was arguably the best cornerback on the team last season, and his playing mate made the Pro Bowl.
Yes, Wright deserves a tip of the cap, but Sherman is seriously underpaid. That will eventually change. The Seahawks just need to be sure they have the cap room to keep him in Seattle.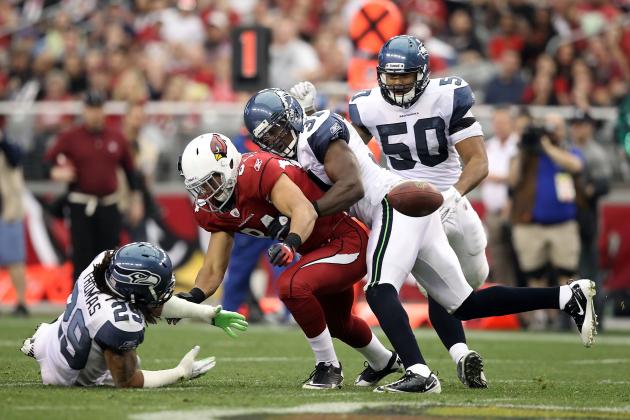 Christian Petersen/Getty Images

Contract Years: Four, 2010-2014
Guaranteed Amount: $213,000 signing bonus
Total Value: $2 million (less fines from the NFL)
Average Value: $0.5 million per year
If there is any player in the NFL that is more underpaid than Kam Chancellor, he's in rare company. There are several teammates that are almost as underpaid, but Chancellor's performance sets him apart.
Seattle's hard-hitting Pro Bowl safety signed at barely above the league minimum after being drafted in the fifth round of the 2010 NFL draft. He's going to get a very big raise at some point, and quite likely in the near future.
Chancellor takes a self-imposed pounding on the field and injuries are a concern. If the Seahawks are willing to discuss extension (and they should be), they can likely extend his deal below current market value by inking in a hefty signing bonus.
The move would save them in the long term and give Chancellor the financial security most NFL players covet.