College Basketball Preseason: Top 10 Eligible Transfers for the 2012-13 Season
Jonathan Daniel/Getty Images
The number of transfers in college basketball continues to increase each offseason. Every season, a bunch of these transfers, both successful and unsuccessful at their previous stops, break through onto the national scene at a new school.
Last year, players like UNLV's Mike Moser and Iowa State's Royce White became national sensations after being ineffective as freshmen at UCLA and Minnesota, respectively. Then there were also players like Iona's Momo Jones, who helped Arizona to the 2011 Elite Eight, and Mississippi State's Arnett Moultrie, who averaged 9.8 points and 6.7 rebounds at UTEP, led their new schools to postseason berths.
Here are 10 eligible transfers that will make a huge and immediate impact for their programs in the 2012-13 season.
Mark Lyons, Arizona Via Xavier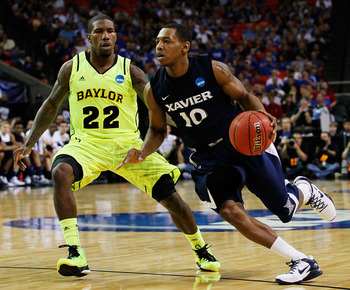 Kevin C. Cox/Getty Images
2011-12 stats with Xavier: 15.1 points per game, 3.2 rebounds per game, 2.8 assists per game
Mark Lyons was a crucial piece to Xavier's NCAA tournament run last year. He was No. 2 in scoring, assists and steals for the Musketeers, and he was also their best three-point shooter at 39.2 percent.
After three seasons with in the A-10, he is returning to the man that recruited him at Xavier, Sean Miller, who is now the head coach at Arizona. In a Sporting News article from May by Mike DeCourcy, Lyons mentioned his trust and confidence in Miller and his staff as a factor in his decision to join the Wildcats.
Lyons will be a huge help in the backcourt for Arizona.
The Wildcats will be loaded in the frontcourt with freshmen Kaleb Tarczewski, Grant Jerrett and Brandon Ashley and junior Solomon Hill. In the backcourt, they will have freshman Gabe York and rising sophomore Nick Johnson, the only key returning guard.
Lyons will have the immediate opportunity to become a key player and leader for the Wildcats. And unlike many transfers, he will not have to adjust as much to his new coach's system since he already played a season under Miller at Xavier.
Before acquiring Lyons, Arizona had the talent to be a Final Four contender, but there were questions surrounding their lack of experience. Lyons will add a valuable three years of experience plus appearances in three NCAA tournaments.
Trey Zeigler, Pittsburgh Via Central Michigan
Ethan Miller/Getty Images
2011-12 stats with Central Michigan: 15.8 points per game, 6.7 rebounds per game
Trey Zeigler initially chose to play for his dad Ernie at Central Michigan, but after the elder Zeigler was fired following the past season, the younger Zeigler chose to play out his final two years of eligibility at Pittsburgh.
Out of high school, Zeigler was ranked No. 33 in the ESPNU Top 100 and was recruiting by top-tier schools such as Arizona State, Michigan, Michigan State and UCLA. Even though he is coming from a mid-major program, he has the talent to be an impact player at a big school like Pittsburgh.
In his two years with the Chippewas, he averaged over 16 points per game and shot 42.6 percent from the field.
But expect his shooting numbers to rise during his time with the Panthers. Zeigler was easily the best player for the Chippewas the past two seasons, so he was expected to take the most shots, which unfortunately meant he also took a number of bad shots.
Zeigler will be surrounded by much more talent on Pittsburgh's roster, so he won't have to shoot as much and his percentages will have the opportunity to improve.
Alex Oriakhi, Missouri Via Connecticut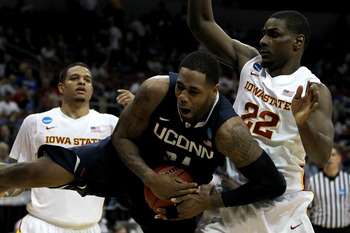 Jonathan Daniel/Getty Images
2011-12 stats with Connecticut: 6.7 points per game, 4.8 rebounds per game
Although Alex Oriakhi's 2011-12 numbers don't look too great, Oriakhi was a crucial player on Connecticut's 2011 championship team. In the 2010-11 season, he averaged 9.6 points, 8.7 rebounds and 1.6 blocks per game.
When he had to take a backseat to freshman stud Andre Drummond, he was clearly unhappy and it was no surprise that he chose to transfer.
Now, Oriakhi is joining Frank Haith's Missouri Tigers, a team that was criticized for a lack of height in the frontcourt last season.
He is the type of player who can average a double-double, and he will be a great presence in the paint. As a sophomore, he had 11 double-doubles, including one against Butler in the national championship game.
Rotnei Clarke, Butler Via Arkansas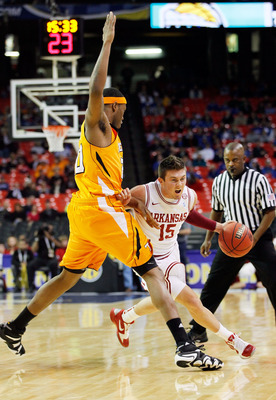 Kevin C. Cox/Getty Images
2010-11 stats with Arkansas: 15.2 points per game, 43.8 three-point percentage
Rotnei Clarke was a lights-out three-point shooter in his three seasons at Arkansas. The Oklahoma native averaged over 90 treys per season and shot 42 percent from beyond the arc.
As a sophomore, Clarke had a historic shooting night, making 13 of 17 three-pointers in a 130-68 win over Alcorn State. The 13 three-pointers in a single game is an Arkansas and SEC record, and it ranks No. 5 all-time in NCAA Division I.
Clarke is only six feet tall, but he makes up for his lack of height with a quick release that is difficult to defend. He is a natural shooter, and shooters are usually able to score no matter where they are playing.
Whether he starts for Brad Stevens' club or becomes one of the first guys off the bench, he will be an extremely valuable asset.
Luke Hancock, Louisville Via George Mason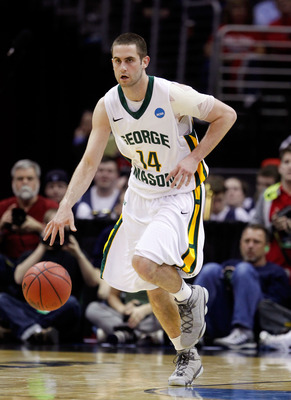 Gregory Shamus/Getty Images
2010-11 stats with George Mason: 10.9 points per game, 4.2 rebounds per game, 4.3 assists per game
Luke Hancock should fit perfectly in Rick Pitino's system.
At 6'6", Hancock was a point forward for George Mason with 4.3 assists per game. He was able to step out and hit some three-pointers, making 23 of 64 long-range attempts, and he could also get the job done inside. Hancock is a hard-nosed player who will be a valuable piece for the Cardinals this year.
Although he does not have the same athleticism, look for Hancock to put Terrence Williams-like numbers in 2012-13.
Keion Bell, Missouri Via Pepperdine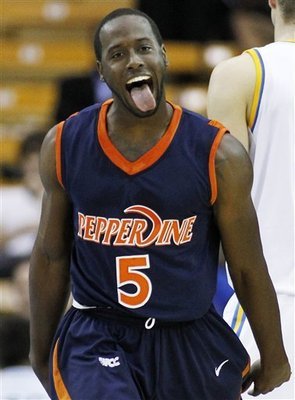 (Photo from pepperdine-graphic.com)
2010-11 stats with Pepperdine: 18.9 points per game, 4.1 rebounds per game
And here is one more key transfer that Haith picked up.
Keion Bell was a scoring machine during his nearly three years with Pepperdine. In just three seasons, he scored 1,365 points.
Bell will have the opportunity to fill a key spot at Missouri. The Tigers will have a solid frontcourt with Laurence Bowes and Alex Oriakhi and a pair of good guards in Michael Dixon and Phil Pressey, but without Bell they would not have a true scorer.
Will Clyburn, Iowa State Via Utah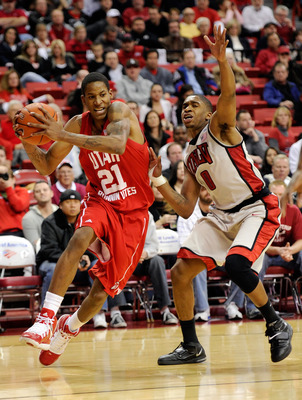 Ethan Miller/Getty Images
2010-11 stats with Utah: 17.1 points per game, 7.8 rebounds per game, 40.3 three-point percentage
Will Clyburn will spend his final year of eligibility at Iowa State.
Clyburn immediately emerged as a standout player with Utah in the 2010-11 season, finishing No. 3 in the Mountain West in both scoring and rebounding. He was also No. 8 in the conference in three-point shooting and No. 5 in free-throw shooting.
Clyburn will be a very dangerous player in the Big 12, and he will probably be Iowa State's best scorer.
Ryan Harrow, Kentucky Via NC State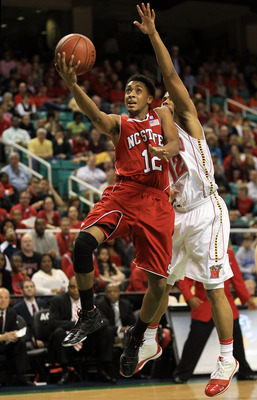 Streeter Lecka/Getty Images
2010-11 stats with NC State: 9.3 points per game, 3.3 assists per game
Ryan Harrow was a top-50 recruit out of high school and committed to NC State. With the Wolf Pack, he had a strong freshman showing, but he was not the most efficient player, shooting only 39 percent from the field.
With an extra year of experience and a superb coach in John Calipari, Harrow should be able to be more under control and became an important piece to Kentucky's run for a second consecutive national title.
Aaric Murray, West Virginia Via La Salle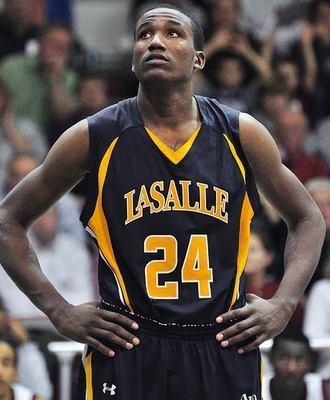 (Photo from xavierexaminer.blogspot.com)
2010-11 stats with La Salle: 15.2 points per game, 7.7 rebounds per game, 2.3 blocks per game
Aaric Murray was a beast in his time with La Salle. He led the Explorers in scoring, rebounding and blocks during the 2010-11 season. Among players with more than 15 minutes of playing time per game, he led the team in field-goal percentage at 48.4 percent. Murray was also a respectable three-point shooter for a big, making more than 35 percent of his treys.
In the 2010-11 season, he put up seven double-doubles. Although the Atlantic 10 is a step below the Big 12, Murray was still going up against very good competition every night. Making the adjustment to a more competitive conference should not be too much of a hindrance.
Nurideen Lindsey, Rider Via St. John's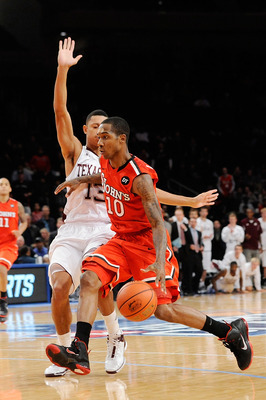 Patrick McDermott/Getty Images
2011-12 stats with St. John's: 12.4 points per game, 4.9 rebounds per game, 2.8 assists per game
After a season of junior college basketball, Nurideen Lindsey started his sophomore season with St. John's. The Philadelphia native played nine games with the Red Storm and then decided to take his talents elsewhere, and he wound up close to home at Rider.
With a hardship waiver making him eligible to be immediately, Lindsey will be Rider's best player from the first day by far, and he will even be one of the best players in the MAAC in his first year.
He proved his talent last year with St. John's, nearly notching a triple-double against UMBC with 15 points, 10 rebounds and nine assists.
Keep Reading