TNA Impact 07/05/12: What Worked and What Didn't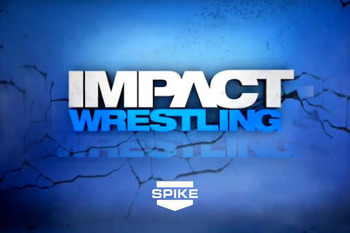 guysnation.com
On the go home show to Destination X, we got another fantastic show with one Bound For Glory series match, a couple of X-Division competition qualifiers and the highly controversial appearance of Ring Of Honor Tag Team Champion Kenny King.
Bound For Glory Table:
James Storm 36 points (2-0-1) 3 MATCHES
Samoa Joe 27 points (3-1-0) 4 MATCHES
Jeff Hardy 14 points (2-0) 2 MATCHES
Magnus 14 points (2-0) 2 MATCHES
Kurt Angle 10 points (1-1-0) 2 MATCHES
Mr. Anderson 9 points (1-2-1) 4 MATCHES
The Pope 7 points (1-1) 2 MATCHES
Rob Van Dam 7 points (1-1) 2 MATCHES
Daniels 5 points (1-1) 2 MATCHES
Bully Ray 0 points (0-2) 2 MATCHES
Robbie E 0 points (0-3) 3 MATCHES
AJ Styles 0 points (0-1) 1 MATCH
What Worked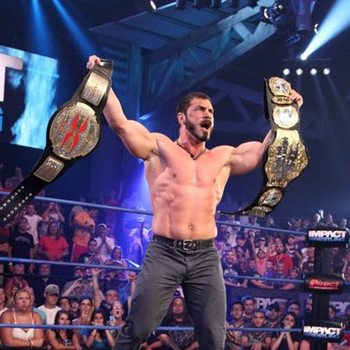 facebook.com
Bully Ray/Jospeh Park Segment - Bully Ray is gold on the microphone and Park seems to be getting more comfortable speaking every week. Bully Ray got massive heat from the crowd and I wouldn't be surprised if he is trending worldwide by the end of the show. The restraining order is an old trick but a good one, and it was perfect for the situation.
Hulk Hogan/Austin Aries -These two could be talking about baseball and I would be riveted because they are that good together.
Crimson vs. Devon - This match was borderline, but the huge reaction that Devon has been getting really helped this match get over the line. Outside of one bizarre botch, the match itself was throwaway and neither wrestler has any real personality. Crimson was patchy, but he looked good for the most part.
Chris Sabin/Bobby Roode Segment - I have never really equated Sabin with good mic work (mainly because Shelley did all the talking in the MCMG,) but he did a nice job of selling the emotion and the look of disgust when Roode walked in. Roode was at his best and he did a fantastic job of picking at Sabin and rubbing salt into the wound. Bonus points for the shot at Jesse Sorenson.
Flip Casanova vs. Dakota Darsow - Nice match from both guys, but Darsow seems like more of a brawler (A weaker form of Robbie E) and he doesn't have the technical base to keep up with guys like flip and that was really obvious here.
Tessmacher & Tara vs. Gail Kim & Madison Rayne - It was a decent match, but Tessmacher looked really weak during the whole thing. She got dominated by both Gail and Madison and the whole thing was handed to her on a platter by Tara.
AJ/Daniels/Kaz Segment - Everyone involved did a great job on the microphone, but the segment didn't answer anything. I really don't see this feud ending at Destination X.
Kenny King vs Lars Only - This match was over the moment Lars came out—there was no chance he would win. Kenny has main event potential written all over his face and I wouldn't be surprised if he was the one to cash in the main event chance next year. Lars did look good except for the big botch, but King is so talented.
Jeff Hardy vs. James Storm - A great main event that the crowd was super into. Giving Hardy the victory is a smart move as Storm had already built up a rather huge lead and Hardy had no points
Hulk Hogan/Bobby Roode/Austin Aries Segment - Do I really need to say why this worked? Three of the best mic workers and personalities in wrestling doing what comes naturally. Great way to end the show.
What Didn't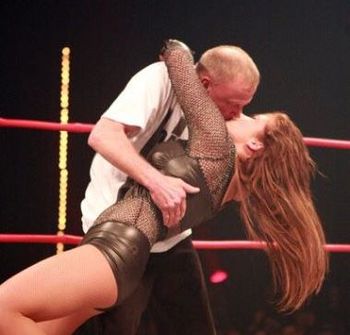 wrestlenewz.com
Madison Rayne/Earl Hebner - I get the Madison flirts with Earl in order to get what she wants, but genuinely having a thing for him is another situation entirely. I see no reason for this unless she is really screwing with Earl, then I may change my opinion.
Miss Tessmacher - The Knockouts champion looked (if I'm being blunt) pathetic during her match. After getting beat down by Madison Rayne (the least important person in the match,) she proceeds to get killed by Gail Kim,and she manages to tag in Tara who proceeds to do all her work for her! Terrible way to display your champion.
Random Thoughts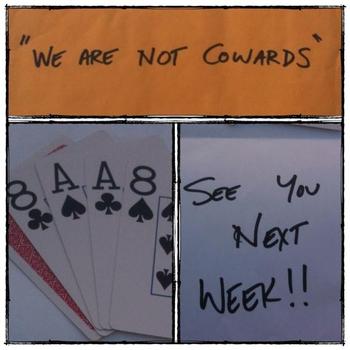 tnasylum.com
-Where the hell did Ray come up with the spit thing?
-You know a heel is great when he has to yell over the crowd booing him.
-Restraining order—perfect idea for the situation and perfect execution form Bully Ray.
-Oh God, Hulk Hogan is dressed like he is going to wrestle!
- Why are there so many replays of what happened last week? Surely our short term memory is good enough that we need just one.
-Holy crap, there is an actual TV title match and it involves a clean shaven Crimson!
-Bully Ray is already trending worldwide, that's got to the fastest trend worldwide ever.
-Wow, I knew it was Hebner that Madison had a crush on.
-Chris Sabin needs to take off the damn sunglasses indoors.
-When Roode kicked Sabin's crutch, I thought it was going into the crowd.
-Wasn't Dakota Darkow in last year's X-Division tournament? I hope he does better.
-STANDING SITOUT MOONSAULT from Flip Casanova!!! Where is this stuff coming from?
-Darsow got busted up badly from the spiral flip over the ropes.
-I don't even know what to call Casanova's finisher.
-Is Tara Tessmacher's bodyguard now because she just did all the work in their match?
-I love Daniel's Appletini thing he has going. It's just brilliant.
-What does the 8's & Aces thing mean? And how the hell did that guy just walk in and out of Hulk's office?
-Kenny King? Isn't he on contract with ROH?
-Samoa Joe vs. Kurt Angle at Destination X? Sold.
-There is one final spot for the X-Division tournament and one of the losers from the qualifiers will fight it out at the PPV for the spot.
Keep Reading