The Biggest Media Misconceptions About the Pittsburgh Steelers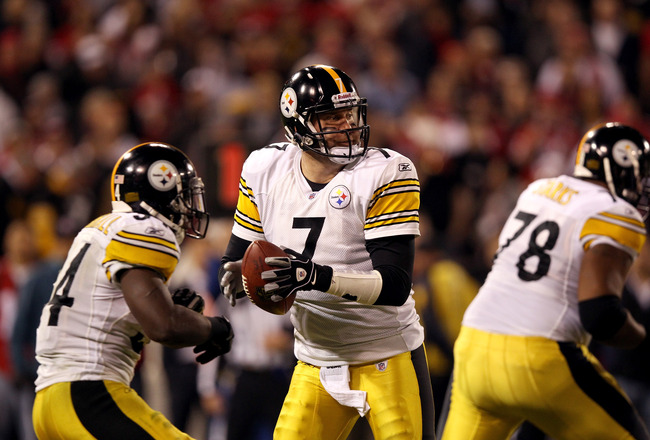 Ezra Shaw/Getty Images
The Pittsburgh Steelers, like every team, are perceived differently by different sets of people. One of the most influential, the media—both local and national—has several misconceptions about the Steel City's football franchise.
Here's a look at six of those misconceptions and why they are false.
Offensive Unrest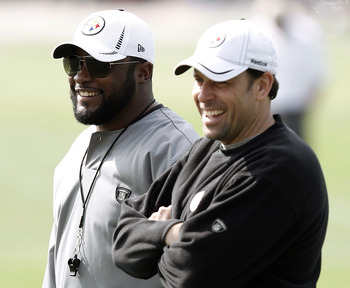 Jared Wickerham/Getty Images
This one isn't a historical problem. This is something new. Thankfully, it has quieted down considerably in recent weeks. Early in the offseason, this looked like some kind of scandal that was going to inevitably end up with "gate" at the end of it.
Haleygate?
The problem is that those who were claiming that Ben Roethlisberger and others were less than thrilled when combustible yet talented Todd Haley took over the offensive reins didn't really have a ton of proof to back them.
Part of that is the fact that Pittsburgh players rarely tip their hands to the media. They are brought up in a culture of "team first" ideals, so they never do anything to harm the franchise's image when they speak with reporters.
But random quotes and snippets of commentary suddenly became evidence of a huge rift that developed between coach and quarterback practically before they'd even met!
The fact that nothing has been said by anyone during the team's offseason program indicates that this one was not quite true.
Team Before Time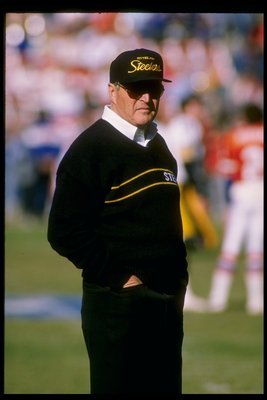 Tim DeFrisco/Getty Images
If you look at any media presentation on the Steelers and their history, the franchise started in the fourth quarter of a playoff game in 1972. Before that, the Steelers most likely didn't exist.
The problem? The franchise started back in 1933. They'd played a good 40 years before winning a playoff game. That doesn't mean that they didn't have any good history or intriguing players.
If you ask non-residents, the most likely pre-1972 fact you'll get on Pittsburgh is that they once had Johnny Unitas but they cut him in training camp. That's a true tale.
Unitas didn't impress (looking back, it's easy to see why those coaches were later fired). But there were other great players here. The teams just didn't win much.
The truth is that guys like Whizzer White, Bill Dudley and Bobby Layne, among many others, played here before the Steelers were one of the NFL's darlings. They even made a playoff appearance before 1972, something many Pittsburgh fans don't even realize.
The Running Problem, Part I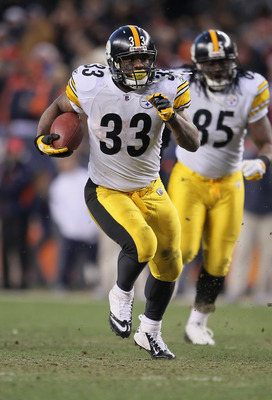 Jeff Gross/Getty Images
The last few years, the Steelers have run the ball less and less. Part of that seems to have been blamed on the team's runners.
Rashard Mendenhall has carried a reputation as a guy who just can't be an elite running back. With him hurt, much has been made of how the team will handle the backfield duties.
The consensus seems to be that they're taking a huge risk with Isaac Redman, Jonathan Dwyer, Baron Batch and Co. toting the load. Even adding Mendenhall back in doesn't help.
The problem I have is that this is a huge misconception. The running backs have received almost zero support from the offensive line since 2008.
Even then, support was shaky and spotty. The Steelers moved to a more pass-happy system because the line couldn't block for the runners.
Now that the line has been upgraded massively, the truth will be told either way, but my money is on this one being debunked in 2012 once and for all, regardless of who carries the mail.
The Running Problem, Part II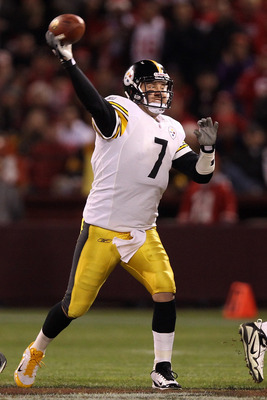 Ezra Shaw/Getty Images
The second part of the "running" problem in Pittsburgh is that the Steelers are said to be suffering some kind of multiple-year identity crisis by committing to Ben Roethlisberger's arm and the talent of the team's receivers over the traditional rushing attack.
When there was word of an "increased emphasis" on the run this year, the media flocked to it and talked about the team returning to its roots.
Misconception No. 1: this isn't going to happen. The Steelers are not going to take their elite passer and receivers and just pack them in storage and limit their usage. This isn't 1912. It's 2012. This is a passing league these days.
The run will make a comeback of percentage points versus the pass this year, but nothing like a 50-50 split or anything in favor of the runners. It doesn't need to.
This isn't an identity crisis; it's an identity shift. The best way to maximize talented rosters is to use their strengths. That's what Pittsburgh is doing and what they will keep doing.
The Heinz Field Kicking Conundrum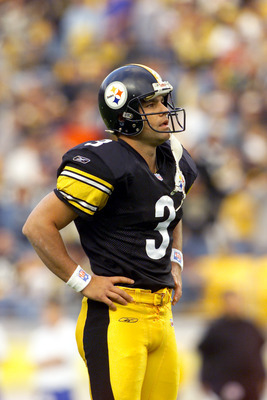 Jamie Squire/Getty Images
I actually used to fully believe and subscribe to this theory that Heinz Field possessed some kind of wicked, Babe Ruth vs. the Red Sox-caliber kicking taboo. The problem with that theory is that it just doesn't bear out after over a decade.
Kris Brown started it. He struggled to kick at home and we sent packing quickly. Todd Peterson fell apart and his career basically ended after his tenure except for a few last hurrahs.
Jeff Reed kicked for the better part of a decade with great success. Shaun Suisham, no accuracy paragon, has been just as steady.
Heinz Field has tricky wind conditions thanks to the design of the stadium and the location in relation to the rivers. Those are nothing new to kickers in New England, New York or any other cold weather, outdoor stadium.
To be sure, kicking numbers at Heinz Field have become believably common the longer the stadium has been open. There's no taboo anymore, if there even was one before.
The America's Team Debates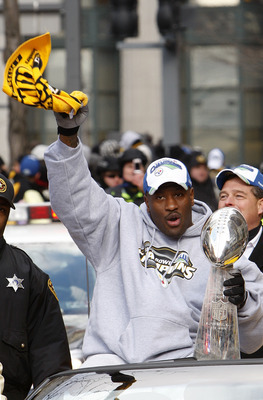 Gregory Shamus/Getty Images
No, I will not go on a one-slide diatribe over how the Steelers are America's Team, Dallas is not and there's no other possible choices out there.
Why? Because that's about as dumb as the Cowboys being called America's Team in the first place.
The truth, as far as we know right now, is that the Steelers were asked to be "America's Team," but the team's officials turned it down because it was too gaudy and they didn't go in for that sort of thing. That might be as much myth as anything, but it seems to hold a lot of water.
My misconception here is that there is a team with a better fanbase. I've seen several polls throughout the last several years where the Steelers are considered to have a "top fanbase" but someone else always is winning the top honors. Green Bay and Dallas are favorites.
I have seen evidence of Terrible Towels and Pittsburgh jerseys in multiple countries, in space and in every one of the nation's 50 states.
There are Steelers-themed bars in Dallas (yes, that Dallas), Italy and other nooks and crannies of the globe. Does Pittsburgh have a Cowboys bar? Has anyone seen the big blue star in space? How about it, Italy?
I didn't think so.
The Steelers have the finest fanbase and probably one of the most widespread in all of sports worldwide. That makes them America's team in one sense of the word.
If you want to know what I think of the America's team business, though, I'll simply say that whoever wins the Super Bowl should be America's team until they're dethroned.
Just in case you forgot, by that measure, we've been America's team longer than anyone else!
Keep Reading

Pittsburgh Steelers: Like this team?