In a season where the Boston Red Sox have struggled through headache after headache, whether it be from the media or from countless player trips to the disabled list, the one bright spot on the field for Boston has been David Ortiz.
As the Red Sox' sole All-Star this season, Ortiz is heading into the break hitting .302 with 22 home runs, 55 runs batted in and an OPS of .997 (Baseball-Reference.com).
To give an indication of just how great Ortiz has been this season, not since 2006 has David Ortiz entered into All-Star week with 20-plus home runs. That season, Ortiz was hitting .278 with 31 home runs, 87 runs batted in and an OPS of .996 (MLB.com).
It's safe to say that his production is the best it has been in years, surpassing even his 2011 campaign where he finished with 29 home runs and an OPS of .952.
However, while Ortiz has produced to an enormous extent on the diamond, he has been just as noisy off the field but in a far less positive manner.
Following his 400th career home run against the Athletics, Ortiz went on a tirade to USA Today in regards to his current contract status as well as his sentiments of last year's negotiations.
Describing the offseason, Ortiz told USA Today:
It was humiliating. There's no reason a guy like me should go through that. All I was looking for was two years, at the same salary ($12.5 million). They ended up giving me $3 million more than that (actually $2.025 million), and look at my numbers this year. Tell me if they wouldn't have been better off. And yet they don't hesitate to sign other guys. It was embarrassing.
Where do you think Ortiz will end up next season?
The rant did not end there for the final member of the Red Sox 2004 championship team, as Ortiz showed his frustration in regards to his fellow teammates' contracts that were signed in the past couple of winters.
Ortiz went on to say:
If you go crazy and give contracts to whoever comes along despite not knowing how they're going to do, then you don't give me my due consideration, even though I do my thing every year, (expletive) that. I'm going to be open to anything. My mentality is not going to be, 'I like it here.' It's going to be, 'Bring it to the table, and we'll see what happens.
Essentially what has been transcribed from this is that Ortiz is simply about the money.
There's no better way to put it. Someone who struck a chord with me is Tony Massarotti on "The Felger & Mazz" radio program. Normally my opinions aren't eye-to-eye with Tony Massarotti, but this time it was different.
What he stated was that with the way Ortiz is playing, he will likely get a similar raise to what he received last offseason, which would estimate to about $16.5 million dollars.
This brings Ortiz to an estimated amount of over $30 million earned through this season and next season. Ortiz is getting more than the $25 million he requested this past winter. He is making more money than he previously requested.
Massarotti goes on to say that the last time Ortiz was in the security and comfort of a long-term deal was in 2009.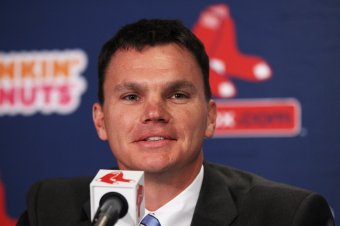 Elsa/Getty Images
This was Ortiz's worst season, hitting at .238. In the following season, Ortiz continued to struggle with a terrible April, and once his job began to go into jeopardy, he turned his game around drastically and has played phenomenally on a year-to-year basis.
If one hasn't put the puzzle pieces together by now, it is obvious Ortiz is, without any shadow of a doubt, unwilling to put any effort into playing unless he is forced to. Ortiz wants the fat lucrative contract, so he doesn't have to earn his money. Frankly, that saddens me.
Out of all the Red Sox to leave Boston on rotten terms, I never expected Ortiz to act so shrewd and boisterous on his way out. The interviews and the rants throughout the course of this season is Big Papi's curtain call in a Red Sox uniform because they refuse to allow him to coast on a contract with millions of dollars guaranteed.
Unless Boston empties their pockets and allows David Ortiz to run things as if he's the CEO of the team, Ortiz will likely be shipping out of Boston in pursuit of guaranteed big bucks. The Red Sox have been very wise in addressing Ortiz's contract for several years, but it seems that Ortiz will deem it "disrespectful" to avoid a dilemma that they currently have with several guys on the team.
In short, don't be surprised if this is it for David Ortiz in the Red Sox uniform.
While he will certainly play hard and well until the end of the season, it's for all the wrong reasons.
Rest assured, once Ortiz is locked up, the 37-year-old designated hitter will never again work as hard as he did this season.