Mile High Conundrum: How to Fix the Rockies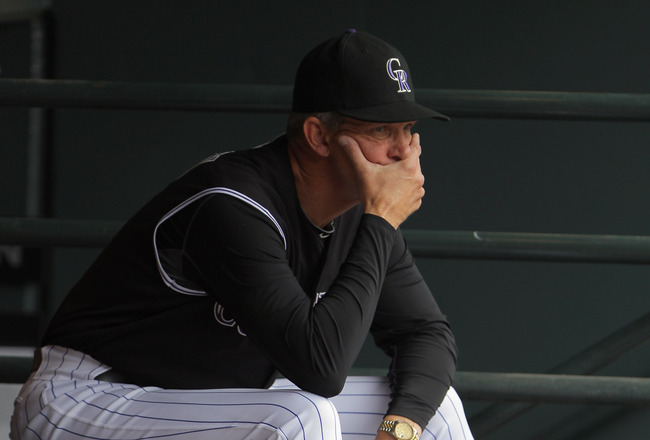 Jim Tracy's dealt with quite the headache this year
Doug Pensinger/Getty Images
They are 19 games under .500, 14 games on the back of both the division and the wild cards and they have the worst pitching staff in all of baseball with a pitch count that most high school kids would laugh at.
Welcome to life in the Mile High City.
In a season so disastrous that many are calling for the ridiculous moves of trading the mainstays of the franchise in Carlos Gonzalez and Troy Tulowitzki, the Rockies are honestly not too far off from becoming a threat in the NL West again.
However, certain things need to be focused on.
Upgrade the Pitching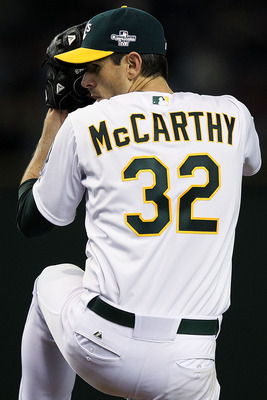 This under-the-radar hurler should be the focus of the Rockies' Front Office
Chris McGrath/Getty Images
This one should be obvious.
The Rockies' pitching staff is dead last in every category that matters. You're not going to win many games when your ERA is above five and opponents are hitting nearly .300 off of you.
Now, it would be just like the Rockies to hope that their minor league prospects turn out to be decent, but that has only happened with Ubaldo so it's not something to bank on.
They need to look at obtaining proven pitching in the free agency. And they should go after current Oakland Athletic Brandon McCarthy.
McCarthy currently holds a 6-3 record with a 2.54 ERA and a WHIP of 1.21. He's struck out 52 batters and walked just 19. And though he is currently on the DL, he hasn't lost a game since April 21st (last game pitched was June 19 against the Dodgers).
The A's are currently paying him only $4.25 million this year; he is relatively cheap.
Now, the Rockies won't be the only one to scout him and try to lure him to their team, but their interest in him better be very, very strong.
If O'Dowd is still around and doesn't limit himself in free agency, he should go all out on pitching. And because the likelihood that someone like Cole Hamels coming to Denver is very low, they should go for someone just as lethal and lesser known like McCarthy.
Of course, they're going to have to pay him more than the $4.25 million that he's making now. A number around $10 million a year wouldn't be too bad for snagging him up. And before you think that's a ridiculous number, Jorge De La Rosa has an $11 million player option in his contract he'll very likely exercise.
If the Rockies were to pull off bringing McCarthy to Denver, he would overtake the role of the Rockies' ace. De La Rosa and Drew Pomeranz will most likely follow. It's very possible Jeff Francis might stay in Denver with his recent streak of success. The fifth spot, assuming that no one else is brought in through the free agency, would probably be someone like Christian Friedrich or Juan Nicasio with the edge given to Nicasio (Friedrich's numbers at Coors Field would need to improve).
All these pitchers have proven that they can pitch well on a consistent basis. A five-man rotation would make the Rockies pitching staff very formidable.
If the Rockies don't bring in McCarthy they should look at pitchers such as James Shields of Tampa Bay, Shaun Marcum of Milwaukee, or Edwin Jackson of Washington (who has pitched relatively well outside of a bad start against Colorado). Each of these pitchers will come at a reasonable price and won't break the bank as much as other free agents this offseason.
Regardless of who it is, a respectable arm needs to be picked up through the free agency in order to prove that the Rockies are serious about making pitching a priority at Coors Field.
Discontinue the 75-Pitch Limit Idea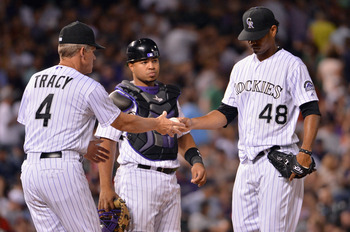 Doug Pensinger/Getty Images
As ridiculous as the idea of a four-man rotation with a 75-pitch limit sounds, it's been working.
It has gotten the attention of Rockies pitchers and caused them to be more efficient with their pitches. As a result the pitching has been better.
So with that said, it needs to stop relatively soon.
Quite frankly, it's not a very attractive option if you're someone looking to come pitch in Colorado only to realize that you'll be throwing less pitches than you did in high school.
The move to this experimental rotation was made to keep Rockies pitchers efficient. And despite whatever O'Dowd utters, it won't be here for long. Especially if the Rockies are serious about winning.
Keep the Offense Intact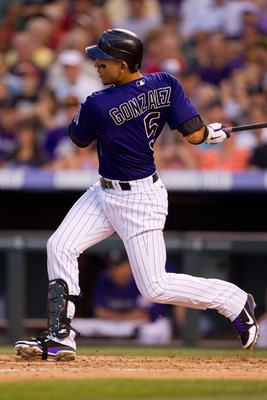 Justin Edmonds/Getty Images
Lost in the midst of the Rockies pitching debacle is the fact that the Rockies have a really good offensive team.
They've scored the second-most runs in the NL (401), have the second-highest batting average in the NL (.269) and are also second in on-base percentage (.332), trailing the Cardinals in each category. Mind you this has been without Troy Tulowitzki for nearly half of the season.
Jordan Pacheco has hit very, very well for a rookie with an average of .300 and Wilin Rosario has already belted out 14 home runs in just 56 games.
Add in the fact that Tyler Colvin has emerged as a steal in the Ian Stewart trade (.301 average with 37 RBI, right behind Cargo and Cuddyer).
Then notice that Cargo is fourth in the NL in both home runs (17) and RBI (58), as well as sixth in batting average (.336)
Offensively, the Rockies are stacked and their offense must be kept intact.
If needed, the Rockies could look at trading Dexter Fowler in the offseason if Colvin keeps playing the way he does. It's not a move that they necessarily should completely look into, but if something good is offered to them and Fowler is the price, it may be in their best interest to part ways with him and his bipolar bat.
And if the Rockies intend on bringing back Marco Scutaro and Jason Giambi during the offseason (both are set to be free agents), then they need to make that a point right now. If Colorado has little interest in keeping them after 2012 then they need to trade them and at least get something back before they walk away for very little.
Second base has been a revolving door during the past few seasons. If the Rockies feel that Jonathan Herrera is the answer at second (he's making a case for it at SS while Tulo's out) then they need to get something in return for Scutaro before he walks away from Denver.
Do Not Under Any Circumstance Trade Cargo or Tulo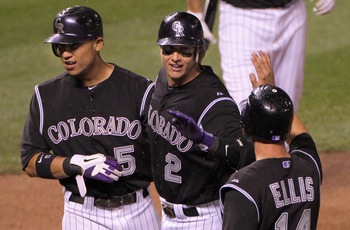 Doug Pensinger/Getty Images
While the writers to the east and the bewildered local fans might propose this idea, it is one that won't work.
Under no circumstance should the Rockies consider trading away either one of their one-two punch for prospects, which is what has been rumored throughout the past couple of weeks.
The notion that it would be a good move is simply one that is misled by the terrible record the Rockies have. If the Rockies pitching staff would've shown up for May and June (gave up five or more runs in 36 games, 19-36 during both months), then this conversation would be null and void.
It's easy to say that trading away the best aspect of your team when the chips are down is a good thing to do, but the Rockies aren't completely in rebuilding mode. It's merely a mix of injuries, inexperience and a flat out lack of execution from the pitchers that account for the position that the Rockies are in today.
By trading Tulo or Cargo you're not just saying you're giving up on the season; it means you're also giving up on the seasons to come.
Thankfully, O'Dowd and the Monforts have said neither will be traded (per the Denver Post).
Give O'Dowd Just One More Year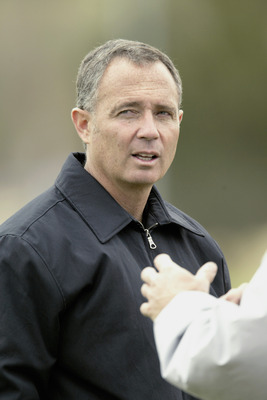 Brian Bahr/Getty Images
Now I'm not going to go all Dick Monfort on you and say that he's the best GM in the game because that's not the truth and everyone outside of the Monfort brothers knows that.
The reason I believe that he deserves one more year to prove himself is because he needs to keep thinking about the offseason in terms of no limitations.
O'Dowd said going into the season that he finally started making moves without limitations (moneywise). He was able to bring in the likes of Michael Cuddyer and Marco Scutaro, two prominent AL players that many wouldn't have put with the Rockies.
It should also be noted that O'Dowd has been trying to figure out different ways to succeed at Coors Field in terms of pitching and in terms of using things like recovery time, nutrition and all sorts of other factors that play a part at high altitudes.
Though it has appeared that he couldn't care less about pitching, since every pitcher the Rockies seem to use has been bought up through our farm system, he is trying to find different ways to succeed. The four-man rotation with the 75-pitch limit is an example of that.
The real problem is that he has been gun shy since the failures of Mike Hampton and Denny Neagle. He lost big money on these two and he felt that this route was not the way to go. This is why he's always gone through the farm system.
O'Dowd needs to figure out how to bring good pitchers to Colorado as quickly as possible. It's become very obvious that an overpowering offense with average-at-best pitching isn't going to be the answer.
An old baseball saying goes, "Good pitching will always beat good hitting," and you don't have to look very hard to see that.
A team such as the Washington Nationals have an offense that ranks at an average of 20th in major offensive categories (batting average, RBI, OBP, etc) and is currently leading the NL East because their pitching staff ranks at the top of all the major pitching categories. Even if you look to the rival San Francisco Giants, whose offense isn't always apparently on, they have been at the top of the NL West because their pitching staff usually lights out.
O'Dowd needs to make pitching a priority.
If he extends his no limitations philosophy to pitching, then Rockies fans should be willing to give him another year. Though at times during this season, it has been very tough to even fathom the thought of him at the helm for more than just this season.
Keep Reading

Colorado Rockies: Like this team?