Former Kansas City Chiefs Who Could Help the Team in 2012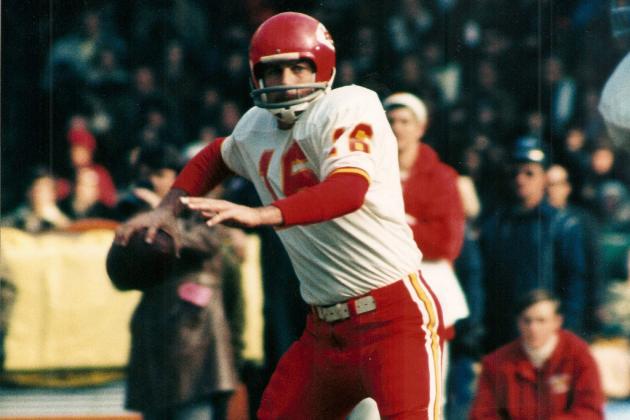 If time travel was possible in Kansas City, the Chiefs could field the best team in the NFL. The unit that will take the field in 2012, however, is still laden with talent. There aren't many holes on the roster and there is great depth in many positions.
Despite the promise this roster shows, if the legends that once graced Arrowhead Stadium could put on the red and gold once again and step onto the gridiron in 2012, the Chiefs would be unstoppable.
Let's have some fun and see what former Chiefs greats would do today if they were magically able to suit up once again.
Begin Slideshow

»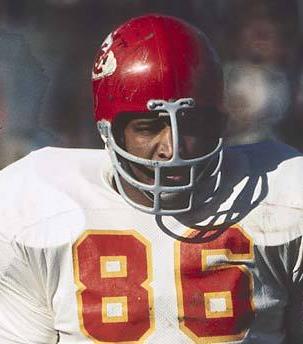 The Chief's defense is being heralded by many as one of the most talented young defensive corps in the NFL. Linebackers Tamba Hali and Derrick Johnson and cornerbacks Brandon Carr and Stanford Routt lead a group of talented young players in safety Eric Berry and Justin Houston. This defense has the works to be one of the best in the NFL.
What this defensive unit lacks is a tough, physical nose tackle.
Buck Buchanan would fit that role perfectly in Romeo Crennel's defensive system today. Can you imagine Buchanan breaking through Denver's line and giving Peyton Manning a good old fashioned humdinger? Or what about Buchanan bucking off an engaged center and stuffing a running back?
Buchanan was named first team-All-Pro four times and went to the Pro Bowl eight times. Buchanan was the pinnacle of defense and, in Crennel's system, I think would flourish as a defensive tackle in a 3-4 scheme.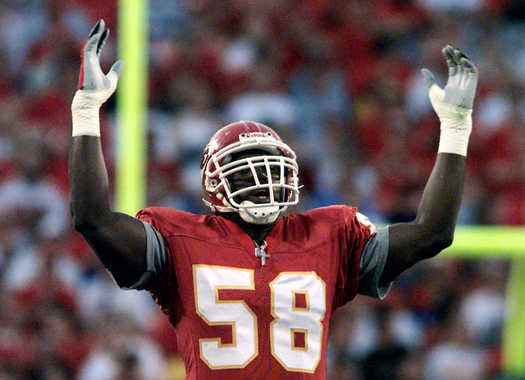 While Kansas City has three stars at linebacker, they field four players at the position. Derrick Johnson and Tamba Hali have cemented themselves as two great linebackers. Justin Houston had a great rookie season and his ceiling is unlimited. The Chiefs need a fourth linebacker to line up right next to Johnson for this linebacking corp to make the transition from great to scary.
Enter Derrick Thomas.
I was trying to decide between him and Willie Lanier. Thomas was an outside linebacker and Lanier was an inside linebacker. The Chiefs need an inside linebacker.
They also need someone to get to the quarterback. Thomas did this better than anybody else, as his 22-year-old record for most sacks in a game still stands at seven.
I figured Thomas has the ability to make the switch from outside to inside very easily. How great would it be to see Thomas blast his way through the Denver line and crush Peyton Manning?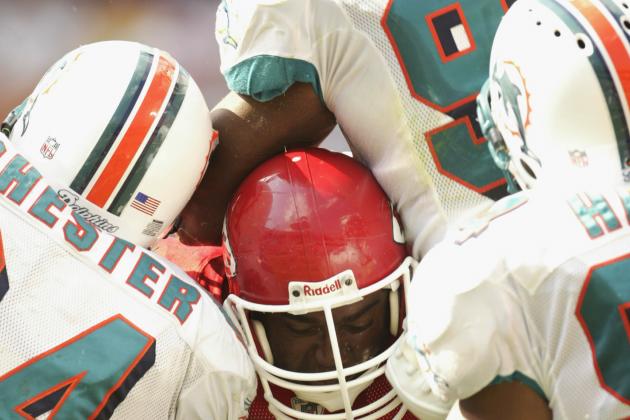 Brian Bahr/Getty Images

Many draft pundits thought the Chiefs would select Stanford guard David DeCastro in the 2012 NFL Draft. The pick would have solidified an already stalwart offensive line. Kansas City elected to go the other way, however, and draft defensive lineman Dontari Poe.
So, with some fine time-altering shenanigans, Will Shields, one of the best offensive lineman in the game, steps forth and anchors the Kansas City offense once more. Shields blocked for three of the best running backs in Kansas City history: Marcus Allen, Priest Holmes and Larry Johnson.
With a dynamic duo in Jamaal Charles and Peyton Hillis, Will Shields could once again block for a great running game.
He was one of the more powerful offensive linemen in the game and had the speed to set up great blocks to spring backs loose. Will Shields would go great with the talent already lining the Chief's offense and would act as the leader of a strong offensive line.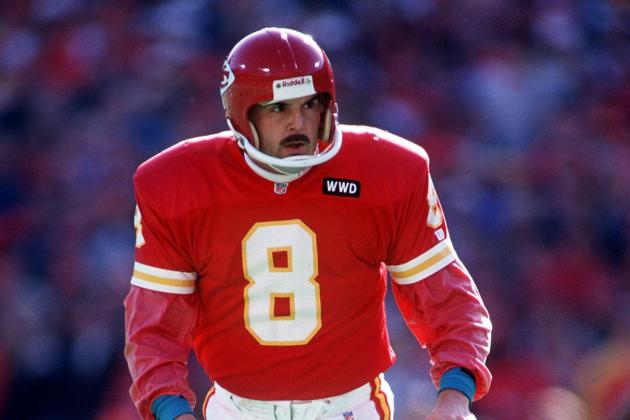 Earl Richardson/Getty Images

Ryan Succop is a fully capable kicker and has given the Chiefs the sense of consistency they have been seeking in the kicking game since Lawrence Tynes left.
However, he's no Nick Lowery. The best kicker in Chiefs history, Lowery holds the franchise record for most points in a career. He was first team All-Pro in 1985 and 1990. When he retired, he led the league in field goal percentage and also had the most field goals in NFL history.
While Succop made 21 field goals in a row in 2011, his last two attempts were blocked. If Succop had made one of those kicks, the Chiefs would've won the AFC West. One blocked field goal is forgivable. But two in a row?
Lowery would have made sure his second kick was high enough to avoid getting blocked. I'm not saying Succop is a bad kicker, but Lowery is simply better, and his stats prove it.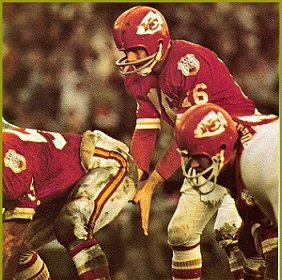 I may be one of the only people outside of Matt Cassel's family that believes he can be a solid starting quarterback in the NFL. When in a methodical and run-driven offense, Cassel is an efficient quarterback and a great manager of the game.
But why pass up on the most prolific signal-caller in Chief's history? Len Dawson didn't light up the sky back in the 1960s and 1970s, but not many quarterbacks did back then.
The quarterback is a perfect fit in a run-oriented offense.
He was mobile and accurate and operated coach Hank Stram's "moving pocket" offense fluidly, passing for at least 21 touchdowns six years in a row. Dawson won the Super Bowl MVP award in Kansas City's lone Super Bowl win in 1969.
Dawson had the arm to deliver. I can see Dawson faking a handoff to Jamaal Charles and rolling to his right before airing an arching pass to Dwayne Bowe in the end zone.
In 2012, Dawson won't be throwing touchdowns left and right the way Aaron Rodgers and Tom Brady do, but he is the best that Kansas City has to offer. In a stacked offense, that should do just fine.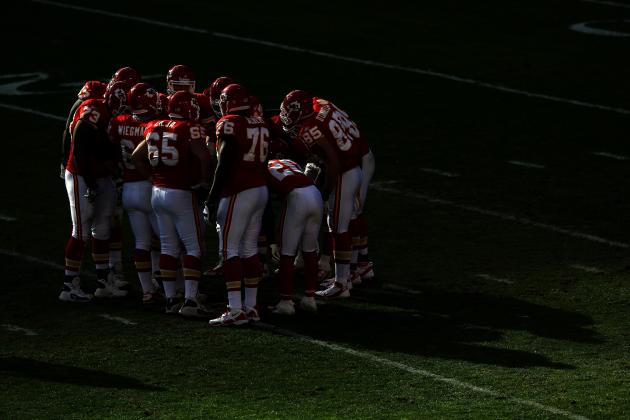 Jamie Squire/Getty Images

Alright, let's stop with this nonsense. These players are great. They're some of the greatest to don a Chiefs uniform.
But the Kansas City Chiefs of today have the potential to forge their own legacy in Arrowhead.
I can honestly see Kansas City being the surprise team of 2012. They have the talent to be great for many years. Jamaal Charles, Eric Berry, Tamba Hali, Tony Moeaki, Dwayne Bowe, Derrick Johnson and many more are fully capable of becoming a part of the rich Kansas City Chiefs history.