5 NFL Teams Needing to Make Changes at Key Positions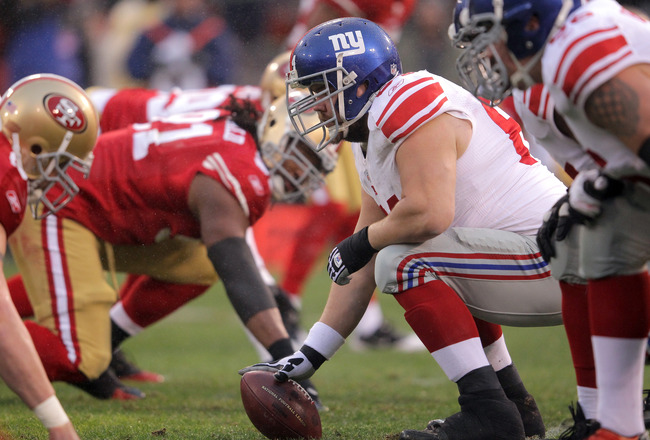 Doug Pensinger/Getty Images
As we enter into July, training camp inches that much closer—20 days to be exact. A few teams require rookies to show up sooner, but the first day veterans will make their presence felt is July 26th.
If you take a look around the league, there are a plenty of teams whose rosters will remain virtually unchanged from now until the start of the season.
Sure, there will be the usual churning of the bottom 47 players, but their 53-man rosters will be tough to crack.
Then there are other teams which didn't accomplish quite as much as they would have liked in the offseason.
Those teams may be looking to make small changes to certain positions, or it might be time for them to revamp. Whatever the case may be, it's important that things are in place as soon as possible.
Let's take a look five teams which could stand makeovers at key positions.
St. Louis Rams: Cornerback
Dilip Vishwanat/Getty Images
St. Louis spent a good amount of the offseason upgrading its defense, an area of the team that lacked an identity outside of Chris Long and James Laurinaitis.
The additions of Cortland Finnegan, Janoris Jenkins and Trumaine Johnson will immediately add a sense of nastiness and character to a weak secondary.
What does it mean for the overall depth of the position?
Bradley Fletcher, Jerome Murphy and Josh Gordy are all mainstays from the Steve Spagnuolo era.
Fletcher has appeared in 27 games for the Rams but has been battling multiple knee injuries over the past three years.
Murphy played well as a rookie in 2010 and was looking to lock down the nickel corner position heading into his second season, but a broken ankle derailed those plans and sent him to injured reserve instead.
Lastly, Josh Gordy was brought in from Green Bay's practice squad midseason to patch a wound that wouldn't stop bleeding. While Gordy didn't fair as badly as teammate Justin King, he didn't exactly help himself secure a roster spot for next year, either.
After finishing the year as one of the worst teams at covering the pass, are these the guys you want backing up your young studs?
What happens if Jenkins and Johnson struggle out of the gate? Or worse, one of them goes down for the season?
The presence of a veteran corner or more reliable depth might be a wise addition during training camp.
Or else it is going to prove to be a long season in the STL.
Jacksonville Jaguars: Wide Receiver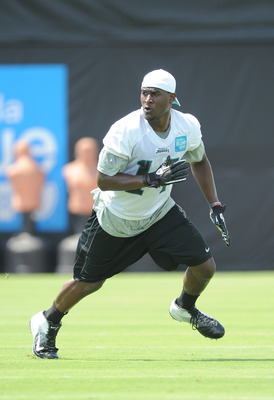 Rick Dole/Getty Images
This one was truly a toss up between the St. Louis Rams and the Jacksonville Jaguars.
I couldn't decide which team had a worse passing game.
According to ProFootballFocus.com, the Jaguars passing attack was ranked dead last, with the Rams being second to last.
After considering last year's rankings, I then looked at offseason additions to make my final decision. The trio of Steve Smith, Brian Quick and Chris Givens coupled with Brian Schottenheimer outweighed Laurent Robinson, Justin Blackmon and Lee Evans.
Before 2011 Laurent Robinson had never had more than 500 yards receiving and 50 catches in one season. Playing with Tony Romo and capitalizing on injuries to Miles Austin and Dez Bryant helped him eclipse those totals, but what happens when Tony Romo becomes Blaine Gabbert?
On 61 catchable balls Robinson had seven drops, meaning he drops one pass for every seven balls he caught. To put that in perspective, Dez Bryant saw 64 catchable balls and only had one drop.
In addition to the high drop numbers come the durability and consistency issues.
Justin Blackmon has the ability to be that dominant, playmaking threat, but will he be able to rid himself of off-field distractions? In a two-year time frame, he has been arrested for DUI twice.
Signing Lee Evans to a one-year deal was a move that I actually liked. The deal had a very low investment number, at $1.497 million—Evans still does most of his damage downfield, but carries a lot of the same question marks as Laurent Robinson, durability and consistency.
It's doubtful he leap frogs Mike Thomas as the No. 3 wideout.
Given the circumstances the Jaguars should feel a bit worried heading into training camp as this group of receivers has more questions than answers.
New Orleans Saints: Defensive Line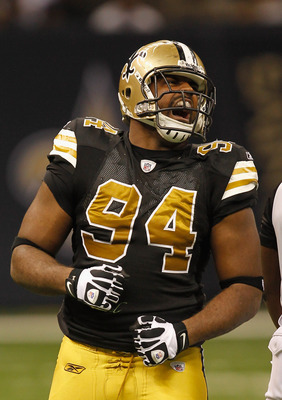 Streeter Lecka/Getty Images
Given the Saints current state of affairs—due to Bountygate and Drew Brees' contract—the last thing they need is another problem to worry about.
Nevertheless, this problem started at about the same time as Bountygate: For the last three years, the Saints pass rush has kept getting worse and worse.
In recent years, it seems as if they have tried to upgrade their defensive line, with the selections of Sedrick Ellis, Cameron Jordan, Greg Romeus and Akiem Hicks. Hicks is a bit of an unknown, given that he hasn't taken an NFL snap yet, but Ellis, Jordan and Romeus have all proved to bet let-downs in terms of getting after the quarterback.
Ellis has never lived up to his lofty first-round draft status. He plays the run as poorly as he rushes the passer. ProFootballFocus.com has never graded him positively over the course of a season. He will put together a few good games, but by season's end the bad games outweigh the good.
Unlike Ellis, Cameron Jordan is proving he was worth the first-round selection. But even though he finished as one of the best run-stopping defensive ends, his pass-rush skills were worthless. One sack, five quarterback hits and 18 quarterback hurries does little to impress.
Greg Romeus did not record a snap in 2011, and don't count on him recording one in 2012. On June 25, 2012, he was placed on injured reserve.
Junior Galette will be counted on to put pressure on the quarterback while Will Smith is serving his four-game suspension.
Defensive coordinator Steve Spagnuolo will definitely coach the existing group of guys up, but this defensive line needs more than coaching.
It's safe to expect some changes by the end of training camp.
New York Giants: Offensive Line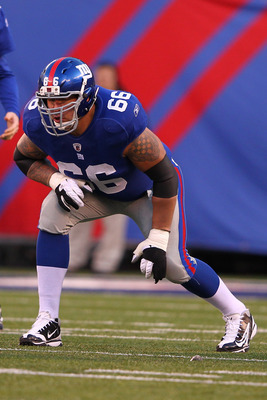 Al Bello/Getty Images
Somehow, with atrocious offensive-line play, the New York Giants won the Super Bowl.
I guess having a good defense, a solid set of receivers and one of the best quarterbacks in the league is the answer to having a porous O-line.
Between the eight offensive linemen who saw playing time throughout the season, they gave up 40 quarterback sacks, 44 quarterback hits and 241 quarterback hurries.
Without a doubt David Diehl was the worst: Alone he surrendered 13 sacks, 11 hits and 61 hurries. By including Diehl's starts at left tackle and left guard, ProFootballFocus.com had him graded as the worst offensive lineman by a long shot.
There were only four games all season in which he didn't receive a negative grade.
Considering that every offensive lineman played awful, I would have guessed the Giants would have made the position more of a priority in the offseason. They added two tackles late in the draft, in Round 4 and Round 6.
A little later than most expected.
Even though 2011 draft selection James Brewer was inactive for all 16 regular season games, it's safe to assume that he will challenge Will Beatty and David Diehl for one of the starting tackle positions.
He's held in high regard inside the Giants organization.
I could see the Giants making a couple of big changes along the offensive line before the season starts.
Seattle Seahawks: Quarterback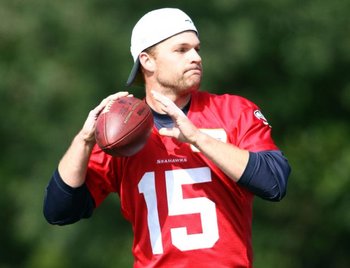 Image via Seattle Sports Nut
Seattle was one of the most intriguing teams I studied last year.
Their defense was in the top five, most notably great at stopping the run. They had very little in terms of rushing the passer, though, as Chris Clemons seemed to pick up the slack for the whole team. Richard Sherman, Kam Chancellor and Earl Thomas all did nice jobs anchoring the defensive backfield.
The only thing that held the Seahawks back was the offense as a whole.
Sure, Doug Baldwin and Marshawn Lynch stood out, but Tarvaris Jackson and Charlie Whitehurst really hampered the team.
Jackson had a tendency to take too many sacks and proved to be too inconsistent to take the team to the next level.
And Charlie Whitehurst was just flat out awful in every way.
So, it is easy to see why coach Carroll wanted to bring big-time competition to the quarterback position. Signing Matt Flynn and drafting Russell Wilson will bring plenty of heated battles to training camp. Not to forget Josh Portis, who will probably be the odd man out, but he showed flashes at times during the preseason last year.
It's a long shot that rookie Russell Wilson will start, considering all the money they gave to Flynn. But it wouldn't surprise me to see Flynn kill it with his accuracy and ball placement, and if the staff saw enough in Wilson for backup potential, Jackson could be on the chopping block.
Jackson is scheduled to make $4 million in 2012; no third-string quarterback gets paid that kind of money.
If that scenario does play out, Portis would win the No. 3 job.
One thing is guaranteed: Plenty of changes are coming to the quarterback position in Seattle.
Keep Reading