Cincinnati Bengals: 8 Most Overpaid & Underpaid Bengals Currently on the Roster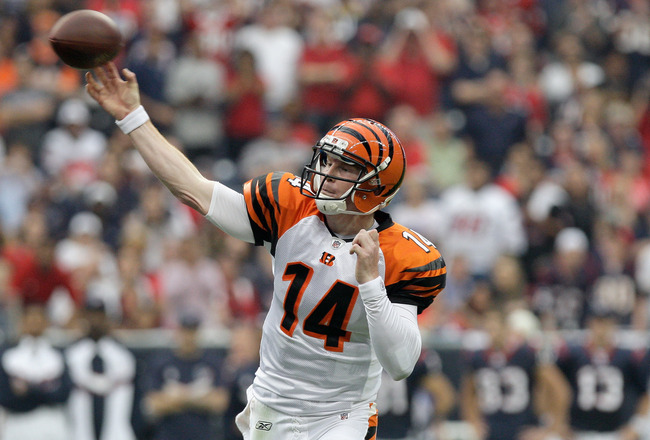 Thomas B. Shea/Getty Images
As much as fans can be infuriated by players having contract disputes, it's a simple fact that guys who play football get paid—it is how they get by.
Rightfully so, they each want to be paid what they deserve to do their jobs. When I looked through what all of the Bengals will be paid this year, I was shocked, stunned and amazed at some of the numbers.
Personally, for example, I expected to find Pacman Jones making much more than he is worth, but he will be making under $1 million this season. That's a good situational asset that we aren't going to be giving away too much for.
That being said, who has the numbers that don't justify their on-field performances?
Overpaid: Robert Geathers, DE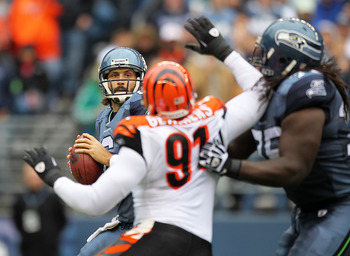 Otto Greule Jr/Getty Images
When Robert Geathers signed his six-year extension back in 2007, I suppose this day was expected to come. He's clearly past his prime, and in 2012, he will be making $4.2 million, making him the highest-paid defensive lineman on the team.
Back in 2006, Geathers recorded 10.5 sacks, which was enough to get a new contract, worth $33.75 million over six seasons.
Since that time, he's failed to have more than 3.5 sacks in a season, and only had 29 tackles in 14 games in 2011. The extension really hasn't been what Cincinnati has hoped for.
This isn't to say Geathers is useless on the defensive side of the ball, but it's obvious that his best days are behind him. For now, I can only hope Mike Zimmer can squeeze out what's left of Geathers, so he can earn that $4.2 million.
Underpaid: Jermaine Gresham, TE
Andy Lyons/Getty Images
With 56 catches for under 600 yards, it would seem that Gresham's salary is deserving—he'll be making $690,250 in 2012. Now, that is part of his rookie contract, which will see him making over $2 million in 2014.
Nonetheless, his stats included six touchdowns, and it's becoming clear that he is Andy Dalton's second-favorite target, outside of A.J. Green. It's been quite awhile since the Queen City has had a reliable tight end, and it's obvious that Jay Gruden enjoys designing plays for him.
Gresham is very agile and powerful, making him good for both blocking and catching the football. He's proven to be quite worthy of more money—perhaps Geathers can cough up some of his millions.
Overpaid: Bruce Gradkowski, QB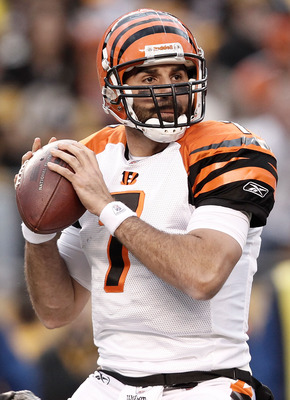 Jared Wickerham/Getty Images
Though I have some respect for Bruce Gradkowski as a veteran backup quarterback, his numbers don't justify what he'll be paid. He has thrown 21 career touchdowns and 24 picks in seven NFL seasons, which has equated to a career 65.8 passer rating.
What's that worth to the Bengals? Exactly $1.8 million. Say what?
For the record (and I'll address it more later on), that's more than the Red Rifle, Andy Dalton, will be making this year and next—combined.
It's great that Cincinnati has a veteran, but he has not proven himself to be a winner in any sense of the word. He's a career backup, and almost $2 million is too much to pay for such a player.
Underpaid: Carlos Dunlap, DE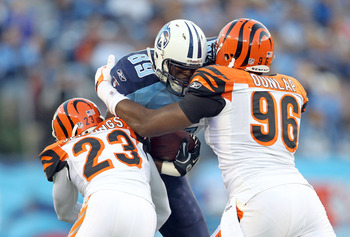 Andy Lyons/Getty Images
This one I'm going with based upon his 2010 statistics. Carlos Dunlap took a big step backwards in 2011, so he's probably the most debatable player on this list.
In 2010, Dunlap recorded 9.5 sacks, quite a stat for a rookie. Unfortunately, he struggled with injuries in 2011 and had only 4.5 sacks. However, that doesn't stop me from believing he's one of the best guys on this strong Bengals' defense.
He will be making $490,000 in 2012, which is a part of his original contract as a rookie. I firmly believe that if 2011 had gone well, Dunlap would have been asking for a restructured deal.
As I said, I know 2011 was a step in the wrong direction, but he was incredible at Florida and showed fierce intensity as a Bengal in 2010. Watch for Dunlap to reach double-digit sacks in the coming season.
Overpaid: Manny Lawson, LB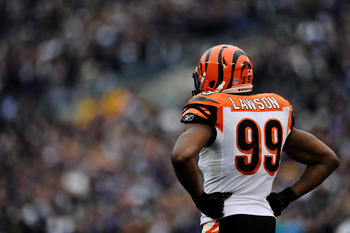 Patrick Smith/Getty Images
When you watch Manny Lawson play, it's obvious that the guy has the potential to be a brute force in the NFL. He hits hard and is quick, but he just can't seem to find a niche.
Lawson had a good 2009 campaign, recording 68 tackles and 6.5 sacks. After that, he's been pretty average since his debut in 2006. Cincinnati will be tossing $1.5 million at him in 2012.
Now, that's not a huge hit, but Lawson only had 52 tackles and a mere 1.5 sacks in 2011. As a comparison, Thomas Howard had 99 tackles, nearly twice as many as Lawson. He'll be making $2.4 million, not even more than a million dollars more.
It's not uncommon for players to get signed for more than they're worth—it's time for Lawson to show he's worth the cash.
Underpaid: Geno Atkins, DT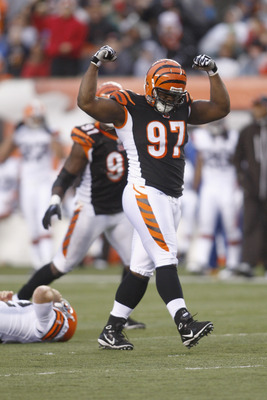 John Grieshop/Getty Images
Geno Atkins was one of the unsung heroes in 2011, as he led quite the charge for what became a dominating Cincinnati defense.
In 2010, as a rookie, Atkins played in all 16 games—and had 16 tackles. Last season, he nearly tripled that number of tackles, and recorded 7.5 sacks. He also recovered a pair of fumbles and had two passes defended.
What has that Pro Bowl season gotten him as compensation? Exactly $490,000. That's the same as Carlos Dunlap, if that number looks familiar to you.
Naturally, the argument for Atkins is far different from Dunlap's, as Atkins' breakout season came in 2011. He proved to be one of the strongest guys in the league, able to bust through offensive lines and get into the backfield. He'll be leading two rookies and the rest of the D-line into battle in 2012, hopefully to be more dominant than ever.
And of course, to earn a bigger contract.
Overpaid: Nate Clements, CB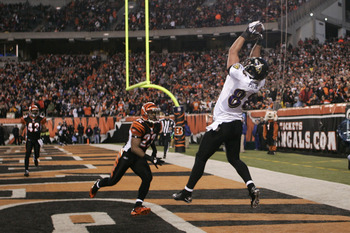 John Grieshop/Getty Images
The photo is pretty indicative of what Nate Clements' 2011 season was like. He was unable to keep up with even second receivers and tight ends—and then Leon Hall got hurt. That forced him to cover the top dogs, and it made him look worse.
Clements had 55 tackles in 2011, his career low, besides the 2009 season in which he only played in seven games. He only picked off two passes.
Following a rough year, he's going to be making a whopping $4.3 million in 2012.
With Dre Kirkpatrick set to debut, Terrance Newman joining the team, and Leon Hall set to return sometime this season, it's likely that Clements will not see near the amount of action that he saw last year.
I've got a lot of respect for Clements and what he's done in his career—but his prime is long gone, and a 32-year old cornerback won't put up $4.3 million worth of performances.
Underpaid: Andy Dalton, QB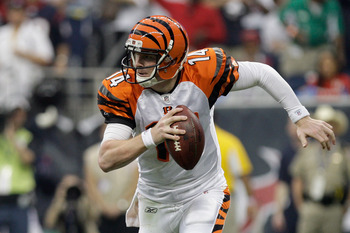 Thomas B. Shea/Getty Images
The Cincinnati front office scored by being able to draft Andy Dalton in the second round of the 2011 NFL draft. Naturally, they won't be paid nearly as much as first-rounders.
However, Dalton proved that he was first-round caliber in 2011. He led the shocking charge to the postseason, putting up 3,400 yards and 20 touchdowns.
He will be making $612,009 in 2012. That number increases to over $700,000 in 2013 and $986,000 in 2014. Should Dalton continue to perform as he did in 2011, you can bet that he will want to restructure that in the near future.
It is now clear that the Bengals have found their future man, and he's not being compensated as such. For now, the front office ought to utilize that extra cash for better talent that Bruce Gradkowski and Nate Clements, because when Dalton gets an AFC Championship, he'll want to see a bigger paycheck.
Keep Reading

Cincinnati Bengals: Like this team?