Intelligent New York Ranger Moves Glen Sather Should Take Note Of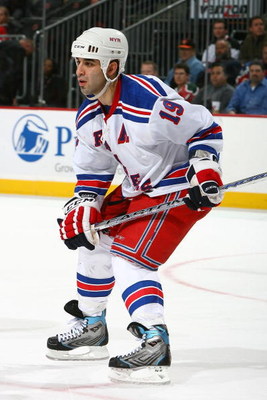 What's unquestioned, is that the Rangers are in desperate need of change.
This team has shown it cannot win over the long term with the players here today.
We all believe that Sather isn't the best GM, but we'll admit he's not stupid either.
Therefore, trades are almost certainly the best route Sather can go.
Here are a few trades... 100 percent speculative... that I believe could help our team.
Scott Gomez to Colorado for Milan Hejduk and Brett Clark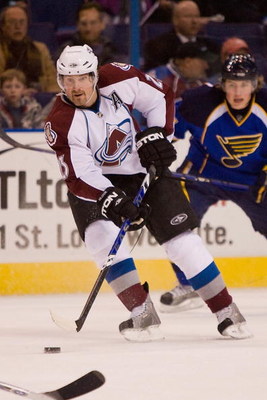 This trade makes sense, while the Rangers save about $500,000.
The Avs stink right now, and are very slim down the middle, with Sakic and Stastny both injured.
Gomez becomes that stopgap for them, especially with Sakic probably retiring in the next year or so.
Gomez allows them to play their uptempo type game, which the Avs have been known for.
Clark is a "steady" defender, if nothing else... Mara style.
Hejduk is a finesse scoring winger... similar to Nik Zherdev without the insane fanciness, but with the great hands.
Prucha - Dubinsky - Hejduk could be a very solid line.
Clark's basic style of play might fit well with a move offensive defenseman, or could help give Marc Staal a calm partner to work with.
Brandon Dubinsky, Petr Prucha and Dmitri Kalinin for Jordan Staal and Ryan Whitney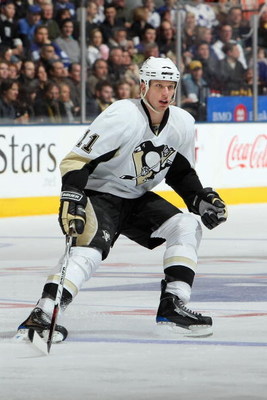 Kind of to me seems like a Sather type move:
Marc Staal's doing well. I'm sure his brother will to.
I have to believe that on a team that would need more offense, and when taken out of his strict defensive positioning on a Pittsburgh team, he has it in him.
Ryan Whitney all of a sudden becomes our No. 1 defenseman, leaving a team that really doesn't have much room anymore with the healing of Gonchar, and the emergence of Goligoski and Letang.
Dubinsky can play a very gritty style, to the opposite of Malkin and Crosby.
Prucha has that potential to explode next to either one of those two centers.
Kalinin becomes a throw in... a No. 6 or 7 defenseman in Pittsburgh (think Darryl Sydor last year).
He's not resigned after July.
This gives a chance for Pittsburgh to rebuild on their blueline with the talent they possess.
They now have a cheaper alternative at 3rd line center, while getting a top level underrated winger that they've needed.
Michal Roszival, Artem Anisimov and a 1st round pick to Ottawa for Chris Neil, Antoine Vermette and Filip Kuba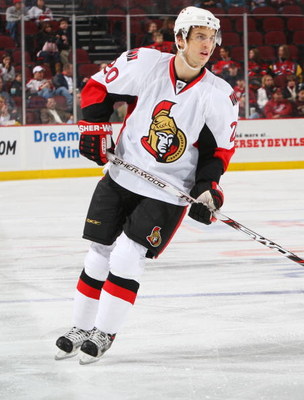 This trade allows for major change on two clubs that need major change.
First of all, after the trading and/or losses of Redden, Chara and Meszaros, the Sens have been clamoring for a puck moving defenseman.
Roszival fits that bill. Maybe a change of scenery helps him refind his game.
Artem Anisimov and a 1st allow the Senators to kick start their rebuilding as well.
Antoine Vermette is an extremely fast and talented first round pick who never found his stride (think Zherdev).
He's a 1st or 2nd line winger, who might have enough speed to keep up with a guy like Gomez, or complement another like Dubinsky.
Chris Neil adds that snarl we've been missing since the dismissal of Avery. He's a great guy; will fight, hit, check, and do all the little things you need.
Filip Kuba is a monster of a man who just does all the small things on the blueline.... again... what we've missed all year back there.
Letting Roszival go allows others like Mara, Staal or Girardi to show what they have on the point, instead of the constant pass mentality of Roszival.
Wade Redden, Nigel Dawes and a 2nd round pick to Calgary for Robyn Regehr, Matthew Lombardi and Kris Chucko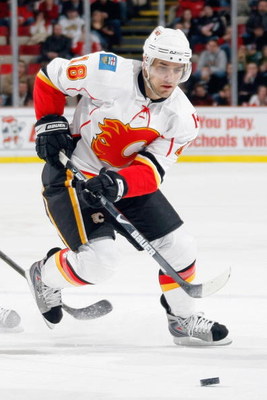 With the emergence of Rene Bourque and Mike Camallieri, Matt Lombardi has become expendable. He's been on his way out now for some time.
Lombardi however brings the same thing Vermette brings... unbelievable speed and potential that's never been reached.
We also get Robyn Regehr, probably a top five shut down defenseman in the game today. With the hitting of Phaneuf and the decent play of Aucoin, they can let Regehr go.
They get Wade Redden... a player they nearly signed this past summer if it wasn't for our stupidity, and they get Nigel Dawes, a winger they have supposedly coveted.
We also acquire Kris Chucko, a bust of a power forward prospect, who again, can only improve our horrendous Hartford hockey team.
He also somewhat fits in the mold of Korpikoski, Dubinsky, Callahan, Weise, and other rough and tumble 2nd/3rd line players we've been drafting over the years.
Petr Prucha and Aaron Voros to Montreal for Kyle Chipchura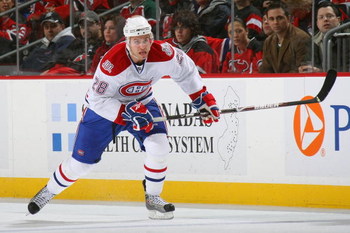 "The Rangers lack personality."
That's been a headline we've been reading all year long.
Kyle Chipchura, a big, tough, pain in the butt type player is a guy Montreal has.
He probably won't get a real chance because of the great play of Max Lapierre.
However, he looks like a younger Darcy Tucker... could be captain one day.
Maybe he's another Dubinsky type. Either way, he's expendable, and should be picked up.
Now I love Petr Prucha. However, here, he's not going to play. Allow the man a chance to play with Alex Kovalev.
Or the Kostisyn's.
Or anyone else for that matter that will help him blossom like we all know he will.
Aaron Voros gives Montreal the depth that any real Cup contender needs.
Michal Roszival and Lauri Korpikoski for Paul Ranger and Ryan Malone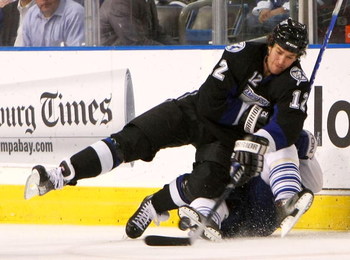 As much as I agreed with everyone else this past summer, about Malone being overrated... I will say this: he's probably the closest thing going today to Adam Graves.
He stands up for teammates.
He's fearless in front of the net.
He'll fight anybody.
He's all character and heart.
Isn't that a mix of exactly what we need?
Tampa needs to continue to revamp their defense... and this either reunites Malik and Roszival, or gives Meszaros a defenseman with experience to lean on.
Wouldn't it be cool to have a guy named Ranger on the Rangers?
On top of him having size, offensive instincts, and a good defensive prowess?
We'd have to lose Korpikoski on this one, and that saddens me... but in return we're picking up a sure 20 goal 80 PIM power forward, something that we truly lack.
Petr Prucha and Dmitri Kalinin to Phoenix for Derek Morris
Again, two teams make this trade out of necessity.
Kalinin is involved in this trade to make it work financially, but he wouldn't be resigned, as therefore, this becomes a major salary dump for the financially strapped Coyotes.
However, Don Maloney gets a former player of his, Prucha, who would fit in nicely with the youth infusion in the desert.
We acquire a defenseman who is on the block in Morris... a guy who would probably be our top guy for a few more years to come.
He's the same age as Roszival, with a great shot and a ton of grit.
Again, something we desperately need on our blueline.
Morris and Staal would be fabulous together.
Keep Reading

New York Rangers: Like this team?