LA Lakers: Ranking Kobe Bryant Among the League's Best Shooting Guards
Stephen Dunn/Getty Images
Kobe Bryant is often times cited as one of the most competitive players the NBA has ever seen. He refuses to let age, injuries or anything else for that matter get in the way of what he does best: win.
However, you know what they say, "Father time is undefeated," and although he has yet to take down KB24 himself, it looks as though he may have finally started to slow him down.
Nevertheless, when you talk about the best players in the league, Kobe Bryant will still find his name towards the top of the list. But where does he rank among the league's best shooting guards?
No. 10: Ray Allen/Kevin Martin
Elsa/Getty Images
A toss-up between these two very different type of players at two very different points in their careers.
Allen, more of a three-point specialist, while Martin is still one of the league's best scorers.
The thing is, both of these guys battled injuries all last year and it will be very interesting to see how effective they can be with their respective teams this upcoming season.
No. 10: Paul George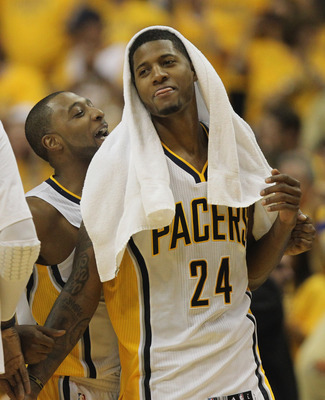 Jonathan Daniel/Getty Images
I thoroughly believe that Paul George is a future superstar of the NBA.
He's got the length, athleticism and perimeter jumper to be a prolific scorer and defender as his career progresses.
He is truly just scratching the surface of what he can be at the end of his career.
That being said, he's still a young buck with a lot to prove, so he can be too high on a list of the best in the league.
No. 8: DeMar DeRozan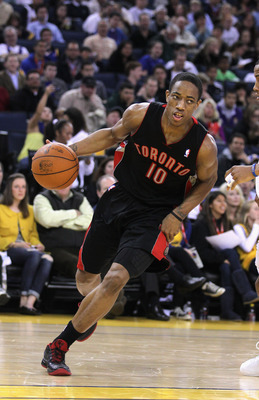 Ezra Shaw/Getty Images
DeMar DeRozan quietly put together a very impressive season last year. With Andrea Bargnani out for a large part of the season, the Raptors looked to him for a lot more scoring and he did not disappoint.
Where DeRozan falls off is doing anything else besides scoring, like making plays for his teammates, rebounding or even playing defense.
But he keeps moving along, with his crazy athleticism and talent level, he has the opportunity to be Vince Carter part 2 for Toronto.
No. 7: Monta Ellis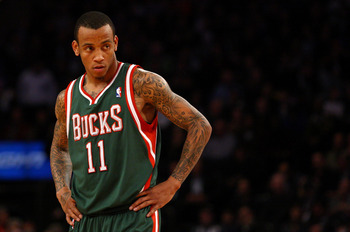 Chris Chambers/Getty Images
There are not many players in the NBA with Monta Ellis' speed and/or scoring ability.
Slated many times throughout his career, Ellis is an All-Star caliber type player who has found himself in tough situations year in and year out.
Finally, he will get a chance to play for a team likely to make the playoffs alongside another speedy little guy, Brandon Jennings. Let's see if Monta can get a little bit more recognition moving forward.
No. 6: Joe Johnson
Jim Rogash/Getty Images
Joe Johnson has been getting paid superstar money forever, or so it seems. Yet, he has never really lived up to the expectations presented unto him.
That being said, Joe Johnson is still an above-average player in the league today. Not noted for his speed, he tends to rely on his size and jumper on offense.
I will look for Johnson to succeed in Brooklyn being that he will not be the No. 1 option for the Nets. Good but not great, I'd still pick Johnson over a lot of other players.
No. 5: Eric Gordon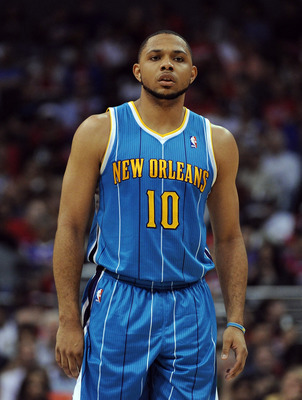 Harry How/Getty Images
I've been following Eric Gordon for a very long time and I'm not sure many NBA fans realize just how good this guy is.
Unfortunately, he has had many issues with injuries during his short career, but no matter where he plays, this will finally be the year we see Gordon put it all together—especially if winds up in Phoenix, where he will have his own team.
Look for Gordon to be among the leaders in scoring this upcoming season and I promise I won't say I told you so.
No. 4: Manu Ginobili
Tom Pennington/Getty Images
Just in case you forgot, Manu Ginobili reminded us all of just how good he is during the playoffs, despite his team being eliminated.
The moves he makes are unbelievable, his smoothness is incomparable and his euro-step is unguardable.
Ginobili may be getting a little older, but he has yet to slow down. One of, if not the most exciting below-the-rim players in the league today.
No. 3: James Harden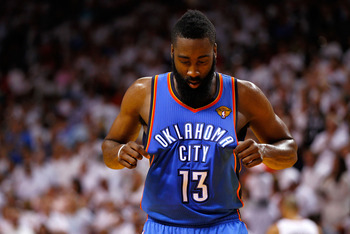 Mike Ehrmann/Getty Images
It's very easy to judge James Harden on his 2012 NBA finals performance and move him down this list.
Then again, he wasn't named Sixth Man of the Year for no reason.
The relentlessness he possesses when he attacks the basket causes players to get out of his way, and he finishes through contact like it's nothing.
The fact that he comes off the bench does not mean he is your normal "bench player." That is just the role he's been assigned in OKC playing alongside two of the league's best perimeter players.
A role he continues to thrive in and be the best at in the league.
No. 2: Kobe Bryant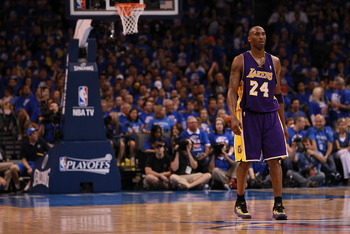 Ronald Martinez/Getty Images
Kobe Bryant is one of the best players in NBA history. That goes without saying, at least I'd like to think so.
Fourteen-time All-Star, five-time NBA champion, two-time Finals MVP, the list goes on and on and on. You cannot argue with his past accolades.
But as of now, it is clear he is no longer the same player that he once was in the past. This happens to the best of them.
Let's be real, he's getting up there in age and might have a solid two to three years left where he is still considered an elite player in the league.
The fact that he is still in the discussion and ranked so highly on a list such as this is a testament to Kobe's greatness at age 33.
One of the greatest to ever play, but no longer the greatest in the league.
No. 1: Dwyane Wade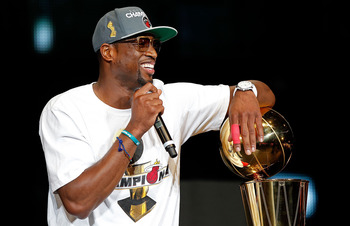 Mike Ehrmann/Getty Images
Dwyane Wade may not have had as impressive of an NBA finals performance this year that he had in 2006, but he didn't have to. You know, playing with LeBron James and all.
The most important thing he did this season was hand the reigns of what used to be his team. This got people to say he's fallen off or is on the decline of his career.
Like Kobe, Wade too is getting up there in age, but it seems as though he's got a little bit more left in the tank than Mr. Bryant.
It's safe to say that Wade has surpassed Kobe as the best shooting guard in the league. He's come a long way since he's entered the league and has changed up his game significantly as he gets older.
He's had to become a smarter and more efficient player on both ends of the floor and is a fierce competitor.
This one is a toss-up for many, but there is no longer any debate about who the best shooting guard is in the league today.
Keep Reading

Los Angeles Lakers: Like this team?