Wimbledon 2012, Federer vs. Djokovic: Three Keys to Victory for the Swiss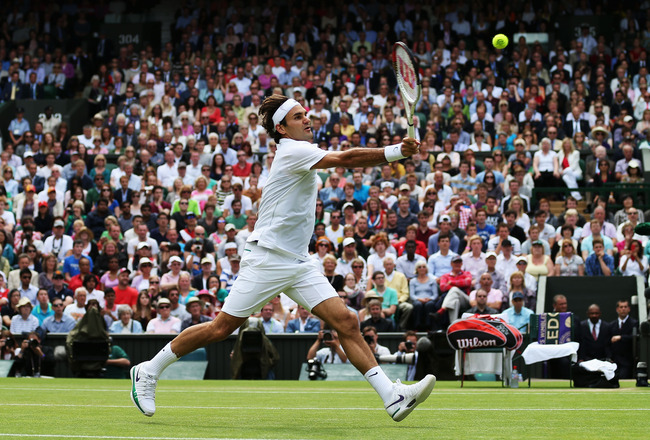 Federer- 2012 Wimbledon
Clive Rose/Getty Images
Third seed Roger Federer will square off with world No. 1 and defending Wimbledon champion Novak Djokovic in Friday's first semifinal.
Centre Court will be the venue for the 27th encounter between these two esteemed greats. This match surprisingly marks the first meeting for these two at the hallowed lawns dominating the London scene.
The implications surrounding this particular match are titanic.
For the winner, it is a spot in the finals with a golden opportunity to claim the title.
Djokovic's grip on the top ranking is truly in his hands. Win against Federer and he solidifies himself as the domineering figure in men's tennis.
Federer, if able to conquer his pervasive adversary, will be one match away from his seventh Wimbledon title and will recapture the top ranking in the world. A victory at Wimbledon would tie Pete Sampras for the most Wimbledon titles in the open era.
But, let's not get too far ahead of ourselves. Especially in regards to Federer, who undoubtedly is the underdog.
He has lost six out of his last seven matches to the unrelenting Serb. His weaknesses have been brilliantly exploited and strengths severely hindered by Djokovic's depth, movement, variety and tennis IQ.
Federer has been plagued by Djokovic's repertoire and has been unable find a readily working cure to this disease inflicted upon him with abundant volition by Djokovic.
Now, the question with which Federer must find resolution is how to appropriately combat resist this unyielding aggressor.
Let's go through three key things Federer must do to stifle Novak's attack.
1. Serve at a High Percentage Implementing Risk and Variety
"Is something unbelievable how he returns, no? His return probably is one of the best of the history. That's my opinion, no? I never played against a player who's able to return like this. Almost every time."
– Rafael Nadal, on Novak Djokovic's world-class return game
Many experts and players alike have come to a consensus on the return game of Novak Djokovic—it is the best ever.
Djokovic's ability to absorb the pace of his opponent's serve is truly uncanny. His perception of the direction, speed and spin on the ball is out of this world. This ability allows him to take the ball early and take the pace of his opponent's serve and return the ball as fast as it came.
In addition, Djokovic's reactionary prowess allows him to control the direction and depth of his returns with ridiculous consistency.
He is able to mechanize an abbreviated backswing necessitated due to the pace of the serves he is facing in order to fluently step and lean into returns with quite remarkable precision and accuracy.
If Federer hopes to control and dictate from the back of the court, he needs to ensure Novak isn't slamming returns back off his serve and, in effect, taking the offensive.
Thus, serving a high percentage of first serves will be of monumental importance.
Federer's first serve is surely one of the best of all time due to its variation, power, placement and clutch nature.
The Swiss must keep Djokovic off balance through the use of the out wide side spin serve on the deuce side, the body serve and the serve down the "T." Giving Djokovic the same look serve after serve will allow him to develop a smooth rhythm on his return games—a recipe for failure.
In supplement, the second serve of Federer needs to be working with great effect.
He certainly will be forced to go for more on his second serve due the returning skills of Djokovic, and should look more often than not to get the second serve to Djokovic's forehand—the weaker side for the Serbian.
2. Don't Let off the Gas
"The time your game is most vulnerable is when you're ahead; never let up"
"The difference of great players is at a certain point in a match they raise their level of play and maintain it. Lesser players play great for a set, but then less."
In Federer's semifinal match against Rafael Nadal at the 2012 Australian Open, Federer was up a set and a break over the Spaniard before succumbing in four gruesome sets.
Federer seemed to have grabbed onto a stranglehold of the match but, as Federer has done numerous times in the past, he let a few weak moments really turn the match on its head.
In his 2012 French Open semifinal match with Novak Djokovic, Federer was up a break in the first set and two breaks in the second set—both of which he ultimately lost before being ousted in three sets by Djokovic.
If Federer finds himself ahead in a set or within the match, his ambition must not falter and his level of play must seek new levels. This is what has defined his legacy and success at major—the ability to elevate his level of play when it counts.
Playing against a player like Djokovic who savors and take full advantage of every opportunity provided to him, Federer's guard must not be broken.
Memories of the 2010 and 2011 US Open semifinals resonate greatly when writing this particular section.
Federer was taken out both years after holding two match points. Djokovic, very similar to Nadal, will fight until the last ball is struck.
As a consequence, the match isn't over until its over when dealing with Djokovic.
Ask Jo-Wilfried Tsonga. He learned this the hard way at Roland Garros.
3. Control the Middle of the Court and Keep Djokovic Moving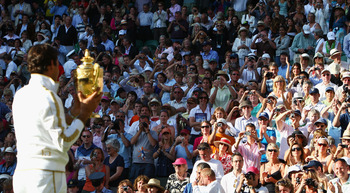 Federer- Wimbledon 2009 Champion
Clive Brunskill/Getty Images
"When you have the opportunity, you strike."
Roger Federer is assuredly one of the most aggressive offensive baseliners tennis has ever witnessed.
He thrives on quick surfaces that yield a low bounce that compliment his fluid movement and beautiful ball striking abilities.
His ability to take the ball early and enter into an offensive-minded stance, and to put forth as many aggressive gestures as possible, will be critical in overcoming the defensive abilities of Djokovic.
Dissecting and opening up the court will keep Djokovic on the defensive. It will propel Federer to crafting points that are short, first-strike in nature and on his terms.
If Federer gives up the middle of the court, he is allowing Djokovic to dictate the tides of the points. As a result, Federer will be on the run more than he would prefer.
Giving Djokovic extraordinary amounts of time to establish positioning and proper footing to execute his best shots and change the direction of the ball will be detrimental to the Swiss.
If Federer wants to win this match, he is going to have ensure he is moving laterally significantly less than Djokovic.
Another component to controlling the middle of the court involves Federer maintaining depth on the return of serve. His chip backhand return simply won't get it done.
It is often flaccid, weak and short inducing an easy forcing shot for his opponents. And, for someone like Djokovic, who rarely ever makes a misstep on a short ball, Federer will need to ensure he is getting his returns back with depth by stepping in and taking the ball early from Djokovic.
Keep Reading